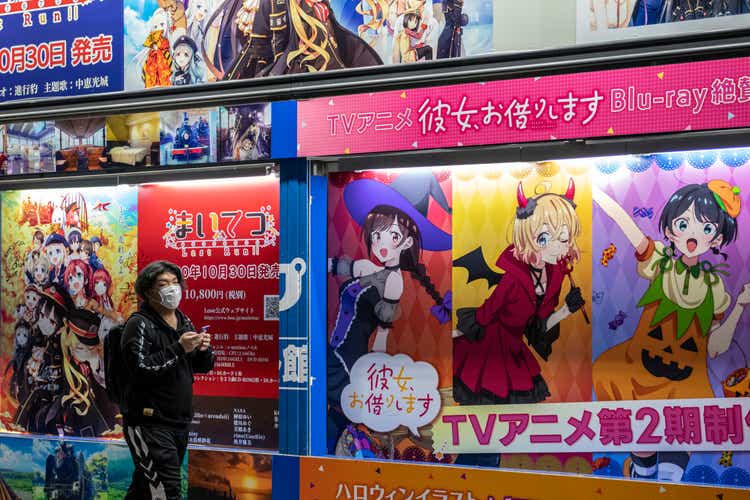 Bilibili (NASDAQ:BILI) stock was up as much as 30% since I have initiated coverage on the stock with a buy recommendation. On Thursday 9th June, however, the stock fell 15% on disappointing Q1 2022 results. Should investors take profits? Or perhaps, increase their position on the drawdown?
In this article I analyze Bilibili's Q1 results, based on the company's SEC filing and analyst conference. For me, the situation has not changed one iota. In my opinion, Bilibili is still the best bet in China's streaming/entertainment market and I reaffirm my $33.07 target price.
Strong growth YoY
The trading day after Bilibili reported earnings, the company's stock plummeted from $30 to below $25. But actually, Bilibili's earnings were not as disappointing as the market suggests. Also, the somewhat unimpressive financial quarterly performance is not very surprising given the multifaceted macro-economic challenges in China. Thus, I suggest investors keep focused on the key metrics that make Bilibili the number one streaming platform in China: user-size, content and engagement.
True, revenue and earnings were mostly flat quarter-over-quarter, but year-over-year the result is impressive, implying that the company is still a high-growth stock.
Total net revenues reached RMB5,054.1 million (US$797.3 million), a 30% increase from the same period in 2021.

Mobile games revenue was up 16% year-over-year, revenues from VAS increased 37% and revenues from advertising jumped 46%

Gross profit was RMB807.2 million (US$127.3 million), compared with RMB937.9 million in the same period of 2021.

Net loss was RMB2,284.1 million (US$360.3 million), compared with RMB904.9 million in the same period of 2021.
Alex Yao, J.P Morgan's lead-analyst for Chinese tech/internet firms, expressed the irrelevance of Bili's short-term challenges quite concisely:
... the long-term determinator to advertising monetization include: number one, the total platform usage; number two, user demographic; and number three, the ad tech number, none of which has anything to do with the short-term COVID impact.
Key metrics are strong
One of the main characteristics of successful platform businesses (see Netflix, Facebook, etc.) is scale. In Q1 2022, Bilibili's monthly active user base reached 293.6 million, an increase of 31% as compared to the same period in 2021. Respectively, average daily active users increased by a similar percentage (32%) year-over-year.
To judge Bilibili's success, investors should also focus on the company's impressive creator community. Notably, Bilibili recorded monthly active creators during the quarter of 3.8 million, up 75% year-over-year. Moreover, content creators with more than 10,000 followers increased by 44% over the same period. Finally, monthly average content submission increased 63% yoy to more than 12 million. That said, in my opinion, Bilibili is indeed growing to become China's equivalent of YouTube.
The Q1 2022 results also highlighted Bilibili's strong user engagement scores. First, average daily time spent on the platform reached a new record of 95 minutes. Second, total video views almost doubled (+84%) year-over-year and reached an impressive 3 billion.
In my opinion, Bilibili's scale, strong content platform and highly engaged community will ultimately translate into strong economic success. For reference, Bilibili's current traffic (all devices), according to Similarweb is 3.05 billion per month. This is approximately half of Netflix' traffic (all devices) 6.6 billion. But most notable, 'time on site spent' is approximately 20 min for Bilibili, but only 9 min for Netflix! Also, Bilibili's bounce rate at approximately 20% is only half of Netflix's 40.44% bounce-rate! Nevertheless, Netflix currently trades at 8x Bilibili's $11 billion market capitalization -- despite Netflix 70% sell-off YTD.
Valuation
Given the company's Q1 2022 results, I do not see any reason to change the business long-term financial outlook, and thus change the valuation assumption. That said, the R-E valuation framework as presented in my initiation article Bilibili: A Long-Term Opportunity Despite Temporary Headwinds, is still valid. Based on an analyst consensus EPS estimates I calculate a base-case price-target of $33.07/share.
(For assumptions and sensitivity table, please visit the link here)
Risks
Investors should be aware of the following downside risks that might cause BILI stock to materially deviate from my base-case target price of $33.07/share
First, the video streaming industry in China is highly competitive (Douyin, Kuaishou, iQiyi, etc.) and, in theory, the streaming industry exhibits the features of an industry that is governed by the winner-takes-it-all principle. Although Bilibili records the highest user-engagement amongst the platforms, and the highest growth rates, I am not confident in my ability to pick a winner at this point.
Second, as we all know, China has pushed a stricter regulatory environment for tech / internet companies in 2021. Bilibili was no exception: The bad news began when state media publicly criticizing Bili for allowing vulgar content on the site. Then Bili suffered from restrictions and regulations around the gaming industry. Needless to say, the market is still spooked by these developments and investors should expect considerable volatility in Bili's stock price until uncertainties are resolved - if ever.
A third risk is given by continued pressure coming from a potential ADR delisting. While investors have appreciated some positive headlines as China and US regulators seem to move towards an agreement, the risk of a potential delisting adds to the overall uncertainty surrounding an investment in Bili. For reference, Bilibili shares are also listed on the Hong Kong Stock Exchange under the ticker symbol HKG: 9626.
Conclusion
I advise investors not to read too much negativity into the stock price volatility seen after the Q1 2022 earnings announcement. On a long-term basis, Bilibili is still a clear buying opportunity, as the company has managed to build impressive scale, content and user engagement. If anything, the Q1 results only confirmed Bilibili's leading position as a streaming company -- proven by non-financial metrics. I reiterate my buy recommendation with $33.07/share target price. Thus, long-term investors might appreciate the drawdown as a buying opportunity.