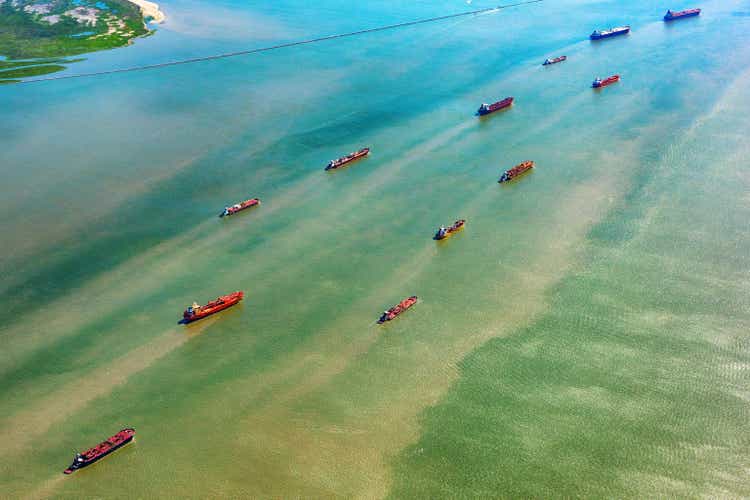 The question of how high oil prices will go has been posed to me. It is a difficult question. Many answers revolve around the following ideas:
• Underinvestment exists from the last price bust (after OPEC itself went on a market share quest but shale had its excesses too);
• Publicly-traded firms, especially independents and shale-oriented ones, need to adhere to capital discipline to keep shareholders happy (and many are right now). Think Pioneer (PXD), Diamondback (FANG) and other gas-weighted firms too like Coterra (CTRA) and Antero Resources (AR).
• Capital flows have moved into ESG and sustainable funds which crowd out investment. (This is just economics 101.)
• The energy transition, as fashioned by net zero ambitions, may be experiencing its first reality check.
Here and Now
The sanctions regarding Russia's oil supply are being re-thought so as not to cause a recession. The Wall Street Journal reported yesterday:
Treasury Secretary Janet Yellen said this week that the U.S. was involved in "extremely active" talks with European allies about efforts to form a buyers' cartel and set a cap on the price of Russian oil. A goal in the talks is to keep Russian oil available on global markets to buyers such as India and China, which could help stabilize prices already trending at roughly double pre-pandemic levels…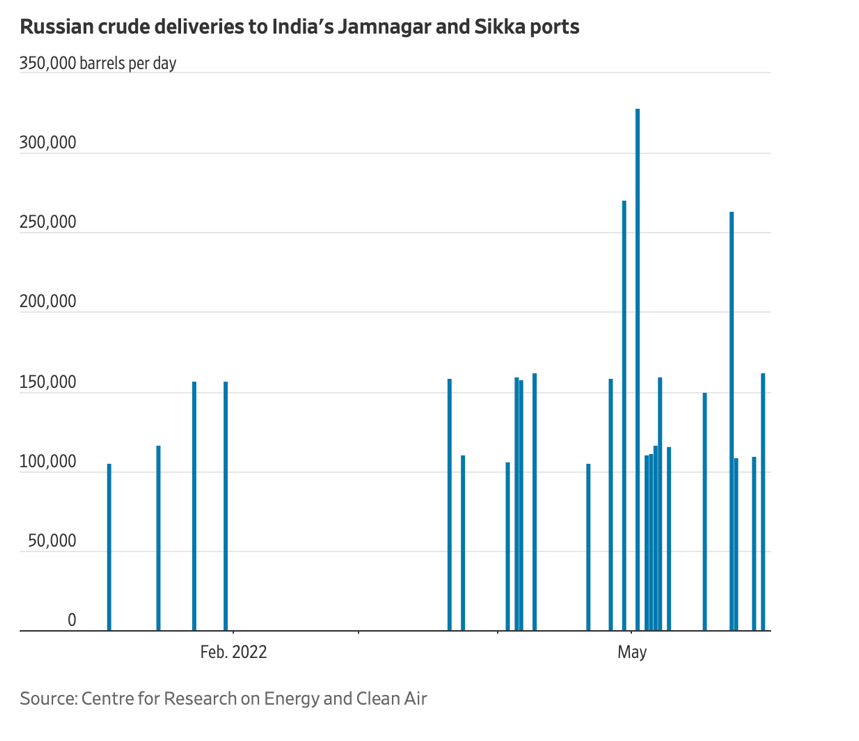 Also reported regarding Russia's exports:
Overall, Russian oil exports rebounded in April, after dropping in March as the first Western sanctions took effect, the International Energy Agency said. Russia's oil exports rose by 620,000 barrels to 8.1 million barrels a day, close to its prewar levels, with the biggest increase going to India.
I say this as a way to have some numbers to ponder. Additionally, I refer to a recent article where I cite Russia's oil supplying 8% of the global market. (Intersection of Geopolitics and Energy...)
In spite of the damage to Russia's role in the world, its large hydrocarbon assets are important and have value. According to Nikos Tsafos from a think tank in D.C.:

"Russia is central to the global energy system. It is the world's largest exporter of oil, making up about 8% of the global market. And it supplies Europe with 45% of its natural gas, 45% of its coal and 25% of its oil. Likewise, hydrocarbons are the lifeline of Russia's economy. In 2019, before COVID-19 depressed prices, revenues from oil and natural gas accounted for 40% of the country's federal budget. And oil and gas accounted for almost half of Russia's total goods exports in 2021."
Why Short?
The why of it all… why are we short? It's a simple supply and demand imbalance. The demand destruction of 2020 coupled with the U.S. coming online, then demand by non-advanced economies plus China, is playing out alongside the supply issues related to Russia and underinvestment. There are time lags between capital spending, production coming on and consumption's varying waves post-pandemic. In 2022 and 2023, the forecast demand waves among different economic blocs highlights the problem (second chart below). Throw the geopolitically-induced invasion of Ukraine by Russia and here we are.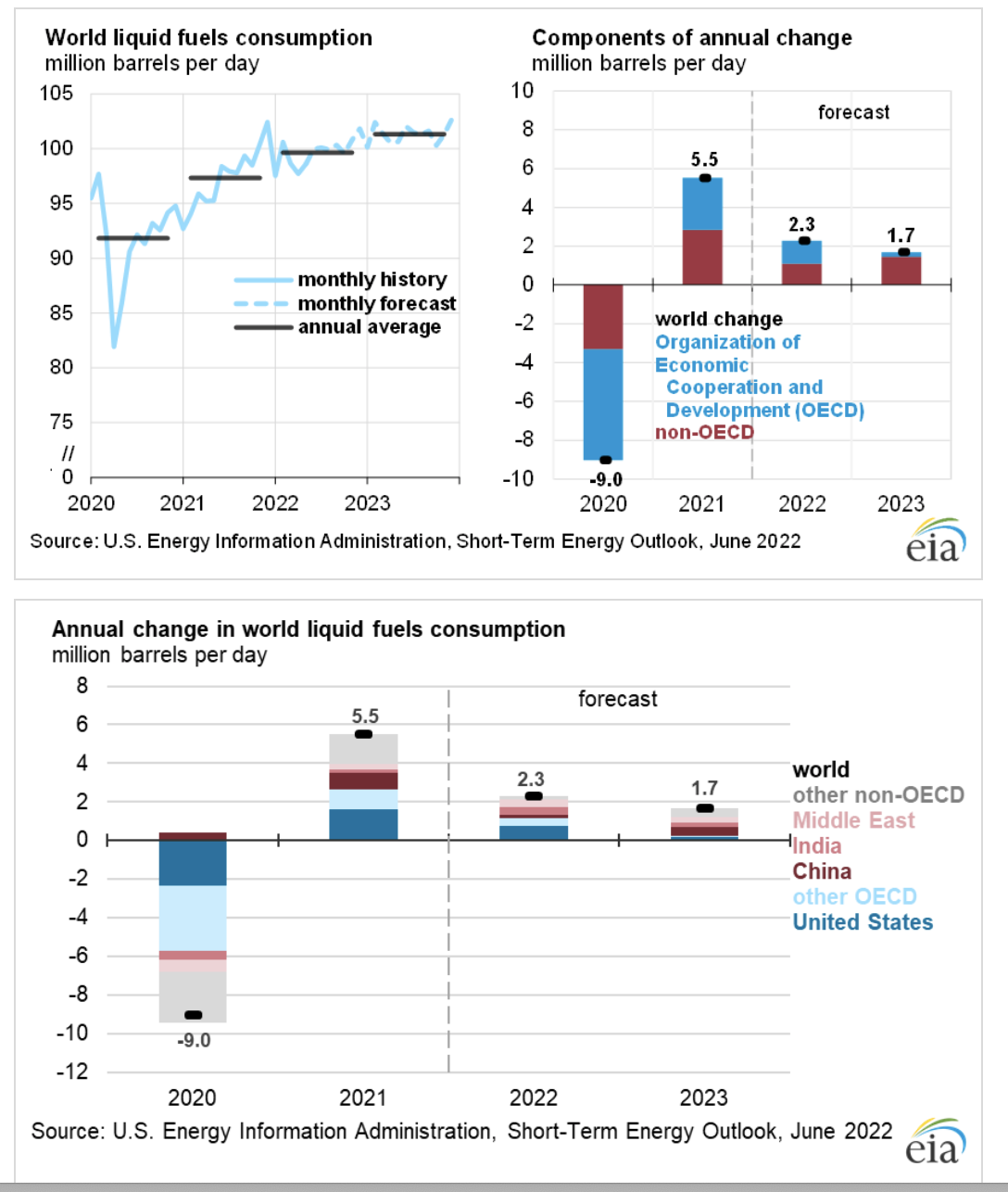 The U.S. production picture is below as forecast by the US EIA: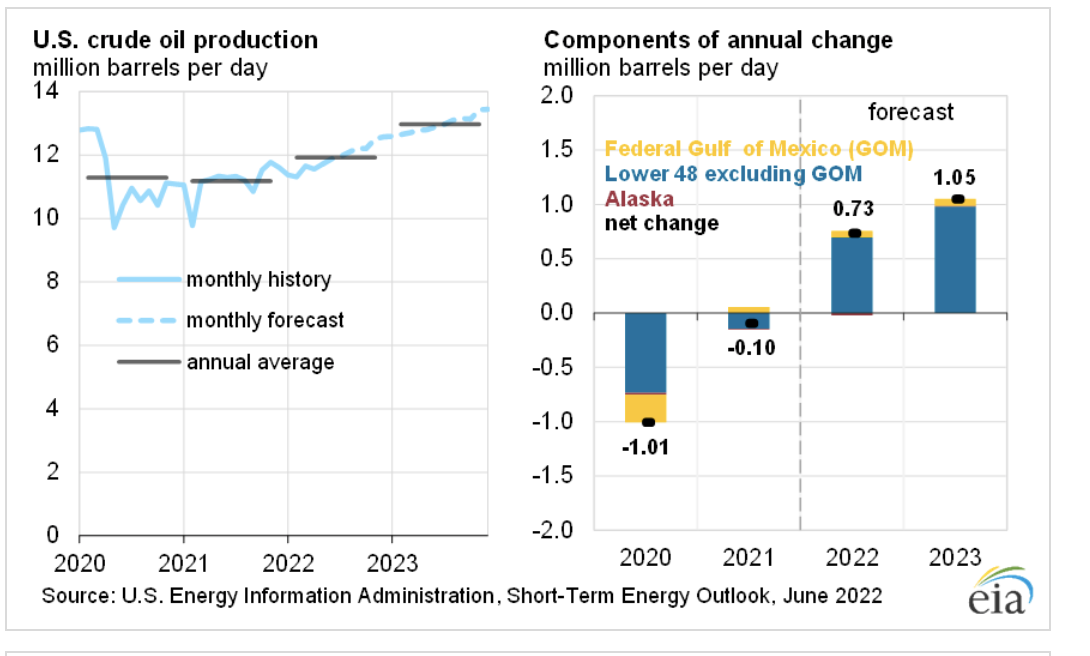 The other factor comes from the chart below. Independent producers hold a lot of influence. They fall into the middling category of production and majority of investment. They are carrying a different kind of burden than the national oil companies (NOCs) like OPEC countries (Note that this was 2018.) These proportions are going to change I believe.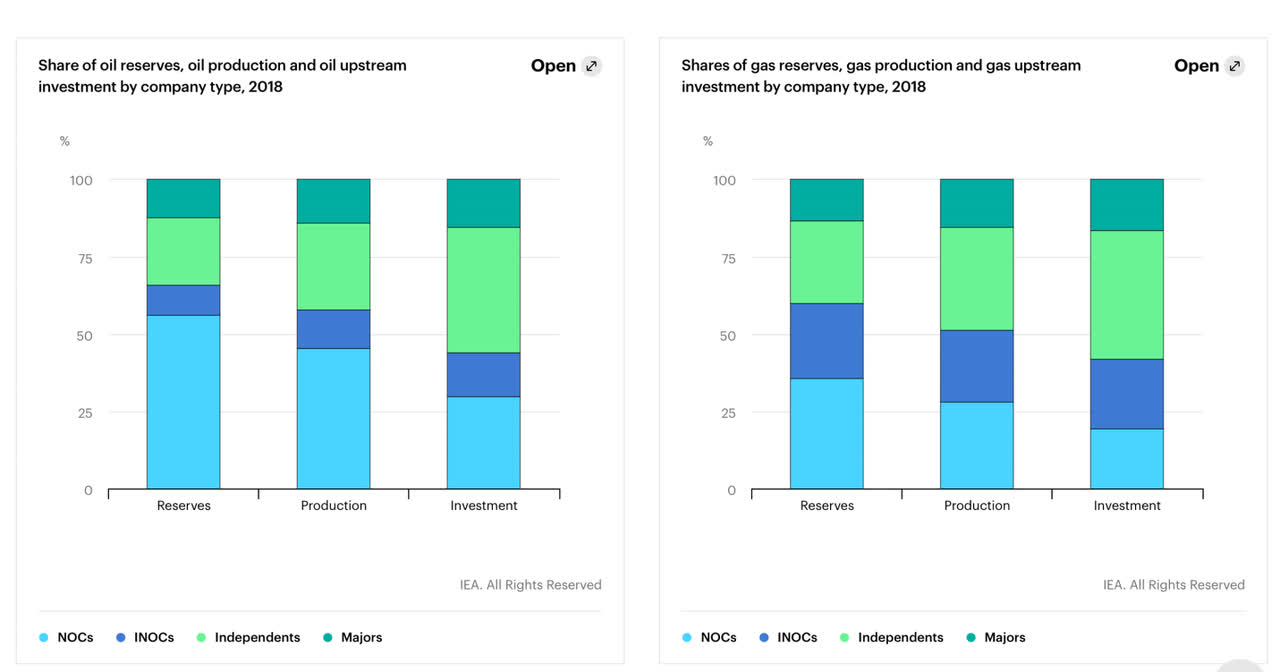 The chief executive of Chevron (CVX) spoke at a think tank this week and I listened to his moderated Q&A. He said that markets were "working hard" to address the supply and demand imbalances. High oil prices will incentivize production he noted. High gasoline prices will curtail some consumption. He offered that companies that sustain an economic proposition will see capital flow to their models. This is the reckoning I've alluded to in other venues and panels of late. It's just good business.
I believe the pent-up demand factor of consumers post-COVID is potentially making demand slightly more inelastic than usual. The energy transition in Europe faces precarious challenges owing to the Russia factor. What happens next will likely be some moderation of their original plan for many reasons. They may move as a bloc in some ways and individually as national security, energy security and economic security force different choices. Everything has a tradeoff. Lives and livelihoods matter, as does moving to clean up our ways of production and consumption. It's a big equation and ask of those that can bear the burden. But ask we must… be practical and aspirational.
So, yes. There will be higher prices potentially, and maybe spikes. I've seen the $200 per barrel figure suggested. It's not out of the realm of possibilities but it really is a moving target with many nuances. Volatility is everywhere with such uncertainty.
(Please excuse my lack of typical attention to prose but given my general workload factor of late, this is the perfect not getting in the way of the OK.)