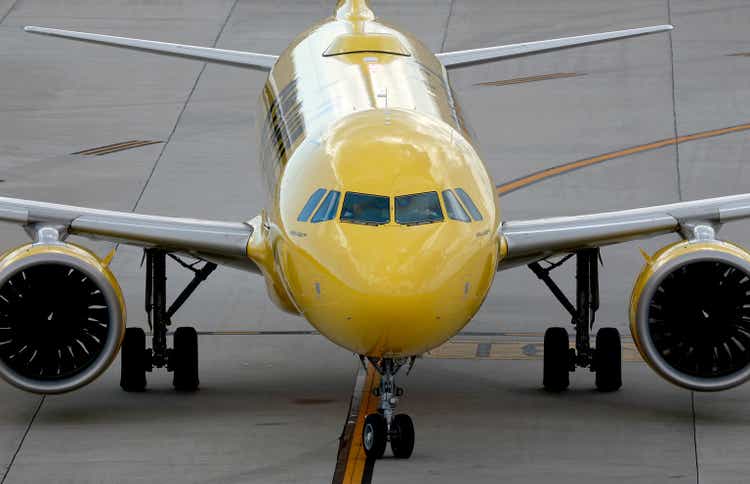 The acquisition of Spirit Airlines, Inc. (NYSE:SAVE) has become a major battle for the airline, where Frontier Group Holdings, Inc. (ULCC) and JetBlue Airways Corporation (JBLU) are going head-to-head. The most recent development has been that Spirit Airlines has delayed a vote on the takeover by Frontier Airlines. In this report, I will have a look at what the current state of affairs is regarding the takeover and provide my take on the acquisition plans by either of the airlines.
My initial view on the takeover plans
My initial view on the take over of Spirit Airlines by Frontier Airlines has been that I am not sure how appealing the offer from Frontier Airlines was. If we look at the pre-pandemic share prices, the offer of $25.83 per share is simply not appealing as shares of Spirit Airlines were trading north of $35 in the years prior to the pandemic. For investors who have remained invested throughout the pandemic, accepting the Frontier Airlines offer means locking in a significant loss.
The offer from Frontier Airlines is only acceptable to people who bought shares during the pandemic and are not convinced by the current Spirit Airlines management to get share prices back in the $40-range. The offer is also attractive for those who want to remain invested in the combined company, as Spirit Airlines share holders will receive 1.9126 shares of Frontier Airlines and $2.13 in cash. At current prices that would indicate a price of roughly $21.08 per share. So, Frontier Airlines really has to sweeten deal that deal.
For someone who wants to be invested in an ultra-low cost carrier, the Frontier Airlines offer without doubt is the way to go. My only concern about Frontier Airlines and Spirit Airlines is that neither airline is known for their great service, and a combined airline could make that experience even worse.
So, is JetBlue any better? The answer seems to be "No" if you look at JetBlue's current state. JetBlue was one of the airlines that significantly dialed back on its expansion plans, as the airline's staffing levels and hiring were not supporting the ambitious capacity outlooks. One can really wonder how prudent it is for JetBlue to try and integrate an airline with a different business model if they can't even get their own house in order at the moment.
However, looking at airline rankings JetBlue might have more to offer to Spirit Airlines than Frontier Airlines. Frontier Airlines and Spirit Airlines are both ranking at the bottom for economy class, with Frontier Airlines ranking worse than Spirit Airlines while JetBlue is a high-ranking name.
Evolving offer
The offers for Spirit Airlines has been evolving over the past few months. What we are seeing is that, realistically, Frontier Airlines' offer itself has not been attractive for some of the Spirit Airlines shareholders. JetBlue's offer has looked compelling from the start with an offer of $30 per share. However, there have been significant doubts on a Spirit-JetBlue combination gaining approval due to anti-trust concerns. That is why JetBlue threw in a $200 million breakup fee while claiming that Frontier Airlines had not committed to such a fee - even though company filings show a $94 million termination fee to be paid by Frontier Airlines if the deal is terminated.
As the board of Spirit Airlines endorsed the Frontier Airlines offer, JetBlue started a hostile takeover attempt with a tender offer of $30 per share. Frontier Airlines finally made a move on the second of June after proxy advisory firm ISS advised voting against the Frontier Airlines transaction and after JetBlue also started highlighting anti-trust concerns also were in place for a Frontier-Spirit combination. JetBlue reiterated that was prepared to pay $33 per share if Spirit Airlines would open its books to the airline. On the 6th of June, JetBlue offered a $350 million break up fee and offered $30 per share plus another $1.50 per share from the reverse break up fee to be paid out to Spirit Airline shareholders.
In response to that improved bid, the shareholders vote on the combination with Frontier Airlines was proposed. That is a sign that Spirit Airlines is trending more towards JetBlue, as JetBlue has continuously attempted to sweeten the deal while Frontier Airlines barely moved.
Antitrust concerns: JetBlue-Spirit tie-up is not bad
Overlap in the networks of the three carriers plays a major role in this take over saga, and that is why we are seeing most movement in the break up fees being offered. While Spirit Airlines has pointed at challenges to get a combination with JetBlue approved due to overlap, we are seeing that overlap also exists with Frontier Airlines. A takeover by JetBlue, as I previously described, would mostly be seen as a JetBlue acquiring Spirit Airlines to protect its yields in the South American and Caribbean markets as well as Florida. That would definitely attract scrutiny, as a combination would provide strength on the U.S. East Coast into the South American and Caribbean markets. However, a Frontier-Spirit tie-up is not necessarily free of antitrust concerns and could even be seen as a worse combination for travelers.
Frontier Airlines and Spirit Airlines have overlap that stretches from the East Coast deeper into the US. A combination of Frontier Airlines and Spirit Airlines would significantly pressure JetBlue that would remain an airline with most of its presence in the East Coast. That is likely also why we are seeing JetBlue engaging in a hostile take over attempt. A combination of the two ultra-low cost carriers could cage the airline while its alliance with American Airlines is already under intense scrutiny.
However, what remains significantly underexposed is that a Frontier-Spirit tie-up combines two ultra-low cost carriers, both of which have a questionable reputation among customers. So, one can really wonder whether a Frontier-Spirit tie-up is the best that could happen to the traveler, as it creates the 5th player on the airline market and would also cement fares in the ultra-low cost segment. A JetBlue-Spirit tie-up, on the other hand, would be a combination of a low-cost carrier with an ultra-low cost carrier, while keeping another ultra-low cost carrier (Frontier Airlines) in the game.
JetBlue offer is a better bid
Shares of Spirit Airlines are currently trading at $22.56, while the share prices of Frontier Airlines multiplied by the 1.9 shares that each Spirit shareholder will receive plus the cash would bring the offer to $21.08. I feel like at $21.08, but also at $25.83, the offer from Frontier Airlines insufficiently values the pre-pandemic performance of Spirit Airlines stocks. It is acquiring a company at a relatively low price point without valuing its prospects on improvements in the air travel market.
The JetBlue offer, on the other hand, provides a more compelling over for investors. For JetBlue, integrating Spirit Airlines will be difficult, and antitrust concerns remain, but it is not the case that those concerns are not present for an ultra-low- cost combination. I believe that for investors that are looking to sell, the JetBlue offer is superior, while investors who wish to remain invested in an ultra low-cost name with synergies the Spirit-Frontier combination might look more attractive.
Conclusion
While a combination of Frontier Airlines and Spirit Airlines makes a lot of sense, since the business models are similar. That might also be a reason why antitrust concerns are not any less for the combination compared to the Spirit-JetBlue combination. Currently a Frontier Airlines takeover has been priced in.
Looking at the pre-pandemic share price performance, Frontier Airlines has a bad offer and aims to return value to shareholders in the recovery and synergies post-combination. We have yet to see how that will actually play out, with higher fuel prices coupled with inflation and recession risk. The Frontier Airlines offer transfers a lot of risk to the investors, who have to sit tight to see their investment pay off if shares were acquired prior to the pandemic.
The JetBlue offer is more compelling at up to $33 per share, but more likely at $31.50 per share, with a more generous reverse-breakup fee offer. At this point, I do think that there are antitrust concerns regarding a take over by JetBlue, but the ultra-low cost combination is risky as well, while Frontier Airlines barely makes a strong effort to take away those concerns or provide a sweeter deal.
A deal with JetBlue might take a long time to work out, but accepting the Frontier Airlines offer will also take years to generate the synergies promised if at all, once approved. At this point, I view a vote against the transaction with Frontier Airlines as beneficial to shareholders, as JetBlue has put down a superior bid while Frontier Airlines has not made any attempt whatsoever to pay more for Spirit Airlines, and better valuing the business while Spirit Airlines has not attempted to receive a better offer from Frontier Airlines.