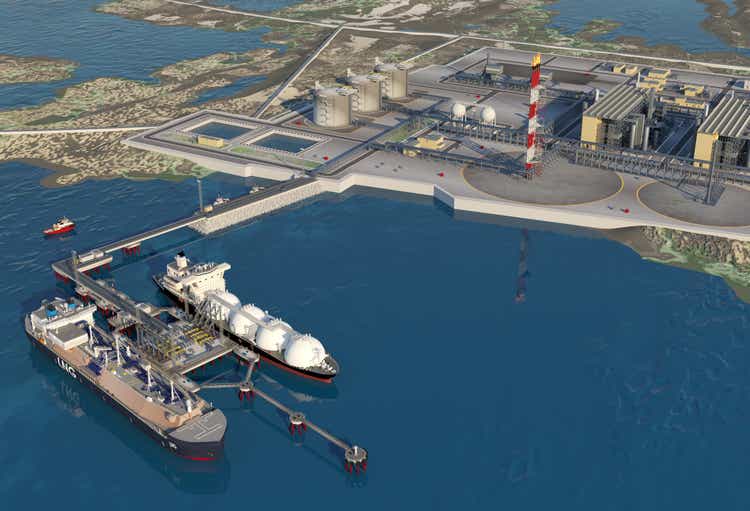 In our follow-up article on Goldman Sachs MLP and Energy Renaissance Fund (NYSE:GER), we will focus on whether U.S. MLPs and midstream energy companies are well-positioned to capture the growing trend of LNG shipments toward Europe or not. We find this a very interesting topic. By simple logic, one might think - higher domestic natural gas production leads to greater volume going through pipelines to be later shipped as LNG to Europe. However, there are still many obstacles and hurdles to making this simple investment thesis work in real life. Therefore, we will dig deeper into what lies ahead for domestic MLPs and midstream companies, which are also important contributors to the overall performance of this closed-end fund ("CEF").
U.S. LNG SHIPMENTS TO EUROPE
LNG was initially developed to deliver gas to remote places, where there are no pipelines available or it is too costly to develop pipeline infrastructure. In the case of Europe, Gazprom (OTCPK:OGZPY) solves that problem, as they receive gas through pipelines at more affordable prices compared to maritime, road, or rail delivery methods. Now, if European officials decide to completely ban Russian natural gas in Europe, we believe that the natural gas supply will be basically lost for years to come. In our view, it will lead to complete demand destruction and Europeans will be forced to learn to preserve energy in as many ways as possible.
We might go so far as to make the following statement: in the worst-case scenario, we even think that the European Union might be forced to impose covid-19 type of lockdowns due to the energy crisis. Our readers should keep in mind that there is a very slim chance of something like that happening. Nonetheless, they should still consider any possible outcomes of how Europe can deal with lost Russian energy sources. In such a hyperbolic case, the MLPs in our CEF will most likely reduce their volume through pipelines given the lack of LNG delivery orders from European clients.
Another very important factor is the type of contracts European customers sign with U.S. LNG providers. For instance, Asian customers prefer to sign long-term contracts over 15 years - in general, with fixed natural gas prices tied to the oil price. This is also something Energy Transfer's CEO has mentioned in the most recent earnings call:
"On Monday of this week, we also announced the signing of a 20-year LNG purchase and sell agreement with a subsidiary of Gunvor Group for 2 million tonnes of LNG per annum. And yesterday, we announced the signing of another long-term LNG offtake agreement with SK Gas, an affiliate of the Korean conglomerate SK, for 0.4 metric tonnes per annum for a term of 18 years.

The purchase price for all these agreements is indexed to the Henry Hub benchmark plus a fixed liquefaction charge and the LNG will be delivered on a free on board basis."
It is similar to what Russian President Putin was proposing to European countries before the Ukrainian invasion. He was insisting to sign long-term deals with fixed natural gas prices tied to oil. For instance, Russia has recently signed the following 3-year deal with Serbia over natural gas supplies, with a price of around $300 - $400 per thousand cubic meters.
"Gazprom's price for the Balkan country will remain based on an oil formula, resulting in up to 10 times lower gas rates for Serbia compared to most other buyers in Europe, Vucic said. Only Belarus and Armenia are likely to enjoy better terms for Russian gas, Serbian President Vucic said."

(Source: South China Morning Post)
However, European countries decided not to sign longer-term deals with Russia even before the start of the Russian invasion of Ukraine. They have rather decided to rely on spot prices by trying to meet supply and demand for natural gas in the short run. In our view, it is really difficult to plan for long-term supply when you have to rely on volatile spot prices. Our readers should keep in mind that the power market is very unpredictable, especially in European countries, where there are multiple weather factors that have an impact on power prices and overall energy consumption-production trends.
Such examples might be, a higher number than expected sunny days in Spain, South France or Italy, which brings up higher power generation from solar panels, not enough wind in the Netherlands or coastal UK area, thus leading to not adequate enough power generation from wind farms, or higher than expected rainfall in France, Germany creating a higher power generation from hydrogen sources. When we plan for all of these factors, it really makes sense why European countries decide to buy natural gas on the spot market, to meet discrepancies of alternative sources. This can also be reflected during the earnings call transcript below on why European utilities do not sign long-term contracts.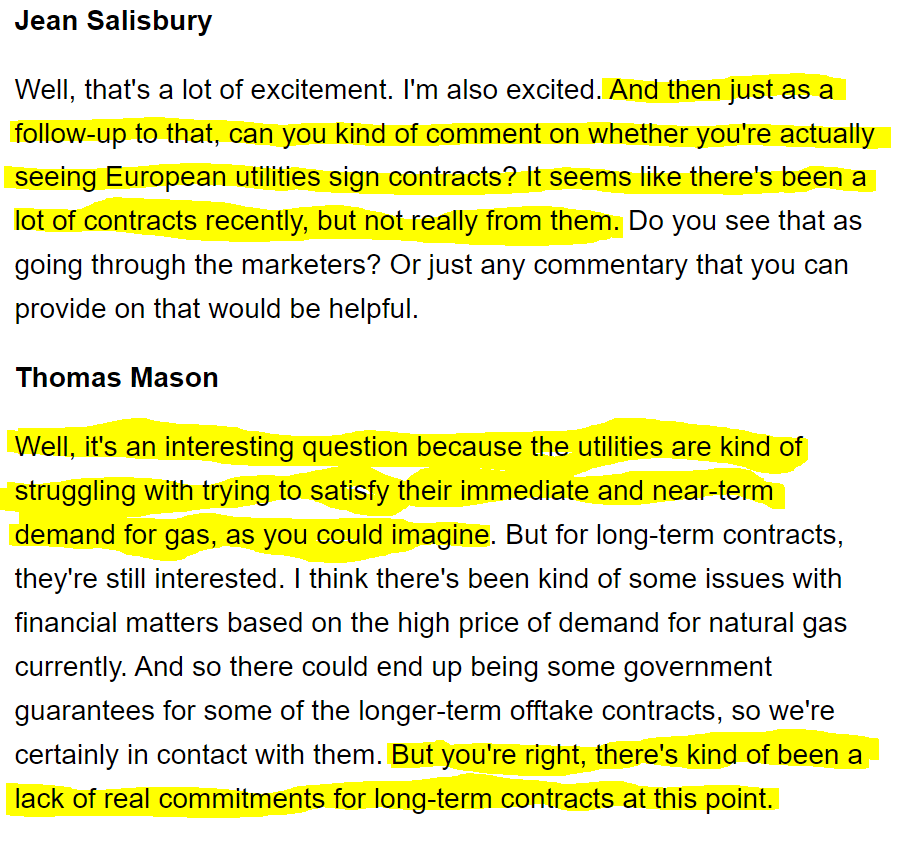 (Source: Energy Transfer's Q1 22 earnings transcript)
Now, we have a better insight into why U.S. LNG producers might be more willing to prioritize Asian customers who are prone to 15-year-plus contracts over European customers. Further, this might become a key geopolitical challenge whether to breach long-term U.S. LNG contracts with Asian customers to help Europeans fight Russian "political blackmailing" with energy resources.
However, one of the key reasons to help Europeans over fulfilling commitments toward Asians is the fact that it is really difficult for U.S. LNG producers to know exactly how much they will have to ship to Europe throughout the year and at what prices. For instance, if the price goes up by 5 times of DUTCH TTF GAS FUTURES in a short period of time, then maybe European customers might be reluctant to buy natural gas sources during periods of inflated prices. Our point is that, for MLPs, it is essential to have long-term guaranteed fixed-term contracts with as much volume as possible going through the pipes. In opposite, any kind of short-term volatility in volume throughput is not that good for MLP investors and natural gas producers in our opinion.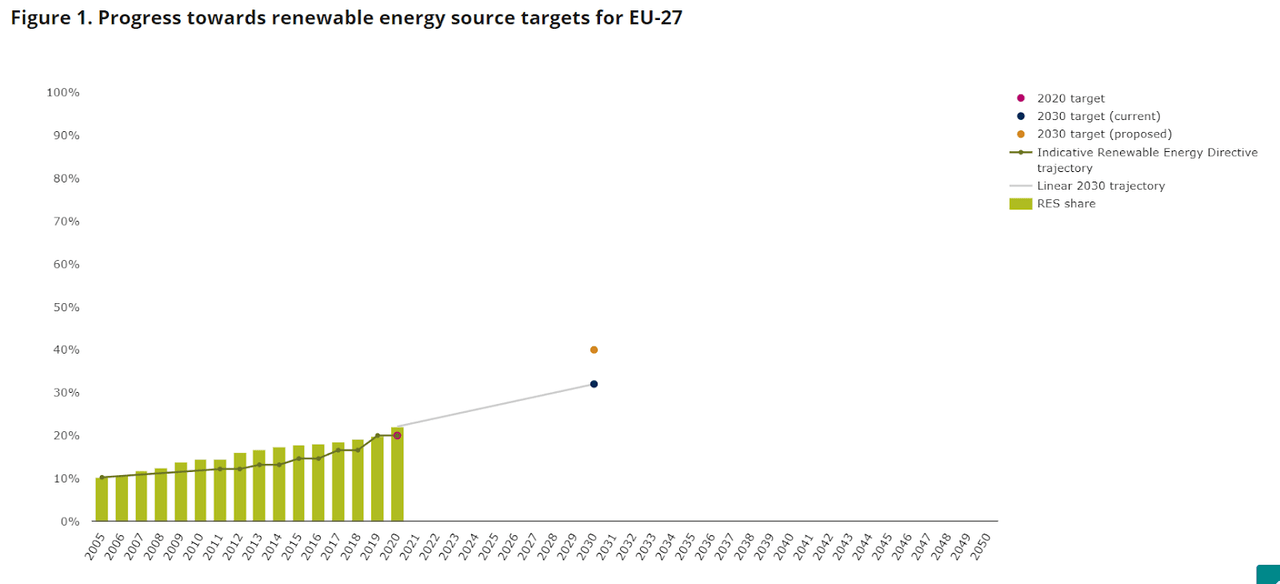 According to the figure above, European consumption from renewable sources is expected to grow from 22.1% in 2020 to an estimated headline target of 32% in 2030. On the other hand, Russian natural gas consists of 40% of the total gas consumption of the European Union, while total natural gas represents 21.5% of the EU's primary consumption. Based on data, we can estimate that the European Union might be able to replace Russian natural gas with renewable sources by 2030. The European Commission has even recently announced ambitious plans to steer away from Russian gas in 5 years' time.
The European Commission plans to unveil a 195 billion euro plan to stop importing Russian fossil fuels by 2027, combining a faster rollout of renewable energy and energy savings with a switch to alternative gas supplies, draft documents show.

(Source: Reuters)
In the near term, the U.S. LNG producers will have a great commercial opportunity to replace that lost Russian natural gas (our estimates of 5% of total EU energy consumption). However, their volume capacities will most likely be limited. One of the biggest issues is the lack of LNG import terminals and regasification facilities in the European Union, which negatively impact the volume capacity that U.S. LNG producers can ship toward Europe.
Charif Souki, Tellurian's (TELL) executive chairman, stated during a CNBC TV interview that Europe, in the most optimistic scenario can "partly replace" Russian gas with LNG in 2 years. However, the more reasonable time period is after 4 years, when 120 million tons of LNG could be delivered to Europe. In addition, Germany would have adequate enough time to develop LNG regasification facilities.
Given the lack of LNG alternatives for Russian gas, European companies will most likely be forced to pay a significantly higher price per cubic meter, thus driving down their economic efficiency and even leading to potential bankruptcies of traditional businesses. In our view, if key European manufacturing businesses slow down or even shut down due to intensified energy crisis, that in our view should also have a reverse negative impact on the U.S. economy.
For instance, U.S. trucking companies might end up without new trucks or spare parts from key European manufacturers like Iveco (OTCPK:IVCGF), Scania, or Mercedes (OTCPK:DTRUY). That would most likely have a wider impact on increased logistical costs in the U.S., thus limiting domestic and international trade as well. Once we face a wider shutdown of global trade, as was the case during the first COVID-19 wave of lockdowns, then most likely, natural gas production will slow down and consequently lower the amount of volume going through our domestic pipelines.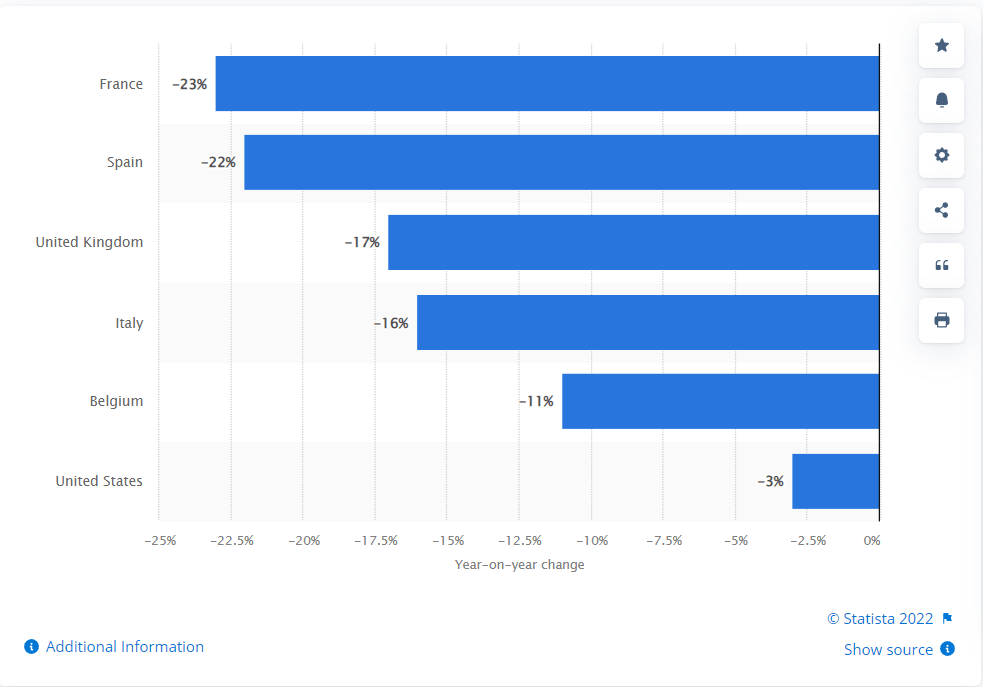 According to the figure above, we can spot that European countries like France, Germany, and Italy faced a deep decline (over 15% y/y) in natural gas consumption between March - April 2020, during the first wave of COVID-19 lockdowns in Western countries. We anticipate something like this could happen again if we face another round of lockdowns (pandemic or energy-related) or at least a severe downfall in global trade and nationwide disruption in key supply chains. Therefore our readers should keep in mind that, at first increased LNG volumes will be most likely shipped towards Europe. However, a wider shutdown of global trade due to the lack of Russian natural gas in Europe might rip apart those benefits over the next couple of years.
To sum it up, the U.S. LNG opportunities in Europe might be a huge one, but not as flawless as one might think from the beginning. Especially, when it comes down to natural gas midstream business, as high volatility in SPOT prices and unpredictable end-customer demand creates a lot of uncertainty about how natural gas producers are able to plan their daily or monthly volume sent through pipelines. Therefore, we believe that a golden era for MLPs when it comes down to a large amount of volume going through pipes to be shipped as LNG to Europe will be most likely in 5 years' time, once Europeans get rid of Russian gas supplies.
KEY HOLDINGS AND THEIR LNG EXPOSURE
We will take a look at whether the largest holdings in our CEF are likely to benefit as middle-man players, or more precisely pipeline operators, between U.S. natural gas producers and European customers.

According to the figure above, this CEF has the largest exposure of close to 26% in the following midstream players: MPLX LP Partnerships Units (MPLX), Energy Transfer LP (ET), and Magellan Midstream Partners (MMP). In our view, it makes this CEF slightly tilted towards exposure of the largest holdings. However, overall it has on average around 3% weight in individual holding (100% divided by 37 total holdings).
We find it really important when we are looking for secular trend opportunities to find ETFs or CEFs that are more equally weighted. In our case, most likely all midstream companies are going to benefit from higher demand for LNG deliveries to Europe leading to higher natural gas volume throughputs. On the other hand, if we were to have a diversified CEF and maybe only a slight share of it would consist of natural gas companies then we would most likely be better off looking for individual stock picks in midstream natural gas business that can capture a particular secular trend opportunity.
When it comes down to the potential of the U.S. to become the world's leading LNG supplier, the CEO of Enterprise Products Partners (EPT) does a great job of pointing out key hurdles in this path:
"Regulatory uncertainty, politics and green hyperbole have led to a gap in funding worldwide and we're finding out the hard way that planning and producing these resources isn't on autopilot. It takes skilled people, new infrastructure, time and money. Look no further than the cancellation of Keystone, suspension of federal leases, the numerous canceled projects to get gas out of Appalachia and plight of The Mountain Valley Pipeline to see the constant roadblocks caused by the attitude in Washington and in the courts.

The U.S. is going to reach its full potential and provide global leadership in the face Russia's tyranny. Our politicians, regulators and the courts must start being honest about the world's need for energy and step up and support the needed infrastructure, including pipelines, plants and LNG export facilities. Otherwise, we'll find ourselves increasingly beholden to bad despotic regimes for energy and for minerals and metals required to add green energy solutions."

(Source: Enterprise Products Q1 22 Earnings Call)
Natural gas producers have been facing a lot of regulatory issues over the last couple of years. In our view, mostly because of the new green agenda and net-zero commitments by major global governments. But now, with Russian aggression toward Ukraine, we believe that U.S. regulators will realize how important natural gas might be as a tool to maintain global peace and economic security worldwide. Therefore, they will most likely try to give the green light to major pipeline projects and other key investments, which should benefit companies in our CEF.
To sum it up, it is difficult to predict which will be the biggest individual winners in our CEF of a new trend of LNG shipments towards Europe. According to the earnings call transcripts we have been through, we think Energy Transfer, MPLX, and Enterprise Products should most likely directly benefit through their exposure to natural gas midstream business. In addition, smaller players in this CEF should also benefit from the following key factors: (1) intensified investments in pipeline infrastructure to meet key global demand, (2) commitments from larger LNG producers like Cheniere (LNG) to ramp up their natural gas production by building new infrastructure, (3) higher spot natural gas prices, which should lead to higher base rates they charge producers to send natural gas through their pipes.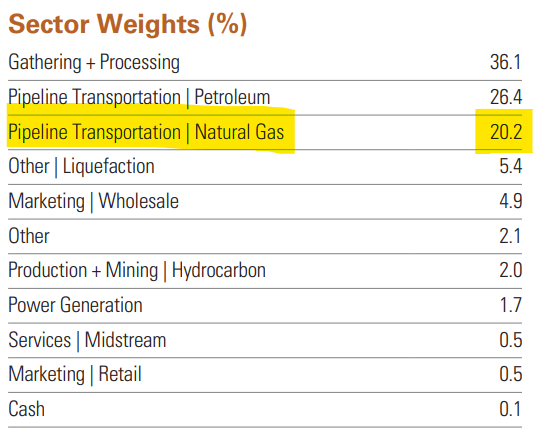 According to the figure above, only 20% of total holdings consist of the natural gas pipeline transportation sector, while slightly more than one-third comes from gathering + processing. Now we do not have a clear picture of whether the latter is primarily focused on natural gas or petroleum products. We are just familiar with the fact that MPLX and also the biggest holding of this CEF is a very important player when it comes down to gather+processing of natural gas. Nonetheless, we think it is really important to regularly follow the portfolio construction of this CEF to see whether it is trying to become more ESG and shift away from its exposure to petroleum and oil business towards greener solutions like natural gas or renewables.
For example, let's say Goldman Sachs's asset management has decided in the near future to divest its pipeline transportation - petroleum holdings and buys a greater share of pipeline transportation - natural gas, and liquefaction facilities. Then suddenly some bad news came out of the oil business, like a major oil spill, something like was the case in the Gulf of Mexico in 2010. This could negatively impact oil-related holdings in GER and lead to a major sell-off by ESG-aware investors. In this case, our readers could take short-term advantage of this news mispricing ESG composition of this CEF, as it is more exposed to natural gas transportation over the petroleum one.
KEY RISKS
We see as the biggest short-term risk a potential military confrontation between NATO and Russia which could negatively impact the maritime delivery of LNG between the U.S. - the European Union. We believe there is a reasonable risk of tactical low-yield nuclear attacks within European NATO countries. Russian officials have been making a consistent threat of demilitarization from NATO and have recently threatened to strike south-eastern European countries - Montenegro, Bulgaria, and Romania - for not letting Lavrov's plane fly through their territories.
Another risk might be unprecedented volatility in key natural gas-related futures, which would make it impossible for U.S. producers to plan their production. In addition, European customers would have to wait for favorable prices to buy at SPOT orders or abandon LNG at all and look for other alternative sources. The regulatory framework which could limit natural gas production due to net-zero policies by limiting carbon emissions, we see as the long-term risk that will create very difficult business conditions for key MLPs companies.
If we end up with a severe recession because of rising inflation and limited global trade, U.S. officials might have to decide with government funding whether to invest in new pipeline infrastructure or completely abandon updating and maintaining it and solely focus on renewables.
CONCLUSION
Over the long run, we have been highly bullish about the performance of this CEF, as we believe that European Russian gas dependence will end over the next couple of years, which will pave the way for U.S. LNG shipments. Renewable sources will also make an important part of European energy consumption, however, they are not as reliable as natural gas is. For instance, you can not plan whether there will be the sun in the morning to generate power from solar panels when there is increased energy demand as people leave to work and businesses start operating between 7 AM - 9 AM. However, you can always rely on your natural gas supplies.
Unfortunately, over the short run, we see many difficulties and risks for this CEF which we have highlighted in our article. We believe that European customers might not be able to get as much LNG as they would like as U.S. producers have to fulfill their long-term commitments to Asian countries. In addition, the Russian Federation might use some political tricks or even military operations to steer them away from American LNG dependence.
Editor's Note: This article discusses one or more securities that do not trade on a major U.S. exchange. Please be aware of the risks associated with these stocks.