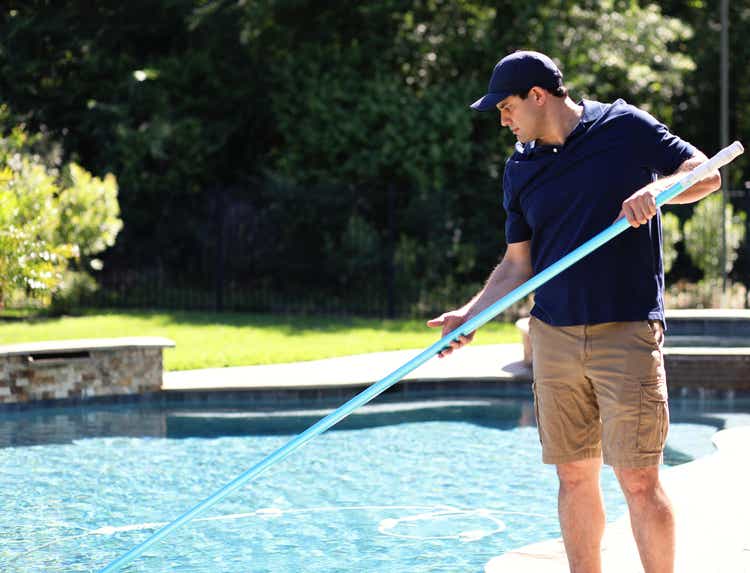 Thesis
The booming housing market in the United States over the past decade has led to increases in demand for pool construction, maintenance, and remodeling projects, leading the major supplies distributor, Pool Corporation (NASDAQ:POOL) to sales growth and stock price appreciation. After the recent broad market retreat and the consequent drop in the company's share price, I examine, in this analysis, the attractiveness of the stock along with the prospects of the industry in the midst of a volatile macroeconomic rotation.
The Business
Pool Corporation is the world's largest distributor of swimming pool supplies and equipment. The company also offers a wide range of outdoor equipment, such as irrigation and landscaping products. Sales are largely concentrated in the United States (90%), with the company maintaining low geographic diversification.
POOL acts primarily as a wholesale distributor, working mostly with contractors. Product offerings include automation controls, sanitizing systems, pumps, stone pavers, lighting, and cleaning solutions. Strategically, POOL aims to become a one-stop-shop solution for pool construction and maintenance, enhancing customer service quality and efficiency. Operating in a seasonal business, POOL usually sees higher sales and operating income during the second and third quarters.
Stock Performance
Following outstanding revenue growth performance and raised expectations (examined in a following segment), the stock has recorded a major bull run after the Covid-19 pandemic crash of 2020. Trailing 5 and 10-year returns stand impressive, at 217% and 914%. Even after dropping more than 30% from 52week highs during the recent market pullback, POOL trades more than 75% higher, compared to pre-pandemic levels. Currently, Pool Corporation trades at $385 per share ($16.28B market cap) and pays a 0.98% dividend yield.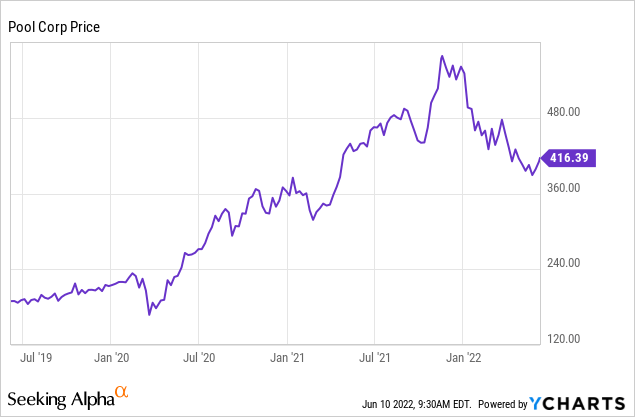 Market Growth Trends
Growth in the pool industry stems from new constructions, maintenance, and remodeling activities. More specifically, in 2021, both new construction and remodeling, accounted for 20% of revenues individually, with maintenance being responsible for 60%. The recurring nature of the maintenance and repair of pools aids the industry in maintaining a relatively consistent rate of growth. As the luxury housing market has seen a steady expansion through the past decade the pool industry has capitalized on the momentum.
Some of the most favorable trends for the industry are summarized below:
Warmer, southern markets are seeing long-term housing construction growth due to the population migration within the United States.
Millennials enter their prime home-buying years and are well positioned to spend more than previous generations on housing.
Consumer spending on home improvements and remodeling is increasing, driven by stay-at-home and remote work trends, with homeowners seeking to create a more wholesome environment at home, where they spend more time.
Financial Performance & Expectations
The 2021 fiscal year has brought forward some remarkable financial achievements. Revenue grew 35% YoY, corresponding to 29% base business growth, while gross and operating margins reached record levels at 30.5% and 15.7%. Still, bottom-line profitability has a lot of room for improvement (5.9% net margin in 2021), as it represents one aspect of the business that has some analysts a bit skeptical. Since 2017, revenue has grown at a 17.4% CAGR, with earnings and cash from operations growing at 36% and 14.5% annualized rates.
Analysts maintain optimistic expectations regarding the company's future financial performance. After a strong year is once more expected in 2022, top and bottom line growth are likely to slow down significantly thereafter, stabilizing between 5 and 10% in the mid-term. As shown in the table below, analysts forecast $7.15B in revenue and $18.26 EPS for the fiscal year 2024.
The Dividend Growth Argument
Pool Corporation has been for the past decade establishing a reputation as a respectable choice for dividend growth investors. While the current dividend yield of 0.96% is relatively small, with the market yielding around 1.50%, increases in income distributions have been consistently increasing. Over the trailing 10 and 5 years, dividend payments have grown at 19.4% and 21.2% CAGRs. Even recently, dividends are still growing aggressively, at a 3-year CAGR of 21.4%. Yet, the company maintains a low 17.8% payout ratio. Overall, dividends have grown for 12 consecutive years. Over the next 3 years, analysts expect annualized dividend growth around 12-15%.
Valuation
As the run-up in stock price pushed the company, to arguably unreasonable valuation multiple levels, following the recent drawdown, the multiple expansion seems to have faded. While financial performance remains strong and expectations still hopeful, valuation has circled back to more reasonable levels, therefore offering a more attractive entry opportunity. Currently, POOL trades at a 21x P/E and 2.78x P/S, still somewhat higher than market averages, but undoubtedly less expensive than 3-year averages. Comparatively to the consumer discretionary sector's average multiples, however, POOL is still, significantly more expensive, likely due to its recent growth record and forward prospects.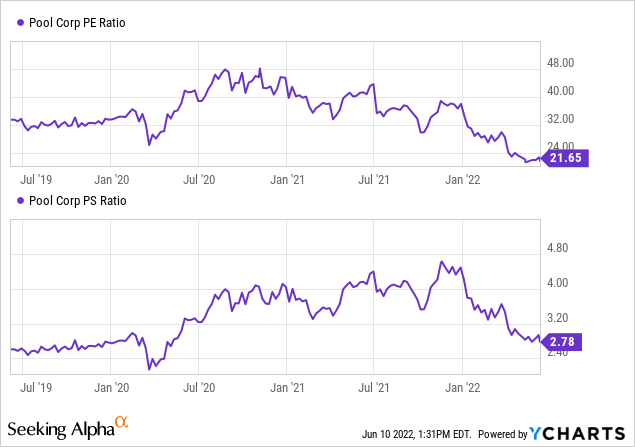 Risk Factors
In the company's most recent 2020 Annual Report, many risk factors are thoroughly examined. I will attempt to briefly discuss the most significant ones below.
Macroeconomic conditions: The demand for swimming pool-related products is cyclical and therefore affected by slowdowns in economic growth. Inflation is also applying input cost pressures, leading to increases in prices and deterioration in consumer sentiment. A prolonged economic downturn, coupled with interest rate increases can hurt the housing market and deliver a material adverse impact on the company's financial performance.
Relationships with suppliers: As primarily a distribution company, relationships with key suppliers are critical for long-term success. increasing prices on the suppliers' side could worsen the company's ability to effectively market their products, therefore negatively impacting business operations.
Competition: The industry is highly competitive on a regional and local level. Struggling to reach more end use customers can deteriorate profit margins and worsen long-term prospects.
Final Thoughts
As the housing market appears to have reached its peak, at least on a mid-term basis, and while most homeowners are also done with Covid-19-inspired renovation and remodeling projects, it is fair to assume that market conditions ahead look tighter. Despite strong financial performance, bottom-line profitability and valuation are two more things holding me back from assigning a buy recommendation for POOL, at least for the time being.