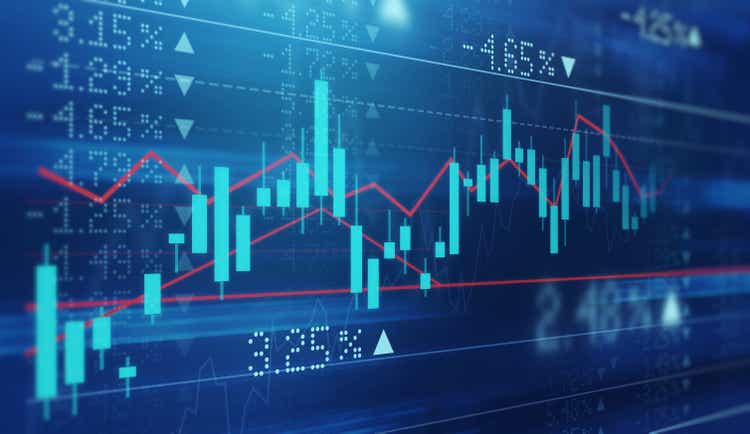 This article was first released to Systematic Income subscribers and free trials on June 4.
Welcome to another installment of our BDC Market Weekly Review where we discuss market activity in the Business Development Company ("BDC") sector from both the bottom-up - highlighting individual news and events - as well as the top-down - providing an overview of the broader market.
We also try to add some historical context as well as relevant themes that look to be driving the market or that investors ought to be mindful of. This update covers the period through the first week of June.
Be sure to check out our other Weeklies - covering the Closed-End Fund ("CEF") as well as the preferreds/baby bond markets for perspectives across the broader income space. Also, have a look at our primer of the BDC sector with a focus on how it compares to credit CEFs.
Market Action
The previous week's rally in the BDC sector stalled as the sector delivered a total return of about -1%. Underperformers were largely the higher-valuation BDCs whose valuations continued to compress - echoing the already familiar trend in the sector this year as the following chart shows.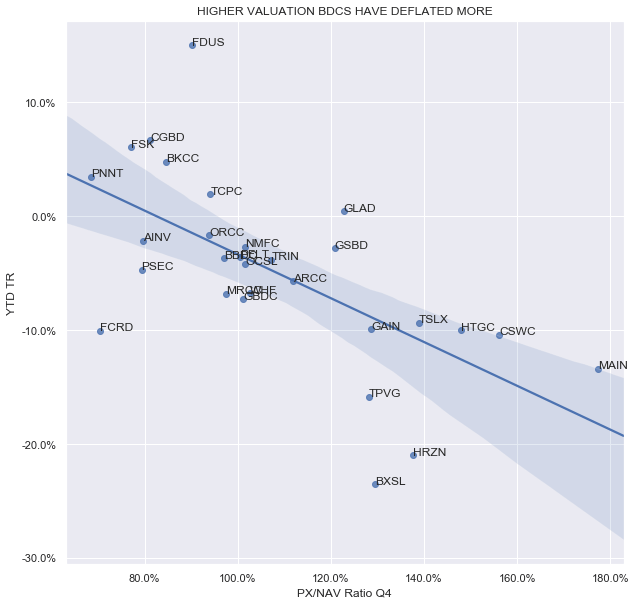 The year-to-date sector return stands at around -5% with six stocks still in the green. Out of these six, four of them have been in our High Income Portfolio since the start of the year (out of six total BDC holdings) - a strong confirmation of the margin-of-safety approach in the sector.
The sector average valuation (blue horizontal line) stands below the historic average and median figures though, as we suggested last week, this is probably overstated since NAVs have likely moved lower by 1-2% from their Q1 levels.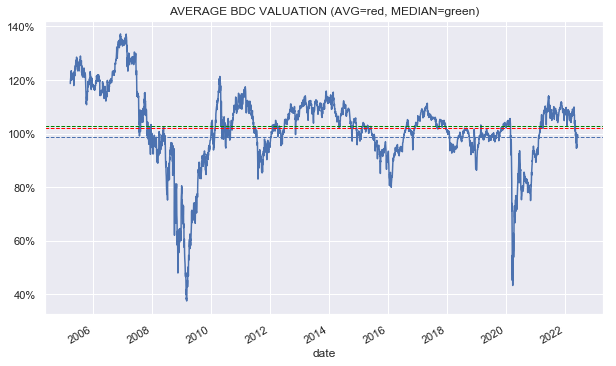 Market Themes
BDCs had a very volatile last couple of weeks, delivering a kind of market whiplash to sector investors. In this section we take a look at how individual BDCs have behaved through the recent period. This can give investors a sense of potential volatility in the future. It can also provide an anchor to valuations and give investors a sense of how rich or cheap individual BDCs really are relative to their recent lows.
The overall move in the index looks like the following. The sector rallied around 2% from the start of the year to its most recent peak in April, then fell around 14% to the trough and rallied back by around 4%.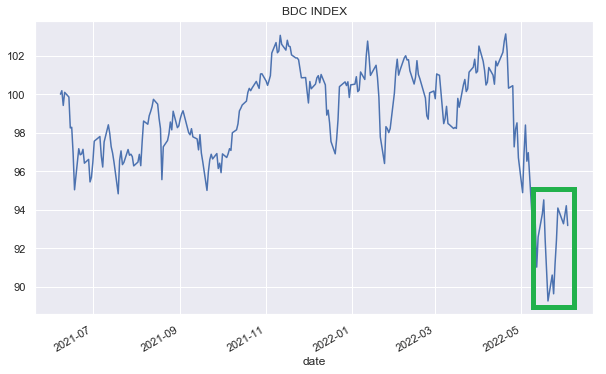 Let's take a look at the sector on an individual basis. To give an example of what we are after, let's take a look at the daily TRIN valuation chart below where we see that its current valuation has increased by around 9% from its recent trough and stands at 109%.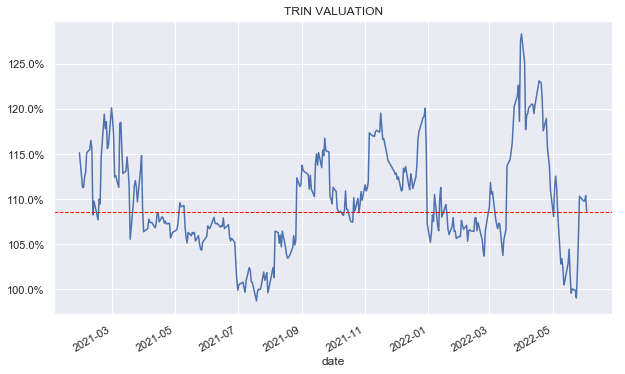 This translates into the following chart where the valuation bounce from the recent trough (i.e. the 9% in the case of TRIM) is shown on the y-axis and the current valuation (i.e. 109% in the case of TRIN) is shown on the x-axis.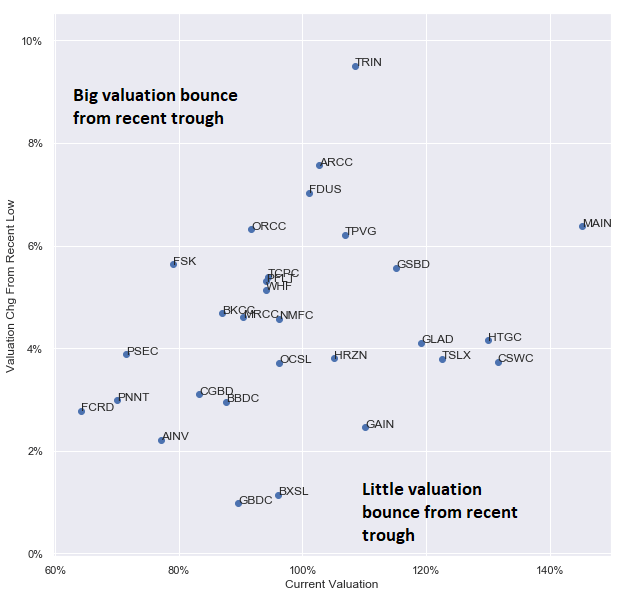 We see that TRIN has seen the largest bounce from its trough across the entire sector with ARCC and FDUS not far behind. More interestingly, perhaps, is that a number of BDCs remain fairly depressed and very close to their recent troughs such as GBDC and BXSL.
BXSL is, arguably, under pressure because of its upcoming lock-up expiration so we don't expect it to zoom higher until it's behind us. That said, we do see long-term value in its relatively modest 96% valuation. This is how its valuation chart looks.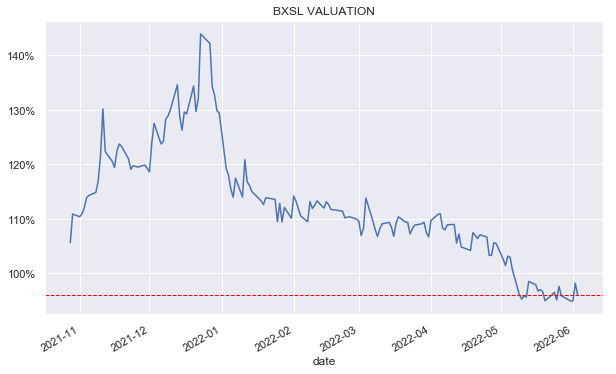 GBDC has rallied the least off its trough - by about 1% and looks attractive as well at a valuation of 89.6% as of this writing.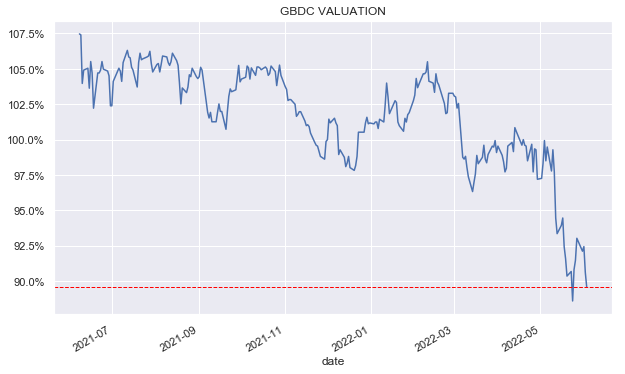 If we plot the stock's valuation relative to the sector we see that its valuation differential of nearly 10% is near a historic high for the stock i.e. it has never looked cheaper relative to the sector. Arguably, some of this derating is deserved as the company's rights offering during the COVID period was an own goal and its overall performance has not been as strong as it was in the past. That said, its higher-quality portfolio, low interest cost, modest fee structure and Q1 outperformance argues for an allocation.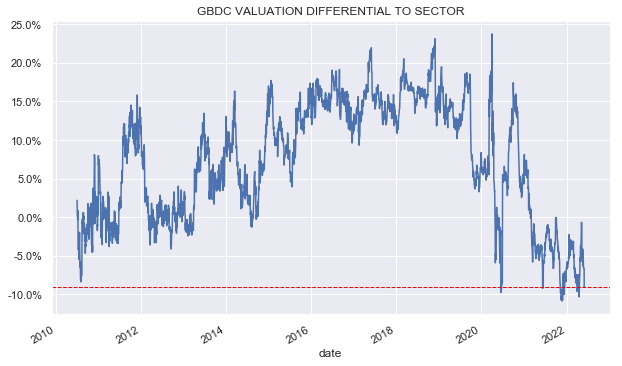 Stance And Takeaways
We have made two shifts in our BDC allocations recently. First, we added marginally to our BDC holdings in the High Income and Core Portfolios by rotating from some overvalued CEFs as well as drier-powder assets such as baby bonds and short-duration ETFs which have held up very well year-to-date. We also rotated from BDC positions that looked fully valued to those that looked cheap such as TRIN and BXSL. TRIN is up around 6% from the entry level while BXSL is up marginally.
Unless BDC valuations move lower we don't expect to significantly add to the BDC sleeve of the Portfolios. We also don't expect to chase BDCs higher from current levels if they continue to rally for two reasons. First, a hard landing is now viewed as a more-or-less consensus call. If this happens, it could put pressure on corporate earnings as well as BDC NAVs, possibly driving some deleveraging as well as further valuation derating. Recall that the sector currently trades close to its historic average valuation level so, in aggregate, it is not outright cheap and doesn't fully price in the downside scenario.
And two, if the hard landing scenario is realized, we should see the Fed reverse its policy rate hikes which would reverse expectations of higher BDC incomes over the coming quarters, which could put further pressure on BDC prices.
Overall, we continue to be nimble and look out for individual opportunities to grow our Portfolio yield. We are also tracking some rotation candidates as another potential source of alpha in our Portfolios.