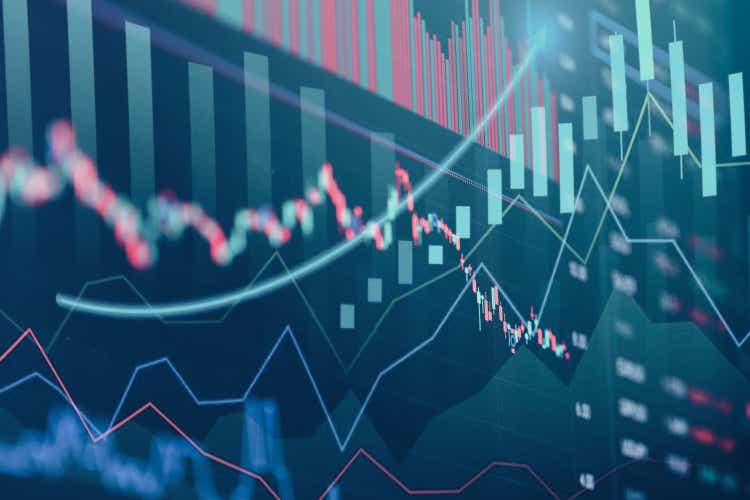 This article was first released to Systematic Income subscribers and free trials on June 4.
Welcome to another installment of our CEF Market Weekly Review where we discuss CEF market activity from both the bottom-up - highlighting individual fund news and events - as well as top-down - providing an overview of the broader market. We also try to provide some historical context as well as the relevant themes that look to be driving markets or that investors ought to be mindful of.
This update covers the period through the first week of June. Be sure to check out our other weekly updates covering the BDC as well as the preferreds/baby bond markets for perspectives across the broader income space.
Market Action
The CEF space was down marginally this week as a strong start fizzled out quickly. Very unusually, the bounce that we saw the previous week was even sharper than the very sharp drop earlier in May which has now been fully reversed.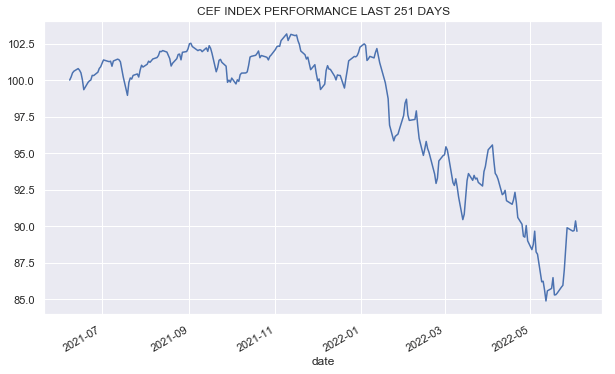 Year-to-date only 3 sectors have delivered returns better than a double-digit drop and MLPs remain the only sector in the green.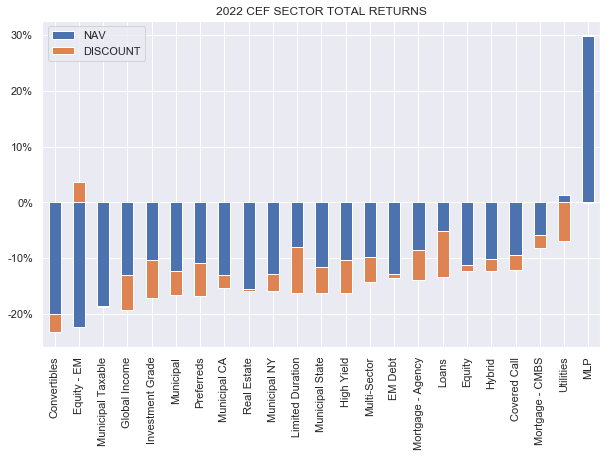 Equity and Fixed-income sector discounts have tightened off their recent wides but remain fairly range-bound.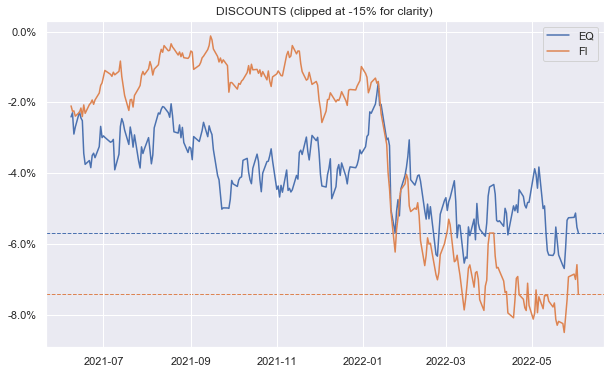 The taxable Municipal sector discount rallied recently and is trading at a pretty expensive level with all three sector funds boasting a premium despite some of the worst returns year-to-date.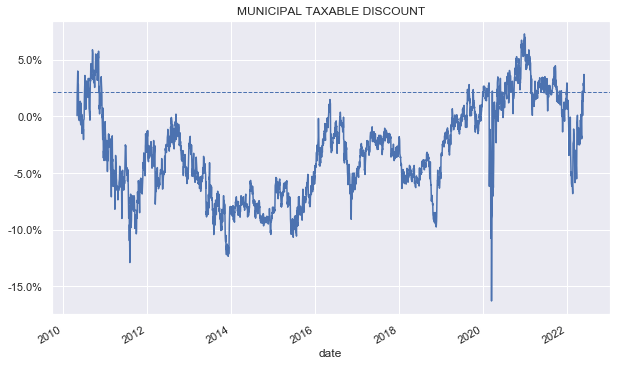 Market Themes
We have been highlighting the attractiveness of high-yield corporate bonds over the last few weeks as yields approached an unusually high level of 8% prior to the most recent rally. One push-back we got to this view is that - yes, bonds may be attractive but the distribution coverage of high-yield corporate bond CEFs is pretty low - around 84% on average.
This is an important question and something we have discussed a number of times. The key point here is that most investors use CEF net income yields (i.e. the numerator in the distribution coverage calculation, denominator being the actual distribution) as a proxy for a given fund's "earning power" or capacity.
However, in most times the fund's net income yield will present an erroneous picture of the fund's earning power because it ignores the basic fact that bonds mature at $100, barring a default. This additional performance headwind or tailwind is entirely missing from net income yield which only looks at the bond's coupon relative to its current price.
The net income yield is a reasonable metric for two types of securities - floating-rate securities (so long as investors also take into account how the base rate such as Libor is moving or will move in the medium term) as well as fixed-coupon perpetual securities trading below "par", such as preferreds. Net income yield is misleading for anything else such as corporate bonds.
To illustrate why, let's consider the SPDR Bloomberg High Yield Bond ETF (JNK) as an example. Specifically, let's take a look at the index underlying the fund which gives a very good picture of what the broader High-Yield corporate bond space looks like.
The index has an average bond price of $93.02, weighted-average coupon of 5.61%, current yield of 6.07% (roughly equal to the coupon / price x 100) and the yield-to-worst of 7.06%. If we ignore the fund's fee for the purpose of this example as it's not a crucial element, its current yield is roughly equivalent to the net income yield of a CEF before leverage.
In other words, investors who focus on the net income yield will be unaware of the fact that the fund "earns" 1% more than it appears from its net income yield or its distribution coverage. This 1% is basically all due to pull-to-par i.e. the additional return investors get from the weighted-average price of $93.02 moving to $100 at maturity over the next 6 years. This roughly translates into $7 / 6 years or not far from the 1% differential between yield-to-worst and current yield.
What does this mean with respect to distribution coverage? What it means is that while it's undeniably true that High-Yield corporate bond CEFs generate GAAP income that is below their distribution rates, once we take into account the additional pull-to-par of corporate bonds over time, the CEF sector basically earns in line with their distribution rates. This additional tailwind will go to the funds' NAV rather than their income.
It's important to note that while we are less worried today about the sector distribution coverage we will be very worried if corporate yields fall back down. As we highlighted a number of times in 2021 - we viewed the corporate bond space as very unattractive due to unusually low yields. That the space was very unattractive was much more obvious if you looked at the sector yield-to-worst which was much lower than its CEF net income yield indicated. This was for the simple reason that the average bond price in the sector was trading well above par which created a significant headwind for future performance and which was not reflected in CEF net income yields.
Market Commentary
As usual there were CEF distribution announcements at the start of the month. Five BlackRock muni funds cut distributions - not a big surprise there given what's been happening to leverage costs. Taxable fund BKT cut as well. Energy fund BGR hiked distributions while growth fund BIGZ cut - mirroring what's happened to their NAVs. These funds have a fixed managed distribution plan which seems to be a function of the NAV though it's not explicit.
Invesco unleveraged Investment-Grade bond fund VBF increased distribution. Its coverage was a bit over 100% and the fund may have rotated into higher-yield / coupon securities to take advantage of the recent sell-off.
Two Eaton Vance muni funds cut (EVM, EIM) and two loan funds hiked (EVF, EFL) - something we would expect and in line with their income trends due to the recent rise in short-term rates.
Two Nuveen term funds cut as well (JEMD, JHAA) - something you tend to see close to termination.
The CLO Equity / Loan CEF XAI Octagon Floating Rate & Alternative Income Term Trust Fund (XFLT) put out a shareholder report. Net income increased by 3% from the previous year and coverage is now 89%. It's always tricky to work out how GAAP income maps onto economic income for CLO Equity funds so the GAAP number is not always the best indicator.
Overall, income should now be increasing for XFLT (for both loan and CLO Equity positions) given Libor is above the Libor floors. Returns should also benefit from the reinvestment option where CLO managers buy loans below par (loans are trading around $96 now) and get repaid at par (barring a default). There are typically 10-30% of loan prepayments in any given year so this can really drive returns if loan prices remain below par for some time without the default rate rising.
A couple of things to watch out for. First, management appear to imply that they are borrowing at a rate of 1.4% on their credit facility. This is the average rate they have incurred in the facility for the six-month period ending in March. The facility has a rate of 1-Month Libor + 1.25%. Specifically, on the call they said, "our senior loan allocation allows us to have a leverage facility where we can borrow and that's at 1.4% and brings the overall cost to leverage down to 2.67%." The implication here is that they "can borrow" at 1.4% and that's wrong. One-month Libor is currently at 1.12% which, if you add to 1.25%, gets us to 2.37%, not 1.4%. Obviously, 1-Month Libor resets monthly so there is some lag in the fixings, but 1-Month Libor hasn't been at 0.15% (i.e. 1.4% - 1.25%) for many months so this comment sounds like a misstatement.
There was also a comment on the call about the advantages of the fund's leverage profile which is mostly in the credit facility and a bit in the preferred. The pitch by management is that this is cheaper than the leverage profile of other CLO Equity funds which are funded primarily with debt and preferreds.
Of course, the other side of the coin is that XFLT has a lower income profile than more pure-play CLO Equity funds (even with their higher leverage cost) and XFLT is also more likely to be forced to deleverage due to its credit facility. A fund that is financed with debt and preferreds is much less likely to be forced to deleverage as CEF debt and preferreds don't have daily mark-to-market covenants.
We recently discussed the taxable PIMCO CEF leverage details for April. The fact that the taxable CEFs deleveraged was not particularly surprising. What was very surprising is what happened to their Muni funds which is that all of them added borrowings (i.e. the opposite of a deleveraging). In fact, April was the second time this has happened this year with the national trio adding around 4-5% of borrowings.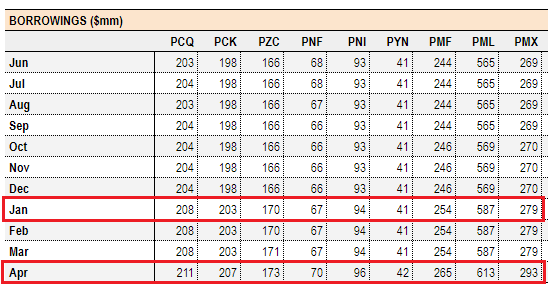 The numbers aren't massive, but they are still notable for 2 reasons. First, PIMCO Muni CEFs are very boring from a leverage perspective because they haven't done a whole lot with the borrowings after their COVID deleveraging, unlike their taxable counterparts. And the second reason this is notable is because the leverage levels of the PIMCO Muni funds were already very close to 50%, making the increase in borrowings a very aggressive move.
Taking PML as an example, it ended April with leverage of 49.26%. At the lows of May the fund's NAV fell by 7.3% from April-end. This works out to a leverage of 51.2% intra-month. The fund's prospectus says the fund's "total leverage will not exceed 50%". So, it's not clear what's happened there. On the one hand, it's nice to see a manager really going for it when muni bonds trade at attractive valuations even if they were off by about 3-4 weeks (PML NAV trough was on 18-May). On the other hand, it's clearly risky since they probably had to then deleverage in May. We will know more when the May numbers come out.
If we just look at the performance of PML against something like NAD, we don't see the obvious tell-tale sign of a forced deleveraging because the PML total return ends up above that of NAD through May. It lags by about 2% at the trough and then rises above that of NAD by the end of the month.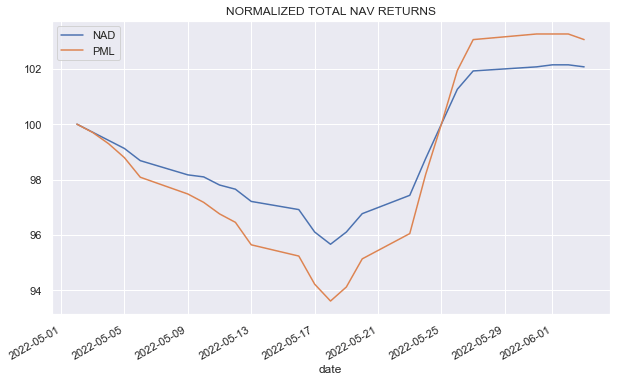 This feels like it didn't actually deleverage but if it didn't deleverage, how did it get away with it and if it did get away with it what's the point of its leverage mandate. A deleveraging in the national trio, if it happened, would be an echo of what we saw during the GFC and the COVID drawdown when a forced deleveraging caused the funds to underperform lower-leverage municipal CEFs.
This is what happened during the GFC.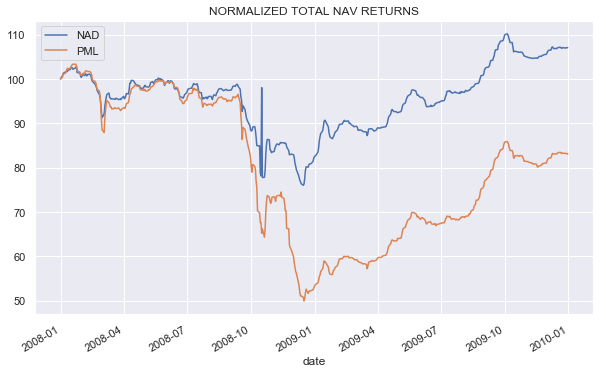 And this is what happened during the COVID crash.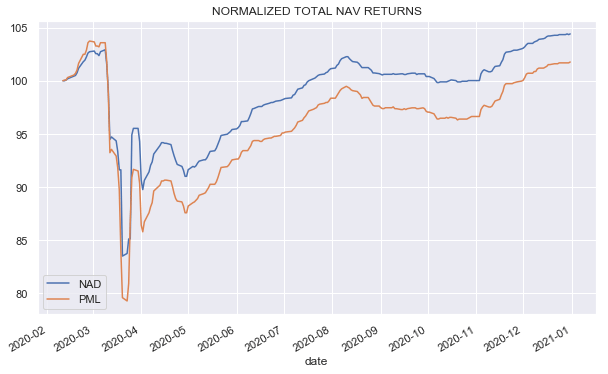 Maybe this time was somehow different.
Stance & Takeaways
As corporate credit yields moved closer to their recent peak of around 8% we have been reallocating back to CEFs from some of our more resilient holdings such as baby bonds, open-end funds and preferreds.
More recently as asset prices have rallied and CEF discounts tightened, we haven't done a whole lot in our Income Portfolios. High-Yield corporate bond yields have moved, roughly speaking, from close to 8% back down to 7% - a level which is still reasonably attractive but not as attractive as just the previous week.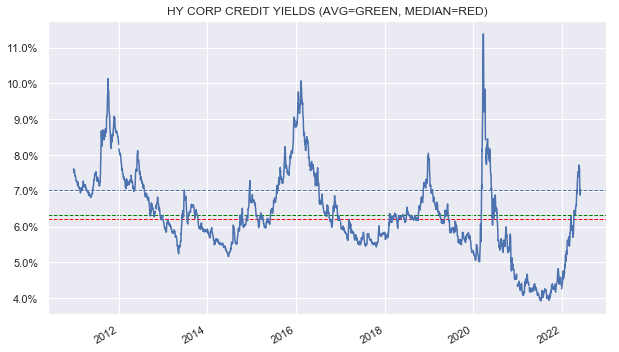 Given further hawkish commentary from the Fed as well as a macro picture that has far from folded, we wouldn't be surprised for both Treasury yields and credit spreads to creep higher. In short, we are not chasing the current bounce but are rather focused on some relative value rotations as well as more opportunistic buys.