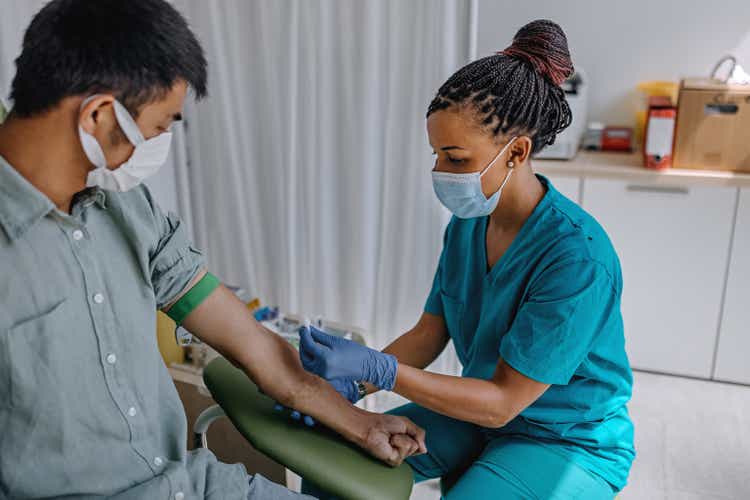 Investment summary
The Haemonetics Corporation (NYSE:HAE) investment debate hinges on growth of the plasma collection market. Our findings suggest market fundamentals are strengthening, backed by robust clinical and earnings data. HAE is set for a period of accelerated earnings growth into the coming years by our estimation. HAE's latest earnings was supported by results from competitors Takeda (TAK), Grifols (GRFS) and CSL (OTCPK:CSLLY), suggesting plasma collections have returned to pre-pandemic levels, dampening the risk case for HAE's long-term outlook.
Exhibit 1. HAE 12-month price action
With market fundamentals normalising and offering unrealised growth we envision continued strengths in HAE's NexSys PCS, TEG segments. Fundamentally, the company has the economic pillars to absorb macro-specific headwinds, and the case is well supported via technical studies and multiple upside price targets. We price HAE at $98, seeking a return objective of ~52-56% with a price objective of $98-$100 and review of the position at that time. Rate buy on market fundamentals and value gap to the upside in valuation.
Plasma market trends curling up
Results from key names in the space confirm there's been a recovery in collections, after demand was stripped back due to Covid-19. Inferences can be made from various financials. Takeda showed a 16% YoY growth to collections in the March quarter, and that's ~300bps above pre-pandemic levels. It's guided another 10-20% spike to collections over the coming 12 months. It also saw Immunoglobulin ("Ig") sales lift by ~9% in FY21 and 15% YoY last quarter. It guides another 10-20% growth in this segment as well. CSL's results were similar adding weight to the data. Meanwhile, Grifols' Q1FY22 printed a 16% YoY and ~9% sequential growth pattern in collections and affirmed volumes have returned to pre-Covid weekly levels.
HAE also printed a ~10% YoY gain in collections last quarter and expects $88 million of plasma sales to CSL in 2023. On the Q3FY22 earnings call, HAE confirmed it's extended the contract until December 2023. This overcomes a major headwind the company faced last year when it was postulated the contract would expire. We had covered this update at the time, noting the potential risks vertically and horizontally to the P&L as a result, but that HAE still had the economic pillars for long-term value:
As of FY2020, total revenues were exposed ~12% to this high-margin [PCS2 CSL contract] agreement, therefore, ~12% of HAE's top line remains un-hedged moving forward and the same is likely to be absorbed throughout the P&L during that time...

...[h]owever, HAE does remain set to sustain organic growth at the top and at the bottom for shareholders by my estimation.
The new agreement - that's non-exclusive, mind you - permits CSL to continue its use of PSC2 device and continue purchasing disposables until its expiry. Hence, this is set to be a positive inflection point and should account for an ~$88 million ($1.72/share) tailwind to HAE's top-line in FY23.
Exhibit 2. HAE Segment performance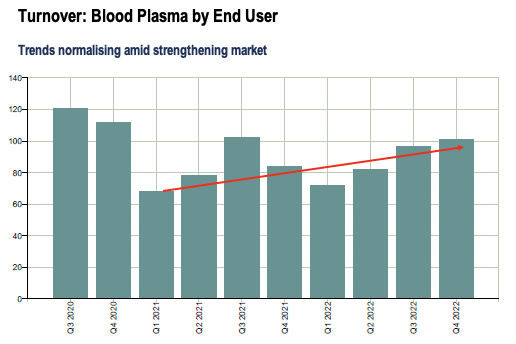 To that extent, HAE's latest earnings adds another undercurrent to the bullish outlook of the market. Organic revenue growth widened by ~19% YoY to $265 million, with the turnover mix made of ~38% plasma and blood centre ~28%. Growth was underscored by total plasma sales of $101 million, up ~31% YoY and ahead of consensus. HAE did recognise a ~220bps tailwind ($0.12/share) at the top from a one-off stocking order in Q4FY22. Adjusting for this plasma sales still topped ~23% organically YoY by our estimate. Growth in the plasma segment was underlined by wind up of volumes and price elasticity in NexSys and Persona. This came about form negative adjustments due to the fixed term pricing of the previous contract. Domestic sales strengthened by ~12% YoY to help the result.
The culmination of these drivers was accretive to the FY22 gross margin ("GM") of ~53%, up around 700bps YoY from FY21, but was a ~300bps sequential decline. Three-year GMs normalise to 49.7% for HAE and FY21's print begs the question if it's a bearish or bullish sign. Those with a bullish sentiment might argue it builds HAE's capacity to absorb impeding cost inflation at the margin level, thus defending the P&L vertically and effectively hedging against earnings and FCF destruction. Those in the bearish camp might suggest it leaves little headroom for the company to decompress margins further. We are in the bullish camp, and believe the above-average margins ring-fence the company from current macro-headwinds plaguing financial markets. Further evidence is in operating margins lifting ~410bps to 17.6%, above 3-year normalised operating margins of ~16, and above the GICS Industry median's -18% in the same time. Operating income from plasma and hospital divisions continues to widen sequentially since Q1 FY21 as well. Moving down the income statement, the company saw ~60bps of leverage at the SG&A line and R&D expense tightened by ~20bps YoY, helping operating leverage as above.
Exhibit 3.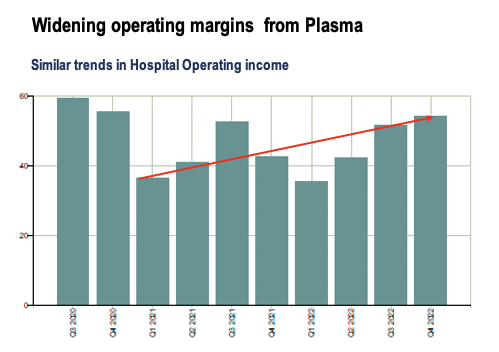 Guidance affirms market's forward estimates
Market trends are bolstered by HAE's forward guidance into FY23 and FY24. Management are firm they expect a long-term sustainable growth rate in plasma turnover of ~8-10%. These projections are sensitive to the upside to customer inventory levels. Should customers start build out inventory, this would feed sales growth and operating leverage by estimation. Management guides ~5-9% growth at the top in FY23 calling for $1.04-$1.08 in revenue, ahead of the Street's $1.03 billion. Industry research indicates the blood plasma market is poised to grow at CAGR 9.2% into 2028, with contrary studies implying CAGR of 6.2% and ~10% in other publications. Hence it appears a ~6%-10% growth schedule is priced for the market, with it currently averaging a ~$30 billion valuation. Hospital patient turnover has normalized as well and showed an above-pandemic growth schedule in April. Hospital discharges gained 20% YoY from 2020, and 1.2% from 2021, implying positive uptrends to HAE's Hospital division. We've modelled ahead of the company and the sell-side's estimates and forecast $1.07 billion and the top in FY23, stretching up to $1.1 billion in FY24. On that note, momentum in the underlying market is a clear tailwind for HAE to unlock longer-term value.
It then becomes a question of how the company can manage the systematic risks clamping down on equity markets. Namely, cost inflation and surging base rates. Oil stretching to multi-year highs also commands additional risk premia in equities. The unwind of the long duration and high beta trade is undeniable in 2022 and these systematic risks are being priced in accordingly across all sectors and most asset classes. Profitability and cash-conversion are therefore paramount. We are searching for those names with capacity to absorb cost pressures below the top line and maintain a degree of earnings leverage. HAE appears to fit the bill.
HAE has 3-year normalized FCF margins of ~9%, ahead of the industry's 8.3%. It printed $33 million of free cash in the last quarter. It converted $75 million in free cash in FY21, and has grown FCF by 12% geometrically over the past 5 years, in line with the peer median. ROA was 2.4% in the last print whereas ROIC came in at 3.5%, both ahead of peer medians. ROA has averaged 4.5% these last 3 years whilst ROIC has grown 9.7% geometrically each year for the previous 5 years. Above industry profitability measures are a tailwind walking into the next periods of economic activity, by our estimate. Coupled with the prevailing growth trends in the plasma market, HAE's profitability outlook is a bullish factor in the investment debate.
Valuation
Shares are trading at ~35x P/E and 43.5x FCF, each slightly ahead of the GICS Industry peer median for each. Shares also trade at ~4.4x book value. It's also grown book value at a paltry 0.7% geometrically over the last 3-years, behind the SPX's annualised return in the same time. The market also prices it at a 3-year normalised P/E of 47x and 71x FCF. HAE is therefore trading at a discount to historical averages but trades at an average 18% premium to peers across key multiples.
Exhibit 4. Multiples & Comps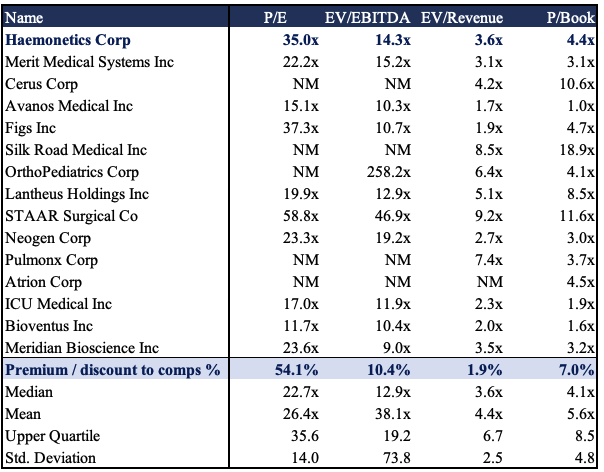 The question is if this premium is justified, particularly as HAE is trading at a discount to its historical averages. HAE is arguably the key innovator in the space, and we've discussed the prospects for growth in its NexSys, PCS and TEG segments based on strengthening plasma and hospital market fundamentals. It also presents with above sector profitability measures and continues to compound FCF below the bottom line whilst holding FCF margins stable. It's also averaged EPS growth of ~18% over the last 3 years, on 3-year normalised sales growth of 1.44%. Hence, it presents with a degree of earnings leverage, where EPS growth outpaces the top line. There's also the case of HAE's forward estimates and our FCF estimates rounding out the picture. On that basis, we believe HAE commands the 5% premium to peers in these multiples.
Next question then is if we price HAE using its historical averages or forward estimates. It trades at 4x our forward sales estimates and 23x our FY23 EPS projections. These are in line with and below normalised values respectively. Considering earnings momentum has been strong, displaying ongoing YoY growth in the double digits, we feel it prudent to use a blend of historical and forward multiples. We therefore value HAE at 35x our FY23 EPS estimates of $2.75, giving a price objective of $95 apiece. Doing the same to our FY24 estimates of $3.04, and discounting this back at 12.5% - a rate reflecting the opportunity cost of holding the SPX plus the yield on long dated treasuries - prices the stock at $94.5. We also value HAE at 57x FCF - a rich valuation by any measure. Assigning this to our FY23 FCF estimates of $96 million sets a price target of $107.
We also need an unambiguous measure in identifying clean price objectives, by understanding the market's psychology behind the stock. Point & Figure charts ("P&F") achieve this. Our P&F analysis on a weekly chart suggests there are multiple upside targets ranging from $86-$105 per share still to be met. Price action is above the ascending trend lines suggesting bullish sentiment from market pundits. The chart is therefore strongly bullish for upward price trajectory, in our estimation. Price objectives identified are largely in line with fundamentally derived targets identified above, and suggest further upside is yet to be priced in by investors.
Exhibit 5. Multiple upside targets
Forming a composite of the above measures by blending the data on an equal weighted basis, sets a price objective of $98 per share. Removing our smaller upside target of $86 in the calculation lifts the target to $100, a marginal $2/share adjustment. Nevertheless, we are confident in pricing HAE at $98-$100, seeking a return objective of 52-56% to a potential exit or rebalance at that mark. Our stops are positioned 20% below these two objectives.
Technical studies
Technical studies are supportive of a breakout in the HAE share price. Shares have just crossed back above all 3 SMAs in late April and have broken out of a flag pattern that was in situ since November last year. Shares have punched back above cloud support and buyers saw buyers at the $48 mark after bouncing from that level in May. Cloud support is identified at the ~$60 mark that, if the stock heads to that mark, would also define the near-term support level. We'd be searching for a bounce off this mark to confirm the near-term trend.
Exhibit 6. Stretched up above cloud support
On balance volume ("OBV") has curled down since March however remains in continuation of a longer-term uptrend in situ since January, whilst momentum has gyrated since May, ticking down in recent weeks. Long-term trend indicators therefore corroborate continuation of the longer-term trend, and with the stock forming new support since May there's good grounds to envision near-term upside based on these technical studies.
Exhibit 7. Trend indicators supportive
In short
The market is pricing in more systemic/systematic risks and thus idiosyncratic drivers are paramount. HAE has several of these drivers that could amount to share price appreciation. However, at the company level, the debate hinges on continued growth in the blood plasma market.
With a range of factors in mind, we've priced HAE at $98 per share, leading one to believe there could be gains yet to be realised, should the market agree. To that effect, technical studies are supportive of this.