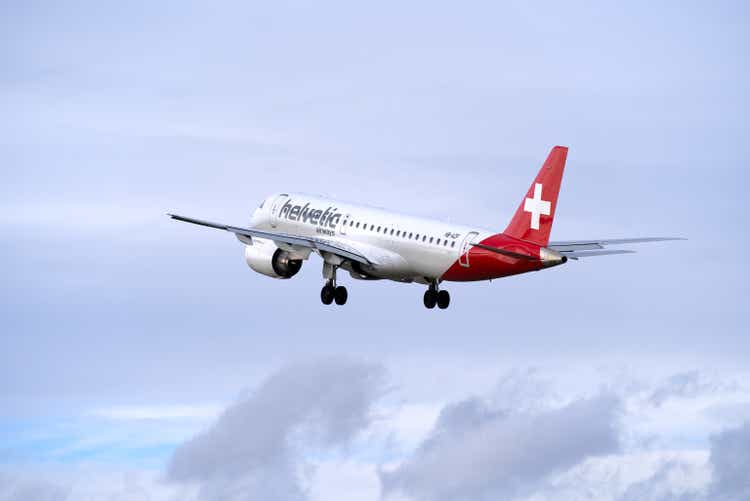 As part of our expanding coverage, I am adding Embraer (NYSE:ERJ) to my coverage list, meaning that in the same way I analyze Airbus (OTCPK:EADSF) (OTCPK:EADSY), Boeing (BA) and Bombardier (BDRBD) (BDRAD) at least quarterly, I am now also adding the Brazilian jet maker to that list. In this report, I will have a look at the first quarter earnings for Embraer.
Embraer's Q1 Results Take Integration Hit
During the first quarter of 2022, revenues tumbled. Commercial Aviation revenues decreased 38% year-over-year, Executive Aviation revenues declined by 41%, Defense & Security revenues declined by 47% while Services & Support revenues increased by 8% for an overall revenue decrease of approximately 25%. This reduction was caused by a production shutdown of almost one month. Important to consider is that this shutdown was not related to COVID-19, but had everything to do with reintegrating the Commercial Aviation unit into the business. Maybe in some sense, COVID-19 played a role. Years ago, Boeing and Embraer agreed to enter the commercial aviation unit into a joint venture, which definitely was because Airbus absorbed the C Series aircraft pressuring Embraer and Boeing at the lower side of the single aisle market.
However, Boeing dealt with the Boeing 737 MAX crisis as well as the consequences of the pandemic which significantly reduced the value of the transaction as well as the stability of said transaction. As a result, I considered the transaction to be unlikely to take place. Boeing indeed did end up terminating the joint venture agreement and Embraer embarked on a long road of reintegrating the unit into the company. The reintegration links processes and infrastructure with Embraer again, making the unit more agile overall, but did require a month-long shutdown of the company.
Revenues don't really provide a strong guide for improvement due to the reintegration impact. A better guide for improvement is the margin expansion observed during the quarter. Commercial Aviation margins expanded by 12.8 percentage point improvement while gross margins expanded by 12.5 percentage points, 4 percentage points for Defense & Security and 1.9 percentage points for Services. That does show that across the segments there was strong margin improvement resulting in gross margin for Embraer to expand from 9.5% to 20%.
Year-over-year, earnings improved from a $90 million loss to a $30.7 million loss driven by an income tax benefit of $50.3 million. Adjusted EBIT improved from -3.7% to -1.7% excluding the re-integration costs while adjusted EBITDA improved from 2.2% to 5% and adjusted free cash flow improved from a $227 million cash bleed to a $68 million cash bleed.
Embraer - Guidance reaffirmed
For the full year, Embraer is expecting 60-70 Commercial Aviation deliveries and 100-110 Executive Aviation deliveries which should aid the company in achieving $4.5 billion to $5 billion in revenues and generate an EBIT margin of 3.5%-4.5% and free cash flow better than $50 million. So, despite the one-month shutdown, there is a lot of improvement expected this year, and beyond that Defense will continue growing margins while Commercial Aviation might take a bit longer to regrow margins due to some pricing headwind on older contracts.
From gross margin perspective, I do believe that things will significantly improve but that is a trajectory that will take some years to fully materialize. One thing that I appreciate less about Embraer is the fact that the company makes good products, but it seems that its selling and general expenses as well as other expenses are too high for a company with the delivery values we are seeing for some years now. I have little doubt that gross profits will regrow towards 20% again which is extremely strong. However, what our analysis found is that since 2015, most of the company's profits are eroded in the translation from gross profits to operating profits. In fact, in any year since 2015, the operating costs are more than 66% of the gross profits providing for a strong headwind to translation to EBIT level. I would like to see EBIT levels of 10% which would require revenues at $6.5 billion and 20% gross margins combined with reduction in operating expenses of 25% compared to pre-pandemic levels.
Conclusion
Margins and free cash flow did show strong year-over-year improvement and overall Embraer expects revenues to grow this year and significant margin expansions in the coming years. However, Embraer does need a strong or better said stronger production and pricing environment to bring its margins and revenues in the desired range while further reductions in operating expenses are required. I am not necessarily negative on the prospects of Embraer, but I'd like to see more proof of significant step-down in operating expenses as revenues improve.