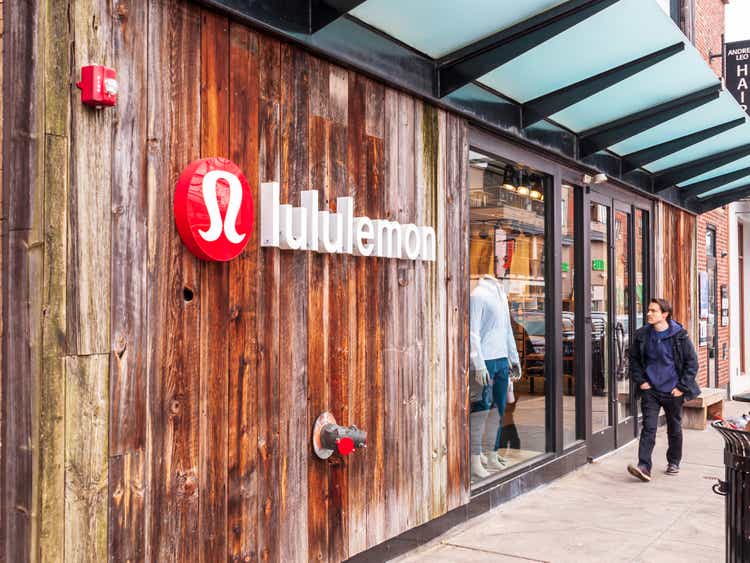 It is always great to invest in a company that you understand or even enjoy their products/services. You can oversee the company's operation and development in hindsight, which gives you the confidence to be a long-term shareholder.
Lululemon Athletica (NASDAQ:LULU) is my favourite athletic apparel stock for several reasons. My first-hand experience found LULU staff professional and helpful, which makes the shopping journey enjoyable. The company's revenue goals in the Power of Three Strategy have been accomplished ahead of schedule. Plus, the company has great international exposure, operating 574 stores in 17 countries across the globe by 2021. And it had great financial performances over the past years.
However, the shares once dropped almost 30% since the start of the year, slightly more than the benchmark index. The drop is contributed by a pessimistic macro backdrop, gloomy consumer sentiments, excessive level of inventories, and growing recession risk. I believe it should be a time to accumulate high-quality companies, like LULU, at discounted valuations when opportunities arise.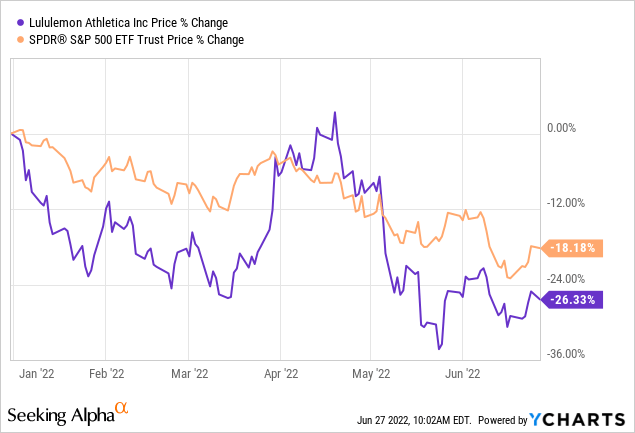 Employee And Customer Relations
A long-lasting and positive employee and customer relationship can enhance stickiness and loyalty to the company. LULU has been devoted to offering support to its employees, such as competitive compensation to reward exceptional performance, personal resilience tools, the Fund your Future program, etc. The annual employee engagement survey reflected the scoreline exceeding the industry average, which means their employees are proud and motivated to work for LULU. The company also offers great customer support, including live chat online, a 30-day trial for some products (e.g. Blissfeel), and the staff is always hospitable and professional.
The key strategic pillar that separates LULU from other major apparel retailers like Nike (NKE) is its community-based retail model. They build brand awareness and guest loyalty by recruiting local authentic influencers as their ambassadors and promoting them via social media channels. LULU found this model working both inside and outside the U.S.
Plus, the essential membership program will launch this fall, expecting users to establish daily engagement with LULU. All of these create an invisible linkage between LULU, its employees, and customers, which develops a great corporate image and retains customers.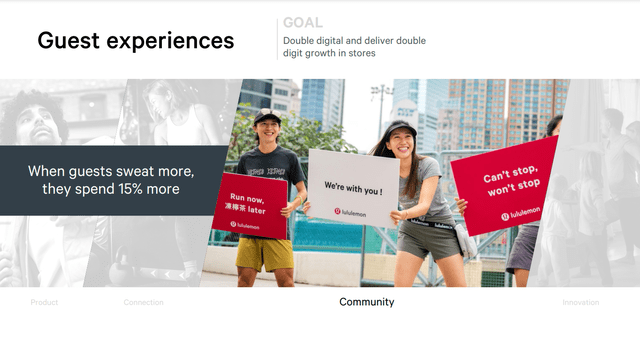 Financials
The financials of LULU have been sound over the past years. The apparel company achieved a revenue 5-year CAGR of 22.2%, EBITDA 5-year CAGR of 25.6%, and EPS 5-year CAGR of an incredible 40.9%.
The table below shows some strong top-line and bottom-line data reflecting the company's solid profitability over the past five years. LULU has steadily high figures for ROE and ROIC, with its margins expanding.
Data abstracted

from Gurufocus)

2017

2018

2019

2020

2021

Revenue per share

(YoY%)

19.45

24.55

(26.22%)

30.39

(23.79%)

33.64

(10.69%)

48.02

(42.75%)

Gross Margin

52.80%

55.23%

55.87%

55.98%

57.68%

Operating Margin

18.67%

21.46%

22.34%

19.31%

21.97%

EPS

(YoY%)

1.90

3.61

(90%)

4.93

(36.57%)

4.50

(-8.72%)

7.49

(66.44%)

ROE

17.50%

31.80%

38.00%

26.11%

36.81%

ROIC

32.48%

52.01%

43.86%

26.24%

35.16%
In the latest earnings conference call, the company gave a full-year revenue guidance of $7.61 billion to $7.71 billion, which implies a three-year CAGR of 24% to 25%. And diluted EPS in the range of $9.35 to $9.50, which represents 25% to 27% growth.
The Power of Three Strategy
In 2019, LULU unveiled the Power of Three Strategy to focus on three different aspects, including Product Innovation, Omni Guest Experiences, and Market Expansion, where they had exceeded their 2023 revenue goals ahead of schedule. So, LULU has revealed the latest 5-year plan in the Analyst Day Presentation in May, named Power of Three x2. The management calls for a doubling of total revenue to $12.5 billion in 2026, aiming to further double men's revenue and digital revenues, and quadruple its international revenues by the same year.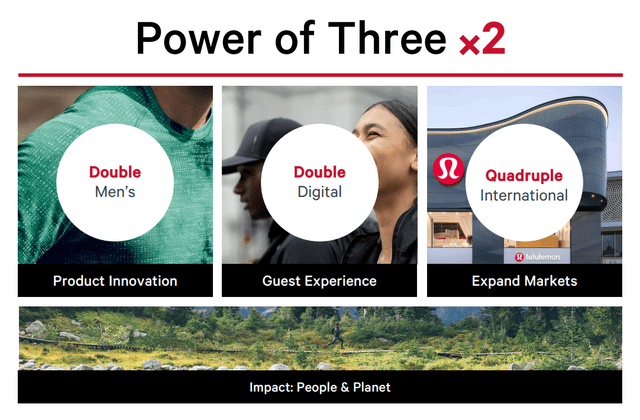 Apart from growth derived from existing products, LULU utilized its scientific way to develop innovative new product lines like footwear and expanded to categories like tennis and golf in 2022 Q1. The result so far has been very positive. The footwear product Blissfeel was awarded the best women-specific shoes in 2022. Some styles are already out of stock now as the demand has far exceeded the sales forecast. There will also be new products launching in the second quarter of 2022, including footwear Restfeel Slide, run apparel Senseknit, etc.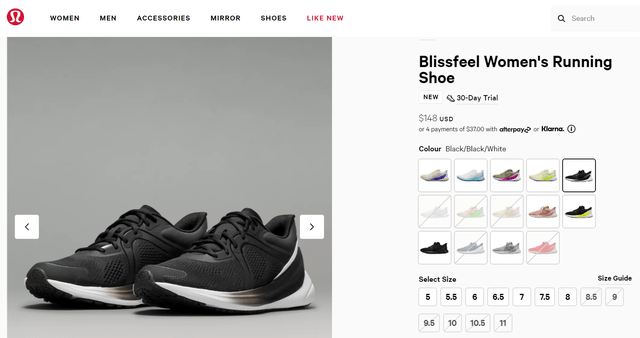 The pandemic has accelerated the shift to shop in online channels. E-commerce is expected to grow from $1.8 trillion in 2022 to $4.1 trillion in 2026, which represents an 18% CAGR. LULU has launched its virtual platform several years ago and has shown good results. In 2021, 44% of LULU's net revenue was contributed by purchases from the company's e-commerce website. And recently, I see the company advertise on social media platforms like YouTube. I believe social media platforms will play a pivotal role in bringing traffic to its app or website. It is encouraging to see that its e-commerce traffic escalated by over 40% last year. Together with the secular growth in stores, LULU's Omni business model has been proven successful.
The company is also gaining international exposure. The company operates 574 stores in 17 countries across the globe by 2021, with North America being the largest market (387 stores). However, international revenue only represents 15% of the total company revenue now. LULU aims to scale its existing markets and enter new countries like Spain and Italy. Unlike NKE or adidas (OTCQX:ADDYY), LULU is still at the beginning stage of becoming an international brand. For instance, NKE's international revenue accounts for 61% of total revenue in 2021. Lulu currently has only around 1% of the total addressable market. I see the company has a huge opportunity ahead to grow internationally.
Potential Risks
Inventory Level
As the supply chain issues continue to exert negative influences on LULU, they increased the inventory level to ensure the demand could be met. The apparel company's inventory level grew 74% versus last year and was $1.3 billion at the end of Q1. If we compare it with the pre-pandemic level, it grew 151% from 2019 Q1. The management expects the inventory level continues to grow in the coming quarter.
The surge in inventory level reminded me of Target's (TGT) bloodbath last month, where the stock dropped 25% on a single trading day after its earnings release. They owned excess inventories and need to mark down the prices to clear them.
Fortunately, the company is comfortable with its current inventory level. In the latest conference call, the management reflected:
Top-line growth is well aligned with our inventory growth. We feel well-positioned and don't come with attached markdown liability.
Competition
There is fierce competition in the athletic apparel market. Competitors like NKE, ADDYY, and Under Armour (UA) are expanding their production and marketing of performance products. In LULU's largest non-U.S. and Canada market, mainland China, the company also faces competition from local brands like Li Ning (OTCPK:LNNGF) and Anta. These well-established brands may have significant advantages due to their long operating history in the market and more abundant resources. But LULU has a market strategy that is quite different from its rivals.
All companies suffered in 2020, but generally bounced back to the pre-pandemic level. Amid the tough period and aggressive competition, LULU navigated well to maintain its market share and even has a more robust result when compared to its major competitors over the past three years. In the previous quarter, LULU implemented price increases on selected items. Despite the pessimistic macro backdrop, the management has not seen any negative impact on the sales volume.
Revenue Growth %

(2019-2021)

EPS Growth %

(2019-2021)

LULU
58.0
61.1
NKE
14.5
43.0
ADDYY
-7.0
10.8
UA
4.6
275
Valuation
The future of LULU is bright. Covid-19 raises general public awareness about having a healthy and active lifestyle. Despite the positive trend in the athletic apparel market, LULU is currently trading at a valuation near the pandemic low in March 2020 as WFH stocks are being sold off.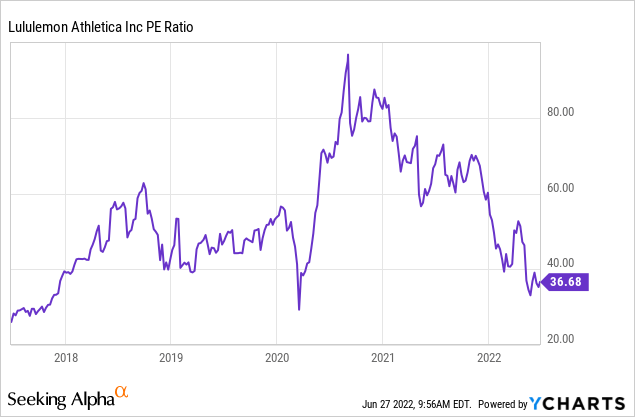 The 5-year average PE ratio of LULU is 52.77. Let's assume EPS will grow 25% in FY2023, which meets the company's expectations, and return to a 5-year average PE ratio at the end of FY2022. The stock will hit $494, representing an incredible 72% potential upside from the current price ($287). Even if we adopt a more conservative PE ratio of 43.8, which excludes the data in 2020, the stock still has an attractive 43% upside.
So, if we are not heading to a recession that is worse than the one we experienced two years ago, LULU is currently trading at a huge discount in a 6-12 months horizon. However, investors should notice the recent pessimistic atmosphere in the market. It would not be surprising if the stock were to break to a lower level in the short term. But I think I will soon double down on this fundamentally strong athletic apparel company.
Please kindly note that all data in this article is abstracted from the company's conference call transcript in 2022 Q1, 2021 annual report, and the Analyst Day presentation, unless otherwise specified.