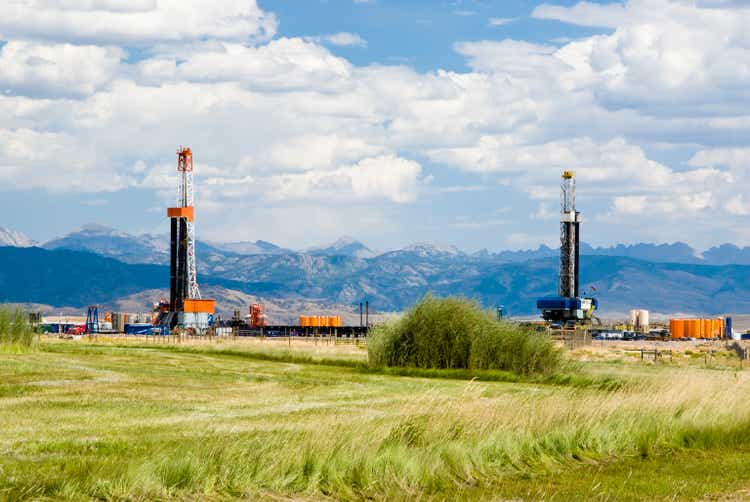 As crude oil and natural gas prices soar, the changing risk-reward profiles necessitates a shift of portfolio composition towards high margin producers, because high margins mean not only richer cash flow from operations but also lower breakeven and stronger downside protection. The challenge, however, is to find high-margin producers that are under-followed and can still be bought at an adequate margin of safety.
Magnolia Oil & Gas (NYSE:MGY), which I discussed in a recent article titled 'Magnolia Oil & Gas: Invest For Its High Margins, Bulletproof Balance Sheet', is the epitome of high margins and squeaky clean balance sheet.
Pipestone Energy (PIPE.TSX)(OTCPK:BKBEF), a participant in the Montney resource play up north, which I highlighted in a recent article entitled 'Screening Energy Stocks From The Montney Resource Play, Canada', is another great example.
The mini-crash of oil and gas prices since mid-June has triggered a 30% pullback in Magnolia and 40% correction in Pipestone. In light of this selloff, let's look at these two stocks again.
Magnolia Oil & Gas
High margins
In the 1Q2022, Magnolia production averaged 31,289 bbls/d, 137,532 Mcf/d and 17,624 bbls/d. It realized US$58.44/boe on the total production of 71,835 boe/d, thanks to its acreage being located close to infrastructure and downstream market in the Gulf Coast.
Since 2018, on average the company was able to sell crude oil at ~100% of WTI and natural gas at ~93% of Henry Hub.
Magnolia has no plan to hedge as a result of its extremely low debt, with long-term debt at $400 million and cash as of March 31 at $346 million.
Adding the proved developed reserve F&D cost averaging US$8.73/boe in the past three years and operating expenses as shown in Fig. 1, Magnolia's full-cycle cash cost came to ~US$20/boe.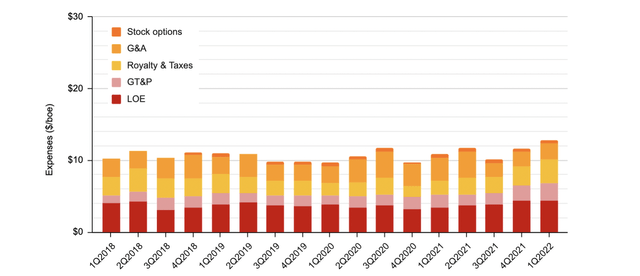 Between superior price realization and low cash cost, Magnolia emerges as one of the highest-margin producers in the U.S. Its full-cycle cash netback was as high as US$38.64/boe in the 1Q2022.
Decent growth
From 1Q2018 to 1Q2022, Magnolia was able to grow production at a CAGR of 11.5% despite the unprecedented interruption by the pandemic (Fig. 2).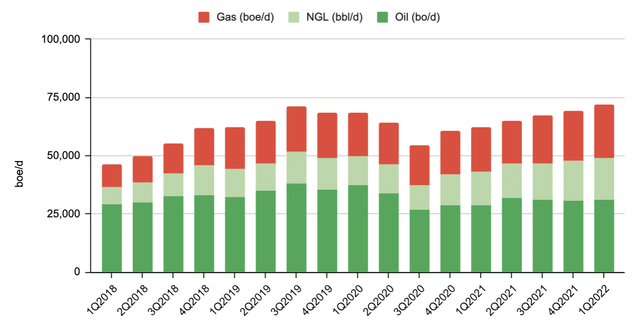 Magnolia limits its capital spending on well drilling and completion (or D&C) to 55% of annual Adjusted EBITDAX, which came to $298 million in the 1Q2022. It expects to deliver >10% organic production growth in 2022.
Integrating its realized price, all-in cash margins and growth, Magnolia generates US$42.50 profit for every boe of production.
Upside
I recently estimated Magnolia had an intrinsic value of US$25 per share, based on its dividend and share buyback policy under US$55/bo WTI and US$2.75/Mcf Henry Hub.
However, should the oil and gas prices sustain at the 1Q2022 level, Magnolia is worth a per-share intrinsic value of US$47-56.
As of June 24, 2022, Magnolia changed hands at US$21.21 per share, implying an upside of >120%.
Magnolia is valued at an EV/EBITDA multiple of 3.2X and a P/FCF multiple of 5.90X, low relative to what peers grab, suggesting the stock is still under-followed.
Pipestone Energy
High margins
Pipestone Energy averaged 33 bo/d, 7,963 bc/d, 94,346 Mcf/d and 3,861 bbl/d of non-condensate NGLs in the 1Q2022. It realized C$61.85/boe on the total production of 27,581 boe/d, thanks to condensate and crude oil accounting for 28.99% of the production mix.
The percentage of crude oil and especially condensate in total production is the main determinant of the price realized by Montney operators. Condensate even captures a premium over crude oil because there exists a strong demand for it from the Canadian oil sands producers, such as Suncor Energy (SU).
Pipestone was able to find and develop proved developed reserves at a F&D cost of C$10.37/boe. Its all-in cash costs came to C$22.05/boe in the 1Q2022. Going forward, Pipestone is expected to reduce unit cash cost substantially through production growth-driven economies of scale.
Between advantageous price realization and low F&D cost and operating costs, Pipestone is one of the highest-margin producers in the Montney play. Its full-cycle cash netback was as high as C$29.43/boe in the 1Q2022.
Rapid growth
Pipestone has an ambitious growth plan for the next three years (Fig. 3). It is poised to ramp up CapEx to C$225-C$235 million, grow production to 31,000-33,000 boe/d, up 30% year-over-year in 2022. By 2024, production is expected to reach 46,000-48,000 boe/d (Fig. 4).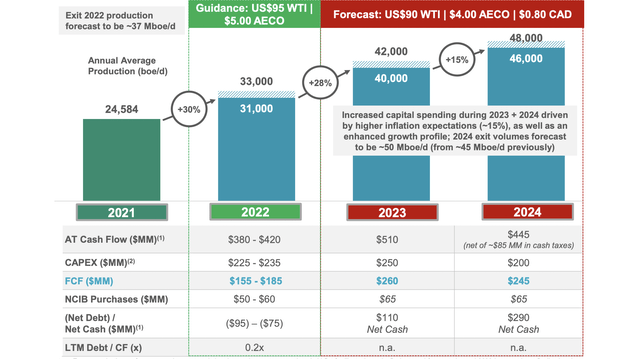 Integrating its realized price, all-in cash margins and growth, Pipestone generates C$38.26 (or US$29.68) profit for every boe of production.
Upside
According to Seeking Alpha data, Pipestone Energy has a forward EV/EBITDA multiple of 2.68X, as compared with industry average of 5.84X. That Pipestone is deeply undervalued can also be seen from its P/FCF multiple of 4.42X for 2022 and its being valued at 62% of proven reserve NAV or 38% of proven and probable reserve NAV.
Pipestone only has C$204 million of net debt as of the end of 1Q2022, while it is projected to pull in free cash flow of C$155-C$185 million in 2022, C$260 million in 2023, and C$245 million in 2024 (Fig. 3).
Have energy prices peaked?
"Be fearful when others are greedy and greedy when others are fearful." - Warren Buffett
The greatest risk of going long these two stocks lies in that the oil and gas prices may continue to drop. Have oil and gas prices peaked and are we on the brink of yet another lengthy bear market?
I'll let the eloquent Arjun Murti answer the question:
I disagree that we are closer to a long-term peak than a trough, however, when (1) reinvestment rates and capital spending are near trough levels, (2) there is limited spare capacity anywhere in the world, (3) a Top 3 oil and gas producer (Russia) is turning into a pariah state, and (4) current western world politicians and policy makers remain stuck in apocalyptic, Malthusian "climate only" ideology.
He went on to point out the danger of calling a top prematurely:
In the 2000s super-cycle, when oil first traded above $30/bbl after a period between $15-$22/bbl (nominal) in the 1990s, just about everyone prematurely called peak; history appears to be repeating, or at least rhyming.
The severe selloff of energy equity since mid-June seems to result from investor concerns over a potential recession. It is a panic-induced pullback despite no fundamental changes to the energy landscape. Warren Buffett clearly agrees with that characterization of the oil market condition, because Berkshire Hathaway (BRK.A) just picked up an additional 9.55 million shares of Occidental Petroleum (OXY) from skittish investors, boosting its stake to 16.3%.
Therefore, it seems to be an opportune time to buy energy stocks, particularly high-quality yet undervalued names like Magnolia and Pipestone.
Investor takeaways
In spite of volatility, the energy industry condition and commodity supply-demand fundamentals are still characteristic of the early phase of a multi-year bull market.
Investors may take advantage of the recent selloff to load up on high-margin producers Magnolia Oil & Gas and Pipestone Energy, two under-followed North American producers boasting high margins and strong growth outlook.