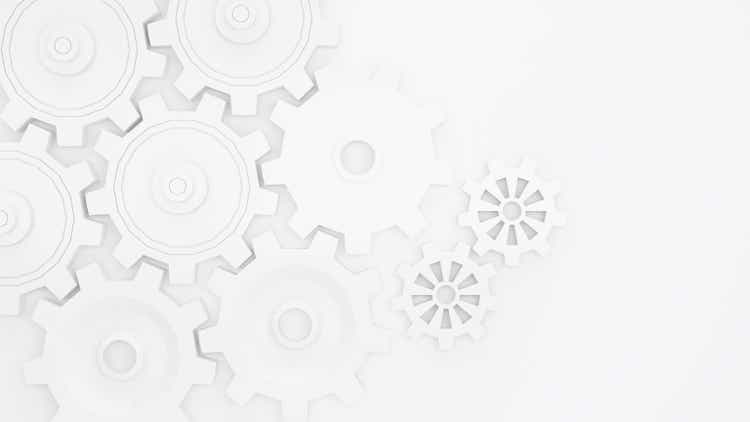 Introduction
PS Business Parks, Inc. (PSB) is on its way to a delisting as its main shareholder, Public Storage (PSA), has agreed to tender its stake to Blackstone Inc. (NYSE:BX), which made an all-cash offer to acquire PS Business Parks. While the common shares will be delisted, the acquirer is not planning to call the preferred shares and those securities will remain outstanding.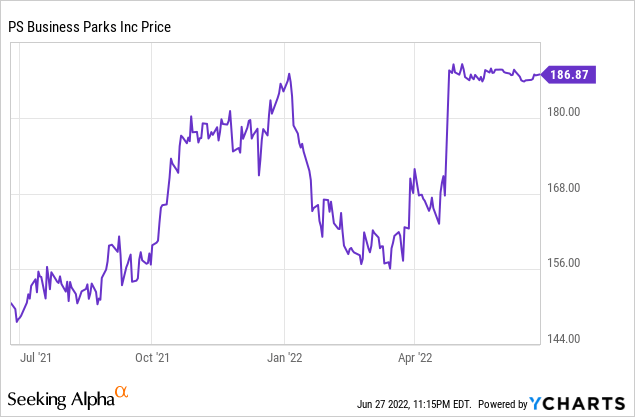 The Sale Of PS Business Parks To Blackstone Is A Given
I had PS Business Parks on my radar, mainly for the preferred shares, but I was also quite charmed by the very conservative balance sheet, which made me consider initiating a long position in its common shares as well. Unfortunately, before I could even think about pulling the trigger, Blackstone announced it had entered into an agreement to acquire all shares of PS Business Parks for a cash payment of $187.50. The main shareholder, Public Storage, agreed to tender its shares at that price, and the only thing that could block the sale was the 30-day "go shop" period where PS Business Parks could actively solicit offers superior to the Blackstone all-cash bid.
That "go shop" period ended at the end of May, and no superior offer came up, so there's no reason for anyone to vote against this deal; after all, PSB was allowed to solicit higher offers, but nothing came along. And now, the interest rates have increased even further. I can't imagine the appetite has increased for other parties to submit a superior offer which would have to be all-cash as well, unless a share deal with a much higher premium would be launched. For instance, a $188/share all-stock offer would likely not be deemed superior to $187.50 in cash by the PSB board of directors.
So, the sale of PS Business Parks to Blackstone seems to be a done deal. Although the PSB share price is trading at a discount to the offer, said discount is very small and does not pose superior returns compared to bonds these days, so the market also seems to believe the deal is going ahead.
The Preferred Shares Offer An Attractive Yield, But The Risks Are Increasing
Before I was even considering going long the common units, I was looking at PS Business Parks from the perspective of a preferred shareholder. There are currently three series of preferred share outstanding, with different preferred dividend payments.

The Z-series have the highest yield at 6.91%, followed by the Y-shares (6.91%) and the X-series (6.7%). So although the preferred dividend payments in absolute dollar amounts are the lowest, the current low share price of the Z-series makes this series the most attractive one.
So first of all, allow me to explain how strong the preferred dividend coverage ratio is. Let's first have a look at the REIT's FFO and FAD ('Funds Available for Distribution') in the first quarter of this year.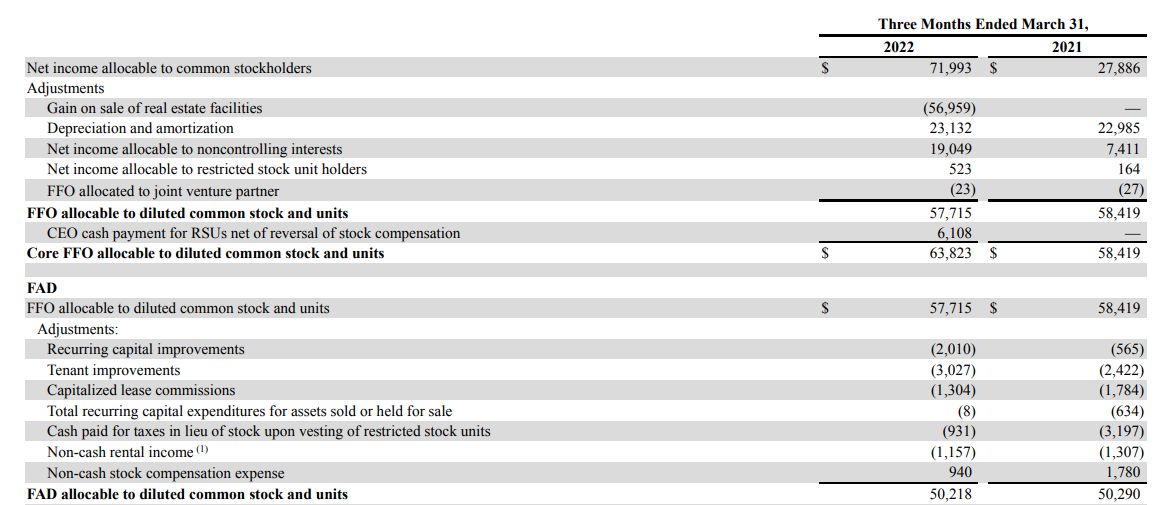 As you can see, the FAD was approximately $50.2M, and this already includes in excess of $5M in recurring capital improvements and tenant improvements. Also keep in mind, the starting point of this calculation is the net income allocable to common stockholders. This means the starting point already includes the impact of all preferred dividend payments, and if we take a step back and have a look at the income statement, we see the total amount paid out as preferred dividends was $9.6M.

If we add this back to the equation, PSB generated almost exactly $60M in pre-preferred dividend FAD, which means the preferred dividends are very handsomely covered by a factor of in excess of 600%. That's great, and it explains why PSB was able to issue these perpetual securities with such a low preferred dividend yield (ranging from 4.875% to 5.25%).
I was even more impressed with PSB's balance sheet, which barely contained any debt: the $20M credit facility is just a fraction of the cash position and the cash position takes care of almost all liabilities (which means there's about $53M in other assets like rent receivable to cover the shortfall.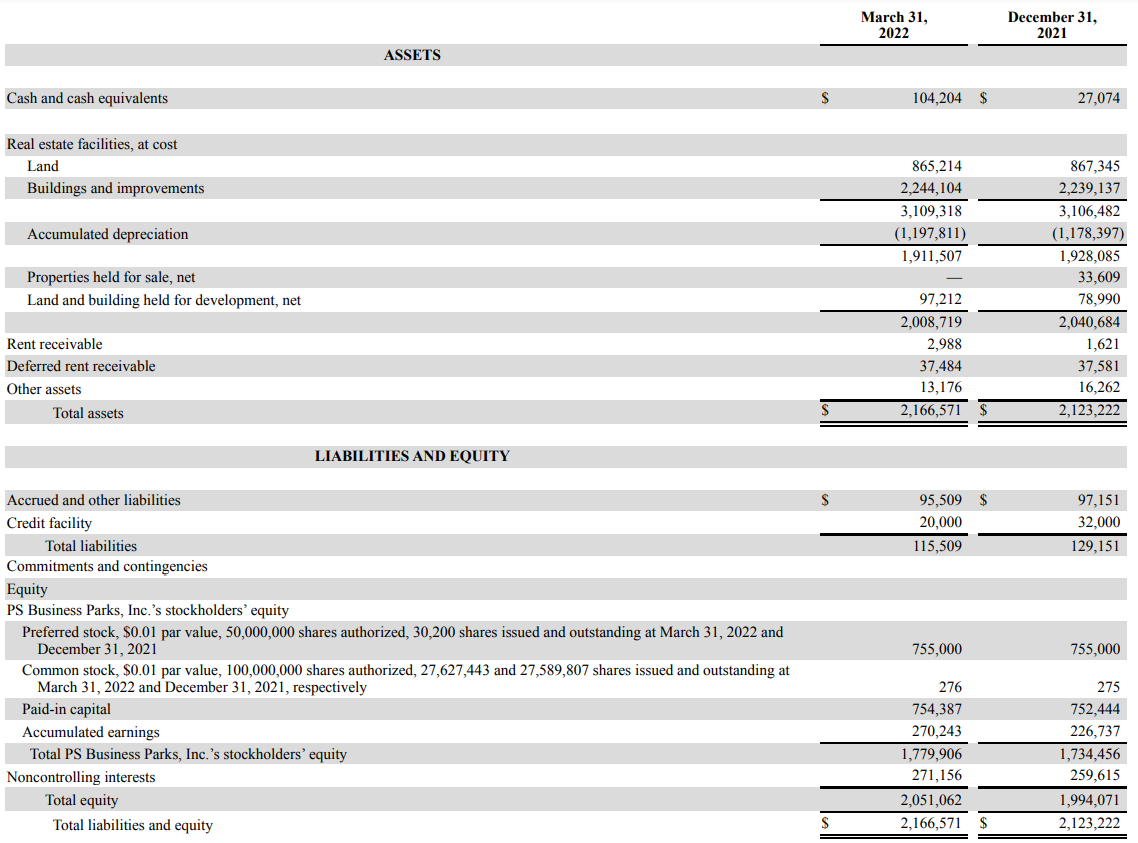 This also means the preferred shareholders are first in line to be made whole in case something would go terribly wrong. The total equity value of the balance sheet was $1.78B, of which $755M was attributable to the preferred shares. Perhaps even more important is the accumulated depreciation on the assets to the tune of almost $1.2B, which means that excluding this accumulated depreciation, the book value would be closer to $3B for an asset coverage ratio of almost 400%.
That's why I was very interested in the preferred shares of PS Business Parks before the buyout offer was announced.
In theory, I should be even more interested, as the preferred dividend yields have now increased to just under 7%. However, the acquisition by Blackstone could have some negative consequences. First of all, Blackstone has pledged to keep the preferred shares listed on the NYSE (rather than obtaining a pink sheet or OTC listing), but there's nothing stopping BX from adding a lot of debt to the PSB balance sheet. Just to give you an example; if BX runs PSB as a separate entity, there would be absolutely nothing stopping them from borrowing $1B and reduce the capital by $1B. Needless to say, this would put the asset coverage level under pressure, while the increased interest expenses will also have a negative impact on the preferred dividend coverage ratio.
Investment Thesis
There's no guarantee Blackstone will indeed apply this strategy, but history has taught me to be careful with the preferred shares of unlisted companies. The moment the sale to Blackstone goes through, the latter calls the shots and its interests will not be aligned with the preferred shareholders: Blackstone will want to maximize the profits for the common shareholders, as that simply is its mandate.
I may still decide to initiate a long position in PS Business Parks' preferred shares, but at this moment I'm leaning against it. The 6.9% preferred dividend yield looks very attractive, but there's no guarantee Blackstone will continue to run PSB with its squeaky clean balance sheet, while the market may demand a higher risk premium for the preferred shares of an unlisted entity.
Interesting, but I'm on the sidelines for now.