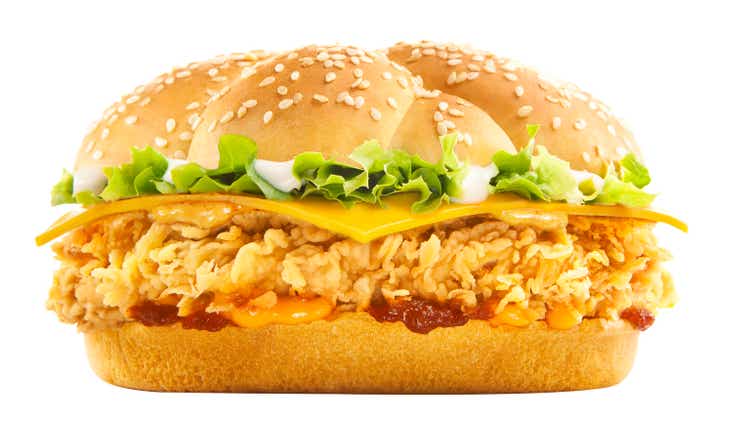 Merger arbitrage
Speculating on M&A isn't really arbitrage. Naming it "merger arbitrage" was merely good marketing. But every once in a while there's a deal target that costs less than it's worth with or without a deal. Buy the shares in the public market and their value isn't just higher if the deal closes but is higher with or without the deal. Sanderson was just such a case when it was announced last year. While it has recently traded through the deal terms, it remains a good opportunity and a worthy addition to my Golden Age of Merger Arb basket, alongside SailPoint (SAIL), MoneyGram (MGI), Twitter (TWTR), Nielsen (NLSN), Biohaven (BHVN), Alleghany (Y), Mandiant (MNDT), Citrix (CTXS), Zendesk (ZEN), Spirit (SAVE), and Yamana (AUY).
Who?
Sanderson Farms (NASDAQ:SAFM) is a chicken company. They do all kinds of chicken things - producing, processing, marketing, and distributing fresh, frozen, and prepared chickens.
What?
Cargill is in the process of stealing Sanderson Farms for $203 per share. The deal has secured the target's shareholder approval as well as regulatory approvals from China and Mexico. They still need US antitrust approval. The deal was extraordinarily well timed for the buyer (and conversely horribly timed for the seller). Chicken prices have subsequently exploded.
Since this is an all-cash deal, the benefit accrues wholly to the buyer, with the target's shareholders missing out. Even with the modest initial deal premium, Sanderson has underperformed its two biggest competitors, only recently closing most of the gap with Tyson out of market expectation that we might be able to get out of the current inadequate deal. If forced to close, we'll give back over $15 of that gain, reverting to unambiguous underperformance.
When?
The Department of Justice is reviewing the deal and will announce whether or not they are clearing it imminently. The deal target is the No. 3 poultry producer behind Tyson (TSN) and Pilgrim's (PPC). The buyer owns number seven Wayne Farms and controls half of the chicken feed market.
Where?
The company is headquartered in Mississippi with plants across the south.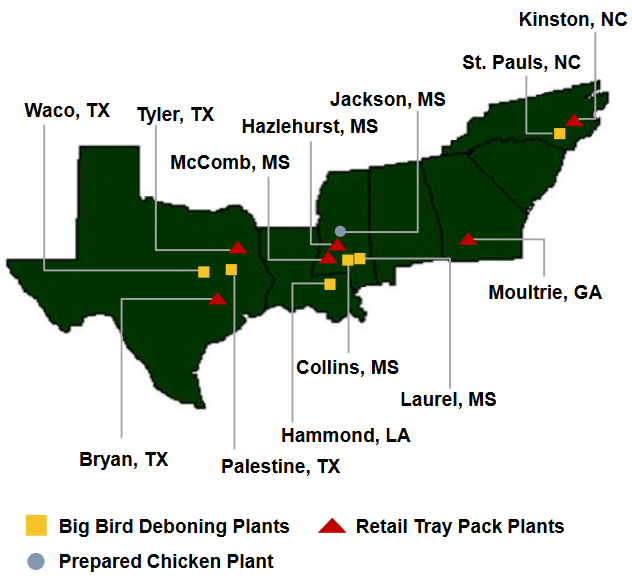 There is a lot of regional overlap with the buyer's facilities:
Why?
Deal targets almost always hope for antitrust approval. But as a SAFM shareholder, I hope that they block it. Shares are worth at least $250 per share. If we can get to the Aug. 8 termination date, we can renegotiate or walk from a bad deal.
Caveat
The DoJ could approve it, allowing the $203 per share deal to close.
Conclusion
This is an underpriced deal that still needs to get past an aggressive DoJ. It should be blocked, which would delay long enough to get to the walk date. That should allow for a re-cut deal closer to $250 per share.
TL; DR
Buy SAFM.