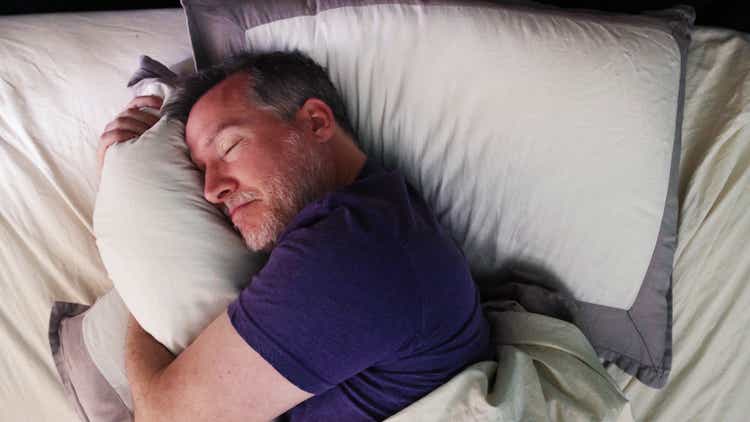 In a recent article about Sleep Number (NASDAQ:SNBR), I noted that there are tough times ahead for the company and the mattress industry. UBS, Wedbush, and Piper Sandler all provided bearish commentary on the industry in the last few months, with Wedbush going as far to say they expect sales to be on par with the Great Recession. SNBR's share price is still falling; the stock is down another 20% in the last month. I am very comfortable with the short-term pain that comes with being early to an investment idea, but in this article I will analyze a pair trade with competitor Purple Innovation (NASDAQ:PRPL) that could limit the beta risk of a SNBR investment. My thesis is to be long SNBR while hedging the position with PRPL puts.
Product Breakdown
SNBR and PRPL design and sell mattresses, bedding, and other sleep accessories. The companies have different approaches to mattress design. PRPL's mattresses are built with their GelFlex Grid technology, which the company bills as the perfect blend of firmness and softness:
PRPL has various models of this core technology, with higher-tier products containing more layers of material, including memory foam and individually wrapped coils. PRPL lists five different mattress models on their website, which range in price from $800 for a basic model twin mattress up to $6,400 for a top-tier split king mattress.
SNBR's approach is to sell "smart" mattresses that allow for adjustable levels of firmness. SNBR mattresses can be adjusted such that one side provides a different level of firmness than the other, and the mattresses adjust firmness levels automatically as you move. SNBR mattresses are also able to collect data about your sleeping patterns, providing a nightly "SleepIQ" score and insights to improve your sleeping patterns. More advanced models also track and adjust mattress temperature throughout the night to provide optimal sleep conditions: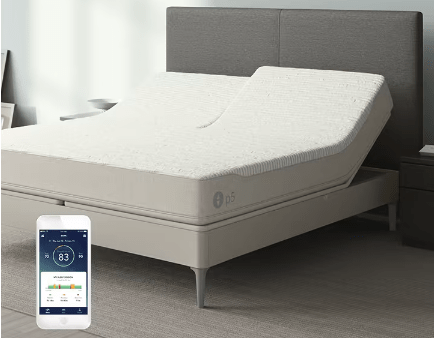 SNBR lists nine different models on their website, which range in price from $700 for a basic model twin mattress up to $6,900 for a top-tier split king mattress.
Both SNBR and PRPL sell adjustable bed frames, bedding, and other sleep accessories. Differentiation between these products and their pricing is minimal, with the exception that PRPL sells pillows that incorporate their GelFlex Grid technology.
Both companies' products are highly rated by their customers, but I give SNBR the edge when it comes to product differentiation. The ability to dual-adjust firmness and track sleep data in particular stand out as clear advantages. Beyond a certain point, it is difficult to show that your bed is dramatically more comfortable than competing options; I'm willing to believe PRPL's beds are more comfortable than the average spring or foam mattress, but SNBR's are at least comparable if not equal or superior in that regard. In the long term, SNBR has more room than PRPL for product improvements. SNBR smart beds are essentially technology platforms that can be added-to over time to drive more product differentiation and improve margins for top-tier products.
Business Models & Operating Performance
SNBR and PRPL take similar approaches to selling their products, but there are some important differences. SNBR's sales are 100% direct to consumer (DTC), with 87% of their sales coming from their retail locations and 13% coming from online or telephone orders. SNBR operates over 650 retail locations and has a physical presence in all 50 US states.
PRPL began as a "DTC native" company but has made a meaningful shift into wholesaling their products; 65% of PRPL's sales are DTC and 35% are from wholesale. The majority of PRPL's sales are made online, but they operate a few dozen retail showrooms across the United States and plan on opening more in the future.
SNBR has a strong track record of growing revenue and generating free cash flow. SNBR has grown revenue at a compound annual rate above 10% over the last decade and generated free cash flow consistently since 2009.
SNBR has gross margins above 60% and operating margins between 5-10%.
PRPL's operating performance is more difficult to assess; the company has a much shorter operating history and thus far their net and operating margins have been inconsistent. To PRPL's credit, they have been able to grow revenue rapidly:
Net income and cash flow have both been positive for at least one year, but there is not a clear pattern to or away from profitability:
Comparing The Balance Sheets
Despite a small competitive advantage and better operating metrics, SNBR has the weaker balance sheet of the two companies. SNBR has an aggressive share repurchase strategy; all free cash flow is used to repurchase shares and management has added debt to accelerate the pace of repurchases. The company has cut its share count in half over the last ten years, but as a result they have virtually no cash on hand, about $400mm in debt, and a negative book value of about $450mm. SNBR is able to borrow very cheaply; their credit facility currently carries an interest rate of just 2% and doesn't expire until 2025. I discussed in the comments section of my previous article why this doesn't concern me, given the capital-light nature of SNBR's business. SNBR does not need debt to fund operations, and at such a low interest rate their debt does not act as a meaningful drag on the company's performance.
PRPL's balance sheet is in better shape than SNBR's; PRPL has over $60mm in cash against debt of just $37mm. PRPL has a book value of about $225mm. A major reason for PRPL's stronger balance sheet was a secondary offering of shares back in March of this year. The company netted over $90mm and increased share count by 16mm. The bulk of the cash was used to pay down their line of credit. With a lowered debt burden and a sizeable cash position, PRPL is in good shape for now, but cash burn continues to be an issue for the company and a potential downturn for the mattress industry would place stress on the balance sheet in the future.
SNBR can use its free cash flow to repurchase shares at a discount, while PRPL faces additional dilution risk is the event of an industry recession.
Quick Thoughts On Valuation
SNBR is trading cheaply relative to both recent and normalized performance. The company is trading at low-to-mid single digit PE and PFCF ratios based on trailing 1 year, 5 year, and forward projections for FY 2022. SNBR is even appealing on a price to sales basis, with a PS ratio of just .39. Given the company's history of slow but steady revenue growth and strong track record of profitability and cash flow generation, I think SNBR should be trading at least twice as high a share price as today. The market is clearly concerned about the short-term and SNBR's valuation reflects this.
PRPL is trading at a cheap valuation relative to sales (PS ratio of .37), but the difference compared to SNBR is miniscule. PRPL doesn't have a long enough track record yet to assess its normalized operating performance. 2020 was PRPL's best year for FCF generation ($42mm), but the company then experienced sharply negative FCF in 2021. PRPL did make the jump to GAAP profitability in 2021, but just barely (net income was just $4mm). You could make the case that on balance PRPL is undervalued relative to its revenue generation potential, but earnings and cash flow are going to be more important in the event of a slowdown in topline growth.
The Pair Trade Thesis
The main advantage SNBR has over PRPL is its history of consistent cash flow generation. Knowing that SNBR generated positive cash flow from operations even in the 2008 recession gives me confidence that they will perform well in a potential 2022 recession, as compared to PRPL which has struggled with profitability even in the relative boom times of 2020 and 2021. Most importantly, SNBR's history of consistent cash flow gives them an edge with lenders. I will reiterate that SNBR does not require debt capital to fund operations in normal circumstances, but if we are truly on the brink of a serious recession it will give SNBR breathing room if they hit short-term cash needs. SNBR's credit facility currently carries a 2% interest rate, though that will rise slightly if their leverage ratio increases. SNBR has over $400mm of liquidity remaining on this credit facility.
PRPL's line of credit is more expensive and comes with additional clauses, most notably that any cash balance above $25mm is required to be used to pay down the line of credit. PRPL's credit agreement needed to be amended early this year, as the company's 2021 results did not meet the financial and performance covenants required under the existing agreement. PRPL was able to amend the agreement in February to avoid a default, but the interest rate was increased from ~3.5% to over 5%, with an additional move to 9% possible if liquidity targets were not maintained. Proceeds from PRPL's secondary share offering were used to pay off the line of credit in full, so this is a moot point for now, but it shows that PRPL's less-consistent cash flow gives their lenders' the ability to charge a higher interest rate and impose more stringent terms.
A second amendment was made to PRPL's credit agreement in March that highlights an additional component of the thesis. Coliseum Capital Management, LLC is the largest PRPL shareholder, with the investment company owning over 40% of the share count. The company's latest 13D filing stated that the company owns 33.5mm of the 83mm shares outstanding. The second credit amendment allows Coliseum
"... to acquire 35% or more of the combined voting power of all equity interests of the Company entitled to vote for the election of members of the Company's board of directors without constituting an event of default." (source)
If PRPL has trouble meeting its credit obligations in the future, Coliseum now has the right to step in to fill the gap without a default taking place. I take this amendment and Coliseum's heavy share-buying as a clear sign that they want a large say in how PRPL is run and might even be happy to take PRPL private. I don't know that this is necessarily a good sign for the company's share price. The positive spin would be that Coliseum wants to protect the company as a public entity in the event of financial trouble; a more cynical take is that Coliseum has positioned itself to be able to swoop in and take a controlling stake in PRPL at a cheap price in the event of a potential default, without PRPL formally having to declare bankruptcy. Despite Coliseum's clear interest in the company, I don't know that they are incentivized to try and put together a high buyout offer; if they really want to own PRPL outright, they can get it for a lot cheaper price in the event of financial distress.
In summary, SNBR is a healthier business than PRPL with a more differentiated product, stronger history of profitability, and the ability to borrow money at a cheaper price. Both companies are trading at cheap valuations due to the perceived risk of an impending recession in the mattress industry. If a recession fails to materialize, both companies should do well but SNBR will still be in a stronger position in the marketplace. If things get difficult over the next year, both companies will be hurt but PRPL will be facing more severe cashflow problems with less credit flexibility.
Risks To The Pair Trade Thesis
The biggest risk to the thesis is investor sentiment. The market is already more bearish towards PRPL (down about 86% in the last year vs 70% for SNBR). If sentiment towards the industry improves dramatically, PRPL has more room to run back up (hence the idea of using puts to cap our losses). The heavy influence of Coliseum Capital is also an important "X" factor; a take-private bid at a higher market price would hurt the short thesis. That being said, I don't know that Coliseum would need to pay a premium to take the company private. It is worth nothing as well that SNBR is more sensitive to supply chain disruptions, as their smart bed technology exposes them to semiconductor shortages.
Implementation
I think put options make more sense here than an outright short position. If there is a mattress industry meltdown, PRPL will be in real trouble and the puts will pay off; in a strong mattress industry recovery PRPL might outpace SNBR's gains due to its lower valuation, but the loss on the put options is capped and should be more than covered by the subsequent gains from the SNBR long position. I would invest proportionally less capital in the PRPL puts than in the long SNBR position, based on risk tolerance. If I were to implement this strategy, I would allocate 20% of the SNBR long position capital into the puts; if I had $10,000 worth of SNBR shares, I'd cap my PRPL put exposure at $2,000. PRPL puts expiring Jan '23 with a $5 strike can be bought for $2/contract at the time of this writing while PRPL shares are trading at $3.75.
Let's consider a few hypothetical scenarios. If there is a mattress industry recession and my thesis is correct that PRPL drops more than SNBR, we could be looking at a scenario where PRPL drops another ~50% (I'll round up to $2/share) and SNBR drops, say 30%. In this case our loss on SNBR shares is $3,000, but our PRPL puts are in the money by $3/share for a net gain of $1000 and a position size of $3,000. We would take a paper loss on our SNBR position, but the loss is mitigated by the gain from the puts. We would then have $3,000 in liquidity that we could use to buy the dip in SNBR. If instead of a mattress recession we get a mattress recovery, let's say that SNBR jumps 50% and PRPL rises enough such that our puts are out of the money. In this situation we lose 100% on our puts ($2,000) and gain $5,000 from our SNBR shares. As long as SNBR rises more than 20%, we come out ahead even if our PRPL puts expire worthless. Finally, in a scenario where SNBR and PRPL stay relatively flat, we just take a small loss on our put position (at today's share price we would lose just $750).
Conclusion
I am bullish on SNBR's prospects over the next 3-5 years, but I acknowledge the possibility of some pain in the short term. I think it is reasonable for SNBR investors who want to hedge against industry beta to consider allocating some capital to PRPL puts.