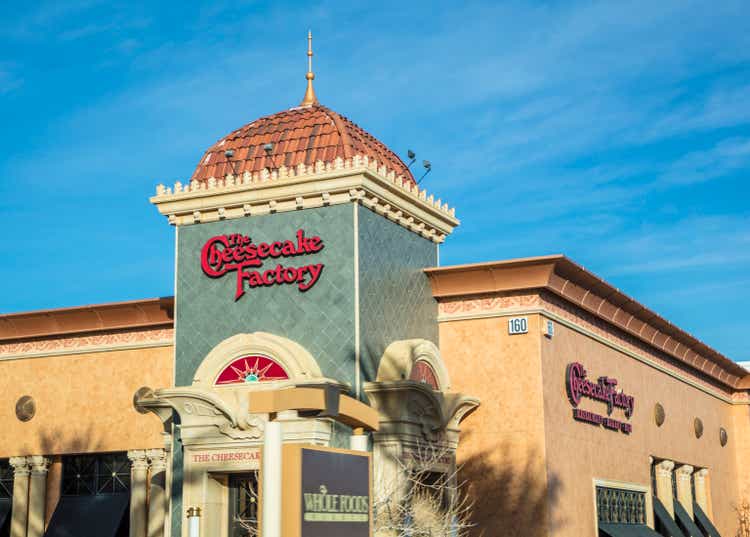 The Cheesecake Factory Incorporated (NASDAQ:CAKE) is a casual dining restaurant chain that primarily operates in the U.S. It operates restaurants under its namesake and other brands like North Italia, Flower Child, etc. By acquiring Fox Restaurant Concepts in 2019, CAKE added new concepts with more growth potential.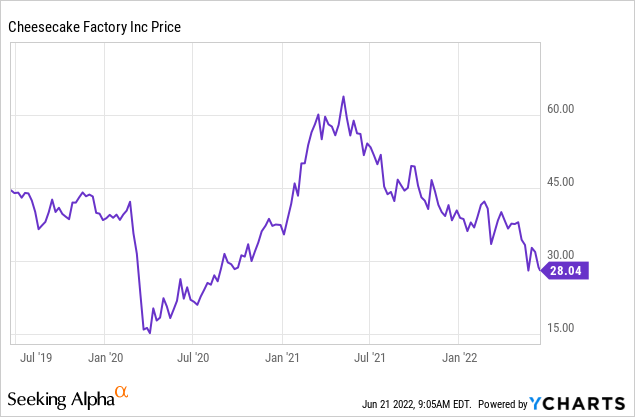 My previous article about The Cheesecake Factory dates from June 2020. I focused then on the coronavirus challenges.
It looked like the stock price would recover swiftly from there. The stock price rocketed as the Reddit crowd targeted highly shorted stocks. I sold my shares during this time as the valuation became unreasonable. CAKE came back down and currently trades around the same price as in June 2020. A new significant risk arrived: a possible recession.
Steady Growth Outlook
During the last couple of years, corona heavily affected Cake's revenue growth. First, the lockdowns caused a harsh fallback. In 2021, the company's sales swiftly recovered as off-premise revenue stayed and on-premise revenue rebounded.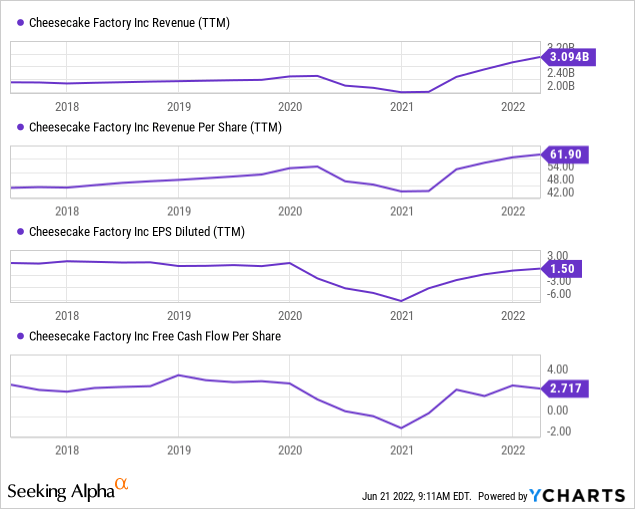 The quick recovery so far is promising and should continue. The first-quarter results and second-quarter expectations confirm the fast growth, with 27% growth in Q1 and a 9% forecast in Q2. Analysts expect 15% growth to $3.37B in revenue.
7% Annual Long-Term Growth Plan
Cake's revenue grew by a 4.63% CAGR from 2012 to 2019. The concept behind this growth is simple. It keeps opening new restaurants that quickly perform at the same level as existing restaurants.
Adding new units is an easy way to ensure long-term growth. The acquisition of North Italia and FRC was crucial for Cake's growth rate to continue. The 7% growth rate seems a bit overly optimistic. Cake plans to open 15 to 16 restaurants in 2022-a 4.8% to 5.2% increase in its total units. It aimed at a couple more units before. Supply chain issues delayed a couple of restaurants into 2023.
I like the 7% growth ambition but would anticipate slightly slower unit development. Price inflation could push revenue growth beyond 7% for the next few years.
Free Cash Flow
Free cash flow is crucial because a company can use it for its shareholders. Good performing companies should have sound net income generation and similar free cash flows. The free cash flow is essential for buybacks and dividends.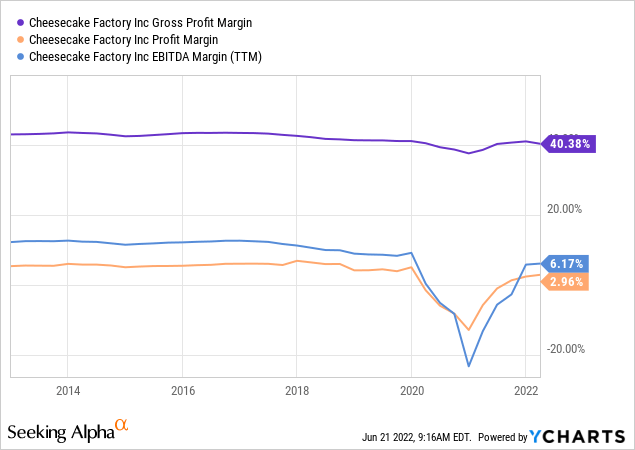 Margins are still below pre-pandemic levels, and the management targets the second half of 2019 margins in the second half of 2022.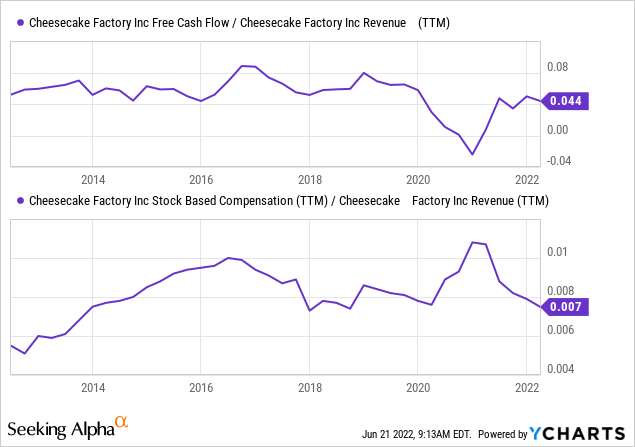 The Cheesecake Factory converted about 5.3% of its revenue into free cash flow before corona. Its stock-based compensation is modest in comparison to the FCF.
Shareholder Returns
Cake just reinstated its buyback program and a quarterly dividend at $0.27 per share. The dividend is below 2020, and I expect the management to want some safety and room to grow.
Share repurchases and a growing dividend are signs of shareholder-friendly management.
Balance Sheet
The timing of FRC just before corona was unfortunate and degraded Cake's balance sheet. It already took on debt to finance the acquisition and had to bridge several loss-making quarters. It also raised cash through convertible debt to cover the covid-19 period. It increased the outstanding shares by 8M to 52.9M.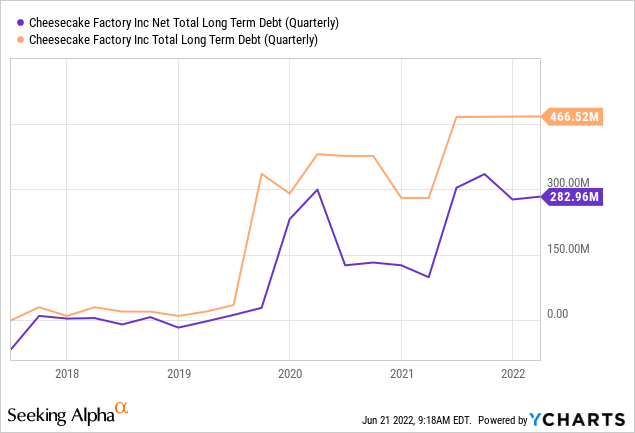 The increased debt position is manageable. The net long-term debt is comparable to the debt after acquiring FRC. Its EBITDA is also getting back on track which reduces the leverage. It produced $190M in EBITDA over the trailing twelve months.
Valuation
I believe valuations matter when buying stocks. Valuations help to see how the sentiment currently affects a stock. As Graham said, in the short run, the stock market is a voting machine, but in the long run, the market is a weighing machine.
Pre-Corona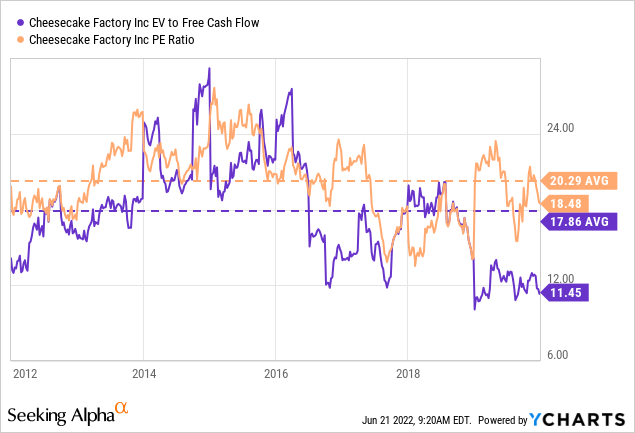 CAKE traded at an average PE of 20.2 and an average EV/FCF of 17.8 from 2012 to 2019. The growth profile of CAKE improved due to FRC and off-premise sales. On the other hand, it had to take on debt to acquire FRC. Let's assume these factors average each other out, and CAKE deserves a similar valuation as in the past.
Last Six Months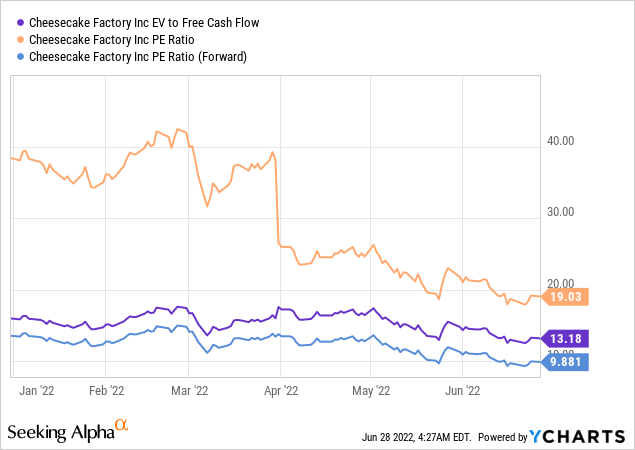 Cake looks cheaply valued at the current share price. The TTM P/E is still elevated due to some stern quarters with (partial) lockdowns in 2021. Looking forward, the earnings should improve in comparison. It only trades at a 9.8 FWD PE, half of pre-corona PE.
EV/FCF is also well below the average at 13.1. This takes into account the increased debt position. Free cash flow still has some potential to grow, and this multiple would drop further.
My Price Target
There are always several ways to look at a company's potential "right" price. I believe the past valuation of Cake is very relevant. I would expect slightly stronger growth over the next few years. The current economic uncertainty is an opportunity to buy cheap shares if you're willing to wait long enough.

My price target is based on 2021 figures, as 2022 is too uncertain to model. I expect an increase in FCF in 2023, which probably would increase the price targets significantly. If the projected higher growth materializes, I could be too pessimistic with my target multiples. The "sell above" target implies a 50% upside to today's share price.
Risks
Several risks outside of CAKE's control could affect the stock. A resurgence of corona could cause new lockdowns with a direct impact on CAKE's revenue. A general economic downturn or a recession would also impact The Cheesecake Factory badly. However, it managed the financial crisis in 2008 pretty nicely.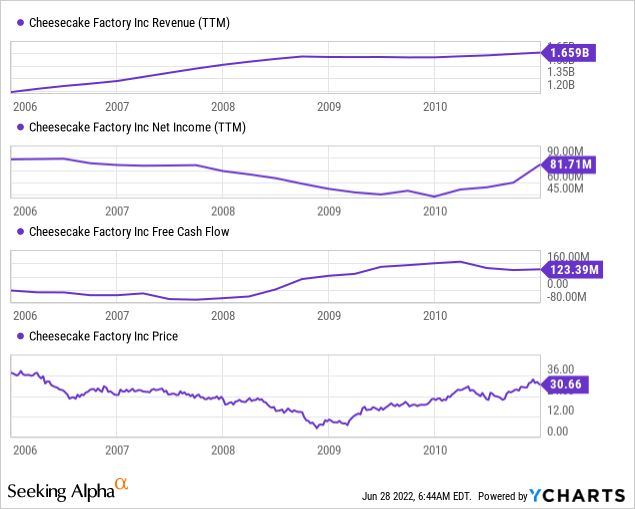 Cake's net income took a hit during the great recession. The company remarkably kept a positive income and turned towards positive free cash flows by putting capital expenditures on hold. It showed the resilience of the company during tough times.
The increased debt position could slow dividend growth and share repurchases compared to the past. CAKE could also require higher capital expenses to fund its unit growth. A slower return of capital would demand a higher discount on CAKE's ratios.
Conclusion
The Cheesecake Factory is attractive on many levels. The share price was too severely punished while the company's fundamental figures improved. Long-term investors get a bargain with significant upside potential.
The next decade's growth should be relatively stable as Cake's revenue growth should more or less track its unit increase. I expect the market will reprice the stock as more quarters roll in that prove the stable business model, just like they did in the past.
The projected growth, reinstated dividend, and buybacks at this stock price show that it is possible: you can have the CAKE and eat it.