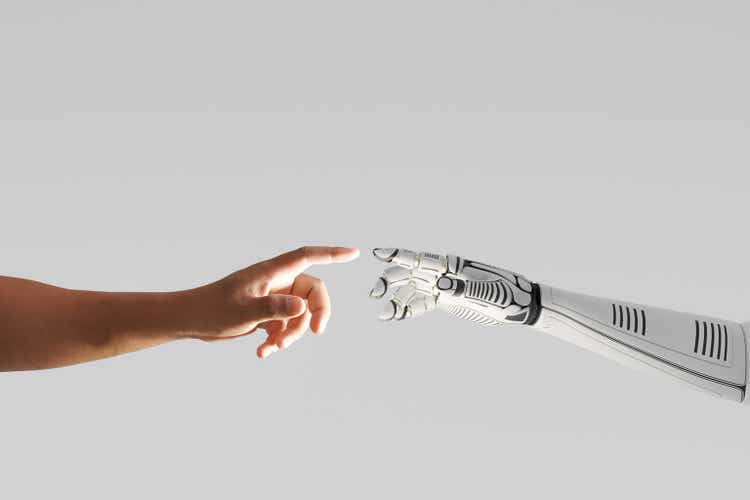 Investment Thesis
UiPath Inc. (NYSE:NYSE:PATH) is a leader in robotic process automation, and has been driving the industry forward for some time. This industry is expected to grow at an astounding rate over the next decade, and it is certainly a trend that I want to invest in – so, why not pick the leader?
But does that actually mean UiPath is worth investing in right now? I put it through my investing framework to find out.
Business Overview
UiPath makes software robots so people don't have to be robots.
At least that's what we can see displayed on the first slide of their Q1 FY23 results, but I do think it summarizes what UiPath aim to achieve pretty well. They specialize in robotic process automation, or RPA for short, which is defined by UiPath as follows:
Robotic process automation (RPA) is a software technology that makes it easy to build, deploy, and manage software robots that emulate humans actions interacting with digital systems and software. Just like people, software robots can do things like understand what's on a screen, complete the right keystrokes, navigate systems, identify and extract data, and perform a wide range of defined actions. But software robots can do it faster and more consistently than people, without the need to get up and stretch or take a coffee break.
UiPath provides businesses with the ability to use its software 'robots' to perform a wide range of human-like business process actions such as logging into applications, extracting information from documents, moving folders, filling in forms, updating information fields and databases, and many more. This allows companies to improve their operational efficiencies whilst reducing the amount of repetitive, mind-numbing, robotic work that employees need to perform.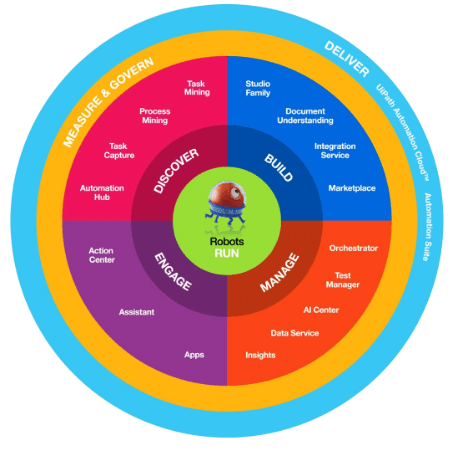 UiPath's platform is built to span the entire automation lifecycle, providing customers with a comprehensive set of capabilities to manage its automations across their entire organization. The solutions offered are split into 6 categories:
Discover: helps customers find out exactly what tasks can be automated
Build: a simple suite of solutions that customers can use to create automation robots
Run: helps to test the robots either alongside a person or in 'unattended' modes behind the scenes
Manage: offers tools to manage, test, and deploy robots across the entire enterprise
Engage: allows customers to manage processes where robots and people work together
Measure and Govern: customers can track, measure, and forecast the performance of robots in their enterprise, and can assist with governance
This is a simplification, but it gives a good overview about what UiPath offers to customers. I also want to highlight that, within their 'Build' solution, UiPath has a marketplace of vetted, pre-built, and reusable robots developed by UiPath employees, customers, partners, and students of the UiPath Academy, to help enterprises quickly implement automations and save development time and costs.
One of the most appealing aspects of UiPath to businesses (especially in a recessionary environment) is the potential efficiency it could bring. Not only are companies looking to fill the gaps currently left by 'The Great Resignation', but there is the opportunity to streamline areas of their business by having UiPath's robots take over roles that were previously filled by salaried staff - but execute the processes with greater speed and accuracy whilst being less expensive. So CIOs have the opportunity to accelerate their digital transformation whilst also cutting costs? It feels like a no brainer.
UiPath has also seen strong momentum with their bigger customers recently, with impressive YoY growth of 42% in large customers & even faster growth of 62% when it comes to enterprise-level businesses. With RPA clearly becoming more of a priority, I don't think many companies will be looking to ease up on these investments any time soon.
The company is also a clear leader in the industry, despite the constant threat from Microsoft (MSFT). This can be seen clearly through Gartner's Magic Quadrant for Robotic Process Automation, where UiPath remains a clear leader.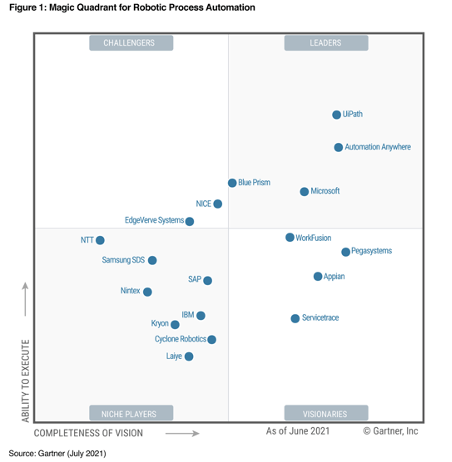 Economic Moats
With every business, I look to see if there are any durable competitive advantages (aka economic moats) that will help the company continue to thrive whilst protecting itself from competition, and I do see some for UiPath.
The most obvious economic moat for UiPath is switching costs. Its robots are designed to be deployed and carry out everyday tasks for businesses. If a company wished to switch away from UiPath, it would be very difficult to do so without interrupting these business processes – and this is apparent in the numbers.
UiPath had a dollar-based net retention rate (or DBNRR) of 138% in its latest quarter. A quick refresh on what this means; imagine you had 100 customers one year ago – a DBNRR of 138% indicates that this group is now spending an average of 38% more this year. It also takes churn into account, so if the group was spending $1 million in total, and then say 5 customers left during the year, it means that the total spend from this group (even after the customers leaving) was 38% higher, so $1.38 million.
Long-story short: UiPath is getting its customers to spend even more as they utilize more robots, thereby making UiPath more embedded into the day-to-day operations of its customers, and increasing switching costs.
Just to push this message home even further, it had a gross retention rate of 98% in the latest quarter – meaning that 98% of customers who were there one year ago are still with UiPath today.
UiPath should also get some credit for having a network effect, although I believe this to only be a weak economic moat. They use artificial intelligence and machine learning in their robots, and as a result, the more robots they have out there performing tasks, the more information they have to learn from, and so the better these robots become. As they become better, more customers will want to use UiPath, and that leads to more data – hence, a classic network effect.
There is another weak network effect in terms of the UiPath Academy and Marketplace. Currently there are 1.9 million automation professionals using the Marketplace, so this will encourage more customers to use UiPath and access these automations on its Marketplace, thereby encouraging more developers onto the Marketplace as they will have a significant audience to sell to – so another network effect.
Similarly, the UiPath Academy has over one million users enrolled on its online training platform that offers free, unlimited access to learning plans. Approximately 1,800 universities, colleges, and non-profit organizations across 68 countries are in UiPath's Academic Alliance program, which gives professors free automation curriculum to teach automation skills to future generations. As a result, many future workers will have learned their RPA skills through UiPath – so companies hiring these workers will be more inclined to use UiPath as the norm, resulting in higher switching costs.
Outlook
According to Grand View Research, the RPA market in North America is expected to absolutely skyrocket over the upcoming decade, growing at an almost unfathomable 37.6% CAGR.
Given that UiPath is the clear leader in this space, I believe that it will continue to ride the huge tailwind of RPA to future success. The company is clearly in growth mode right now, as it should be given the huge opportunity that it is trying to capture.
Management
When it comes to fast-paced, innovative companies, I always aim to find founder-led businesses where inside ownership is high. We have this in UiPath Co-CEO and Co-Founder Daniel Dines, a Romanian entrepreneur who originally founded UiPath (under a different name) in 2005 in Bucharest – although the head office moved to New York in 2018. Given that my partner (and the other half of Stocks & Savings) grew up in Bucharest, perhaps I have a soft spot for Mr. Dines.
The other Co-Founder is Marius Tirca, who is currently in the CTO role. Perhaps more interesting is the very recent appointment of Co-CEO Rob Enslin, a former Google (GOOG, GOOGL) Cloud sales president. There are several different takes that investors could have about this recent appointment, but here's mine: I think that UiPath was struggling to take the next leap upmarket, and Dines recognized that additional experience may be required. Personally, I'd be very happy if this was the case, as it takes a strong CEO to recognize where his strengths and weaknesses lie. Enslin will probably be equally useful as UiPath continues its transition of customers from licenses to cloud-based subscription models.
I want to invest in companies where leadership has skin in the game, and UiPath has this in abundance, with Co-Founder Dines owning ~20% of all shares in the company. Furthermore, he has a substantial 87% share of the voting power – I don't take an issue with this in fast-growing founder-led businesses, but I'm highlighting it as I know it will be an issue for some investors.
I also like to take a quick look on Glassdoor to get an idea about the culture of a company, and UiPath gets some strong scores from the 659 reviews left by employees. Any score over 4.0 is impressive, and the company manages to achieve this in most categories, with particularly high scores in Culture & Values, Diversity & Inclusion, and Compensation and Benefits. The CEO approval is high, and the scores are also good in terms of Recommend to a Friend and Positive Business Outlook. All in all, I'm happy with these scores & they give me confidence that employees are generally happy at UiPath.
Financials
The financial picture painted is almost a tale of two cities, so we'll start with the positive. Revenue growth was extremely strong in 2021, up 81% YoY, and the 2022 growth was still an impressive (if a lot slower) 47% - but with recent growth over 60% in customers with >$1m ARR, and the outlook for the RPA industry, there is clearly still an opportunity for UiPath to continue growing quickly for a long, long time.
Gross margins are also particularly high for this business, remaining above 80% since it came public. It's worth highlighting that gross margins will be affected in the short term due to UiPath's transition to a cloud-based subscription model, which is best for the business in the long run.
Take a look at the EBIT margins though, and things start to look a bit ugly – especially when you look at the half a billion-dollar loss in 2022! Yet there's no need to be overly alarmed. The total stock-based compensation expense for 2022 was ~$516k, and this is primarily driven by rewards associated to UiPath's IPO. In other words, stock-based compensation won't always be this crazy.
Sadly, operating and free cash flows are negative, but they are losing less than $100 million which doesn't bother me at this stage due to UiPath's stellar balance sheet. This consists of $1.87 billion in cash and short-term investments, and zero debt, which gives UiPath the freedom to reinvest heavily into the business in order to capture the large market opportunity ahead.
Valuation
As with all high growth, disruptive companies, valuation is tough. I believe that my approach will give me an idea about whether UiPath is insanely overvalued or undervalued, but valuation is the final thing I look at - the quality of the business itself is far more important in the long run.
In my model, I have taken into account UiPath's rather negative outlook for 2023 with revenue growth of ~22%, which has been driven by the war in Ukraine, a negative FX impact, and the transition of customers from license agreements to SaaS agreements. Given the opportunity ahead of UiPath, I feel like a 23% revenue CAGR assumption is fairly conservative and leaves a substantial amount of upside room if the company can execute on its plans.
I have also assumed that free cash flow margins eventually start to resemble those of a SaaS company, and given the strong gross margin profile of UiPath, I do think it is capable of exceeding these estimates as well.
I believe that the multiples used across my scenarios are appropriate due to UiPath's long-term opportunity. Put everything together, and I am forecasting UiPath shares to grow at an 18% CAGR through to 2027 in my mid-range scenario.
As mentioned, I do think that this is a conservative estimate – UiPath is facing some short-term headwinds in FY23, so it is difficult to accurately forecast how the company would perform in a 'normal' environment. Personally, I would hope for more upside from now onwards.
Bottom Line
If you give me a founder-led company that is a leader in an important emerging industry, I'm almost always going to smile. That is exactly how I would classify UiPath, and whilst short-term headwinds are never fun, I think they have provided investors with an extremely attractive buying opportunity – one that I personally will be taking advantage of.