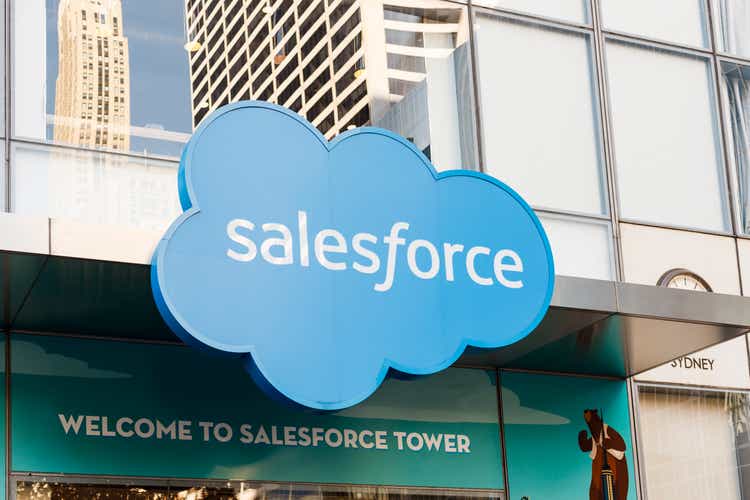 Salesforce, Inc. (NYSE:CRM) is a leading enterprise software company, which provides the number one CRM (customer relationship management) software. According to their investor relations presentation, they are the "Fastest Growing Enterprise Software Company ever" and aim to reach over $50 billion in revenue by 2026. Their stock price doubled from the lows in March 2020 to highs of $306/share, before declining down by 48% mainly due to the rising interest rate environment. The stock actually hit $159/share in May 2022, but has since recovered by ~10%. The stock now trades at substantially cheaper than historic multiples, while they are executing their "multi-cloud" strategy extremely well.
Let's dive into the Business Model, Financials, and Valuation for the juicy details.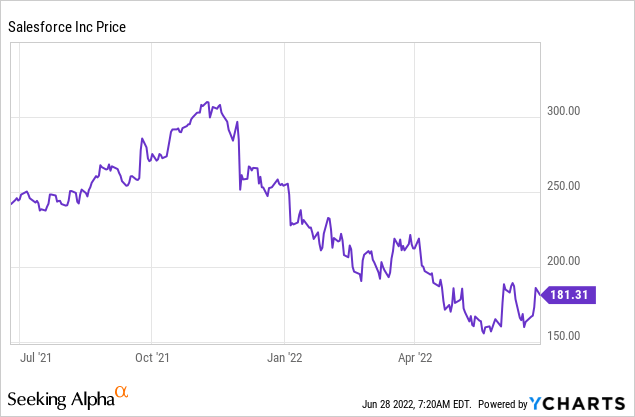 Solid Business Model
Salesforce is a pioneer in Customer Relationship Management (CRM) software. This is basically a big database which companies use to hold all their customer's details. But the special thing about Salesforce is their platform can do a whole lot more from "lead scoring" potential customers (prospects) who are most likely to buy, to setting up automated alerts for marketing and sales people. Today, over 150,000 companies use Salesforce, and they still have the number one CRM platform by revenue market share, despite increasing competition in the industry.
The company has been executing a "Growth by Acquisition" strategy and have acquired a staggering 62 Organizations in the past few years with a value of close to $50 Billion. Their most recent acquisition was of enterprise chat platform Slack for ​​an eye watering $27.7 Billion in cash and stock, which finally became part of Salesforce in July 2021.
Another notable acquisition was Tableau, the leading data visualization software acquired for a substantial $15.7 billion. These acquisitions are part of "Salesforce 360'" which offers multiple leading software platforms covering Sales, Marketing and Analytics for the enterprises. As you can see from the image below, their cloud platforms are a Gartner Magic Quadrant leader across; Sales Force Automation, CRM, Marketing, Digital Commerce, Analytics and Data integration.
The multitude of platforms helps Salesforce to easily upsell different platforms to Enterprise customers, which should drive continued recurring revenue growth. The company's three pronged strategy for growth includes:
Land and Expand

Multi Cloud Adoption

International Expansion.
They have been consistently executing their strategy well, with multi cloud adoption jumping from 92% of annualized recurring revenue in 2020 to 95% by 2022. Their international expansion plans are also being executed well, jumping from 33% of annualized recurring revenue in 2020, to 36% in 2022 (chart below).
A classic example of the "land and expand" process and "multi cloud adoption" can be seen below. A technology customer started with the Sales Cloud in 2006, before adding the Marketing cloud in 2013, then Tableau for Data visualization, Mulesoft for Data connection and Salesforce commerce for shopping experiences.
Growing Financials
Salesforce announced strong earnings in the most recent quarter. Despite being a titan with a $180 billion market cap, they are still growing at over a 20% rate. They generated first quarter revenue of $7.41 Billion, up 24% year over year.
The company's non-GAAP operating margin has gradually expanded while they have invested into a variety of acquisitions.
Salesforce's Gross Margin is ~73% which is tremendous, while their GAAP operating is very low at just 0.77%. This "low profitability" has been criticized by Wall Street but when we dive under the hood, it's not really a major issue. For instance, the company invested $4.8 Billion on R&D in the trailing 12 months and thus could be more "profitable" but believes reinvestment is a better idea.
Multiple studies show companies that wisely invest a large portion of Gross profits into R&D tend to produce greater shareholder returns. Examples include Google (Alphabet) (GOOG, GOOGL), Amazon (AMZN) and Facebook (META). Of course the key word is "wisely," which is only determined retrospectively, but so far Salesforce has grown revenue extremely well.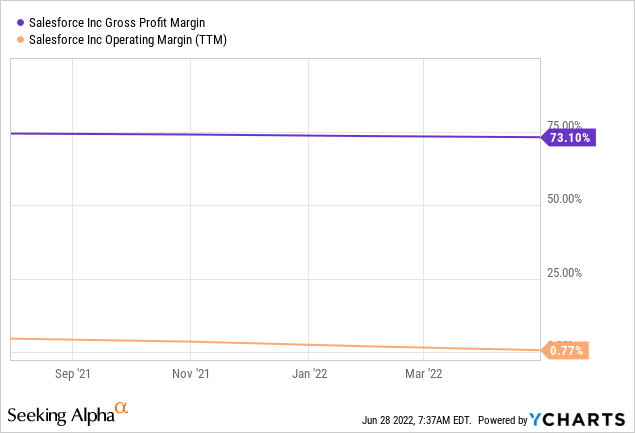 Salesforce generated Operating Cash Flow of $3.7 Billion, up 14% year over year, while Capex has stayed fairly consistent. This is great to see as it means high operating leverage is built into their Business model, which is true for many software companies.
Salesforce has a strong Balance Sheet with $13.5 Billion in Cash and Short term investments. In addition to $9.6 Billion in long term debt of which just $1 Billion is current debt.
Valuation
In order to value Salesforce, I have plugged the latest financials into my advanced valuation model which uses the discounted cash flow method of valuation. I have forecasted 20% revenue growth for next year and then 16.5% for the next 2 to 5 years, inline with analyst estimates.
I have forecasted the company's margin's to expand substantially over the next 10 years to 24% which is the average of the software industry. This is driven by the company reaching greater scale, and their Multi cloud adoption strategy paying off. To increase the accuracy of the valuation model, I have also capitalized the company's substantial R&D investments.
Given these factors, I get a fair value of $175/share. The stock is currently trading at $181/share and is thus fairly valued at these levels. As an extra data point, it should also be noted that the stock price did bounce at the $159/share to $163/share mark recently, which could indicate the valuation is accurate and the market is seeing value at those levels.
Salesforce trades at a Price to Sales (forward) ratio = 5.7 which is substantially cheaper than historic levels.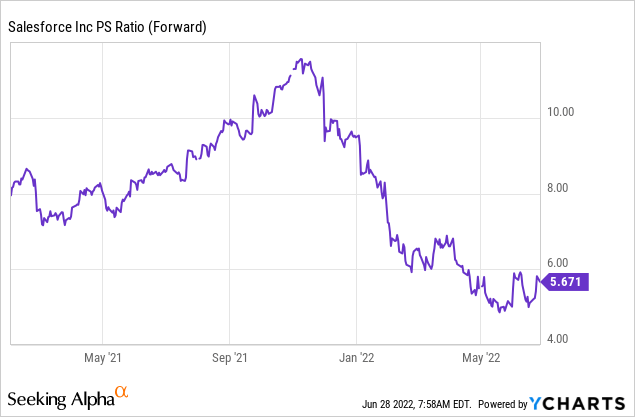 Salesforce stock also trades at a cheaper PS Ratio (forward) = 5.7 than many other Enterprise software providers. These include Microsoft (MSFT) which trades at a PS (forward) ratio = 10 and Abobe (ADBE) which trades at a PS (forward) ratio = 10 also. However, it should be noted those stocks are much more "profitable" on their operating income.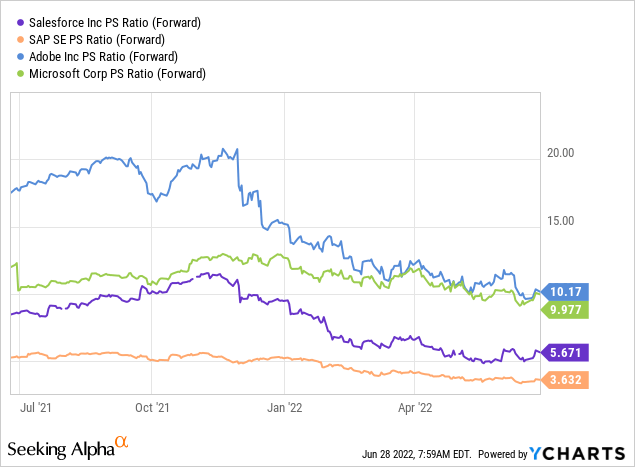 Risks
Valuation
The stock is fairly valued at the current price range but is still not "cheap" intrinsically. Investors who use a Warren Buffett style Margin of Safety may wish to invest when the price drops at least 10% below its fair value.
Competition
The SaaS industry is very competitive with many alternative platforms. For example, in Marketing Automation, Hubspot is ranked number one by Gartner. In addition, Adobe has a range of best in class solutions across analytics and customer experience. Strong competition could slow growth in the future.
Final Thoughts
Salesforce is a tremendous company, which is still the market leader in Sales software solutions. Despite having a $180 Billion market cap they have still been growing revenues at a rapid rate. The stock price has now pulled back substantially and is now undervalued relative to historic multiples, while their "Land and Expand" strategy offers many opportunities for customer upsells.