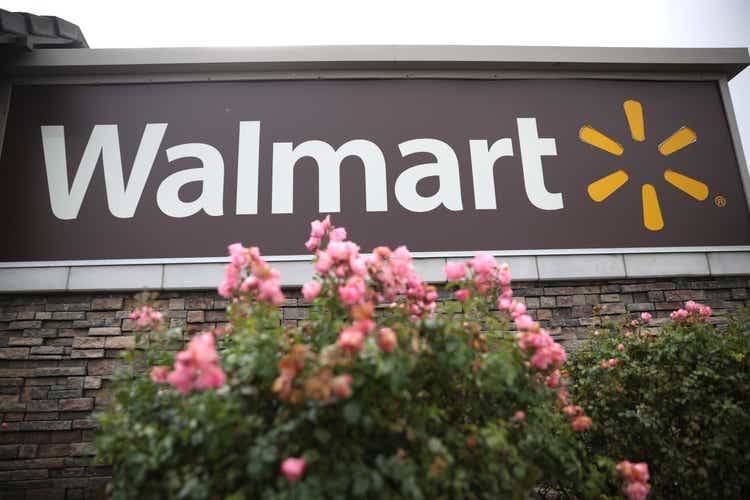 We bought new positions in Walmart (NYSE:WMT) for the first time in many, many years recently, after the latest EPS blow-up and the drop in the stock from the $140's down to the low $120's.
For years, my thought process was (rightly or wrongly) that Walmart was at a structural disadvantage to ecommerce and in particular Amazon, but what gradually got me thinking otherwise was that Walmart - with grocery representing about half of total revenue - is the largest grocer in the world, (by far I would think) and Amazon Fresh and Amazon grocery were having a hard time making that aspect of ecommerce scalable. When Jeff Bezos stepped down from his CEO position at Amazon, one of the parts of Amazon's business he said he wanted to focus on was Fresh and groceries, since the concept never really gained traction like the rest of the business.
In my opinion, Walmart clearly has a sustainable competitive advantage in the grocery business, and it fits perfectly with their business model since it drives foot traffic, it's a lower-margin business (Walmart customers can walk in and get what they need for less than $20), all of this driving the ability of their customers to say, once they are in the store, "Well, I'm here now, maybe I can take a quick look for the new pair of slippers I need."
Walgreens business model was the exact same concept for years, but with prescriptions driving foot traffic and the "convenience" end of the business driving margins. With Walmart, the model is "come in for grocery and leave with something else."
Here's the current problem with Walmart:
Click on this link to enlarge it so that it's legible.
Shown are the last 17 quarters of year-over-year "inventory growth vs sales growth" dating back to April '18.
For a company that runs like a Swiss watch, and generates some of the largest revenue growth in the S&P 500 ($576 billion in the trailing 4 quarters as of April '22), the fact that Walmart is having problems with inventory and levels of inventory relative to sales growth is really remarkable.
On the April '22 quarterly conference call, Doug McMillon noted the quarter's issues with three bullet points:
1.) Wage expense;
2.) General merchandise inventory;
3.) Fuel costs
#2 is what I wanted to focus on with this article, since inventory and inventory turnover impact working capital and ultimately cash-flow-from operations.
Walmart's cash-flow from ops in Q1 '23 (ended April '22 and already reported) was a negative $3.7 billion and working capital was negative $13.1 billion. I've been modeling Walmart since the mid-1990's and there has never been a negative quarter of cash-flow from operations, let alone one that size, until April '22. In fact, looking back at October '08, the Lehman bankruptcy and the plummeting stock market and US economy, in the October '08 quarter, Walmart still managed to generate $190 million in positive cash-flow.
Walmart's working capital has been negative since 2002. I'd imagine being a Walmart supplier, particularly a small one, is very tough since a retailer that size can dictate payment terms that are entirely to their own advantage, ("90 days or nothing") and suppliers have to live with it. (David Faber of CNBC did a special on Walmart years ago and this issue came up. When you are essentially the largest retailer in the world, you have enormous power of your suppliers, as Michael Porter's Competitive Strategy teaches all B-school students.)
Walmart's EPS And Revenue Estimate Revisions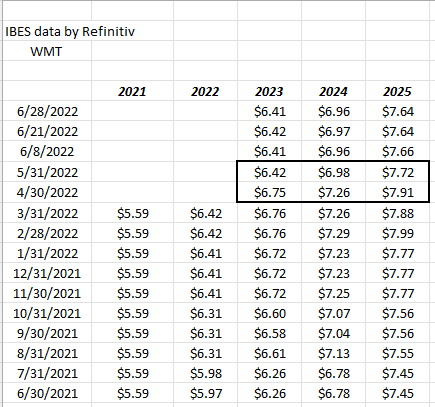 The thick bordered area represents the EPS guide-down after the fiscal Q1 '23 earnings report. Since that time, there remains a little pressure on EPS estimates. We get the next Walmart earnings report in mid-August '22.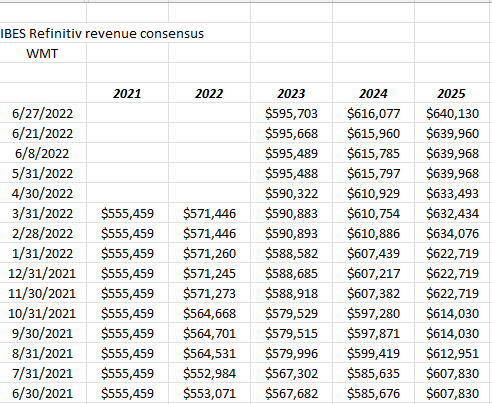 Revenue estimate revisions remain very healthy and positive.
That's a good sign.
Despite the drop in WMT this year, the stock is lower YTD by -13.5% as of Monday, June 27th, 2022 versus the SP 500's -17.5% YTD return as of the same day. It's down on the year, but outperforming the SP 500 on a relative basis.
Walmart By Segment
Readers can see how WMT US is the majority of the business, with US revenue growth averaging roughly 6% over the last three years, but operating income tumbling this last quarter.
With Nike's results last night, which clients don't own, but the stock is still modeled and followed, revenue growth grew 1% y.y, but inventory rose 23% y.y for the footwear and athletic wear giant.
Walmart is probably still feeling the supply chain issues, at least through June would be my guess.
Valuation
At $122 per share roughly, WMT is trading at 19x expected 2023 EPS of $6.42 for no expected EPS growth this year on expected revenue growth of 4%. Fiscal 2023 ends January '23. For fiscal '24, EPS and revenue growth is expecting 9% and 3% respectively given current estimates.
The stock is not cheap on a cash-flow basis, or free-cash basis, but the last quarter's cash-flow was severely disrupted by previously-cited issues.
Morningstar carries an intrinsic value on WMT of $138 per share, or a 10% discount to Morningstar's fair value, which may not be enough of a discount to entice value investors.
Reading the conference call notes, Walmart was very conservative on the call, stating specifically that operating income would "deleverage" in fiscal 2023, meaning that if revenue is going to grow 4% this fiscal year, operating income would likely grow at a slower rate than that.
The Technical Picture
Walmart is testing its 200-week moving average and hasn't been this oversold since early 2018.
The stock testing its 200-week moving average is a technical positive.
Summary/Conclusion:
Listening to a webcast on Monday, June 27th, 2022, from Dr. David Kelly of JPMorgan, Dr. Kelly's conclusion was that the US economy slowed in June 2022 based on some of the regional PMI data, and the slowing was across both manufacturing and services businesses.
With Nike's report this morning showing whopping inventory growth - +23% y/y - retail and consumer discretionary is likely to see weaker results in the coming months, possibly from a slowing consumer, and lingering supply chain issues.
In the late 2008, early 2009 great financial crisis recession, during the worst recession since the Great Depression, Walmart actually averaged 3.5% comp's over the 5 quarters of the collapse in the US economy, with equal contributions from traffic and ticket.
You hate to think of this as a positive for the retail giant, but if the US economy is weaker, then the wage expense referenced in the above article as one of the issues in Q1 '23 (i.e. last quarter) starts to matter less. WMT said they had fixed this problem already by the time earnings were released, but more flexibility in the US labor pool wouldn't be a bad thing for Walmart, from both a cost and talent perspective.
Walmart's been hit with a tsunami of issues the last few months, but technically it's testing a level of support that has been historically a good place to accumulate stock.
The positive revenue revisions are an unambiguous positive for wanting to own the stock, especially as the US economy slows.
The wage issue and the fuel expense issue could be aided by an economic slowdown, but the supply chain may take a few quarters to remedy. Walmart usually doesn't suffer supply chain or logistics issues very long. Suppliers get cut quickly.
It's not yet a big position within client accounts, but it will be added to accounts over the next few weeks/months.