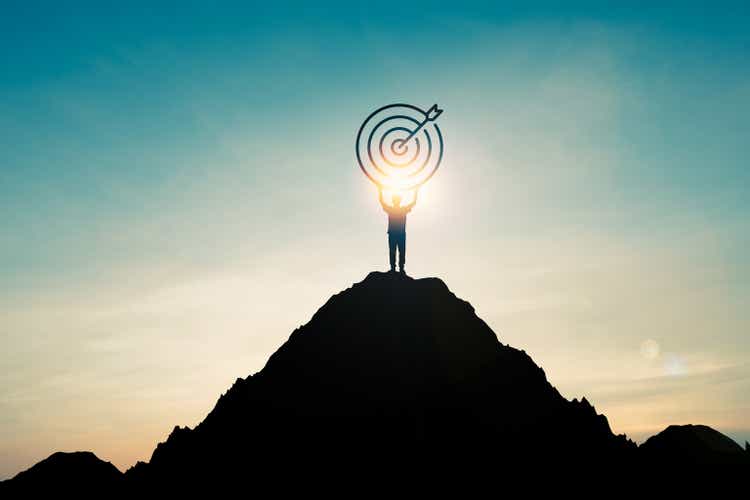 Investment Thesis
Occidental Petroleum Corporation (NYSE:OXY) has shown much success in its strategic capital allocation during the recent windfall for the oil and gas industry. Moreover, given its wise decision to aggressively deleverage its massive debts assumed during its Anadarko acquisition instead of reinstating its previously excellent dividend yield, we reckon that the OXY management has proven to be highly capable and forward-looking for its long-term investors. Therefore, we are not surprised by Warren Buffett's stamp of approval in purchasing even more of OXY's shares to nearly 16.4% of the company's stake by 28 June 2022.
Given OXY's projected FCF profitability, we believe that paying down its debts to nearly $15B by the end of FY2022 would be a walk in the park, thereby allowing the company to potentially reinstate its excellent dividend yields from FY2023 onwards. As a result, serious investors looking for an outstanding oil and gas stock, should add during dips, with a price range of below $50, or $40, if we are lucky enough to see it.
However, anyone reminiscing about October 2020's ridiculously low prices would be sorely disappointed, given the massive demand for oil and gas for the next few years due to the ongoing Ukraine war and macro issues.
OXY Proved To Be Highly Strategic In Its Capital Management
OXY Revenue, Net Income, Net Income Margin, and Gross Margin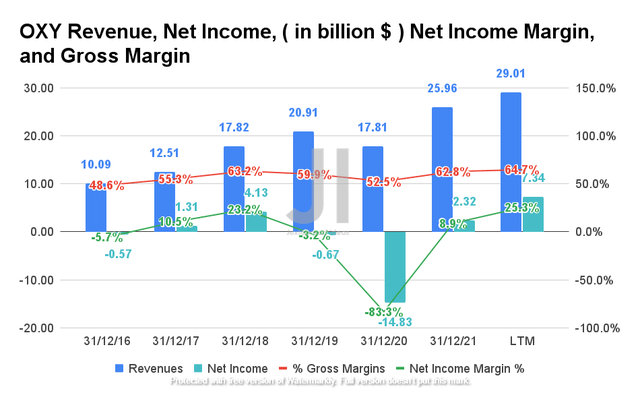 OXY reported an impressive revenue growth in the last twelve months (LTM), though it was partly attributed to its acquisition of Anadarko in FY2019. The company recorded revenues of $29.01B and gross margins of 64.7% in the LTM, representing excellent improvement of 38.7% and 4.8 percentage points from FY2019 levels, respectively. In addition, OXY also reported net incomes of $7.34B with improved net income margin of 25.3% in the LTM, representing an impressive increase of over 1095% and 28.5 percentage points from FY2019 levels, respectively.
Given that the global demand for oil and gas is not expected to normalize over the next three years due to the Ukraine war and macro issues, we may expect OXY to report excellent sales in the intermediate term.
OXY Cash/ Equivalents, FCF, and FCF Margins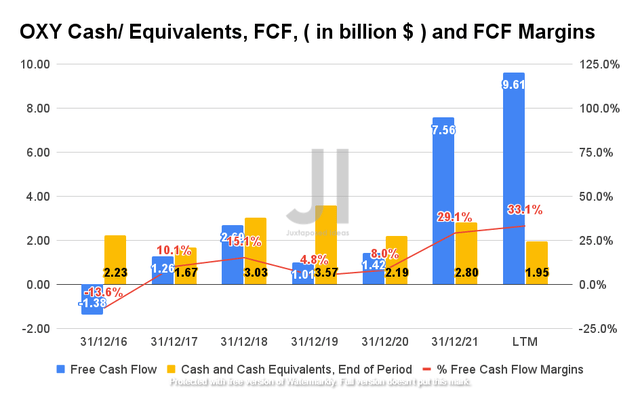 Given the apparent revenue windfall in the LTM, OXY recorded a much improved Free Cash Flow (FCF) as well. The company reported a record-breaking FCF of $9.61B in the LTM, representing a massive increase of 369.6% from FY2018 levels and 27.1% from FY2021 levels, while also recording impressive FCF margins of 33.1%. This profitability has directly contributed to OXY's aggressive deleveraging, which will be further discussed later.
OXY Operating Expense
Despite the sudden increase in its operating expenses in FY2020, it is also apparent that OXY has drastically moderated it in comparison to its growing revenue by the LTM. The company reported a total of $11.45B of operating expenses representing 39.4% of its revenues in the LTM, compared to 99.3% in FY2020 and 46.8% in FY2019.
OXY Long-Term Debt, Interest Expense, Net PPE, and Capex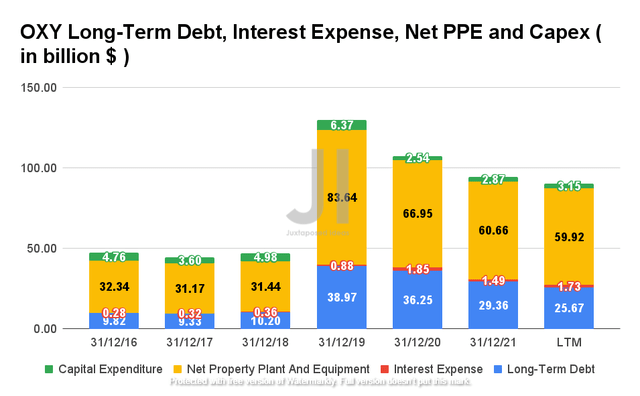 It is also apparent from the chart above, that OXY had taken on an ill-timed acquisition of Anadarko in FY2019, given the COVID-19 pandemic in the past two and a half years. However, hindsight is always perfect, isn't it? Nonetheless, we are of the opinion that the company has been relatively prudent thus far in its capital management and deleveraging. By the LTM, OXY reported $25.67B of long-term debt, representing a notable decline of -34.1% from FY2019 levels, despite the evident 96.5% increase in its interest expenses. In addition, the company also aggressively divested its under-performing assets, with a total of $59.92B of net PPE in the LTM, representing a -28.3% moderation from FY2019, including the $4B sale to TotalEnergies SE (TTE).
In addition, OXY paid off another $4.8B of debt after FQ1'22, bringing the total pro forma reduction to $8.1B in YTD. As a result, we expect much success for its aggressive deleveraging in order to "take full advantage of the current commodity price environment," given its pledge to reduce to nearly $15B of long-term debts. Therefore, we have to laud its strategic FCF allocation during the time of elevated interest rates.
OXY Projected Revenue and Net Income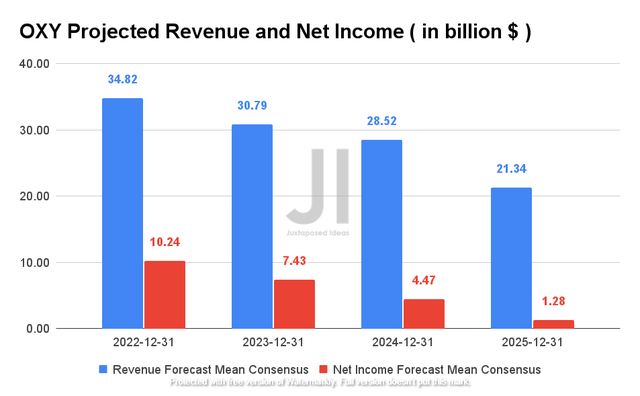 OXY is expected to report an apparent deceleration of revenue and net income growth over the next four years. For FY2022, consensus had a rather aggressive estimate of the company reporting record revenues of $34.82B, representing a remarkable increase of 34.1% YoY and 66.5% from FY2019 levels. In addition, OXY is expected to report net incomes of $10.24B for FY2022, representing impressive growth of 441.3% YoY and over 1700% from FY2019 levels.
Of course, this is assuming that OXY is able to stage a repeat performance of its excellent FQ1'22 earnings, with consensus estimates of FQ2'22 revenues of $8.91B and EPS of $2.92. Though, given the current economic climate, we imagine that it would hardly take much effort.
OXY Is No Longer A Viable Dividend Stock, Though Just For Now
OXY 10Y Share Price (adj) and Dividend Yield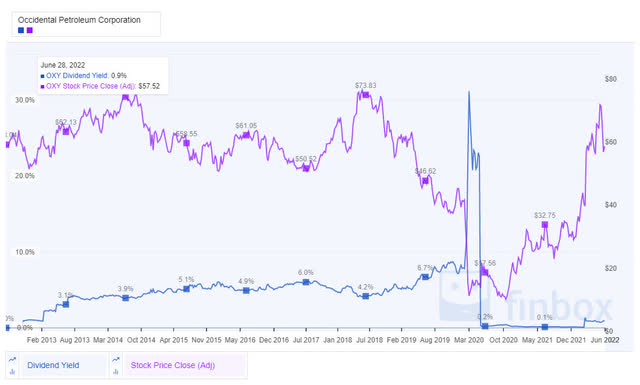 OXY's stock price has been relatively stable in the past ten years, except for the drastic dip during the heights of the COVID-19 pandemic. Nonetheless, it is also evident that the company had to cut back on its dividend yield in the past two years, from 8.2% in FQ1'20 to 0.2% in FQ1'22. It had directly resulted in its reduced dividends payouts from $0.79 in FQ1'20, to $0.01 in FQ2'20, to $0.13 per share now.
XOM 10Y Share Price (adj) and Dividend Yield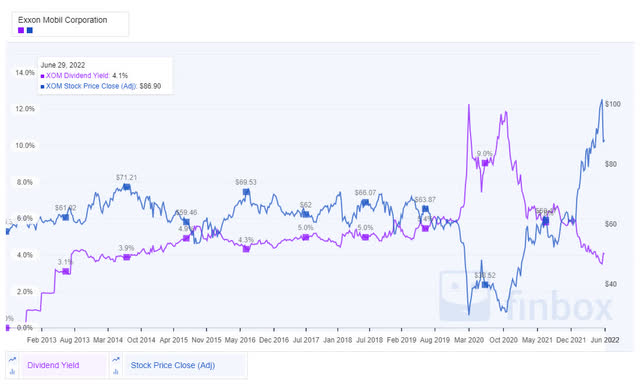 CVX 10Y Share Price (adj) and Dividend Yield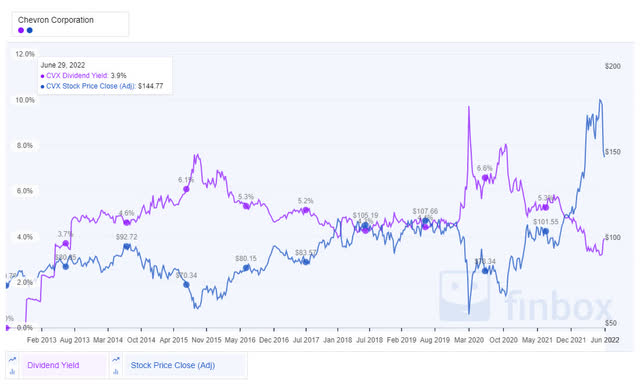 The move had been a drastic difference from Exxon Mobil Corporation (NYSE:XOM), which kept its dividend payout steady as compared to Chevron Corporation (NYSE:CVX), which raised its dividend payout at that time. As a result, it is no wonder that long-term OXY investors had been rattled then, as observed during the elevated trading volume during March 2020, given the drastic decline in crude oil prices then.
OXY Share Count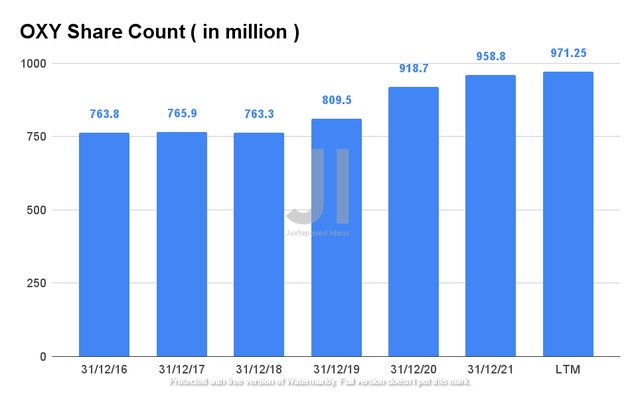 In addition, OXY grew its shares outstanding count by 27.2% since FY2018. Nonetheless, with the announcement of a $3B share repurchase program, we may expect to see a slow but improved shareholder return moving forward, given the company's determination to quickly reduce its massive reliance on debt in the short term. Assuming that OXY is able to deleverage to nearly $15B of long-term debts on its balance sheet by the end of FY2022, we may expect a quick reinstatement of its excellent dividends then. We shall see.
In the meantime, we encourage you to read our previous articles on XOM and CVX, which would help you better understand OXY's performance in regard to its peers.
Exxon Mobil Crashed - Will It Rally Again?
Chevron: Hold On Tight And Don't Let Go Of This Aristocrat
So, Is OXY Stock A Buy, Sell, or Hold?
OXY 5Y EV/Revenue and P/E Valuations

OXY is currently trading at an EV/NTM Revenue of 2.72x and NTM P/E of 5.45x, lower than its 5Y mean of 3.39x and 14.40x, respectively. The stock is also trading at $61.71, down 16.6% from its 52 weeks high of $74.04, though at a 285.4% premium from its 52 weeks low of $21.62, given the recent rally caused by the Ukraine war, rising crude oil prices, and the Buffett stock purchases.
OXY 5Y Stock Price

Therefore, despite the attractive buy rating with the consensus estimates price target of $75.21, we are uncertain, given the minimal margin of safety at 21.88% now. Combined with the macro issues and the Fed's hike in interest rates, we may expect to see a continued stock pricing weakness, as we have been observing since 07 June 2022. As a result, we would advise patience for those looking to add during this perceived "dip," since a moderate retracement is possible in the short term, post Buffet rally. That would provide a more attractive entry point for those looking to add more of this Buffett-approved stock. While we are looking at a price target of $50, we generally prefer the margin of safety that $40 will provide. Nonetheless, investors with higher risk tolerance could definitely nibble here.
Therefore, we rate OXY stock as a Hold for now.