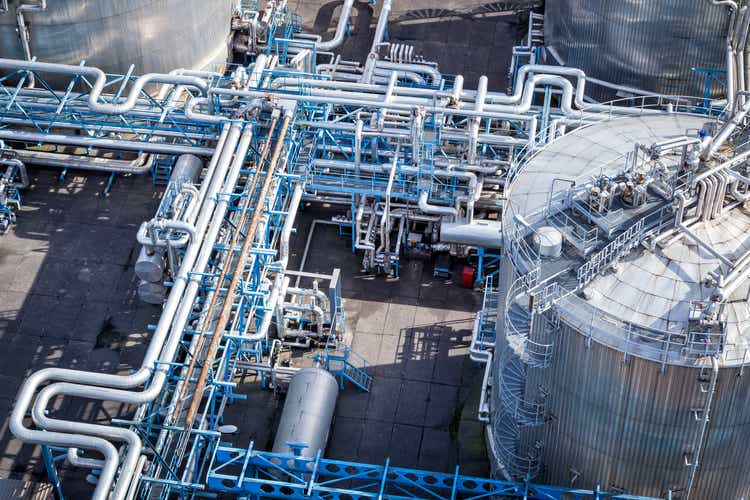 Investment Thesis
Tellurian (NYSE:TELL) yesterday announced that in 2023 it's likely to see $400 million of EBITDA from one of its wholly-owned subsidiaries. I argue that this meaningfully improves the bull case. Tellurian clearly has assets with some value. It's not just an out-of-the-money option.
Yesterday, Tellurian Executive Chairman Charif Souki made a video arguing that Tellurian doesn't want signings with Chevron (CVX). That those contracts are not what the business model is about.
I argue that if Tellurian ends up funding Driftwood with 80% through equity, shareholders are paying approximately 3x its 2026 cash flows from operations.
I rate this stock a buy.
Recent Developments In Tellurian
Earlier this month, when I wrote my bullish analysis of Tellurian, it nearly coincided with the fire at the Freeport liquified natural gas ("LNG") facility. Since then, natural gas prices have been on a wild ride.
Indeed, domestic natural gas prices fell by nearly 20% to $6 MMBtu. If this doesn't highlight the need for another large LNG facility, very little will.
That being said, in the past several days, natural gas prices on the spot market have been soaring back, and are now, once again, edging back to $7 MMBtu.
Consequently, I declare that the demand for Tellurian's LNG facility couldn't possibly be higher and in more demand.
What does Tellurian's 2023 EBITDA Target Mean?
Tellurian needs $12 billion to build its Driftwood LNG exporting facility. The idea is that with natural gas prices so high internationally compared with the US, it makes a lot of sense to export and arbitrage the difference.
Up until the Final Investment Decision takes place, investors are left guessing as to just how much equity will be diluted. This is the core of the bull and bear case.
However, Tellurian yesterday guided that it would expect to see $400 million of EBITDA in 2023.
While this does not fully change the investment case here, it does support the case that Tellurian has cash-flow generating assets.
Tellurian Executive Chairman's Reply to Seeking Alpha's Commentary
In a video posted yesterday, Tellurian's Charif Souki explained why Tellurian had not felt comfortable in committing the remaining 2 million tonnes of its 11 million tonnes per year facility.
Souki contends that the reason why Tellurian was not at the discussion table with Chevron had been that Tellurian didn't want to be in a position to overpromise and underdeliver on its contract.
Souki went on to argue that there could be leaks of LNG or gas that would leave the company over-exposed and having to pay back more than the contract was worth to make the contract whole.
Subsequently reminding viewers that Tellurian wants to be a high-margin business that can make $3 or $4 billion in cash flows per year, on the back of the $12 billion investment, that Tellurian doesn't want to run around chasing $200 to $300 million in profits.
Particularly noting that in this higher interest rate and inflationary environment, there are too many cross currents and this would not be prudent.
TELL Valuation - Tellurian's Final Investment Decision ("FID") is a Show-Me Story
Tellurian has made the argument that in the ideal situation, the business would raise the $12 billion to build the LNG facility with $8 billion of debt and $4 billion of equity. Two-thirds debt to one-third equity.
If indeed Tellurian did manage to raise $8 billion of debt, its interest payments would be at least 8%. That would put its interest payments at close to $640 million.
Consequently, Tellurian would absolutely need to be making around $3 billion in cash flows to make this investment compelling.
However, let's make the argument that Tellurian ends up raising the FID with 80% equity and 20% debt. In this case, it will need to dilute shareholders by around 6.2x. Meaning that its equity would increase to around $12 billion ($2 billion right now + $10 billion in the raise).
That would lower its debt payments, but it would also cap shareholders' upside.
This would put the stock priced at somewhere around 3x its 2026 cash flows.
The Bottom Line
Tellurian is a very volatile stock and not one for the faint-hearted. It's a high beta stock. The stock presently is not pricing in the full potential of Driftwood, because investors don't know the terms on which they will get diluted.
Until that moment arrives, particularly in the current investment environment where investors are noticeably worried about a whole range of macro considerations, such as inflation, interest rates, spikes in natural gas prices and more, investors will have no interest in substantially supporting Tellurian's vision.
Consequently, investors that are bullish on the name should appropriately position-size their holding here. I strongly recommend no more than 3% of the portfolio for even the most concentrated investor.