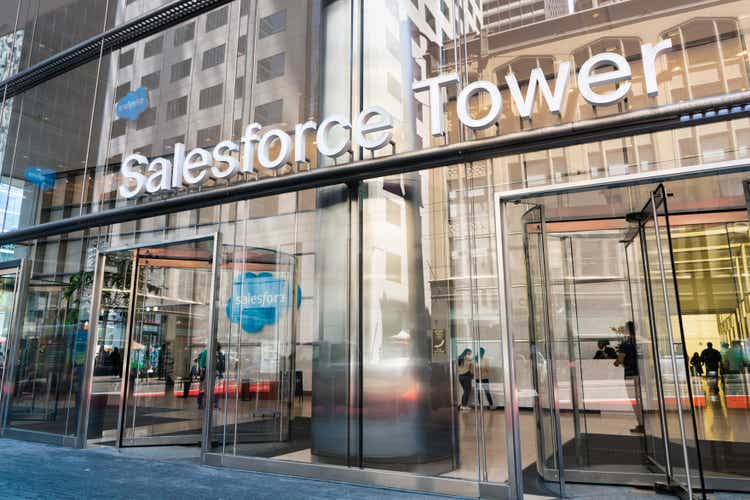 If you think rates are heading significantly higher, stop reading now. This article is a waste of your time and you will disagree with it.
However if you think the economy is weak, that 3% treasuries surprisingly make mathematical sense with 8% inflation due to debt levels and demographics, and that the FFR is fast approaching its apex regardless of inflation, then keep reading. Just as bonds will rally, so will long duration correlated assets such as tech.
While FAANG, or its new moniker MAMAA, get much of the attention due to their size and must-have services/products, they also come with unique drawbacks.
First and foremost, index weighting. Apple (AAPL) and Microsoft (MSFT) alone make up about 50% of the tech sector (S&P 500 Information Technology):
Often throughout the 20th century, the largest companies had below average P/E's due to their size, because the law of large numbers comes into play or at least expectations. But that's not what we get with Microsoft and Apple: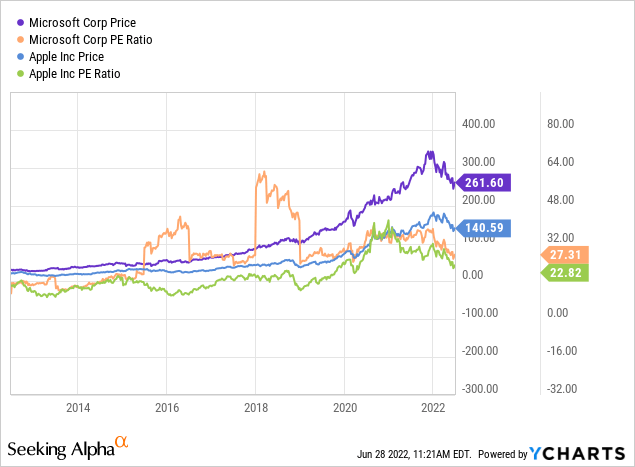 If you back out those two companies, as well as Amazon (AMZN), Netflix (NFLX), Alphabet (GOOG), and Meta Platforms (META), the remainder of the S&P 500 sits at a 14.9 multiple.
In addition to being higher multiple, most of mega tech also is in the crosshairs of constant political pressure and antitrust threats.
Yes, the latter may actually be beneficial - as breakups often create greater value - but instead of spinoffs, lately we see politicians pushing for restraining divisions of a company. For example, the EU bullying Google to allow rival ad networks to operate on YouTube. That doesn't unlock shareholder value like a spinoff of YouTube would do.
In short, the same strengths of FAANG/MAMAA (size, must-have services) also create weaknesses.
Not to say some of big tech isn't a good buy here but rather as a supplemental investment strategy, you may wish to consider other tech companies which are smaller, don't carry the political/antitrust baggage, yet still provide must-have services which we can't go without.
Here are three I have been buying during this selloff. On one or more valuation metrics, all hover near multi-year lows.
1. DocuSign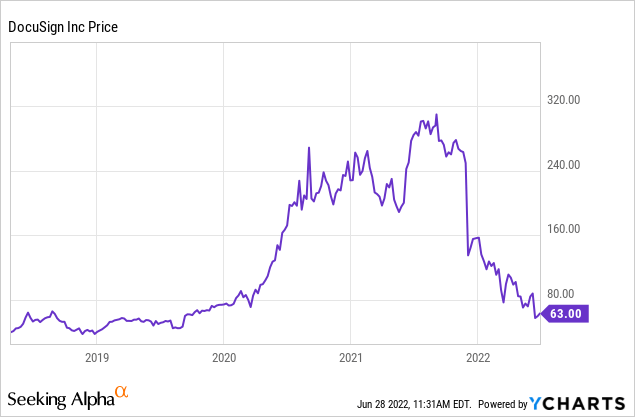 Since I know the comments will claim I'm crazy for classifying DocuSign (DOCU) as "moat-worthy," I figure it should be addressed first, even though it's not my favorite in this cohort. Yes, it could get chopped in half even from here, but it also could double within a year and it's hard to fathom the other two doing that. This is a higher risk, higher reward pick.
Just as you say Kleenex for tissue and Google for internet search, DocuSign has become the go-to for electronic signatures. The bears make it sound as if DocuSign is merely attaching a signature to a PDF and there's no moat. In some aspects they're right but in others, they're wrong.
For starters, electronic signatures are more complicated than you may think. States have different laws as to what qualifies or even if they qualify and when they do, how and what they qualify for. Time stamped screenshots taken as you scroll through and sign a document, IP address recording, and a number of other identifiers go into these documents on the backend, which you are oblivious to, in order to comply with various state laws and ensure they're legally binding. It's not as basic as uploading a scan of your signature or drawing it with your mouse.
The complexities of creating these different systems on a state-by-state basis though is admittedly, not a moat. The moat comes from the document preparation, storage, and retrieval.
For a local mom 'n pop business who just needs a customer to sign a basic purchase order or contract, admittedly DocuSign may be overkill and overpriced.
On the other hand, if you are an enterprise client, such as a national insurance company like Farmers (who uses it), or a large realty firm, there is a lot of back-end automated document creation and management going on that you as the customer don't see.
You do get a taste of it if you've bought or sold a house, as you will sign various auto-populated documents, counter-offers, and supplemental documents in a specified order. Far more complicated than signing a basic PDF. On a related note, even if you are bearish on home prices, it doesn't change pricing on the transactional documents which must be signed.
As is typical with enterprise software, the more ingrained an organization becomes in it, the more of a hassle it is to switch, even if they can save a few bucks elsewhere.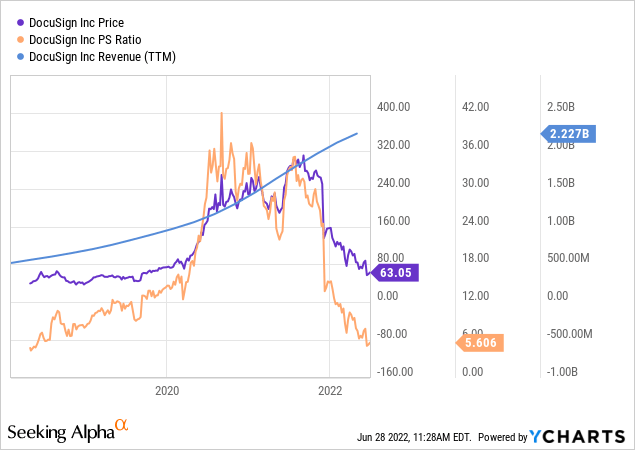 The share price would suggest that business is terrible, but as you can see, sales have never been better and the stock has never been cheaper. All of the COVID bubble premium has evaporated, and then some.
The share-based compensation (SBC) sounds scary, when you hear things like it's 60% of FCF, but this is a bit misleading, such as the fact that FCF is generally low for high growth companies due to investments in growth. As such, most things will seem high relative to FCF.
Also, a silver lining of the tech wreck for not just DocuSign but the whole tech sector is that all of this non-cash compensation doled out in recent years is now worth a fraction of what the executives had perceived its value to be. That actually benefits shareholders, as they paid these execs using inflated shares instead of cash.
While I do not advocate buying anything on takeover speculation, it's worth noting that at its $13B EV, the Kleenex of electronic signatures and document management is small enough to be a bite-sized acquisition for a number of potential suitors, including Microsoft, who they recently expanded a partnership with. Buyouts often happen when the C-suite is in disarray and CEO Dan Springer was just ousted.
2. Autodesk
While the moat of DocuSign can be legitimately disputed, it's hard to dispute the moat of Autodesk (ADSK). Think of its flagship computer-aided design (CAD) software as a mandatory tax on construction. Starter homes and similar basics may forgo its necessity, but not large commercial projects. It's also used for the design of vehicles, aircraft, parts, and much more.
If you look at the last 5 years, they look cheap on a P/S basis: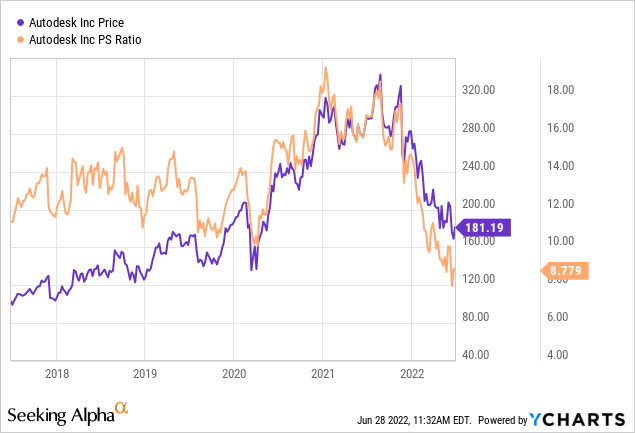 However if you go back further, the multiple looks average at best: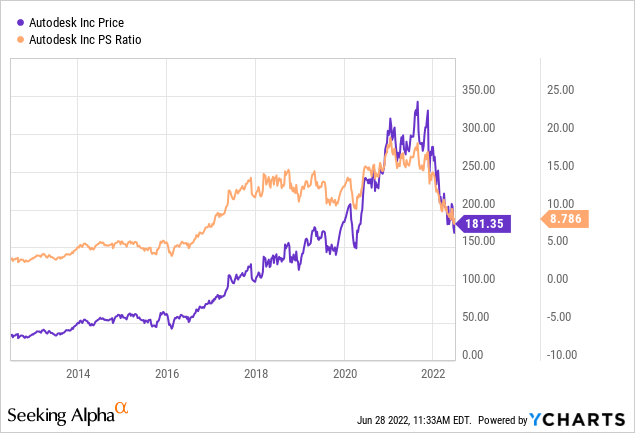 So what are you to make of this? Well for one, their business model has and is evolving. What was a one-time software license is now turning into a subscription. Adobe (ADBE) went through this transition several years ago and Autodesk is just in the first innings of it. Similar to what we saw with Adobe in the latter half of last decade, Autodesk should continue to generate higher FCF on each dollar of sales moving forward.
A multiple of 26x for FCF and 25x for OCF may not be cheap, but it's the same that Adobe is at right now, after its transition to subscriptions: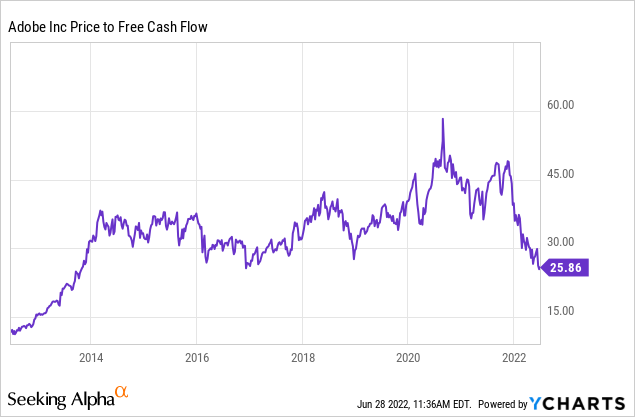 I like Adobe too and in fact, have added 900 shares this year, but I would argue growth over the next 3-7 years should be greater for Autodesk.
For one, the transition to a subscription model, which Adobe has already done. Yes, I refuse to use their Creative Cloud and keep transferring my Photoshop CS2 license from computer to computer, but I am in the tiny, tiny minority. Like the equivalent of using Windows XP in 2022.
Second, moat. Yes, Adobe has an incredibly powerful moat but that is getting eroded, particularly at the lower end. Canva is, or at least was, valued at $40B and has 60 million active users in 190 countries. The capabilities are primitive relative to Photoshop but as image manipulation technology progresses, many of the most advanced (manually applied) features of Photoshop are becoming less of a necessity, as Canva and others have created automated ways to apply them. This also expands the customer base, as novices using Canva can accomplish many of the same things which Photoshop experts have taken a decade to master.
Going back to Autodesk, it's a fine company back to being at a fair price. Its $43B EV means its unlikely to be acquired, but it also means there's plenty of room to grow. New avenues of revenue, such as extended reality (XR), have the potential to move the needle.
Lastly, as I discussed in my recent piece about Amazon AWS, software in general does very well in an inflationary environment. Rather than explain it here, you can read that to understand why.
3. Salesforce
Similar to Autodesk, their moat is strong. While I've long owned some Salesforce (CRM) before this tech wreck, this quarter I increased my position 10-fold when its P/S hit a 10-year low: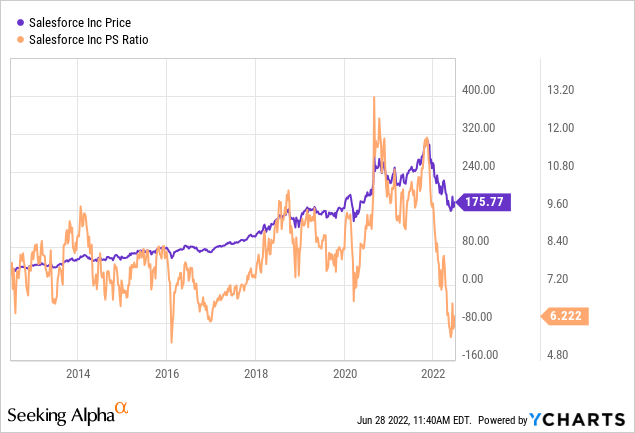 Customer relationship management software is a highly competitive industry, yet Salesforce is the undisputed leader:
Salesforce is actually an ecosystem, as there are many applications built entirely on top of their CRM. Take Veeva Systems (VEEV) as one example. They are a $32B market cap company serving pharma and life sciences. Without Salesforce, they couldn't operate.
Now even though they're at a 10 year low for P/S, their P/FCF is still 31 and P/OCF at 28. These are high, with the latter even higher than Amazon in recent quarters. However, they're not high relative to CRM's history. Similar to Amazon, they constantly re-invest in growth.
So far, these investments have delivered, despite their large ones being controversial at the time - e.g. MuleSoft for $5.7B in 2018 and Tableau for $15.7B in 2019.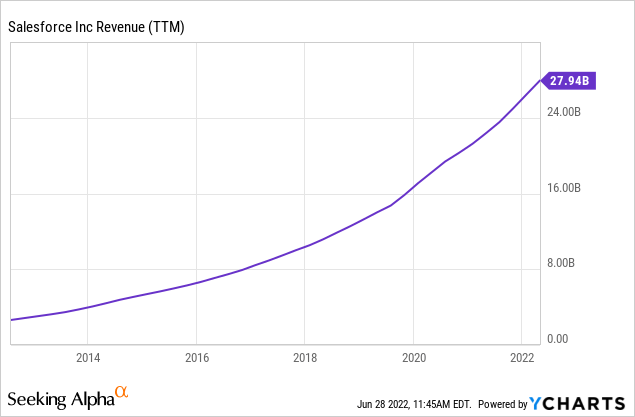 Their $27.7B acquisition of Slack, announced in 2020 and closed in 2021, was their biggest to date. While CEO Marc Benioff claims to be satisfied with the results so far, Wall Street remains skeptical and I do too. Though given his track record of successful acquisitions, we should hold off on a verdict for now.
FAANG/MAMAA vs. the other Nasdaq 100
Just as DOCU, ADSK, and CRM have declined a higher percentage than most of the mega tech cohort, there's a good chance they outperform on any major rebound, if you believe such is in store. The same holds true for many of the Nasdaq 100 constituents and I have been buying many others, too.
To reiterate, DocuSign is the highest risk out of these three. While it currently sits at $65, it's not unthinkable to see it hitting $40 or $130 in the next 12 months. You should view it as a much more speculative play.