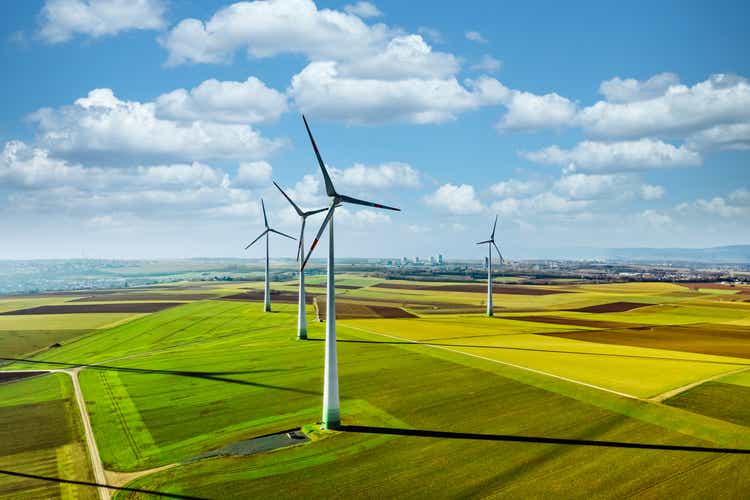 We've previously covered Innergex (OTCPK:INGXF) (TSX:INE:CA) in this article, where we did an overview of the company, so this time around we won't get into as much detail. This time we'll focus mostly on the dividend, the current valuation, and the sustainability of the dividend.
As a quick recap, we'll just remind readers that Innergex is a 100% renewable energy producer, it has 80 operating facilities and 14 projects under development, and generates enough green electricity to power more than a million homes. The company operates at an international scale, with most of its assets distributed among Canada, the US, France, and Chile. In terms of technology, it is mostly hydro and wind assets, with increasingly solar being added as well. Its assets are relatively young, with an average age of ~10 years, and the company has one of the longest average contract duration in the renewable energy sector.
Innergex has an extremely strong development pipeline, with just projects under construction and under development adding ~20% to its operating capacity. If we count advanced stage, mid stage, and early stage projects, the company has enough in its pipeline to almost triple its energy production capacity. Most of the projects in the pipeline are for wind energy, followed by solar, and then hydro.
Financials
As some of the projects that were previously under construction have come online, the free cash flow and payout ratio has improved. Previously the company had been paying more than a 100% of its free cash flow, which clearly is not sustainable, but as more projects come online, it is getting closer to being fully covered, and in fact for 2022 it is expected that the payout ratio will finally go below 100%.
For 2022 the company is guiding to ~$0.73 CAD in free cash flow per share, while the dividend is set at ~$0.72 CAD per share. Free cash flow is expected to continue growing at a 12% CAGR from now to 2025, when it is expected that it would reach ~$0.95 CAD. Based on commentary from the company, we believe most of the excess free cash flow above the dividend will be retained to help finance growth projects, so we do not expect any meaningful increases to the dividend.
As can be seen in the graph below, the dividend has been maintained at ~$0.72 CAD since 2020, but this is a dividend that is becoming safer and safer as the payout continues to decrease.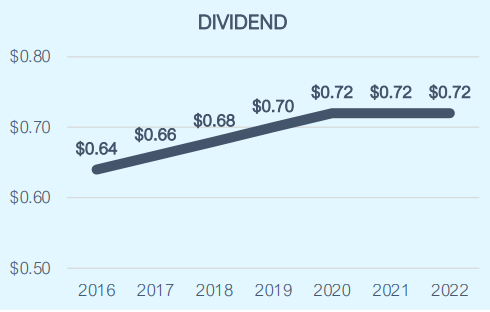 Valuation
For a stable company with long-term contracts and a lot of visibility to its future cash flows, Innergex is trading at a reasonable forward EBITDA multiple of ~14x.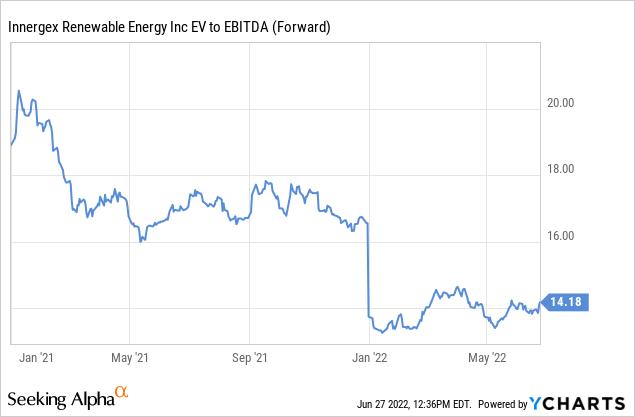 We believe one of the main reasons to own Innergex is for the dividend, which as we've seen is finally well covered by the free cash flow, and which is currently yielding around 4%. The average for the last ten years is 4.74%, but as we've seen, in the past it was less well covered. In the current interest rate environment we believe a well covered 4% dividend is an attractive one.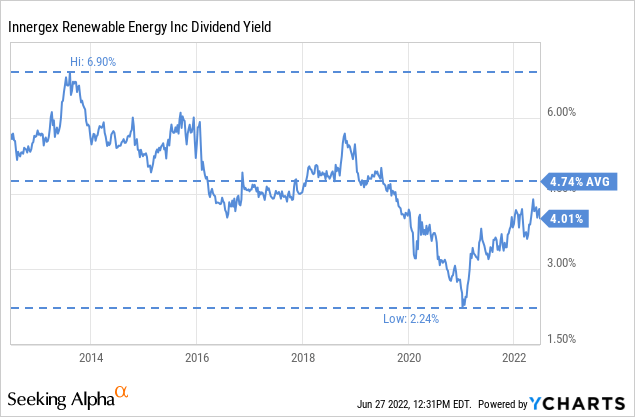 Another way to look at the valuation with a company like Innergex is by looking at the price/book ratio, which has averaged 3.7x over the last ten years, and is currently hovering around 3.2x.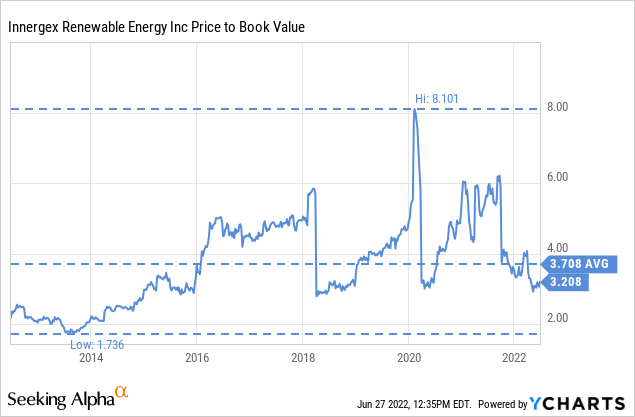 To Buy or Not to Buy
We believe shares are currently fairly valued to slightly under valued. There are three reasons we can give for owning the shares. One is the attractive ~4% dividend yield, which is well covered and which we expect to be maintained, even if we are not expecting much dividend growth in the next 2-3 years. Another reason is the deep development pipeline, which should result in attractive growth of ~12% in free cash flow per share from now to 2025. And the third reason is to support the transition to a low-carbon future. At current prices we believe a buy can be justified, but would be a lot more interested at somewhat lower prices. A 15-20% decline would be needed for us to consider it a 'Strong Buy', whereas right now we believe it is only a 'Buy'.
Risks
While the company operates with long-term contracts and power-hedges, things can still go wrong sometimes. An example is what happened in the State of Texas in February 2021, where unprecedented extreme winter weather conditions and related electricity market failure paralyzed the State. These unprecedented extreme winter weather events pushed the Texas Government to declare a disaster and the US Government to declare a state of emergency. The storm disrupted production, transmission and distribution of power, severely impacting prices. Power generation was depressed by the weather for the company's assets, and given the extreme prices reached, the company lost significant amounts of money on its power hedges.
Conclusion
There are few renewable energy companies we appreciate as much as Innergex, in particular because we like their technology diversification by having hydro, wind, and solar assets. The valuation, while not a bargain, is certainly reasonable enough to justify an investment at these prices. The dividend is solid, and increasingly well-covered, even if we do not expect it to grow for the next few years, as the company has hinted they plan on retaining the excess cash flow to help finance the development assets.