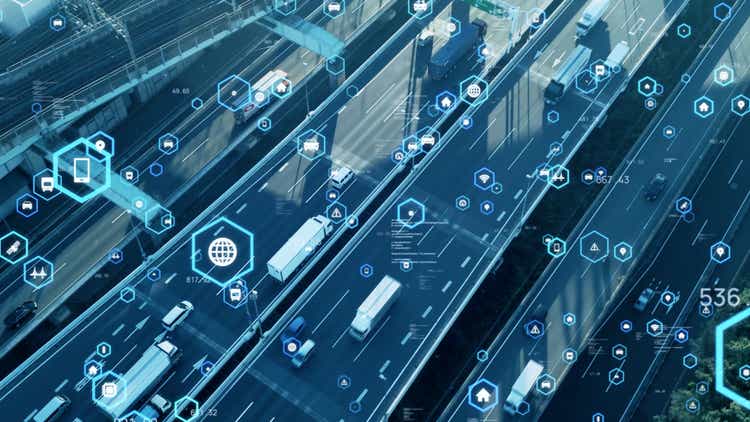 Karooooo Ltd. (NASDAQ:KARO) is an under-covered telematics provider operating mainly in South Africa and to a lesser-extent Europe, Asia, and the United States. The company is steadily growing subscribers and customers across geographies and verticals and is profitable and cash flow positive. There are real risks, but the shares are a buy for the speculative investor in the current price range of the low $20s/share.
Background
KARO started as a stolen vehicle recovery service in South Africa but now offers a comprehensive, cloud-based smart mobility platform for connected vehicles. The business is vertically integrated, meaning KARO controls every aspect of smart device design, platform innovation, software development, and customer onboarding and support. The platform acts as a central nervous system for connected vehicles, providing customers with fleet visibility in a single user-friendly interface that delivers actionable insights in real-time. KARO states that their offering improves customer productivity, efficiency, sustainability, and regulatory compliance. As of February 28, 2022, the company collects an average of over 90 billion data points per month.
Growth Strategy
The company has articulated a four-pillar growth strategy. The pillars are:
Increase subscription sales to existing customers
The plan is to roll out new features to existing customers with subscribers that are already on the platform and raise the price per subscriber accordingly. If management succeeds in doing this, it should lead to an increase in ARPU (average revenue per subscriber) over time. Here is a chart showing ARPU results over the prior four years.

ARPU seems to be hovering around 150 Rand per year per subscriber. Management has not articulated a target ARPU but stated in the June 20th, 2022, 20-F, "The Group's ARPU has been fairly consistent since inception more than 15 years ago. Management believes that ARPU of approximately ZAR 150 provides attractive margins and sustainable growth in most countries."
Though the company has not succeeded at this goal yet, hopefully, as the R&D and M&A initiatives mentioned later bear fruit this number will start growing at a fast pace.
Expand the subscriber base
This is a straightforward and obvious goal. The company has increased the number of customers (not subscribers) from ~75,000 to ~88,000 from February '21 to February '22. If the company can expand the number of customers and subscribers, they can spread fixed costs across more incremental units and collect more data to monetize. Also, this directly drives subscription revenue. Let's review historical subscriber growth.

At the midpoint of 1.8M subscribers in 2023 the company would be growing subscribers at healthy 18% clip. This is a slight acceleration on the 16.67% growth cagr of the prior three years. This makes sense when you consider the changing reality of the covid pandemic.
These are profitable subscribers for KARO, in 2022 the cost of acquiring a subscriber was 2,070 Rand and the lifetime value of a subscriber was 6,342 Rand for a more than 3x LTV/CAC
Expand geographic presence worldwide
This refers to reducing dependence on South Africa. The company has stated that they expect South Africa to remain an important market but that they expect more robust subscriber growth from Asia-Pacific and the Middle East. This has played out from 2019 – 2022 as South African subscribers grew at a 17% three-year cagr and EMEA/Asia subscribers grew at a 24% three-year cagr. It is worth mentioning that in the Q3 2022 conference call management stated that covid-19 was restraining growth in Asia. In the Q4 2022 conference all management stated that Asia "is now starting to open up". If this is the case Asian growth will probably accelerate.
Expand available platform and services
KARO has several meaningful expansion initiatives underway that utilize company telematics expertise/data and should be viewed as call option style bets on the future of mobility.
KARO recently purchased 70.1% of a logistics company called Picup. They had already been working with Picup to address customer last mile delivery challenges through an integrated partnership. Picup facilitates an elastic fleet of third-party delivery drivers to handle overflow volumes when surges in demand occur. Furthermore, Picup integrates with customer warehouses and payment systems allowing large corporate customers greater flexibility in handling delivery needs.
KARO has unified the Picup offering into the KARO platform and now refers to the business as KARO logistics. KARO has an option to increase its shareholding to 83.5%. KARO also has a put option that gives it the right to sell Picup to KARO CEO Zak Calisto any time before 8/31/2022, though this seems unlikely at this point. It looks like KARO logistics is a platform enhancement, as opposed to a separately reported product line, aimed at enhancing the value big corporate customers get from Cartrack and thus hopefully increasing retention and ARPU.
KARO has been beta testing a used car marketplace called Carzuka with a low volume of transactions in South Africa only. The company initiated Beta testing in the fourth quarter of 2021 and expects to enter full operation in the second quarter of 2023. During the Q3 2022 earnings call the CEO revealed that Carzuka did about 9M ZAR in Q2, 24M ZAR in Q3, and estimated 40M ZAR for Q4. This is rapid growth, but to keep this in perspective 40M ZAR is about $2.5M USD at current exchange rates. Carzuka will have to greatly ramp volume upon go live to meaningfully impact the company's results as a used car marketplace in South Africa.
The company makes brief mention of an insurance agency in the Q3 2022 call, and on the Carzuka website, stating that they are writing over 1,000 policies a month and hoping to start scaling next year. The plan must be to report this as part of Carzuka when Carzuka goes live.
In the most recent 20-F the company mentions an on-demand rideshare application that it has deployed in the UAE and has been developed and localized for multiple geographies. Management has never addressed plans for this product in a conference call or interview.
For the sake of being conservative, it is prudent to assign zero value to Carzuka, insurance, and ridesharing and to think of these like out of the money call options.
Valuation
Let's start by reviewing some M&A transactions that demonstrate how undervalued KARO is.
On August 1st, 2016, Verizon agreed to acquire Fleetmatics for $2.4B cash. Fleetmatics was a leading global provider of fleet and mobile workforce management solutions, just like KARO. Fleetmatics had "over 37,000 customers and approximately 737,000 subscribers". KARO has over 88,000 customers, 1.5M subscribers, and one quarter of the market cap.
On August 21, 2021 Bridgestone Americas acquired Azuga for $391M USD. Azuga makes class-leading software that provides real-time vehicle operations insights and data analytics to improve safety, increase efficiency, and enhance customer service experiences. Sound familiar? The press release states that Azuga has "more than 6,000" fleet business customers in North America. KARO has more than 88,000 customers, 14.66X Azuga, and has a market cap of $661M less than two times the Azuga acquisition price.
Let's look at the company through the lens of the rule of 40.
SaaS revenue has compound at 18% over the past three years from 1.7M ZAR in 2019 to 2.7M ZAR in 2022. In FY'22 KARO had an adjusted EBITDA margin of 44%. This indicates a "rule of 40" of roughly 62. Even if you use free cash flow as a percentage of revenue (14%) instead of adjusted EBITDA as your profitability metric you get a strong rule of 40 score of 32.
In the Q4 2022 earnings presentation the company listed ARR as $177M USD. With a market cap of $661M USD that means the company is trading at a multiple of 3.7x ARR. This is way too low considering historical transaction multiples, rule of 40 performance, and call option style moonshot upside.
Risks
What explains how a debt free cash flow positive SaaS company that beats the rule of 40 trades at ~3.7X ARR? Let's examine risks and red flags.
The first and most obvious issue is the strength of the U.S. dollar vs the South African Rand. On June 28th, 2021, the Rand was worth 7 cents. Today the Rand is worth 6.2 cents. With most of the company's revenue and customer base in South Africa this is a drag on performance from the viewpoint of the American investor base. It's not a coincidence that the 11% weakening of the Rand has occurred simultaneously to a 41% drop in the share price of KARO.
The second issue is simply that KARO is a controlled entity. Zak Calisto, the founder and CEO, owns about two thirds of the outstanding shares. Furthermore, there is another investor who owns 10% of the shares and has promised that if Mr. Calisto's voting power falls below 50% he will abdicate his voting rights to Mr. Calisto. As such the founder and CEO controls about 75% of the share voting rights.
This raises the question, will the company be run with the minority shareholder in mind? There are some red flags. Most prominently, Mr. Calisto has installed his three children, who are in their 20s, as Chief Marketing Officer, Head of Data Science, and Co-head of Singapore and Thailand. It's impossible for the outside investor to evaluate if these are patronage positions or if the second generation was born and bred to lead the company successfully into the future. Their only public presence being a fashion shoot is not encouraging.
Probably, the most important issue is lack of trading volume. The company is listed on the Nasdaq but has a float of only 5M shares. The average 3 month daily volume according to Yahoo! Finance is an anemic 11,000 shares. At the current price of roughly $21, average daily dollar volume is $231,000. Over the trailing 53 weeks from 6/28/21 to today, the average weekly dollar volume was ~$1.7M. As such, even if a portfolio manager loves the stock, there is simply not the liquidity necessary to establish an eight-figure position on the open market.
Conclusion
KARO is a consistently growing African telematics platform that trades at bottom barrel valuations. The company generates cash and has its eye on market adjacencies that could multiply the value of the company. Prior market transactions provide further evidence that valuation is too low. There are risks around governance and liquidity, but the speculative investor should take a position in the low $20 range.