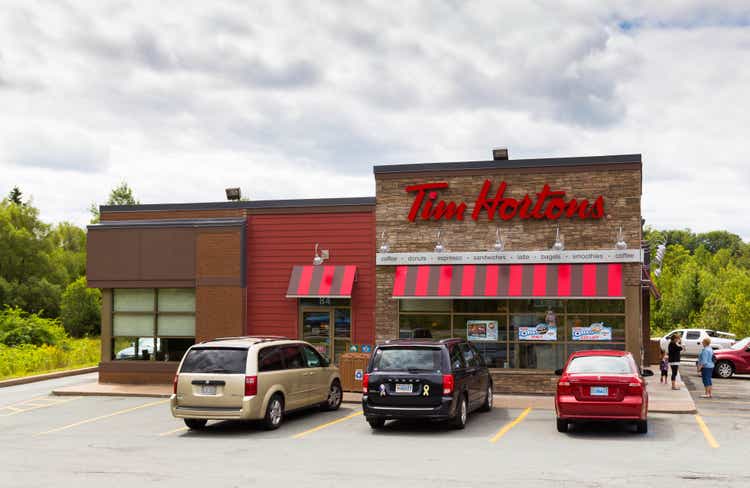 Investment Conclusion
Restaurant Brands International (NYSE:QSR) is anticipated to report F2Q2022 financial results in the last week of July (based on historical trends). Analysts expect revenues of $1.56 billion and earnings per share of $0.73 for the quarter. Considering that there appears little change in business conditions compared to the first quarter, we believe the strong sales momentum experienced over the prior quarter is likely to have persisted in the second quarter. Therefore, we believe, F2Q2022 financial results will possibly come in ahead of Street expectations.
To be specific, we believe, system sales and same-store sales associated with Tim Hortons Canada and Burger King International continued to outperform, based on turnaround initiatives rolled out at Tim Hortons over the past three years, and the return of mobility in Canada, and overseas Burger King locations. In addition, we expect that Burger King's U.S. business grabbed additional market share on the heels of a strong recovery in the first quarter, based on a slew of changes implemented over the pandemic, including significant menu innovation, increased focus on value deals, and the roll-out of digital menu boards at drive-thrus. Further, we anticipate some increase in sales associated with Popeyes and Fire House Subs, due to solid geographic expansion over recent quarters.
Moreover, despite, our expectation of sequentially higher dine-in sales across all four of QSR brands, contribution of digital sales as a fraction of total sales likely advanced, due to the firm's implementation of strategies to improve customer experience associated with the category. Furthermore, considering that more than 40% of QSR's sales are derived from its international business, the impact of cost inflation related to commodities and labor was likely lighter, and along with revenue leverage from our expectations of dramatically higher sales, possibly reflected in strong margin expansion over the second quarter. Consequently, as a function of the anticipated considerable growth in sales and margins, we expect improvement in year-over-year earnings and free cash flows for F2Q2022.
For the back-end of the year, we anticipate continued strong growth in sales driven by the factors that fueled the first quarter outperformance and the likely second quarter upside, and some easing in inflationary pressures associated with the U.S. business, reflecting in further margin expansion, and therefore incremental growth in profits and free cash flows for the entire year. Overall, based on a potentially strong financial performance, FY2022 will probably be the year that QSR's business turns around from the challenges it struggled with over the past three years.
Longer-term, QSR represents a significant growth opportunity, as all four of its brands have substantial growth ahead of them, through international expansion. In that regard, Tim Hortons, Popeyes, and Fire House Subs, are barely penetrated in foreign markets, and although Burger King has a considerable presence outside the U.S., its footprint appears insignificant compared to McDonald's (MCD), its closest competitor. In addition, management has indicated that all four brands, but particularly Popeyes, have room to grow in home markets.
Beyond geographic expansion, additional advancement in retail sales, in the form of same-store sales growth, is likely to be derived from greater convenience, menu innovation, and loyalty programs. Higher retail sales will reflect in revenue leverage, resulting in margin expansion at the restaurant level and corporate level. In addition, margins will continue to benefit from economies of scale related to procurement of commodities, corporate overhead, technology, the digital platform, and advertising. As a flow-through, profits and free cash flows are likely to surge, on a secular basis.
Given that F1Q2022 results have not altered our long-term outlook on QSR, we remain constructive on the company. Therefore we're reiterating our 1-year Price Target of $101/share and Buy Rating for the stock. Please note that there is upside to our Price Target as it ignores potential earnings from the acquisition of Fire House Subs. (Please go through our initiation report "Restaurant Brand International: Significantly Under Valued – Buy On Growth Plans" and related notes for our long term opinion on the stock).
Key Take-Aways From The First Quarter
F1Q2022 Results Summary. For the quarter, retail sales came in at ~$9.03 billion (+13.7% compared with F1Q2021), revenues were ~$1.45 billion (+15.2% on a year over year basis), above consensus estimates of $1.42 billion, and earnings per share came in at $0.64 (+16.4% compared to F1Q2021), beating analyst projections of $0.62. In addition, comparable sales increased: by 8.4% at Tim Hortons, by 10.3% at Burger King, and decreased by 3% at Popeyes, during F1Q2022. Net income for the period was ~$295 million, reflecting an increase of 14.8% over the previous year's same quarter. Cash flows from operations and free cash flows were $234 million and $1.59 billion, for 3-months ended FY2022.
Tim Hortons Firing On All Cylinders. The brand's turnaround is complete. Driven by increased mobility throughout Canada, particularly in Ontario, where pandemic restrictions were the most stringent, and the super urban areas where foot traffic was extremely strong, system sales expanded by 12.9% and same-store sales advanced by 8.4%. The sales upside was widespread with improvement evident across all segments of the day and across all regions of Canada.
The efforts expended over the last three years to turnaround the business combined with the complete opening up of the Canadian economy created a perfect storm situation, that resulted in strong sales momentum. Menu innovation that was central to the turnaround strategy, with improvement in coffee, new breakfast items, including fresh cracked eggs, which reflected in the first quarter generating the highest breakfast sales in five years, and novel beverages continuing to deliver.
In addition, the annual "Roll Up To Win" promotion drove digital sales to 36% of total sales for the first quarter, and 40% for March. Digital sales were also supported by the brand's loyalty program, which experienced strong customer uptake over the period. Recall that digital sales generate the highest margins, and customers that transact online, order more frequently and with higher check values, rendering sales in the category, highly valuable.
Burger King U.S. On Track To Recovery. Following implementation of initiatives to turnaround Tim Hortons Canada, QSR increasingly focused on the Burger King U.S. business which based on disappointing financial results appeared to be on a downturn even before the pandemic surfaced, though the viral outbreak further damaged the enterprise. Those efforts appear to be succeeding as guest satisfaction scores have improved over the previous three quarters. Further, based on management commentary, the business managed to recapture a few hundred basis points of market share from competitors, over recent quarters.
Additional endeavors, including a switch in the advertising agency with a view to improve messaging and communications, simplification of kitchen operations to save time and improve food flavor, upgrades to the digital platform to support customer experience, and remodeling of stores to the "Burger King Of Tomorrow" image, are continuing to be rolled out, under the leadership of the new head of Burger King North America, Tony Curtis, a 35-year veteran of the quick service restaurant industry, who took the helm in F3Q2021.
Considering that ~50% of Burger King's business is derived from its U.S. operations, we are encouraged that QSR's initiatives to turnaround the enterprise are being rewarded. In addition, given that Tim Hortons recovery was engineered by largely the same management team, we believe that it is only a matter of time, before a reinvented Burger King U.S. emerges, driving significant gains in top-line and bottom-line outcomes.
Popeyes Performance Mixed. The brand delivered strongly on the primary long-term growth driver, new unit development, launching the largest class of first quarter new stores, since the founding of the chicken focused restaurant chain. During FY2022, QSR expects to open a record number of new Popeyes locations, including 200 restaurants in North America and entering new markets such as France and Romania.
However, with respect to system sales and same-store sales, the first quarter performance was tepid, with the downtrend in the U.S. business, reflecting in softer sales growth, driven primarily by the Chicken Sandwich wars, as restaurant groups launched new and improved offerings in the category. Nevertheless, the sales shortfall was somewhat countered by Popeyes' solid performance in international territories, specifically Spain, Philippines, Turkey, Mexico, and Brazil. In addition, margins suffered due to revenue deleverage, staffing shortage, and inflationary pressures related to commodities and labor.
With a view to encourage customer demand, during the first quarter, the brand launched the $6 Big Box and the Buffalo Ranch Chicken Sandwich. As per management, and based on sales, Popeyes' guests appeared to appreciate the new introductions.
Balance Sheet Remains Strong. At the end of F1Q2022, the company had a cash and cash equivalents balance of ~$895 million and long term debt of ~$12.6 billion on its balance sheet. QSR's debt to EBITDA ratio at the end of the period was 5.5x, consistent with the prior quarter's figure, and inline with associated covenants. QSR can borrow an additional $998 million to fund operations under a revolving credit facility, it has available. Given its funding position, we believe that the company has sufficient resources to execute on its accelerated new unit development strategy for the year. QSR declared a dividend of $0.54/share for the first quarter.
Bottom Line
The QSR story couldn't get better. A solid business with enough success in the form of Tim Hortons Canada and Burger King International, and challenges that appear simple enough to overcome, in the form of the U.S. businesses of Burger King and Popeyes, which represent guaranteed upside opportunities. With amongst the best unit economics in the industry, the potential strong sales will flow-through in strong margins, which will buoy profits and free cash flows, over the next couple of years. Therefore, the stock at current levels represents an excellent opportunity to accumulate shares, just as the business appears ready for a break-out over upcoming quarters. Buy Buy Buy.