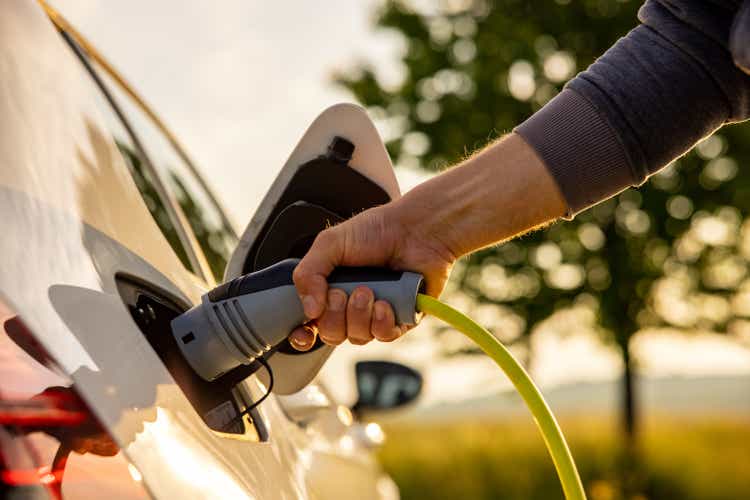 A Quick Take On Jiuzi Holdings
Jiuzi Holdings (NASDAQ:JZXN) went public in May 2021, raising around $26 million in gross proceeds in a U.S. IPO that priced at $5.00 per share.
The firm sells new energy vehicles through a network of mostly franchised car dealerships in China.
Given continued pandemic period surges and management's lack of guidance or even earnings conference calls, I'm on Hold for JZXN.
Jiuzi Holdings Overview
Hangzhou, China-based Jiuzi was founded to create a network of car dealerships in third and fourth tier cities in China.
The firm primarily sells new energy vehicles through a franchising business model and stores are typically sized in the range of 5,000 to 12,000 square feet.
Jiuzi currently has one corporate owned store and 18 franchise operated locations in China.
Management is headed by Chairman and CEO Mr. Shuibo Zhang, who was previously Chairman of Shandong Ruixing New Energy Vehicles Company.
The company sources vehicles through over twenty manufacturers, such as BYD, Geely and Chery, and various battery manufacturers.
In addition, Jiuzi has relationships with capital partners to provide financing options for franchisees to their car buyers.
The company obtains franchise operators through its outreach efforts, with the initial franchise fee is several hundred thousand dollars, payable over time and ongoing royalties are 10% of net income.
The firm is also developing an online platform to provide a 'multi-dimensional service platform and one-stop experience covering online vehicle selection and purchase and off-line vehicle delivery and maintenance.'
Market & Competition
According to a 2019 market research report by IBISWorld, the market for car dealers in China grew at an annualized rate of 1.2% from 2014 to 2019, reaching $462.8 billion in total estimated annual value.
In the near term, the industry hopes to recover from the ill effects of the Covid-19 pandemic and lower tier Chinese cities are expected to rebound due to a greater distribution of wealth among consumers.
Downward price pressures are expected to continue due to import tariff reductions and ongoing efficiency gains.
The relatively high level of air pollution in areas of China along with favorable government policies is expected to push consumers toward new energy vehicles.
Major competitive or other industry participants include:
China Grand Automobile Service

Dalian Zhongsheng Group

Lei SHing Hong Group

Sinomach Automobile

Pang Da Automobile Trade

Heng Xin De Long Industry

Shanghai Yongda Group

Yuantong Mechanical & Electrical Equipment

China ZhengTong Auto Services
Jiuzi's Recent Financial Performance
Total revenue by quarter has fluctuated highly over the past 5 half-year periods: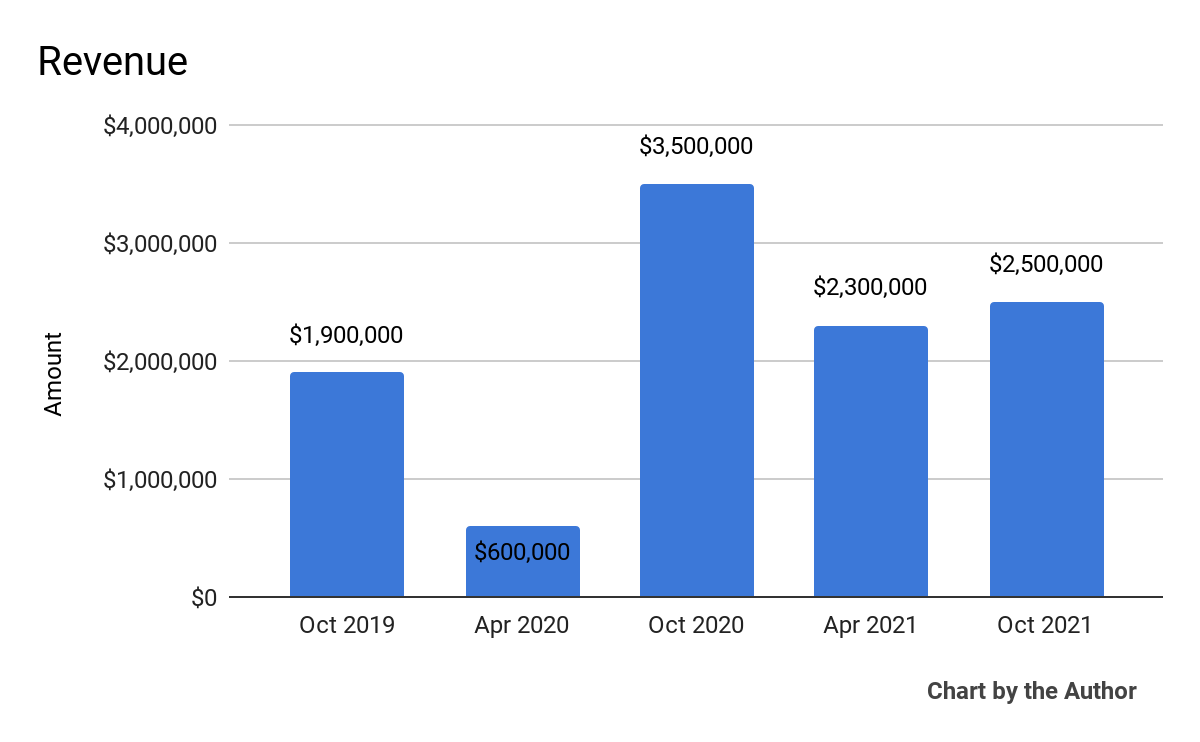 Gross profit by quarter has also been highly variable over the past 5 half-year periods: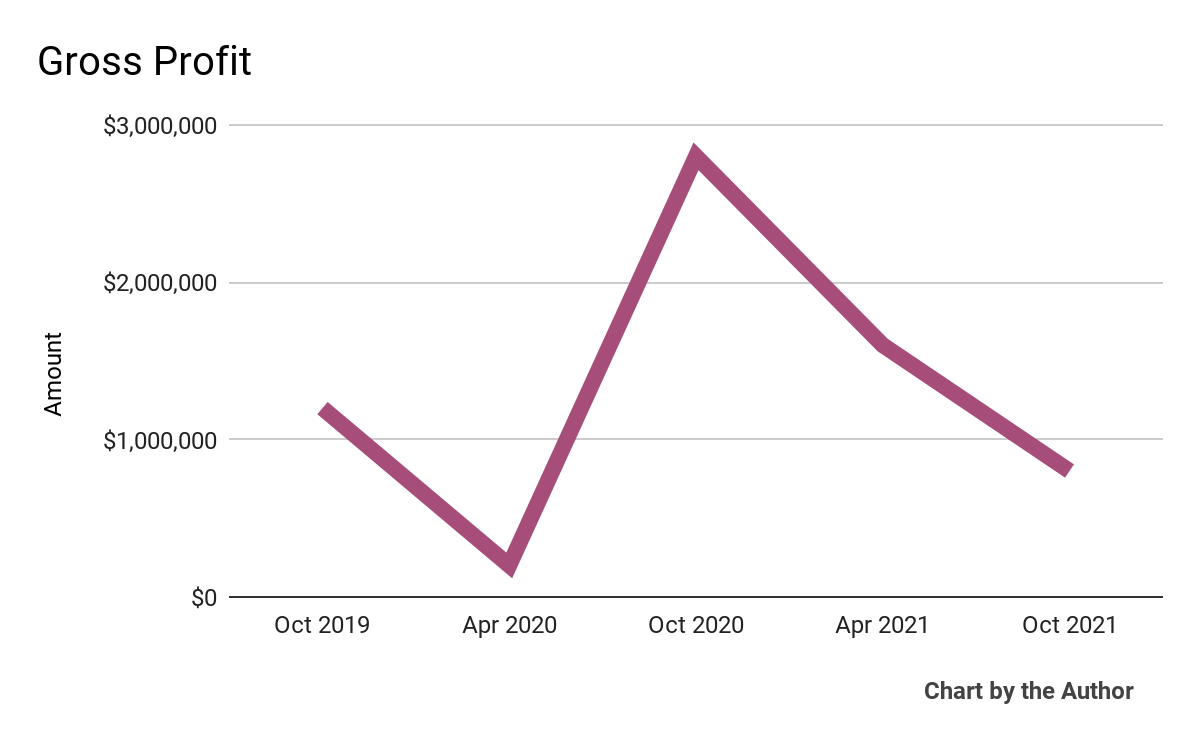 Selling, G&A expenses as a percentage of total revenue have varied significantly in recent reporting periods: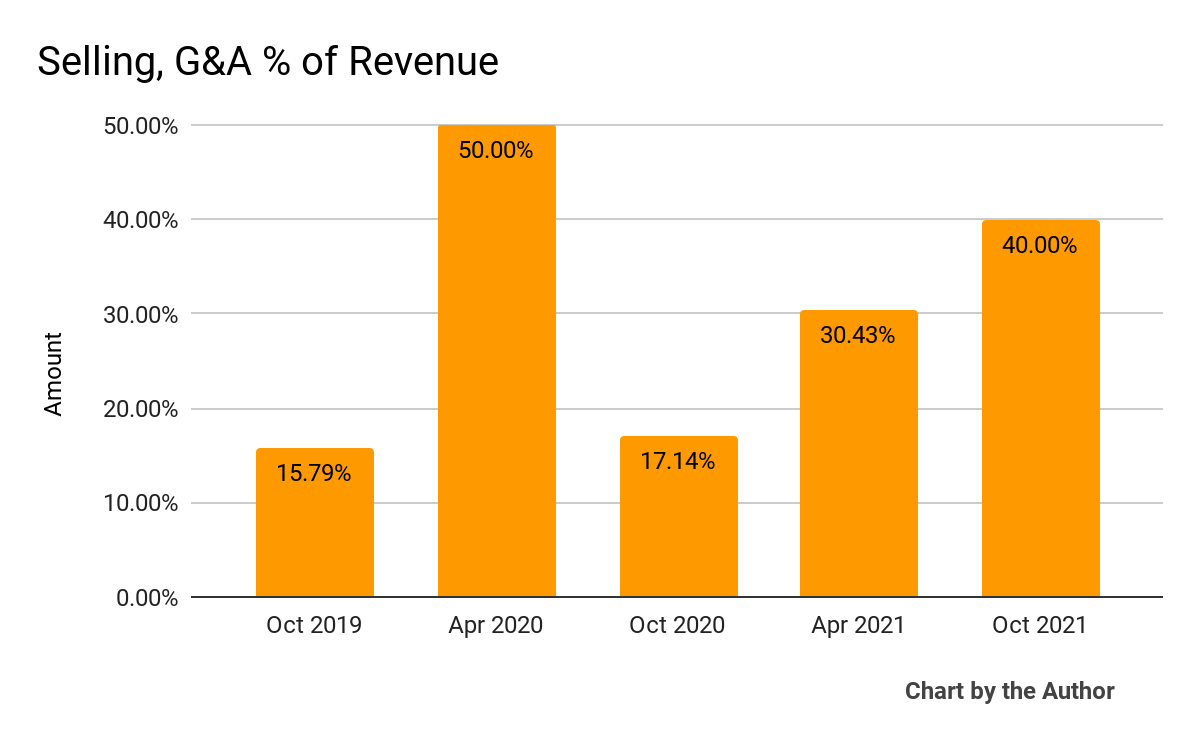 Operating income by quarter has also been highly variable: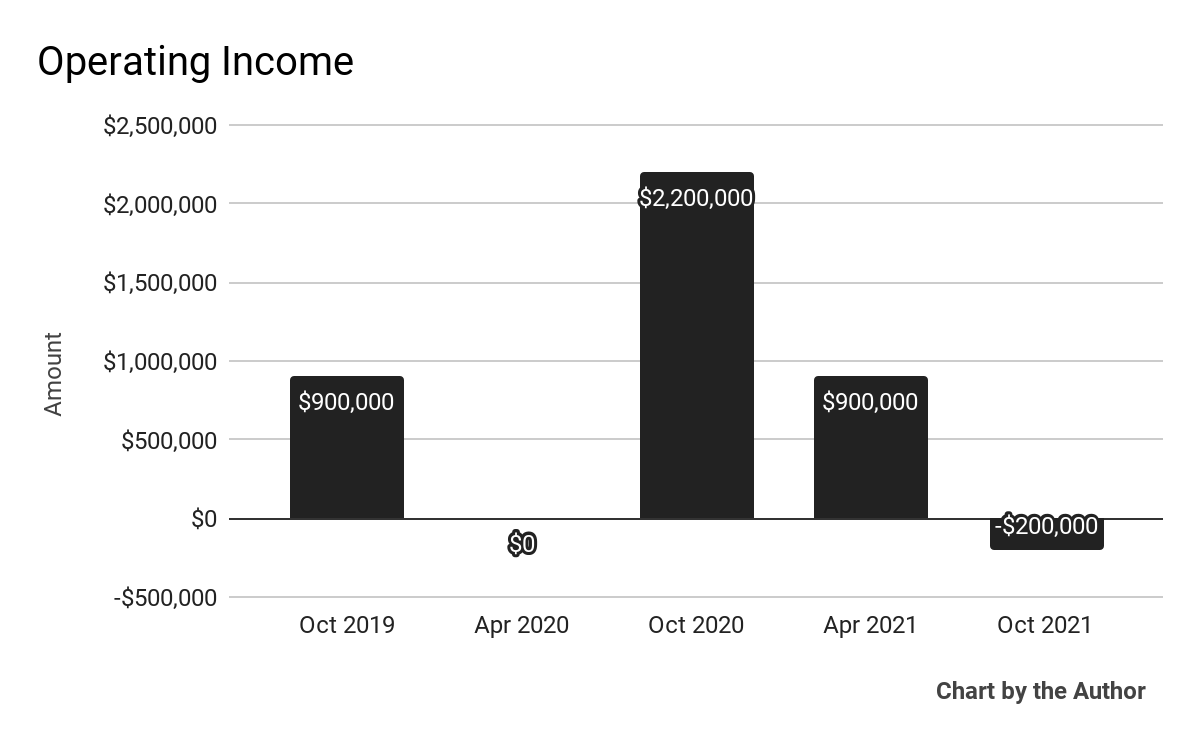 Earnings per share (Diluted) have been at breakeven or positive, with the exception of the most recent six-month period: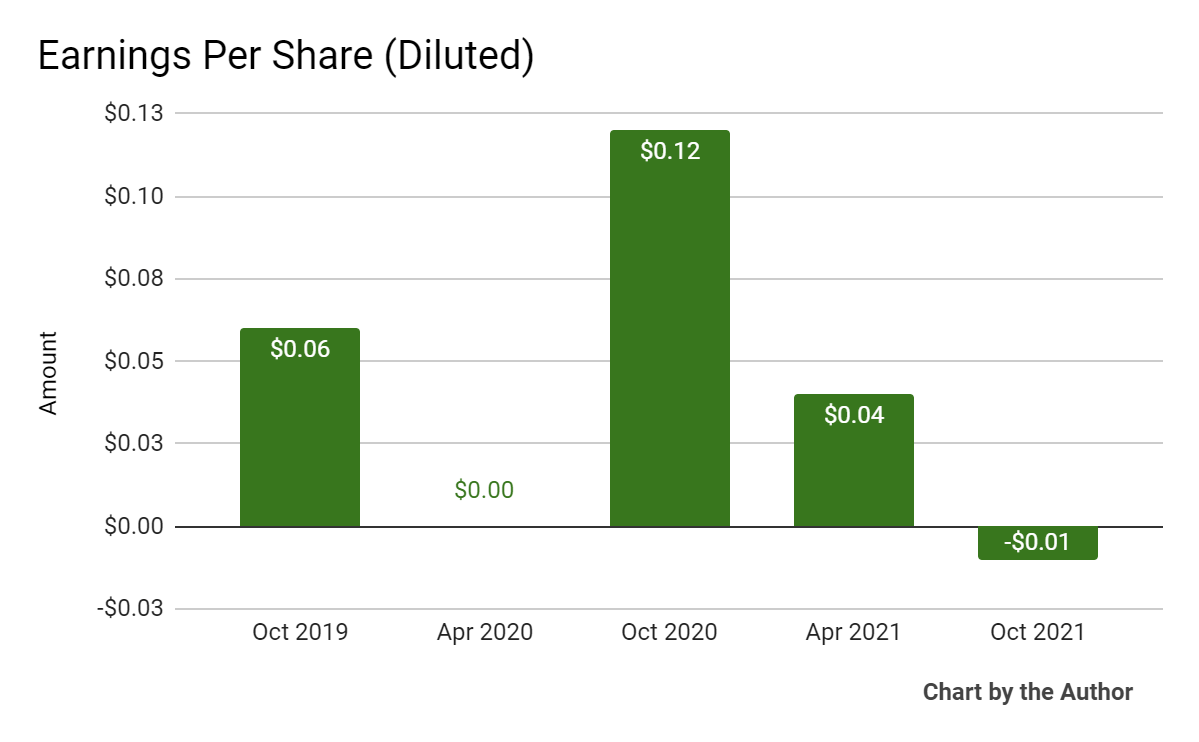 In the past 12 months, JZXN's stock price has fallen 89.2 percent vs. the U.S. S&P 500 index' drop of around 11.2 percent, as the chart below indicates: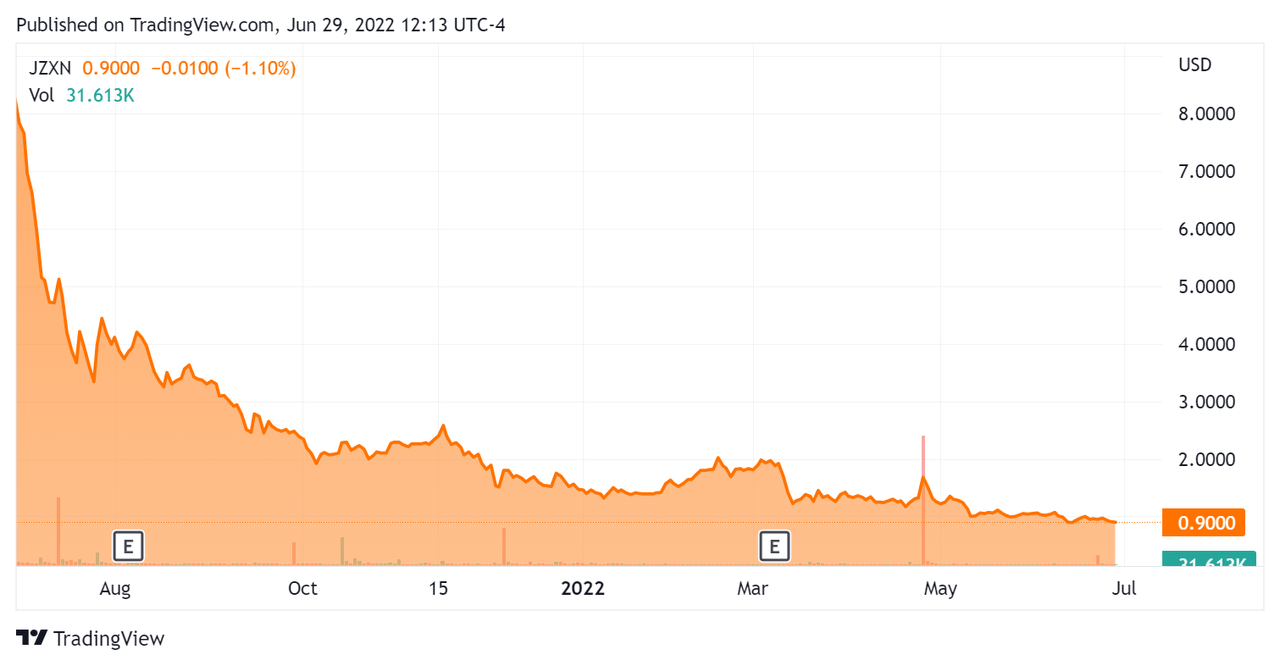 Valuation Metrics For Jiuzi
Below is a table of relevant capitalization and valuation figures for the company:
| | |
| --- | --- |
| Measure | Amount |
| Market Capitalization | $19,940,000 |
| Enterprise Value | $12,350,000 |
| Price / Sales [TTM] | 1.68 |
| Enterprise Value / Sales [TTM] | 1.29 |
| Operating Cash Flow [TTM] | -$4,810,000 |
| Revenue Growth Rate [TTM] | 16.15% |
| Earnings Per Share | $0.15 |
(Source - Seeking Alpha)
Commentary On Jiuzi Holdings
In its last earnings announcement (Source - Seeking Alpha), covering FYE October 2022's results, management highlighted the firm's revenue growth of 16.2% year-year-over despite the ongoing impacts of the COVID-19 pandemic on consumer behavior.
The firm also said it is developing a customer and vehicle management system that it plans to launch 'next year' to its franchise stores.
JZXN sources its new economy vehicles and related batteries and components from over 20 manufacturers.
As to its financial results, while revenue grew modestly, the firm's Selling, G&A expenses more than doubled from the previous year, helping to shift operating income and earnings to negative figures for the second half of the fiscal year.
Looking ahead, the firm plans to continue seeking new vehicle brands to create collaborations of unknown type.
The company also intends to increase its focus on Southern China with the opening of its Southern China Operation Center.
Regarding valuation, the company went public last year at an EV/Revenue multiple of around 19x and since then the market has crushed that multiple down to 1.3x as revenue growth has flagged and remained highly variable, among other performance issues.
For sure, some of that uneven performance has been a result of conditions outside the company's control, including a resurgence of the pandemic and strong government lockdowns.
The firm no doubt has significant supply chain challenges and associated rising costs.
The primary risk to the company's outlook is continued pandemic periodic surges and a high inflationary environment over the medium term.
Given these uncertainties and management's lack of guidance or even earnings conference calls, I'm on Hold for JZXN.