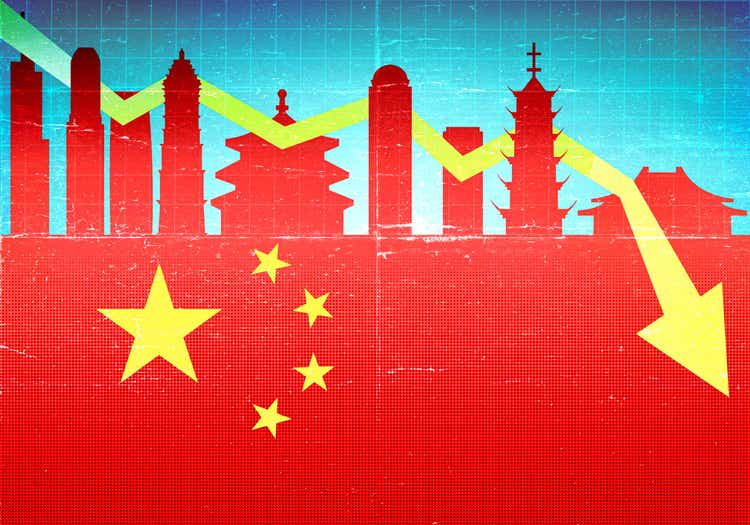 Investment Thesis
In my last article on the WisdomTree China ex-State-Owned Enterprises ETF (NASDAQ:CXSE), I pointed out some of the risks of investing in China and I indicated that other ETFs provided a better value for money. Since then, CXSE has lost ~5% vs. a loss of ~15% for the iShares MSCI Emerging Markets ETF (EEM). Despite the relatively good performance, I think political risks associated with the zero-COVID policy coupled with a slow real estate market recovery are likely to hamper the country's economic prospects over the next 12-18 months. If we add a global recession on top of that, China could be slowing down dramatically compared to what investors have been used to in past, creating further pressure on Chinese equities.
What Has Happened Since My Last Article
As a reminder, the WisdomTree China ex-State-Owned Enterprises Fund invests in a basket of Chinese companies that are not state-owned enterprises. You will find below a recent breakdown of the top 10 holdings, and you can read more about the strategy in my previous article.
I concluded my previous article with the following statement:
Investing in China comes with risks that are less common in developed markets. China is known to be a market where the CCP has a strong grip on the economy and where many firms have defrauded Western investors over the past decade by cooking their books. As a result of these country-specific risks, I believe investing in China requires a risk premium.
I believe my concern related to a higher risk premium for Chinese stocks materialized when the zero COVID-19 resurfaced earlier this year and prompted many cities to enter a strict lockdown for multiple weeks. Requiring a higher premium remains an important factor going forward given that zero-COVID and geopolitical uncertainties are here to stay.
I have compared CXSE's price performance against EEM over the last 3 months to assess which one was a better investment. Since my previous article, CXSE lost ~5.7% compared to a loss of ~15.3% for EEM and has outperformed the benchmark.
The Chinese government has proactively tried to boost demand by conducting an accommodative monetary policy and launching a package of demand-side stimuli. I believe this is the main reason why Chinese shares have rebounded much faster compared to other emerging markets, and this trend could very well continue unless a global recession becomes inevitable.
Investors are following the trend and have poured nearly $56 million since late February 2022 into CXSE. A large number of these inflows occurred over the last 30 days.
CXSE isn't the only China-oriented ETF that benefited from positive flows over the last couple of weeks. Foreign investors in general have been on a buying spree and turned bullish on Chinese stocks with the hope of capturing the trend reversal. Today's pace of inflows rivals similar patterns previously experienced in early December 2021 and mid-January 2022.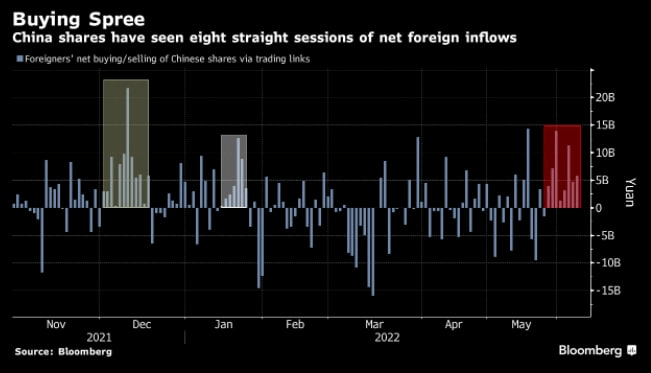 China's Recovery Could Be Hampered By A Global Recession
Despite the recent outperformance of Chinese stocks, I believe the Chinese economy isn't out of the woods yet and continues to face a number of short-term headwinds. The zero-COVID policy turned out to have an important impact on the economy, particularly on demand. This issue is well reflected in the country's trade balance surplus which has recently reached an all-time high. While several analysts are seeing in this report signs of economic strength, I tend to believe it shows cracks in domestic demand.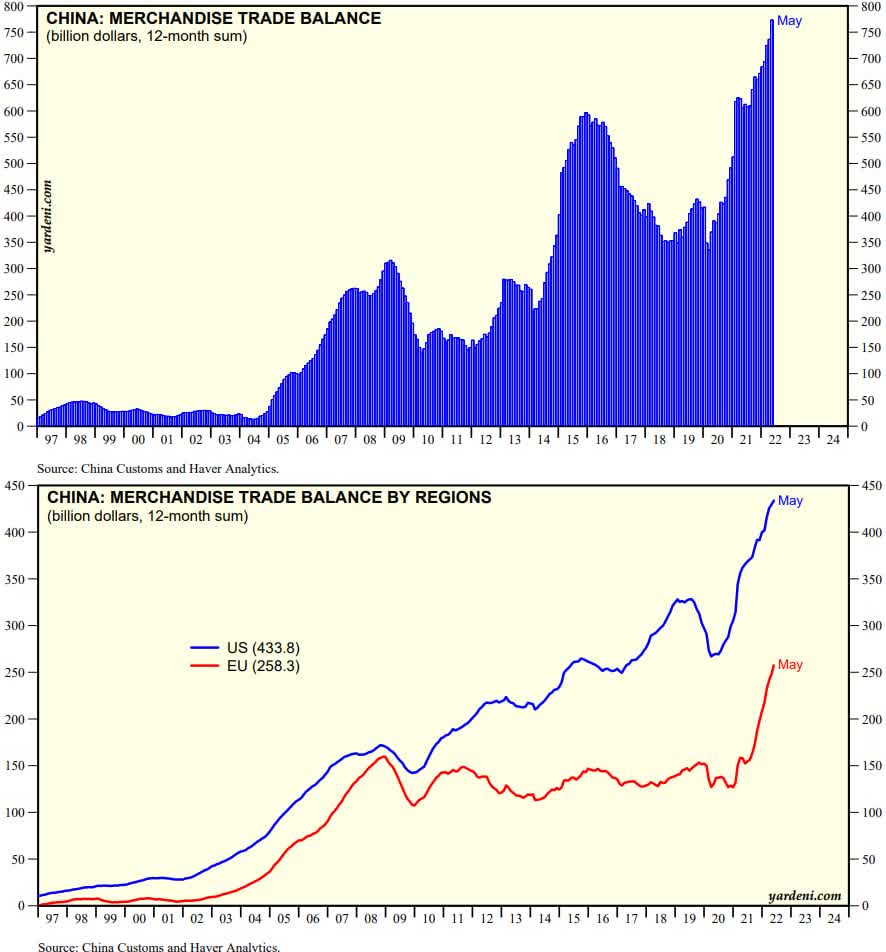 In response to sluggish domestic demand, the PBoC proactively lowered rates while local governments simultaneously launched accommodative fiscal programs. The fact that inflation is relatively low in China compared to other economies around the world gives them room to use these tools, and in fact, I believe Chinese policymakers are making the right choice. However, it's unclear to me yet how successful these measures will be until uncertainties surrounding the country's health policy dissipate.
In the meantime, YoY domestic loan growth has recently reached a multi-decade low. The risk appetite of Chinese investors is diminishing in the face of challenging economic conditions. After all, when interest rates are at a decade low, you would expect borrowers to leverage up if they would feel hard times are now behind.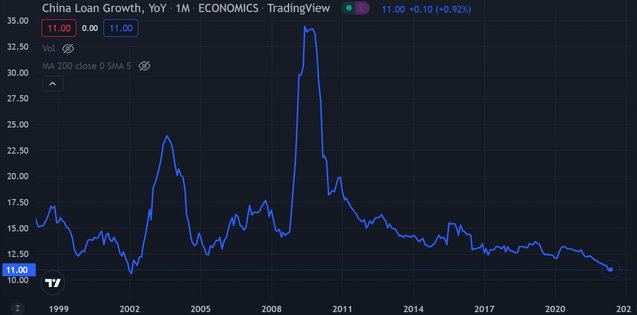 YoY retail sales are another indicator that shows Chinese consumers have been deeply affected by the zero-Covid-19 policy. This metric is near a multi-decade low and I believe that expecting a V-shaped economic recovery at this stage is improbable given the fact that President Xi is keen on his health policy.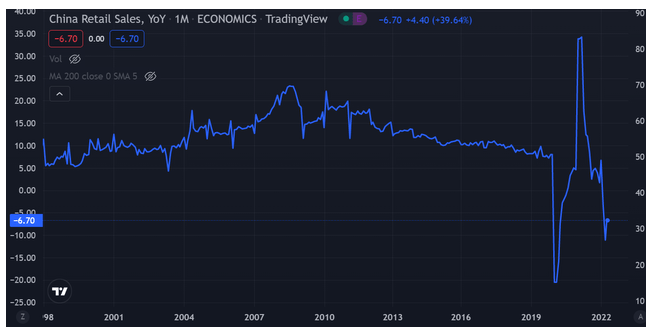 Since lockdowns caused a decrease in economic activity, the unemployment rate rose close to a record high of ~6%. While I expect this metric to go down in the short term, a global recession could leave China with a higher unemployment rate compared to the historical average for a longer period of time.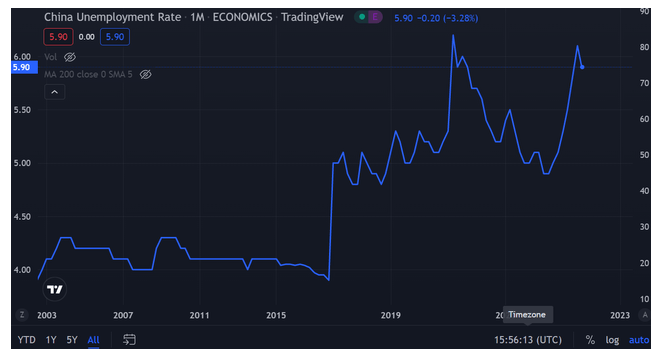 While Chinese stocks have a good chance of outperforming foreign markets that are doing quantitative tightening in the short term, I believe China's era of high single-digit growth is coming close to an end for multiple reasons. At the same time, the prospects of a global recession are increasing every day. The recent PMI data from China's main clients shows a contraction in new orders for the first time since Q1 2020. As a result, I believe the risk of a global recession could hamper China's economic recovery and could ultimately lead to disappointing stock market returns.

Key Takeaways
Despite the relatively good performance of Chinese equities in recent months, I believe that political risks associated with the zero-COVID policy, combined with a slow real estate market recovery, will hinder the country's economic prospects in the next 12-18 months. Add to that a global recession, and China could slow dramatically compared to what investors have become accustomed to, putting further pressure on Chinese equities. While the rally could very well continue over the next couple of weeks on the back of fiscal and monetary stimulus, I don't believe equities are the best asset class to own going into a global economic slowdown.