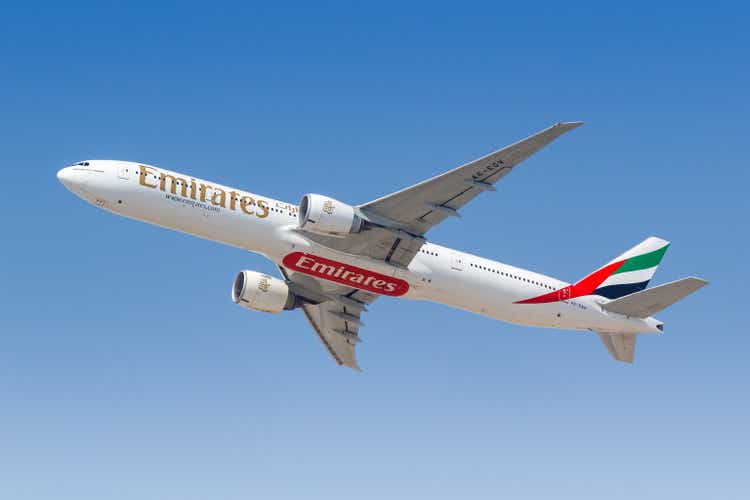 Throughout the pandemic, we saw many airlines removing wide body aircraft from their fleets, leaving owners of the aircraft with a headache. All of a sudden there was a big glut of aircraft being released into the marketplace and little to no demand for passenger service, so freighter conversion all of a sudden became a lot more attractive. The most recent news reported by The Air Current is that Boeing (NYSE:BA) is eyeing a converted freighter launch for the Boeing 777-300ER possibly during the upcoming Farnborough International Airshow that will take place in July. Else, Boeing will have news on its development later this year, possibly during its Investor Day.
In this report, I will explain why the launch makes sense from multiple perspectives such as demand, product portfolio expansion and expansion of revenues in the services segment, as well as the commercial aircraft production segment.
Strong Demand for Freighters
In its most recent forecast, Boeing expects 2,610 deliveries in the freighter segment which supports a 70% growth in the global freighter fleet in the coming 20 years. Around 66% of the demand will be filled by converted freighters, which are passenger aircraft converted for freighter service, and 20% of the total will be filled by wide body conversions for the Boeing 767 and Boeing 777.
What should be kept in mind is that anticipated demand for converted freighters is not something that rose during the pandemic as available belly capacity dried up and there was no upside on dedicated freighter production. In fact, Boeing anticipated lower demand for freighters compared to pre-pandemic levels, and that also has resulted in a reduction in the number of conversions that are expected to take place. The pandemic also did not cause any distribution change between forecast converted freighter demand and dedicated freighter demand.
What we did see happening during pandemic is that e-commerce shipping demand remained strong, and airlines started re-evaluating their fleet requirements. Airlines started aligning for years of recovery requiring less aircraft while strong e-commerce demand provided for a strong base to capitalize on idle wide body aircraft by sending them to bays for freighter conversion. It is a move that made economic sense, with forward demand for shipping and passenger travel in mind as well as airlines aiming to diversify their services. So, conversion demand is not necessarily driven by the pandemic, as pre-pandemic forecasts already showed strong future demand for converted freighters. However, the pandemic likely did pull a lot of that demand forward.
There Are Many Boeing 777-300ERs
There are several reasons why Boeing would want to engage in a converted freighter program for the Boeing 777-300ER. One of the reasons is that with a significant number of aircraft built there also is a significant number of aircraft that would be suitable for conversion to freighter aircraft. GECAS, now part of AerCap, announced a conversion program in 2019 with first deliveries planned in 2022. The first aircraft that is part of the conversion program will be around 17-18 years old when it will be converted.
If Boeing were to launch a Boeing 777-300ER Converted Freighter line as well, it could possibly see first deliveries in 2025-2026, which means that the company would have a significant pool of 17-18 years old aircraft available for conversion. Additionally, while conversions of younger aircraft are less of an industry practice, there are almost 400 aircraft reaching the 12-year point (a typical point for a first aircraft lease term to be ending) in the first 5 years from the 2025-2026 point. So, Boeing probably needs to act now if it wants to benefit from a relatively young pool of freighter candidates.
Additionally, IBA, a leading aviation consultancy firm, concluded that in the 2025-2027 timeframe there will be quite a few Boeing 777-300ER leases terminating. So, if Boeing makes a decision now, it could position itself well for some passenger-to-freighter or P2F conversions by 2025.
Strengthening Boeing 777X and Boeing 787 Sales
One of the reasons why Boeing would be interested in providing converted freighter sales is its interest in generating more sales momentum for its wide body jets. Sales for the Boeing 777-300ER have been dwindling for years as Boeing launched the Boeing 777X, while Airbus (OTCPK:EADSF) (OTCPK:EADSY) brought the Airbus A350 to the market and the Boeing 787 provided a medium-sized efficient alternative. Data analytics tools from The Aerospace Forum show that the Boeing 777X sales never really gained traction.
The reason for that is that airlines generally haven't been extremely excited to committing to big aircraft with efficient medium wide body jets also available, and the Boeing 777X is an aircraft primarily tailored to the needs of Emirate, the biggest customer for the Boeing 777-300ER. What doesn't help the sales prospect either are the years of delays Boeing is facing on the 777X program, and similarly the Boeing 787 problems are not helping Boeing gather sales either. So, the U.S. jet maker needs to do something to revive sales and a Boeing 777-300ER Converted Freighter could generate some suction to achieve that.
There are several elements that come into play when taking an aircraft into a P2F path that affect passenger airlines. The first thing is that the initial operator of the Boeing 777-300ER would require a replacement aircraft, and Boeing of course hopes that the customer will consider the Boeing 777X and the Boeing 787. Secondly, any customer that would normally operate the passenger jet for the second phase in its life would now need to look for a different aircraft as well. So, by taking one aircraft out of passenger service, Boeing would create two sales opportunities with passenger airlines and one sale with a cargo airline.
Providing Support to Aircraft Market Values
The prospect of a Boeing 777-300ER having several instead of one economic service opportunity after its first lease term also provides support to the Boeing 777-300ER market value. Instead of only being able to be put in service with another passenger airline or be stored or used for parts, a conversion program also allows for freighter service, which of course positively enhances the residual and market value of the aircraft.
By launching a P2F program for the Boeing 777-300ER, Boeing is also creating an incentive for airlines and lessors to enroll their aircraft into the P2F program. The increased market value of the aircraft would make it more attractive to sell the jet and buy a replacement in the form of the Boeing 777X or Boeing 787. So, a conversion freighter program would create a replacement demand in the passenger aircraft market coupled to a financial incentive to purchase new aircraft, and also protect the market value of those new jets.
Replacement and Competition
Besides the timeline elements of Boeing 777-300ERs reaching the end of the first lease terms, a suitable age for P2F conversion, and generating the incentive for passenger aircraft purchasing, there are also other elements on the freighter market that play a role. By 2025, the Airbus A350F is expected to enter service, and we are seeing that Singapore Airlines (OTCPK:SINGY) has ordered the jet as the replacement for the Boeing 747-400F. Recently, Silk Way Airlines, which operates the Boeing 747-400F and Boeing 747-8F, has orders for the Boeing 777F and also ordered the Airbus A350F. It is highly likely that with a launch of the Boeing Converted Freighter, Boeing is trying to put pressure on prospective A350 sales by providing a significantly cheaper alternative.
In terms of volume and weight carrying capability, the Boeing 777-300ERF would be significantly different than other aircraft available on the market now and in the future. The Boeing 777-300ERF would have roughly the same net revenue payload capability as the Boeing 777F but with a significantly higher capacity while the 5-meter longer fuselage would give it a higher capacity than the Boeing 777-8F and Airbus A350F, two of the new freighter jets that will enter service in the coming years.
What Boeing does with the Boeing 777-300ERF, assuming that the capabilities of Boeing's freighter would be the same as what competing parties have launched, is highly interesting. With the Boeing 747-8F going out of production by the end of this year, the Boeing 777-300ER becomes the freighter with the highest volume available. The aircraft also provides for a replacement option for the Boeing 747-400F and Boeing 747-400BCF.
Admittedly, the Airbus A350 and Boeing 777-8F are better matches in terms of the combination of tonnage and volume, but recognizing that most freighter operations are volume-limited rather than weight-limited, the Boeing 777-300ER would be a strong freighter. Airlines are basically offered the choice to opt for a fuel-efficient Boeing 777-8F by 2027 or a less fuel efficient, but cheaper and earlier-available, Boeing 777-300ER. So, there is a strong place in the market for the Boeing 777-300ERF given e-commerce volumes as well as the timeline where the aim seems to be put additional pressure on the Airbus A350F.
The Boeing 777F can no longer be produced by 2028 due to tighter emission standards. This standard does not hold for converted aircraft. As a result, when production is halted later this decade, customers could opt for a Boeing 777-300BCF or a Boeing 777-8F, both of which have some pros and cons.
Boeing 777BCF Was Always In The Planning
What should be kept in mind is that Boeing always had a Converted Freighter program in mind for the Boeing 777. Those plans dating back to 2008 initially were tailored towards the Boeing 777-200 and Boeing 777-200ER. With a dedicated freighter based on the Boeing 777-200LR entering service in 2009, it made less sense to launch a P2F program and cannibalize dedicated freighter sales.
Another reason why a P2F program would make sense in the coming years is to keep the workforce in Everett occupied. Over the past few years, Everett has lost much of its production. Boeing 777 rates are dialed back over the past few years, and Boeing 777X production will be halted through 2023. The Boeing 747 program will be terminated this year and the Boeing 787 production has been consolidated in South Carolina. There likely will be work in Everett in the coming years to perform required rework on the Boeing 787, but besides that, there isn't really a lot of prospect there, even more so with the Boeing 777X not being a strong seller.
We don't know whether Everett will get a conversion line if Boeing decides to launch the program, but it would make a lot of sense to use the BCF line as a bridge to future higher rates on the Boeing 777X program and eventually an all-new jet that Boeing will have to launch at some point.
Conversion Competition Is Intensifying
Another reason for Boeing to offer the Boeing 777-300ER P2F program is simply because competition in the P2F space is intensifying. In 2019, GECAS and Israel Aerospace Industries announced the launch of a conversion program for the Boeing 777-300ER and Mammoth also announced conversion programs for the Boeing 777-200LR and Boeing 777-300ER in 2021 and Kansas Modification Center announced its Boeing 777-300ERCF as well. All Both 777-300ER P2F programs already have received orders. Customers include Emirates, Saudia, Kalitta, and Eva Air.
So, demand for the aircraft is already validated, and if Boeing has plans to capitalize on this market, it should launch now rather than later. Also, for Boeing's desire to maintain market share on the freighter market, a P2F program seems to be a must.
For Boeing, a P2F program for the Boeing 777-300ER would bolster its Services business, which is the segment that recognizes the financial results of freighter conversions. Replacement orders for passenger aircraft would obviously benefit the Boeing Commercial Airplanes business.
Conclusion
While a Boeing 777-300ER BCF program has not been launched yet, and in fact might not launch at all since nothing is certain in the aerospace industry, I do think Boeing has a lot of reasons coming together to decide to launch the aircraft.
Those reasons are the following:
Create a sales funnel for the Boeing 777X and Boeing 787 by taking out Boeing 777-300ERs out of the passenger airline market.
Providing support to Boeing 777-300ER residual values and creating an incentive for replacing Boeing 777-300ERs with Boeing 777X and Boeing 787s.
Providing support market values for the Boeing 777X and Boeing 787 programs.
Supporting sales on the Boeing 777X and Boeing 787 programs could result in higher production rates and improve unit costs on the programs.
Provide a high-volume aircraft to meet growing e-commerce shipping.
Provide an alternative to the Boeing 747-400F, Boeing 747-400BCF and Boeing 747-8F.
Provide a low capital cost alternative to the Airbus A350F and Boeing 777-8F.
Keep the working force in Everett busy until a new jet launch secures its future or the Boeing 777X program sees more robust production rates.
Maintain and expand market share on the freighter aircraft market.
Add further appeal to the Boeing Converted Freighter line up and bolster Services revenues.
So, there are a lot of reason to consider the launch of the program. It would be somewhat surprising if Boeing decides to not launch given that there are so many reasons coming together in terms of market, capabilities, financials, capacity and timeline.