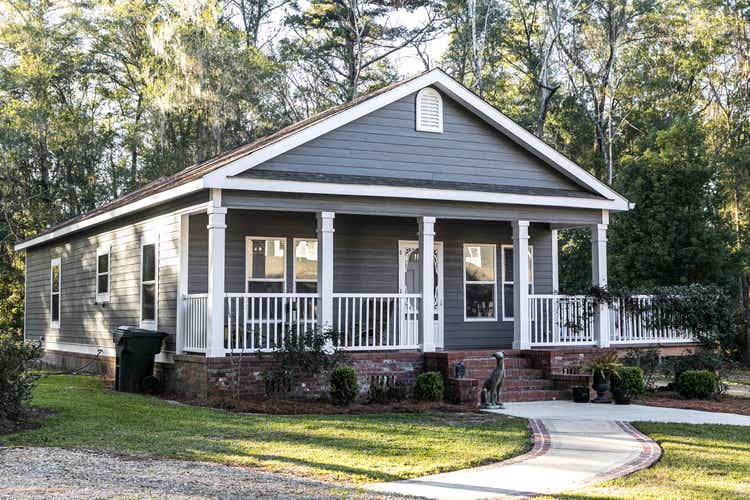 One of the beautiful things about investing is that the market can be irrational from time to time. Although this can be painful when you're on the receiving end of significant downside in a stock, it can also open the door for opportunities to buy companies on the cheap before they eventually rise back up. One company that seems to have fallen too far in recent months is Cavco Industries (NASDAQ:CVCO). This designer and producer of factory-built homes has been slammed as a result of concerns over a potential recession and the impact that rising interest rates might have on housing. In the near term, it's not unthinkable that the company could experience a bit more pain. But for long-term investors, now might be a good time to consider a stake in the enterprise.
A niche homebuilder
As I wrote in a prior article, Cavco Industries focuses on designing and producing factory-built homes that are then largely distributed through the company's network of independent and company-owned retailers, planned community operators, and residential developers. Although factory-built homes are often given a jaundiced glance because of lower quality, they do offer an opportunity for lower-income individuals, especially at a time when there is a national housing shortage. This, combined with the company's historical track record, was why I rated the firm a 'hold' when I last wrote about it in March of this year, despite the fact that, using 2021 results, shares were looking quite lofty. Since then, the market has declined in value by 9.6% while shares of Cavco Industries have generated a loss for investors of 27%. To be fair, I did state in my prior article that the company could experience some pain in the event of a decline in profitability.
Interestingly, however, we have seen no such decline. In fact, the business continues to generate strong financial performance. When I last wrote about the company, we had data covering through the third quarter of the firm's 2022 fiscal year. Fast forward to today, and we now know what the rest of the year looked like. In the final quarter of the year, the company generated revenue of $505.5 million. That dwarfs the $306.5 million the company generated the same quarter just one year earlier. This increase in revenue was driven by a couple of different factors. First and foremost, the average revenue per home sold grew from $75,100 to $98,134.
Pricing increased in large part because of supply chain issues and inflationary pressures, with management ultimately pushing the higher costs onto customers. Of course, this is only possible in an environment where the company is experiencing strong demand. And sure enough, demand was impressive in the final quarter, with a number of factory-built homes during that time totaling 4,976. That represents an increase of 29.8% over the 3,835 homes the business produced just one year earlier. Despite the number of homes increasing, the company also saw a surge in backlog, with the metric rising from $603 million at the end of the 2021 fiscal year to $1.1 billion today. Absent homes being canceled, this does look to pave the way for additional homebuilding moving forward.
Thanks to the strong performance in the final quarter, combined with overall strength for the entirety of the 2022 fiscal year, overall revenue for the fiscal year came in at $1.63 billion. That's 46.8% above the $1.11 billion generated in the 2021 fiscal year. Overall revenue per home during this timeframe increased from $73,019 to $93,002. Meanwhile, the number of factory-built homes increased modestly, climbing from 14,214 to 16,697.
Historically speaking, I wouldn't exactly call the homebuilding industry a high-margin space. This has natural downsides but there is one upside for investors to consider. Any low-margin company can see its profitability skyrocket with just a small improvement in pricing and/or volume. To see what I mean, we need only look at recent financial performance for the business. Net income in the final quarter of the 2022 fiscal year came in at $53.6 million. That's more than double the $25.2 million generated just one year earlier. As a result of this, total profitability for the 2022 fiscal year came in at $197.7 million. That's almost triple the $76.6 million generated in the 2021 fiscal year.
Other profitability metrics have followed suit. Although operating cash flow did decline in the latest quarter, falling from $22.4 million at the end of 2021 to $18.2 million the same time of the 2022 fiscal year, this figure, on an adjusted basis, increased from $21.3 million to $85.7 million. Meanwhile, EBITDA for the company also improved, shooting up from $44.4 million to $75.8 million. Due to this, operating cash flow, adjusted operating cash flow, and EBITDA all shot up in the 2022 fiscal year relative to the 2021 fiscal year.
This has had a significant impact on the company's valuation. For instance, using 2022 results, the firm is trading at a price-to-earnings multiple of 9. While this is cheap, the multiple does look expensive if we use the 2021 fiscal year data instead, placing a multiple on the company of 23.1. The price to adjusted operating cash flow multiple should be 9.2. That's down from the 28.9 reading that we get using the 2021 results. Meanwhile, the EV to EBITDA multiple is 6.9. That compares to the 15.1 that we get if we rely on the 2021 results. The company benefits, in this respect, from cash in excess of debt of $267.8 million. That drastically reduces the risk for the enterprise in the event of a downturn.
Although I would argue that, using 2022 results, Cavco Industries is cheap on an absolute basis, I would also make the case that shares are rather expensive relative to similar firms. A look at five other housing firms gave me a price-to-earnings multiple ranging from 2.9 to 11.5. In this case, four of the five companies were cheaper than Cavco Industries. Using the price to operating cash flow approach, the range was from 5.2 to 25.7. In this case, three of the five companies were cheaper than our prospect. And finally, using the EV to EBITDA approach, the range was from 3.3 to 6.9. In this scenario, four of the five companies were cheaper than our prospect while the remaining one was tied with it.
| | | | |
| --- | --- | --- | --- |
| Company | Price / Earnings | Price / Operating Cash Flow | EV / EBITDA |
| Cavco Industries | 9.0 | 9.2 | 6.9 |
| Taylor Morrison Home Corporation (TMHC) | 4.0 | 5.2 | 5.2 |
| M/I Homes (MHO) | 3.0 | 6.8 | 3.3 |
| Skyline Champion Corporation (SKY) | 11.5 | 12.7 | 6.9 |
| Tri Pointe Homes (TPH) | 4.1 | 7.1 | 4.1 |
| Century Communities (CCS) | 2.9 | 25.7 | 3.4 |
Takeaway
Based on the data provided, I will say that I continue to be a bit wary of a potential pullback to the kind of results the company achieved in prior years. However, with some estimates pegging the housing shortage at as many as 6 million units, I do think the firm has a long-term catalyst. If we go into a recession, or if interest rates continue to rise, it could put a damper on the company. But for those who believe the housing shortage rhetoric, it is likely that the long-term outlook for the company will be positive. And while shares of the business might be pricey compared to other firms, they do look cheap on an absolute basis if 2022 results are indicative of the company's long-term potential. So although I do this cautiously, I am rating the company a soft 'buy' at this time.