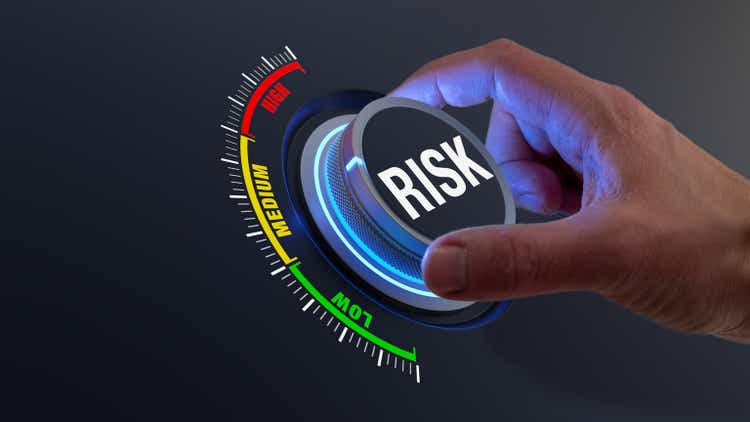 Everbridge, Inc. (NASDAQ:EVBG) is a successful business model growing at the double digit and with large clients. The company's tools include a combination of big data analysis for protection of organizations, which will likely be necessary in the future. With that, considering conservative free cash flow projections, I cannot fully justify the current share price. Besides, in the worst-case scenario, inflation, wage increases, and lawsuits could destroy the demand for the stock.
Everbridge
Incorporated in Delaware, Everbridge offers enterprise software applications to accelerate and automate organizations' operational response to critical events like cyber-attacks, terrorist attacks, or Information Technology outages.
Our customers use our platform to identify and assess hundreds of different types of threats to their organizations, people, assets or brand. Our solutions enable organizations to deliver intelligent, contextual messages to, and receive verification of delivery from, hundreds of millions of recipients, across multiple communications modalities such as voice, SMS and e-mail, in over 200 countries and territories, in several languages and dialects. Source: 10-k
Governments may be interested in Everbridge's software. In addition, the company works with more than 6k customers including airports, investment banks, global automakers, and health care providers. Business growth appears quite significant with more than 85% recurrent revenue and double-digit sales growth.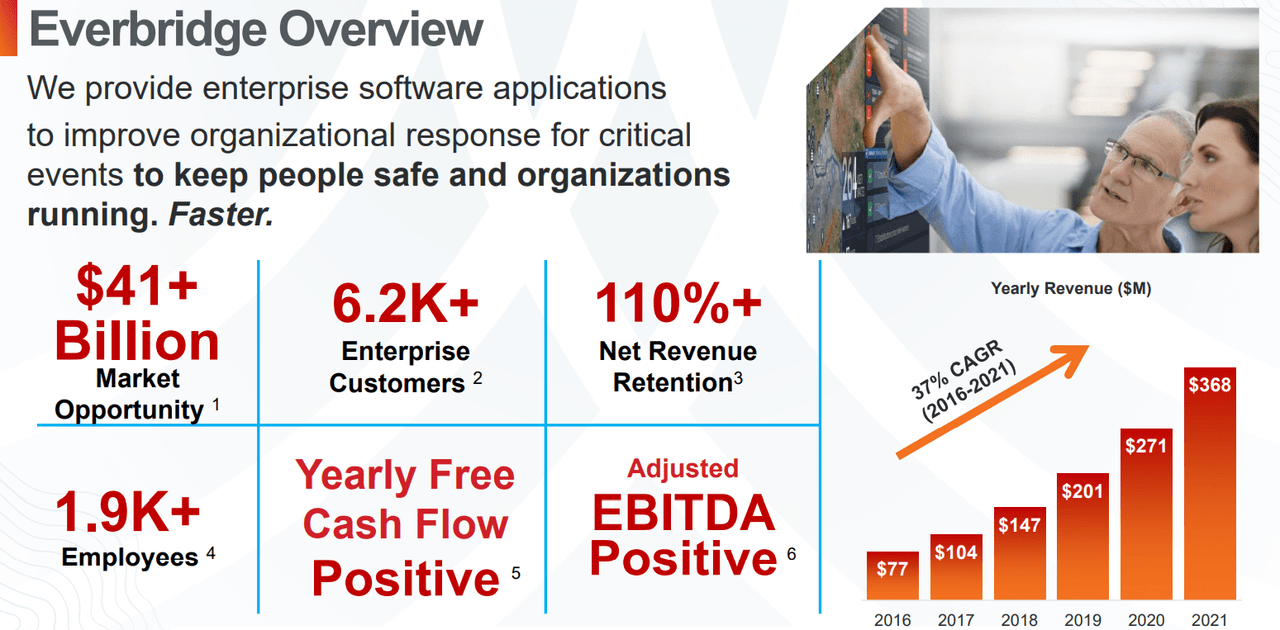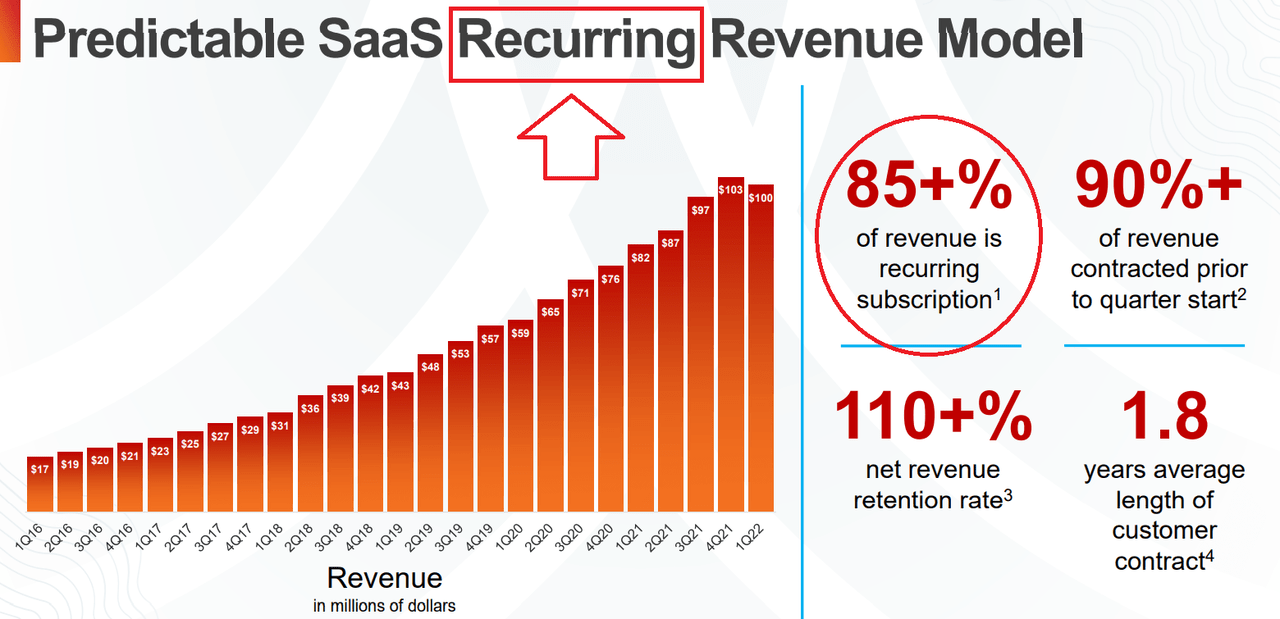 Everbridge runs a business model, which could be implemented all over the world. Everbridge, Inc. is well-diversified with 31% of the total amount of sales coming from outside North America.

Everbridge Expects 2022 Revenue Of $428 Million and Sales Growth Of 16%
Before I am running my own financial model, I studied the expectations reported by management. Everbridge expects a revenue between $428 million and $432 million and an adjusted EBITDA close to $33 million. It means that sales growth would be close to 16%-17%.

Financial analysts believe that Everbridge's EBITDA margin will likely grow from close to 7% in 2022 to even 12% in 2023. Operating margin could also touch 8% in 2024. Have a look at the numbers reported by other financial analysts because some of my assumptions are aligned with their work.

Balance Sheet: I Dislike The Convertible Debt
As of March 31, 2022, Everbridge reported $492 million in cash, $1.458 billion in total assets, and $1.15 billion in total liabilities. Goodwill is worth $525 million, and intangible assets are close to $208 million, which means that intangibles represent a significant part of the total amount of assets. With this in mind, I would be afraid of impairment of intangible assets, which would lower the book value per share.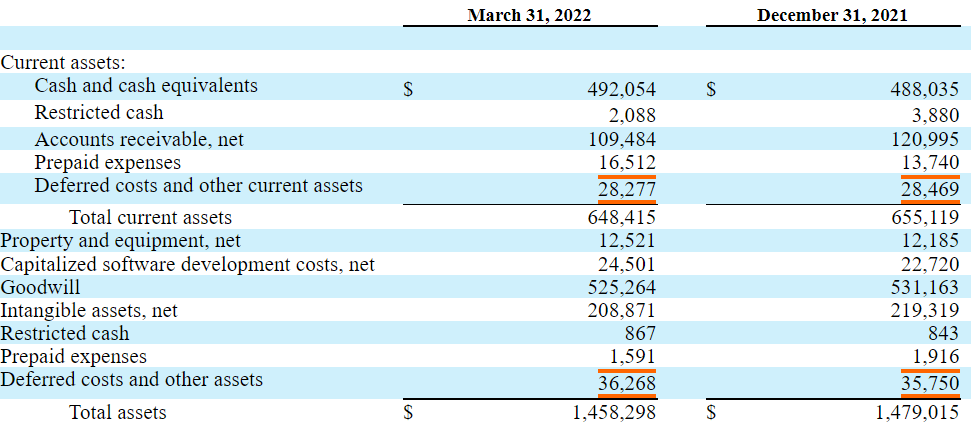 In my view, the most worrying thing about Everbridge is its total amount of debt. Convertible senior notes are worth $809 million, so net debt is larger than $300 million. With Everbridge reporting free cash flow per year less than $70 million, the total amount of leverage is, in my view, a bit scary.

My Base Case Scenario
Under normal circumstances, I expect that Everbridge will be able to explain to customers that CEM solutions are a great tool to undertake digital transformation initiatives. As more clients understand how important it is to support operational risk reduction, revenue growth will likely trend north.
Customers can use our solutions' situational awareness capabilities to know where their people are, how to reach them and how to ensure that they are protected, while also remaining updated on the status of their facilities, customers, inventory, and goods in transit. As part of digital transformation initiatives, our solutions support operational risk reduction for better operational resiliency. Source: 10-k
I also wonder whether banks, airports, and other larger businesses will find the total amount of data gathered and assessed by Everbridge interesting. In my view, Everbridge's tool may represent a good competitor of other big data providers out there:
Our software gathers and analyzes information from weather data feeds, public safety and threat data feeds, social media, IT ticketing systems and monitoring systems, as well as inputs and feedback from two-way and polling messages. Data can be geo-mapped and threat and incident data can be used to automatically trigger simple or complex workflows that are tied to standard operating procedures or run-books. Source: 10-k
The cyber security industry is expected to grow at a double digit from 2022 to 2028. Everbridge offers cyber security tools, and I believe that their market will grow close to the cyber security's market growth. Let's also mention that The Brainy Insights expects the global event management software market to grow at a CAGR of 6.24%. I believe that Everbridge will report revenue growth around 16% and 7%.
Cyber security industry accrued ROI of approximately around US$ 139 billion in 2021 and is set to gain income of almost US$ 210 billion in 2028. In addition to this, Cyber security Market is estimated to register highest gains of nearly 10.1% in period of 2022 to 2028. Source: Zion Market Research

As per the report published by The Brainy Insights, the global event management software market is expected to grow from USD 5.1 billion in 2020 to USD 9.18 billion by 2030, at a CAGR of 6.24% during the forecast period 2021-2030. Source: The Brainy Insights
Under a conservative scenario, I used sales growth close to 16%-7% from 2022 to 2029, an EBITDA margin of up to 12%, and operating margin of 8%-2%. The results include 2029 EBIAT of $34 million with an effective tax of 22%.

With conservative D&A and changes in working capital, I obtained free cash flow ranging from $11 million in 2022 to $49 million in 2029. My numbers are close to the figures seen in the past.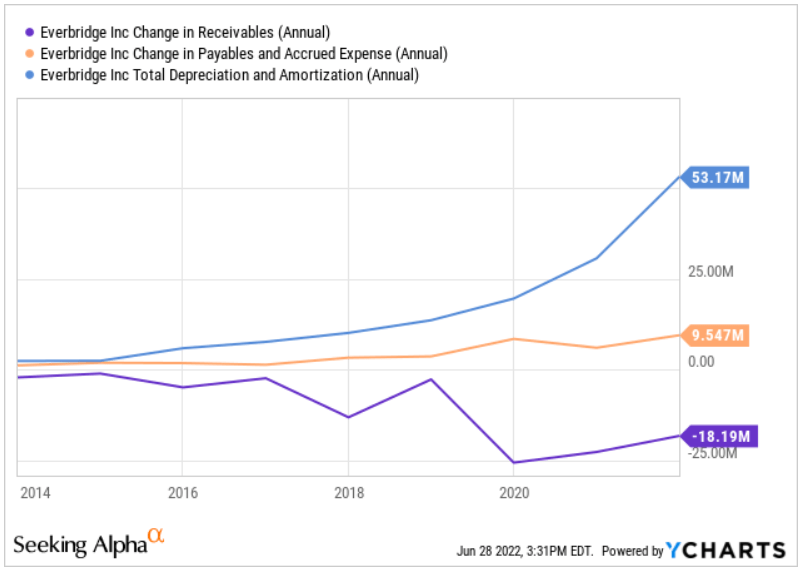 Considering Everbridge's peers, I believe that we can obtain an approximate EV/EBITDA exit multiple. According to Seeking Alpha, peers trade at a median of 11x-14x EBITDA. I tried to use an estimate a bit more optimistic and used an exit multiple of 17x in this case.

Also, with a discount of 10% and taking into account the convertible notes worth $817 million, the fair price is close to 11%. I believe that this valuation is close to what most investors would consider a fair value.

In June 2022, Everbridge sold shares in the market at more than $30 per share. Under this financial model, only an exit multiple of 35x EBITDA would obtain a valuation of $30 per share. In my view, a multiple of 35x EBITDA is too high for a company that does not even report double digit EBITDA margin.

Fewer M&A Operations, Lack Of Personnel, Inflation, And Lawsuits Could Bring The Stock Price Down To $3.5
Considering the current amount of inflation, Everbridge may experience wage increases and competition for sales personnel. As a result, management may suffer reduction in the operating margin and lower free cash flow than expected. In the worst-case scenario, the demand for the stock would lower, which may lead to a decline in the stock price. The company discussed these risks in the annual report.
We continue to be substantially dependent on our sales force to obtain new customers and increase sales with existing customers and our research and development personnel to continue to innovate and support our platform. Our ability to successfully pursue our growth strategy will also depend on our ability to attract, motivate and retain our personnel, especially those in sales, marketing, and research and development. We intend to continue to expand our global sales force, and we face a number of challenges in achieving our hiring goals. For instance, there is significant competition for sales personnel, including sales engineers, with the sales skills and technical knowledge that we require, including experience selling to large enterprise customers. Source: 10-k
Let's note that a lot of revenue growth reported from 2018 may be explained by inorganic growth. In the most recent presentation, Everbridge reported that it intends to pause material new M&A operations, which would, in my view, lower revenue growth.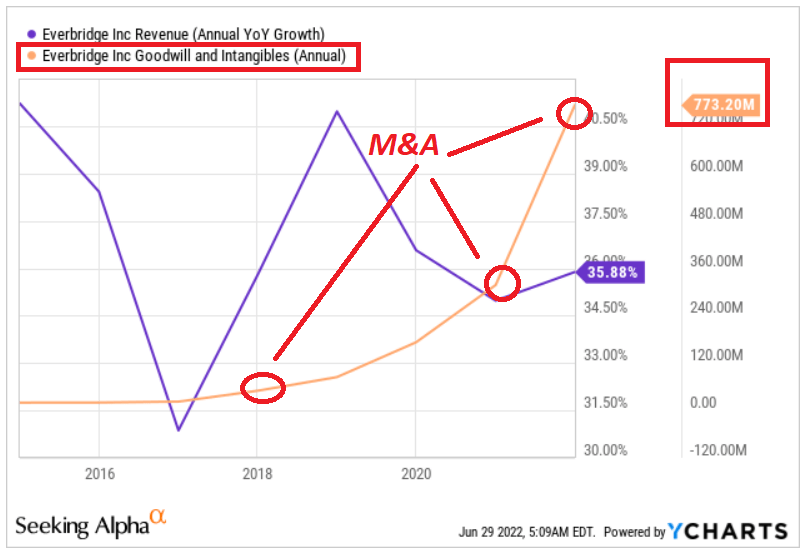 Everbridge also expects to simplify its product offerings to focus on its CEM solutions. In my view, if Everbridge fails to explain the new offering to existing clients, revenue growth could decline.

Everbridge, Inc. responds to critical business events, which means that the company may be subject to litigation if things don't go as clients expect. Besides, I am not sure whether insurance policies will be able to cover all sorts of events. In my view, lawsuits could significantly diminish Everbridge's free cash flow, which may lower the implied fair price.
Our applications, including our Mass Notification, Safety Connection, IT Alerting, Visual Command Center, Public Warning, Community Engagement, Risk Center, Crisis Management, CareConverge, Control Center, 911 Connect, Travel Risk Management, SnapComms and E911, are designed to communicate life-saving or damage-mitigating information to the right people, on the right device, in the right location, at the right time during public safety threats and critical business events. Due to the nature of such applications, we are potentially exposed to greater risks of liability for employee acts or omissions or system failures than may be inherent in other businesses. Source: 10-k
I ran another case scenario with a small decline in sales growth in 2022, a small increase in the capex/sales ratio, and operating margin of 4.5%. My results are a bit lower than that in the previous case. 2029 EBITDA would stand at $65 million, and 2029 free cash flow would be $32 million.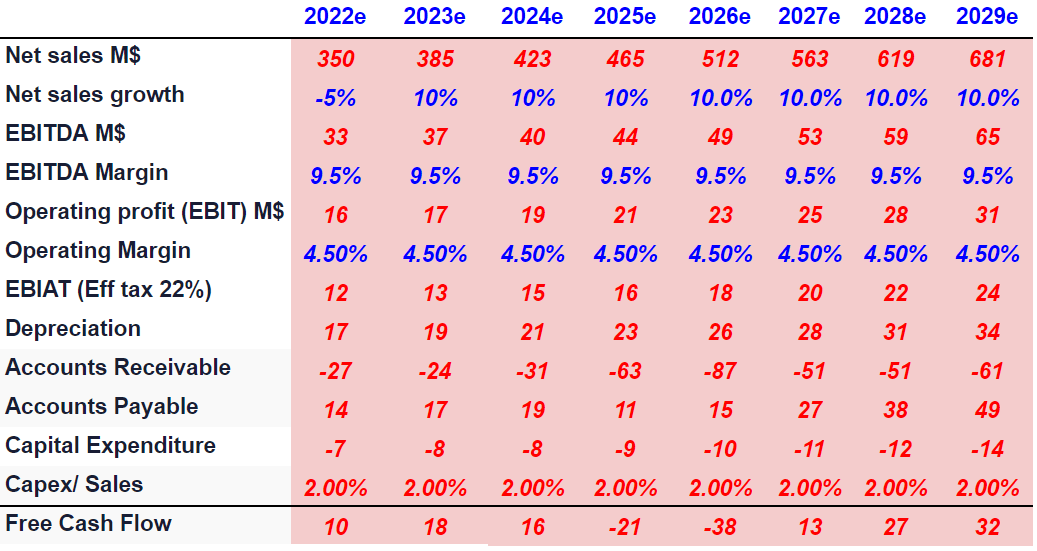 With an exit multiple of 16.5x and a discount of 12.5%, the total enterprise value would be close to $445 million. The fair price would be close to $3.5 per share.

Conclusion
I believe that the business model will continue to be successful, and Everbridge's big data analysis will be necessary for banks, airports, and large corporations. However, without new M&A efforts and assuming sales growth close to 7%-17%, I cannot really justify Everbridge's current valuation. Inflation, wage increases, and lack of personnel could lead to a decrease in revenue and less FCF than expected. In my view, the fair price right now should be around $11 per share.