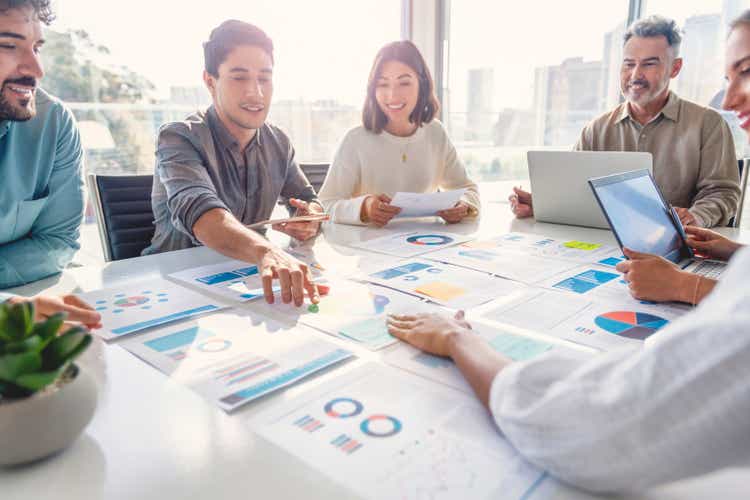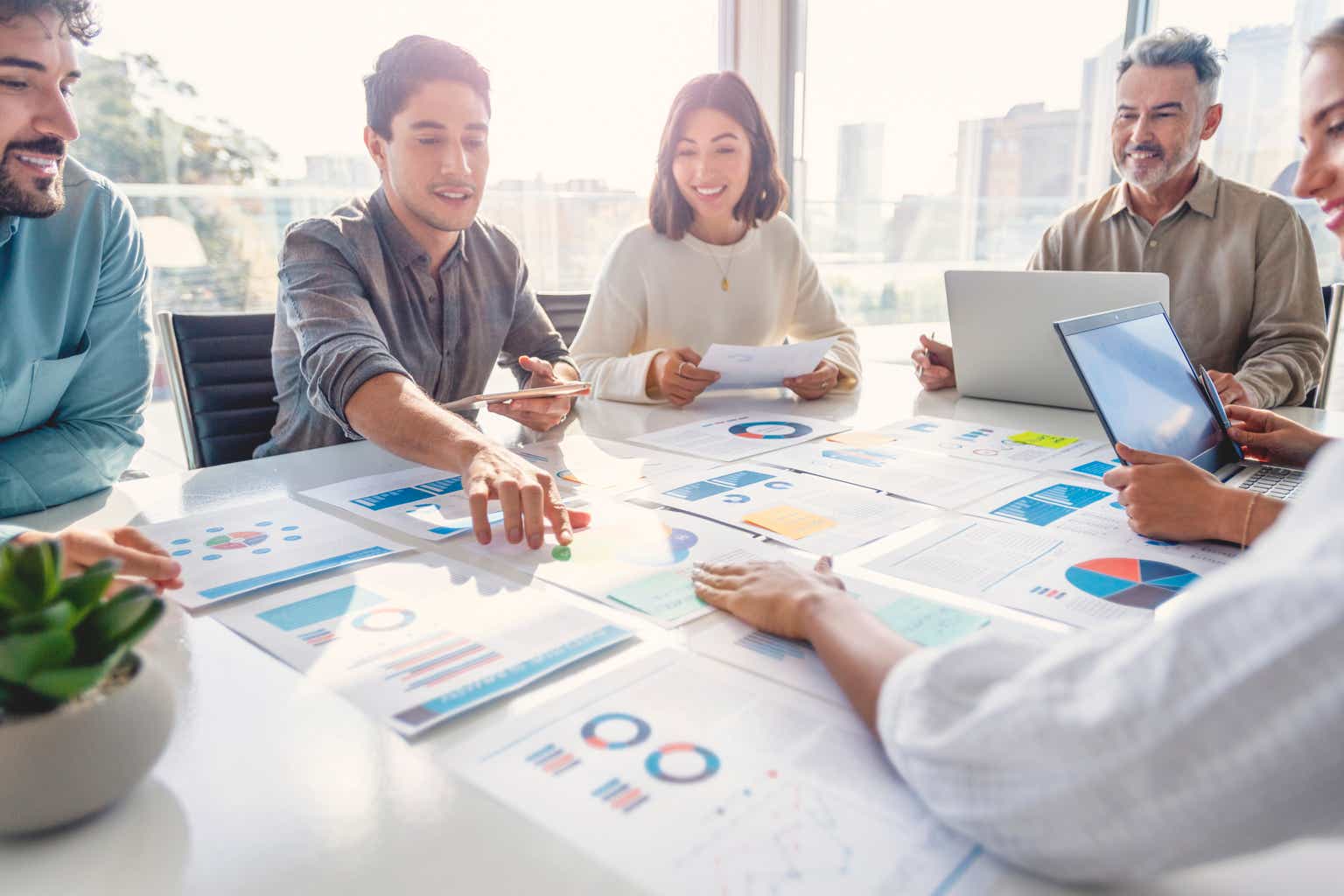 A staggering 12.5 Trillion hours were spent online in 2021, according to a recent Digital Marketing report. With increasing online traffic, a vast economy of businesses has been birthed over the past decade. Small businesses or SMBs and scaling companies were traditionally overlooked by traditional Enterprise software providers such as Salesforce (CRM) and Adobe (ADBE). HubSpot (NYSE:HUBS) (founded in 2006) filled this gap, by offering a software platform for Customer Relationship Management and Marketing to this overlooked but rapidly growing segment. Since its IPO in 2014, HubSpot has scaled its product offering, customer base, and revenue substantially. Today, they have over 143,000 customers, up 26% year over year. Despite this growth, the stock price has recently nosedived by an eye-watering 61%, since the high inflation numbers were released in November 2021. This sparked increased fears of interest rate hikes, which compressed the valuation multiples for all "Growth stocks". Given this major decline, the stock is now undervalued relative to historic multiples and intrinsically. In addition, the Digital Marketing Software industry was valued at $57 billion in 2021 and is forecasted to grow at a rapid 19.1% compound annual growth rate up until 2030. HubSpot is poised to ride this industry growth as a leader in SMB software. Let's dive into the evolving Business Model, Financials, and Valuation for the juicy details.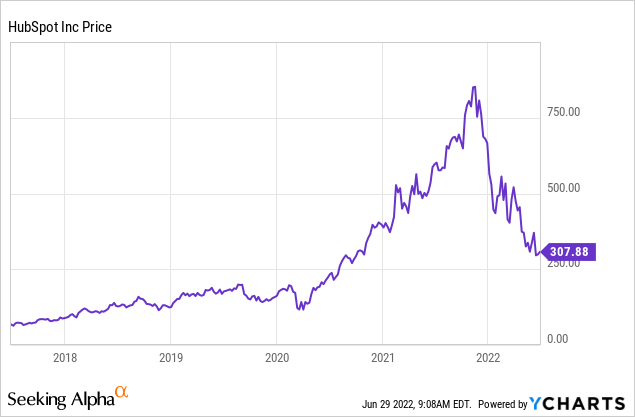 Evolving Business Model
The HubSpot platform has evolved from a pure Marketing software to offering Sales, Customer Service, and various other app integrations. The HubSpot story reminds me of Salesforce which started as a Sales Software provider, before branching into other parts of the customer journey, such as Marketing and Customer service. Salesforce had a strong first mover advantage (founded in 1999) vs HubSpot founded in 2006. Today, Salesforce has a market cap of $176 Billion vs HubSpot at $14 Billion. The pure difference in market capitalisation does show the vast market potential ahead and could lead to HubSpot being the Salesforce for SMBs.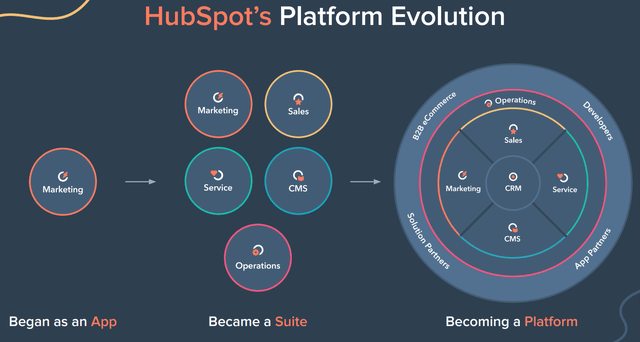 HubSpot's Marketing Hub is ranked number one by Gartner for B2B Marketing automation. As somebody with a background in Digital Marketing (run my own consultancy), I can attest to the popularity of the platform with our clients. Adobe Marketo was historically the most advanced platform used by Enterprises such as Amazon (AMZN) for its marketing. However, HubSpot has gradually increased its feature set to offer similar features at a better and more scalable price point. This makes the platform very popular with small, medium-sized businesses, scaling disruptors and even some larger entities.
HubSpot's 143K customer base includes rapidly-growing companies such as Discord (DSCD) ($7B valuation), Insurtech disrupter Lemonade (LMND), and even Revolut, recently valued at $33 Billion. Other popular customers include stock investing platform The Motley Fool, monday.com (MNDY), and even the popular flight app Skyscanner. This established, growing, and diverse customer base should ensure stable and growing revenues for years to come.
HubSpot Marketing Philosophy
HubSpot has been a pioneer of the "inbound" marketing philosophy, which aims to empower companies to "attract" their ideal customer as opposed to "annoy" them. According to one study, the average person sees up to 10,000 advertisements per day, which I'm sure you can agree can be quite annoying. HubSpot's growth flywheel centers around "Attract, Engage and Delight". The company itself practices what it preaches by providing a lot of upfront value to Small and Medium-sized businesses, through educational blog posts and webinars.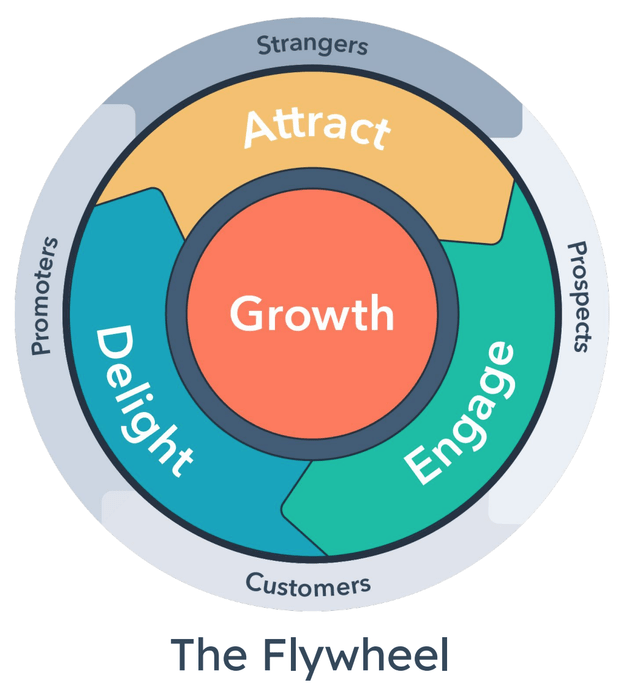 Growth Strategies
HubSpot has a few strategies for growth, which include moving "upmarket" to serve more Enterprise customers with premium features. Average subscription revenue per customer (for Enterprises) has increased by 45% between 2017 and 2021.
Multi Hub adoption is another method for growth. This "Land and Expand" strategy is the same tactic Salesforce uses to layer on different service offerings. In 2017, less than 35% of customers had adopted multiple hubs at HubSpot, and by 2021, this number was up to 57%. More services increase revenue per customer and help to increase product "stickiness" or retention.

Net Revenue Retention increased from 100% in 2017 to 110% in 2021. This was driven by longer contract commitments, higher product NPS (Net Promoter Score), and Multi Hub adoption.
Another method of growth for the company will be to focus on the "Broken" B2B (Business to Business) buying process. Generally, most B2B buying requires a physical sales rep to handle details, and it just isn't as seamless as the B2C (Business to Consumer) journey, where a customer can just click to buy instantly on a website such as Amazon. Now although the two industries will never be completely the same, HubSpot is making headway in order to remove the friction associated with business payments. Methods include introducing payments on quotes and recurring payments. The company is also continuing to expand internationally. Revenue from outside of the USA made up just 22% of total revenue in 2014 and now makes up 46% in 2022.

Growing Financials
HubSpot generated strong earnings for the first quarter of 2022. Total Revenue was $396 million, up a rapid 41% compared to the same quarter last year. This was driven primarily by subscription revenue, which popped by 42% to $385 million. It was actually a positive to see the company's professional services revenue declined by 4% to just $10.6 million, as that represents the lower-margin part of the business.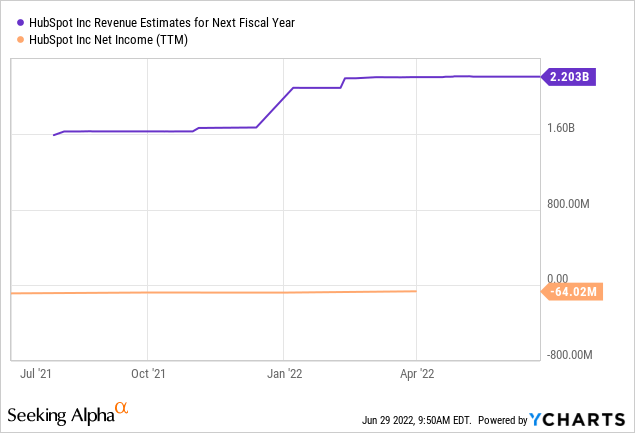 The company is operating at a GAAP net loss of -$9.3 Million, which is better than the loss of -$23 Million produced in the first quarter of 2021. Traditional investors may see any "loss" as a worrying sign. However, when we dive deeper into the income statement, we see the company invested $326 Million on R&D in the trailing 12 months and thus could easily be "profitable" but they would rather reinvest in a tax-efficient manner. HubSpot has an extremely high gross margin of 80%, which is fantastic and even higher than Salesforce.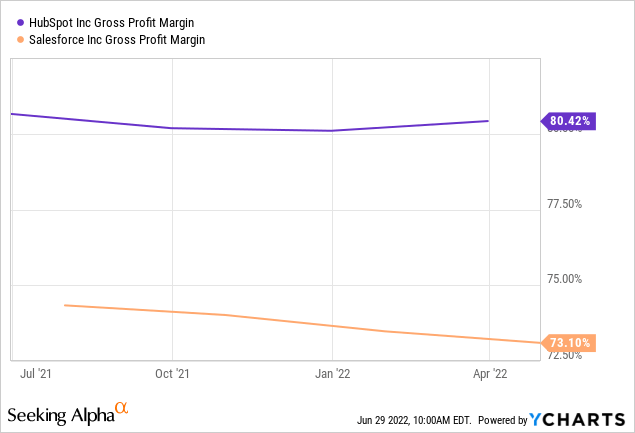 Free cash flow has increased substantially since 2014, from negative to strong positive figures. For the first quarter of 2022, HubSpot generated $63 Million in Free cash flow, which was relatively flat compared to the $61.2 Million achieved in Q121. However, they did generate $82 million in operating cash flow, up from $72.5 million during Q121.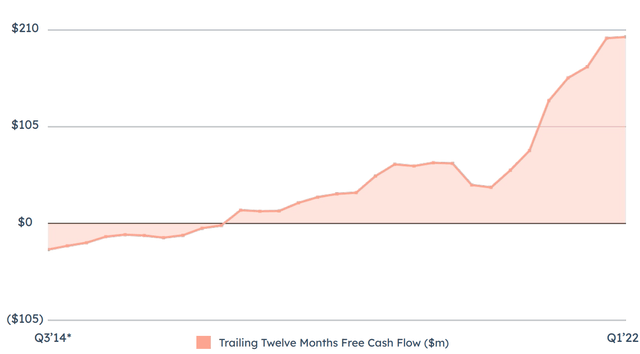 HubSpot has a strong balance sheet with $1.2 billion in cash and short investments, with just $452 million in long-term debt and a current portion of $19.4 million.
Valuation
In order to value HubSpot, I have plugged the latest financials into my advanced valuation model which uses the discounted cash flow method of valuation. I have forecasted 30% revenue growth per year for the next 5 years, which is at the mid-range of the company's own guidance.

I have forecasted margins to steadily increase to 25% in the next 5 years, which is the average of the software industry. This is driven by increased revenue per customer and multi-cloud adoption.

In order to increase the accuracy of the valuation, I have also capitalised the company's R&D expenses.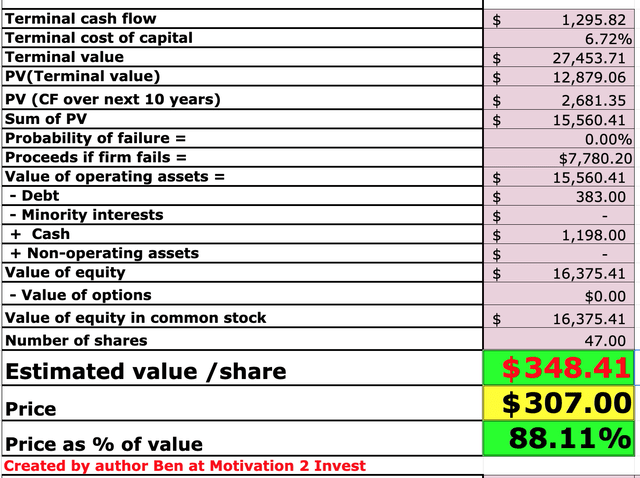 Given these factors, I get a fair value of $348/share, which means the stock is approximately 12% undervalued at the time of writing.
The company is also trading at a Price to Sales ratio = 8.7, which is cheaper than historic levels.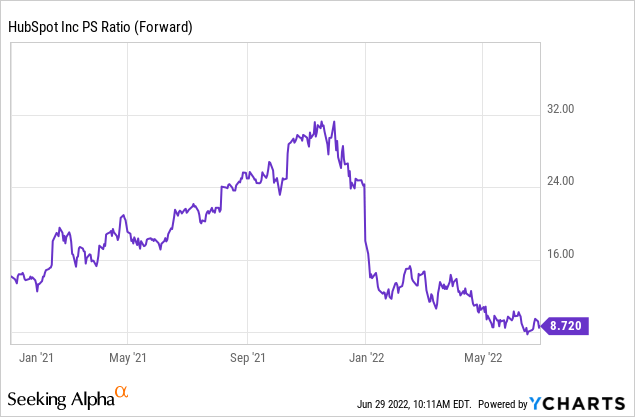 HubSpot is trading at a mid-range Price to Sales ratio (forward) = 8.7, which is cheaper than Adobe, P/S = 9.8, but more expensive than Salesforce, P/S = 5.4.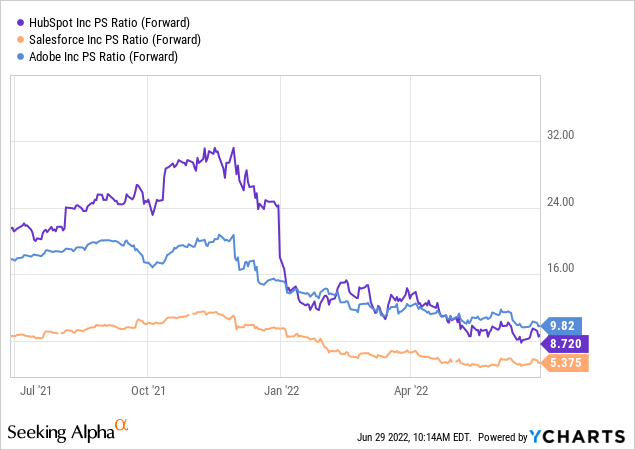 Risks
Competition
There are many competitor platforms out there which offer a similar service to HubSpot. These include: Email automation platform Mailchimp (recently acquired by Intuit (INTU)), Oracle CX marketing, Eloqua, ActiveCampaign, Klaviyo, and of course, Salesforce and Adobe (Adobe Marketing Cloud).
Volatile SMB Customer Base
Studies show approximately 20% of small businesses fail within the first year, 30% in the 2nd year, and 50% have usually failed by the fifth year of trading. In general, 70% of small businesses fail within a decade. Now, as Small to Medium-sized businesses are HubSpot's primary customer base, then this means there will likely be a high percentage of business failures and cancelled subscriptions, whereas competitor platform Adobe Marketo, which primarily focuses on Enterprise customers, will have a much stable customer base. HubSpot understands the value of enterprise customers and thus is gradually starting to move "upmarket" as part of management's growth strategy.
Final Thoughts
HubSpot is a tremendous company which is truly a market leader in marketing automation software. The company's "land and expand" growth strategy is working great so far, as its financial picture shows. The recent pullback in stock price offers a prime opportunity to invest into this software suite for scaling companies, as it is now undervalued. The risk is the high competition in the industry and lack of a moat that stops other platforms from creating similar software.