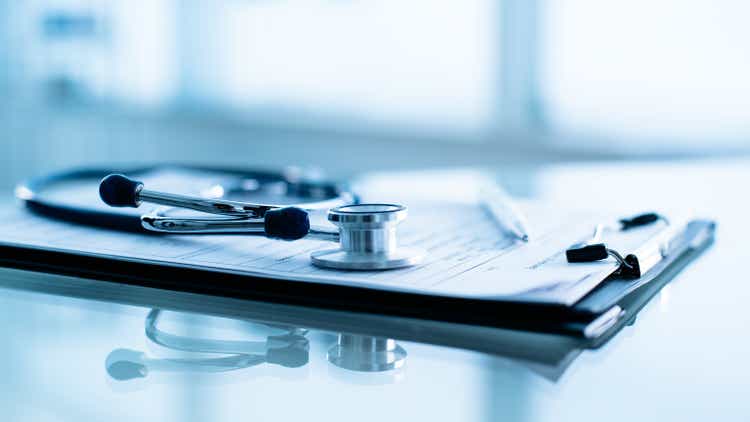 I have previously written that the massive correction in biopharmaceutical stocks was a function of the "Class of 2021 IPOs", as many companies went public with preclinical data at valuations exceeding $1 billion. With commercialization at least five years away, there would be an ongoing need for capital, which at some point investors would be reluctant to provide. This has played out, and excess speculation has been wrung out.
One factor that gets little mention is the changing paradigm in drug discovery. Decades ago, universities and medical centers would license early stage efforts to pharmaceutical companies, who had the ability to fund clinical trials, in exchange for fees and royalties. During the bull market that began in 2009, professors sought to capture more of the economics and, as a result, they started companies to advance their research. As we have witnessed, the money raised in an IPO quickly dwindled and the stock price dropped markedly. Many of these companies will not survive. Unfortunately, I continue to see the same practice across the country, and I fear that when the IPO window reopens, there will be a repeat of the past year. That being said, those companies that have adequate capital through the drug filing process should do well if trial results are favorable.
My investment themes are little changed. I forecast US healthcare spending to increase at an average annual rate of 6% through 2030, at which time it will exceed $7.5 trillion, or 25% of GDP. This is driven by the aging population and the prevalence of chronic diseases, as both of these groups require significantly more healthcare than younger, healthy Americans. Obesity results in chronic diseases (osteoarthritis, hypertension, Type 2 diabetes), and it is currently an epidemic, with an estimated 42% of American adults overweight. Novo Nordisk (NVO) recently obtained approval for a drug, Wegovy, that causes weight loss. Eli Lilly (LLY), which I continue to strongly recommend, should receive approval for its Type 2 diabetes drug, tirzepitide, for weight loss based on very impressive results.
I have discussed my belief that SARS-CoV-2 will remain a concern for years, requiring ongoing development of variant-specific vaccines and therapeutics. The rapid emergence of the Omicron BA.4 and BA.5 subvariants highlight this need. Omicron BA.4 and BA.5 account for over 50% of new cases in the US, versus under 10% one month ago, and they are more resistant to natural immunity from prior infection by another variant or vaccines. Rather than chase the tail, there must be a pan-coronavirus vaccine developed. I maintain that the ongoing revenue stream to Pfizer (PFE), BioNTech (BNTX), Moderna (MRNA), Sanofi (SNY), Eli Lilly, Thermo Fisher (TMO) and Codexis (CDXS) will surpass forecasts. If Eiger BioPharmaceuticals (EIGR) is successful in obtaining approval for its COVID-19 therapeutic, PEG Interferon Lambda, it could generate significant revenues.
I am impressed with the early progress in gene therapy and gene editing, though there will be second and third generation therapies. I have been focusing my efforts on Beam Therapeutics (BEAM), Graphite Bio (GRPH) and Intellia (NTLA). I also note that one organ that may be more amenable to gene therapy is the ear, where auditory and vestibular functions may be restored. Therapeutic agents can be delivered to the confined inner ear compartment with minimal risk of diffusion. Promising research in deafness and balance restoration is being undertaken by Decibel Therapeutics (DBTX) and Akouos (AKUS).
In oncology, drug development in immunotherapy is extending well beyond checkpoint inhibitors. Second generation CAR-T therapy, like Adicet Bio's (ACET) off the shelf ADI-001 for lymphoma, is advancing, as are the prospects for bispecific antibodies and antibody-drug conjugates. Over the next 20 years, more cancers will have been converted into chronic diseases.
The decline in biopharmaceutical stocks reflected the elimination of the rampant speculation that arose in 2021. It resembled other cycles of unbridled enthusiasm, and was ultimately unwound. Companies that are insufficiently capitalized will find it difficult to operate at the current scale; on the other hand, the correction has left many very attractively priced stocks that should be considered for purchase. The pharmaceutical research renaissance is just beginning, and I maintain it will transform healthcare by eliminating previously incurable diseases and improving the quality of life.