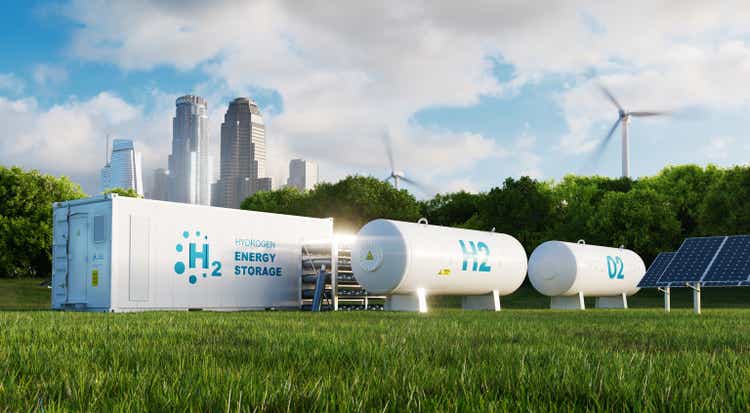 Advent Technologies (NASDAQ:ADN) announced some positive funding news as well as its Q1'22 results earlier last month. This article aims to do a follow-up analysis on the health and prospects of Advent after this new information was released. I have written an initiation article on Advent, which can be found here.
Investment Thesis
My updated investment thesis for Advent includes the following:
Advent has received notification of funding from the Greek state worth more than 6 times its market capitalization and the approval from the EU and Greek state shows confidence in Advent's execution, products and technology
Advent continues to see growing momentum in customer interests as there are now 2 large, global automotive manufacturers in technology assessment stage now testing the company's next generation MEA.
As reiterated by tests done on Advent's new generation MEAs, these MEAs have a significant competitive advantage compared to current MEAs.
My base case target price for Advent of $14 implies a 5x upside potential at current levels, while the optimistic upside scenario of $28 implies 10x upside potential from current levels.
Significant Funding From Greek State
On 16 June 2022, Advent announced that it has successfully received notification of Euro 782 million in funding from the Greek state. This is for Advent's Important Projects of Common European Interest ("IPCEI") Green HiPo Project.
As mentioned in my earlier article, this is a rather significant project for Advent:
"The goal of the project is to replace the largest coal fired plants in Greece. Through the use of large scale renewable solar energy, the project aims to produce green hydrogen via electrolysis and to use Advent's HT-PEM fuel cells to then generate clean electricity and heat. Since Advent's fuel cells is able to generate both electricity and heat, these 2 projects aim to produce 4.65 GW of green hydrogen as well as fuel cell heat and power production of 400 MW."
Upon the ratification by the EU, this funding amount for the Green HiPo project will be distributed to Advent over a 6-year period. The schedule for the funding is shown below.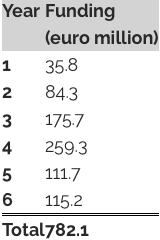 As mentioned in my earlier article, I think that the market has not been pricing in many of these opportunities that, in my opinion, brings a huge optionality to Advent's share price. For perspective, the Euro 782 million in funding from the government is currently more than 6 times Advent's current market capitalization. Although the funding is back end weighted, with significant funding amount distributed in years 3 and 4, I think we will get greater clarity from management on how this funding will be utilized and how Advent will turn profitable in the future during its investor day on July 7.
In addition, I think that this is a milestone for Advent given the long process and detailed due diligence needed for the approvals from the Greek state as well as the EU. At the end of the day, this approval of funding speaks volumes about the confidence in Advent's ability to deliver on the project, as well as the technology that Advent brings to the table for the manufacturing of fuel cell systems and electrolyser systems. Lastly, as Europe sees the increasing need to shift towards alternative green sources of energy and improve energy resilience in the region, this may bring additional opportunities for Advent in the future.
Upside From 2 Large Global Automotive Manufacturers
In my earlier article, I mentioned that Advent entered into a fuel cell technology assessment, sales and development agreement with Hyundai, which could potentially be one of its largest potential customer, although nothing is definitive yet.
A few days after that announcement about Hyundai, Advent announced a second large global automotive manufacturer signing an agreement for technology assessment. This will involve discussions and testing of the Membrane Electrode Assemblies ("MEAs"), fuel cell stacks and High Temperature Proton Exchange Membrane ("HT-PEM") technology. There was also mention that the agreement was to accelerate the decarbonization of the automotive industry in the US, which provides hints as to where this automotive manufacturer is based. Of course, while this may seem exciting for the company, this may not translate to an actual development agreement or purchase agreements if the technology or products are not deemed suitable and thus, I will be monitoring the development closely to evaluate the outcomes. I think it's also interesting to note that the MEAs being tested for this project are new Advent MEAs developed with the US Department of Energy, so the results of this technology assessment have implications for this new Advent MEA.
Again, I think that when there are 2 large global automotive manufacturers interested in Advent's products and technology, this speaks volumes about the innovation and the quality of its products as well as the confidence in the company in being able to execute at scale. With any progress on these 2 large global automotive manufacturers, this will be a significant upside to the company as it presents a very large opportunity set as well as a vote of confidence for Advent's products and execution capabilities.
Some Takeaways From 1Q22
In March 2022, Advent announced its next generation MEAs that was achieved through the collaboration with the US Department of Energy and these new MEAs are currently being tested and validated by potential customers and partners of Advent. This new MEA went through stress testing that confirmed that it has the potential for more than five times the lifetime of normal high temperature MEAs in the market, and it has a strong potential for two times to three times the power density of current high temperature MEAs. The company intends to ramp up production capacity to scale and achieve hundreds of megawatts per month by the end of 2023. I think this scaling up timeline is in-line with the funding from the Greek state.
Also, there was a comment that the existing cash reserves were expected to be enough for the company's operations in the next 12 months and this was excluding the funding from the Greek state. As such, with the funding from the Greek state, I think that Advent could have sufficient cash flows for the near term and I look forward to the investor day in July to gain further clarity on the direction management will take to be profitable in the long run and the use of funds in the short term.
Valuation
I continue to value Advent using two scenarios, namely the base case and the optimistic upside scenarios. Under my base case scenario, I maintain my model of an expectation of 2025 capacity of 2.3 GW of capacity, with EBITDA margin assumption of 22%. These are in my view still attainable based on the recent Q1'22 updates and as such, I maintain these 2025 assumptions. However, I lower my initial multiple from 23x 2025F EBITDA to 19x 2025F EBITDA, reflecting the lower industry multiples today. As such, my base case target price is $14, implying 5x upside opportunity at current levels.
Under my optimistic upside scenario, I maintain my assumption that Advent captures market share of 10%, as well as the assumption of a longer term investor focus on TAM of 1,300 GW in 2040, and 20% EBITDA margins. However, I lower my initial multiple from 47x 2025F EBITDA to 38x 2025F EBITDA. This is also to reflect the lower industry multiples today compared to the initial article. This is then discounted at a discount rate of 10%. As a result, my optimistic upside target price is $28, implying 10x upside opportunity at current levels.
Risks
Funding risks
While the company has attained significant funding from the Greek state and claims to have sufficient cash for the next 12 months, the company has yet to clarify how it intends to turn profitable and generate sustainable cash flows. While I am of the view that this risk could be mitigated and addressed in the coming investor day, there could still be a risk that when Advent is required to execute and scale up, it may be unable to achieve the cash flows needed to continue the operations sustainably.
Execution risks
As Advent is in the early stages of its life as a company, there are risks pertaining to the ability to execute and scale up. As large projects like the Green HiPo project and any potential agreement with the 2 large, global automotive manufacturer materializes, this entails significant execution capability which management has yet to prove.
Customer risks
While Advent has announced that it has 2 large, global automotive manufacturers in technology assessment for its new generation MEAs, these may not actually materialize into commercial agreements. As such, there is a risk that either one or both of these automotive manufacturers find that Advent's new generation MEA does not address their needs. If so, this removes a rather significant upside to the investment case for Advent.
Conclusion
While Advent's early stage nature and small market capitalization may deter some investors, I think that for those with a higher risk appetite, Advent is starting to look interesting with the 2 large global automotive manufacturers in technology assessment with Advent, as well as a funding from the Greek state worth more than six times its market capitalization, and the company's new MEAs being on track and more competitive with the products available in the market. This could be a 5x opportunity based on my base case scenario and a 10x opportunity based on my optimistic upside scenario.