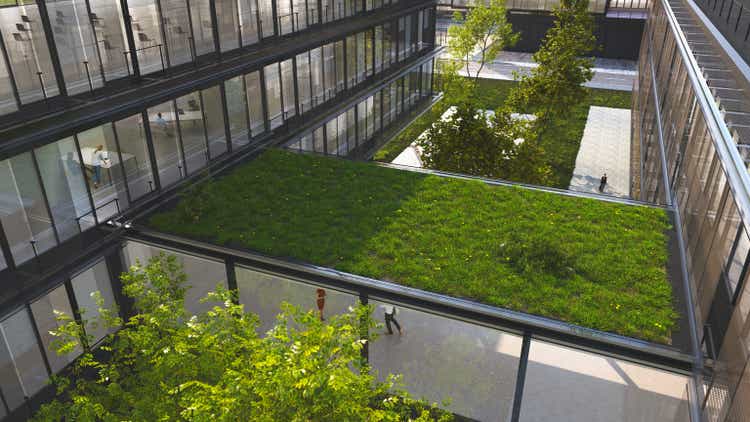 Two and a half years ago, the arrival of COVID shut offices nationwide and the rolling waves of beta and Omicron variants have kept physical office occupancy stubbornly below 50%. For office landlords, what's worse is that the trends of remote and hybrid work are reducing demand for space and making securing new leases and lease renewals wildly more expensive in the form of tenant improvement and amenitization costs. You can get a lease signed, but it's gonna cost you.
Over the last 52 weeks, only 2 of the roughly 2 dozen office REITs delivered a positive total return. The two "winners" couldn't be more different, but six months ago they were sort of the same.
Equity Commonwealth (EQC) is an office REIT in name only. EQC's 03/31/22 balance sheet shows that their roughly $3 billion total shareholder equity consists of ~$246 million depreciated real property (4 office buildings) and ~$2.75 billion in cash and cash equivalents. When EQC last year attempted to purchase Monmouth Real Estate (formerly MNR), Chairman Sam Zell made it clear that he saw no opportunity in office and that they were seeking greener pastures in industrial real estate. They lost the MNR deal to a superior bid from RMR's Industrial Logistics Properties (ILPT) and have not yet identified any new acquisition targets. EQC has a market cap of approximately $3B, so its balance sheet more closely resembles a money market fund than an office REIT; the shares basically trade at 100% of NAV (cash).
City Office REIT's (NYSE:CIO) 1Q22 Balance Sheet shows $887 million total equity that consists of ~$1.6 billion real estate assets (26 office properties) and ~$745 million total liabilities. CIO has a market cap of $560 million which means at $13 shares trade at about 55% of consensus NAV. Since most office REITs trade at about 50% of NAV, discount to NAV is not the metric that makes CIO's shares look cheap. What happened in late 2021 is what makes them look cheap.
The Transaction
Last September, Dane Bowler profiled one of the most transformative real estate transactions in recent memory and speculated on how the deal would change City Office's going forward operations and value. Basically, CIO sold life sciences zoned, San Diego offices and land for a multiple of what they had been purchased for just a few years prior.
The announcement came out of the blue, and the $576 million sale price approximated CIO's market cap at the time. Markets responded and shares soared above $21 and let CIO deliver a sector trouncing return for 2021.
In announcing the San Diego sale, City Office management said they would weigh their options and either make a cash distribution to shareholders or redeploy capital into accretive acquisitions in targeted markets. In December, it was revealed that they had chosen reinvestment, and they announced acquisitions in Dallas, Phoenix, and Raleigh.
The enhanced capital proceeds were now fully redeployed in newly constructed, fully amenitized properties located in markets with some of the nation's best jobs and migratory demographics. The shiny new things didn't have a lasting appeal, however, and late this spring, because it's an office REIT, CIO shares began to fall. Hard.
Oversold
At the start of the article, I observed that six months ago, CIO looked sort of the same as all-cash-EQC. That's because they had the proceeds from the $576 million San Diego sale. They didn't distribute the cash. Instead, they purchased top properties in the best markets with the full knowledge of what the post-pandemic era has wrought. I suspect the new acquisitions' values still approximate what CIO paid for them in a competitive bidding process; I don't think the portfolio's value and earnings capacity resembles the 36% decline in CIO's share price.
Office real estate is suffering from a declining demand in the remote/hybrid work environment. Too much existing supply competes for that shrinking demand, and certain types of real estate will win the competition. The newly constructed (that CIO just bought) properties featuring on-site dining, gyms, rooftop gardens and outdoor common areas will stay leased up for top dollar rents. The 60-year-old, improperly ventilated office three blocks away will go begging.
Analyst consensus estimates seem to agree with this perspective as they forecast earnings growth in coming periods.
CIO shares are trading at 8x next 12-month FFO, and recent events make me believe the discounted share price will not last.
On the May 5th 1Q earnings call, management repeatedly bemoaned CIO's shrinking share price (it was $14.50 at the time). They talked about the pending closing of the sale of the Lake Vista Pointe Property (detailed in the table above). On June 15th the sale was completed, resulting in a $22 million gain. They said proceeds would fund a special distribution, be reinvested in accretive acquisitions, or fund a share repurchase.
With CIO closing today at $12.85, I'm buying shares before management starts.