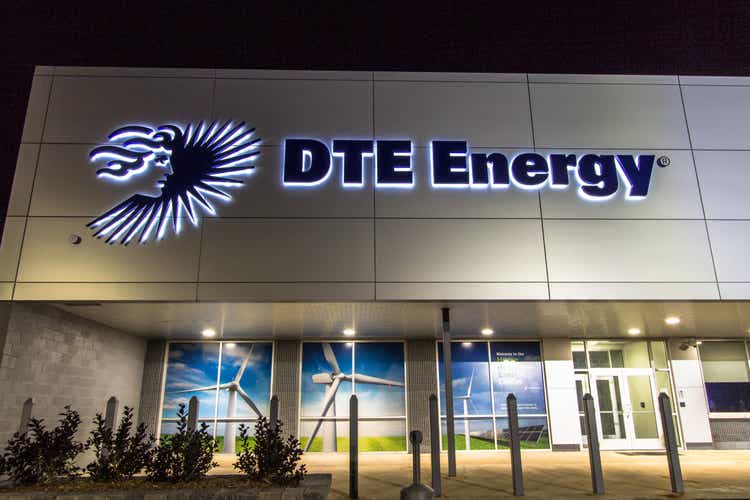 Written by Nick Ackerman. This article was originally published to members of Cash Builder Opportunities on June 16th, 2022.
Utilities had been one area of the market that was holding up relatively well through 2022. A year that has been proving to be quite a challenging year in both the equity and fixed-income space. Nothing but energy so far seems to be safe in this market as the Fed ramps up rates and inflation continues to be a significant headwind. As we can see below, it was only a short while ago that the utility sector was in the green for the year.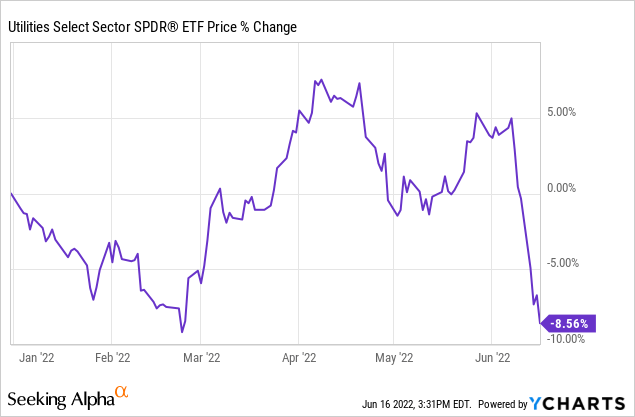 That's where looking at DTE Energy (NYSE:DTE) comes into play. This stock had been holding up well but has followed a similar trajectory to the broader sector as a whole lower. To be fair, utilities certainly aren't cheap yet - but are more reasonable than where they were.
If we look at sector P/E ratios, we can see that utilities are coming in right below the technology stocks. In this case, we can disregard the real estate sector as P/E isn't applicable. Suffice it to say, utilities aren't usually this pricey. Definitely not usually showing up right below the tech space. DTE's forward P/E comes in at almost 20. A current P/E ratio of ~25 puts it above the sector average.
This shows investors' appetite for risk is incredibly low. They are bidding up prices of this defensive sector as we are set to go into a potential recession (or might already be in a technical one!) Of course, the utility space is incredibly defensive as the demand here is pretty inelastic. Even during economic hardships, people usually pay their utility bills.
DTE is a multi-utility company. They have DTE Electric, DTE Gas, and they even have an interesting business segment called DTE Vantage. DTE Vantage is where they take part in projects in renewable and industrial energy services across the U.S. DTE Electric is the largest contributor to operating earnings for the company.
The last time we touched on DTE was nearly a year ago. That's one of the benefits of having a boring, steady utility name in your portfolio. You don't have to check in on it all the time. Usually, nothing too exciting is happening in these types of names.
However, at that time, we were discussing quite an interesting spin-off. That was their DT Midstream (DTM) business into its own publicly-traded company. This transformed DTE into a mostly pure-play utility.
This spin-off was completed on July 1st, 2021. Since then, both stocks have headed higher. DTM has performed meaningfully better, but both were subject to the significant downward pressure that the entire market has been going through lately.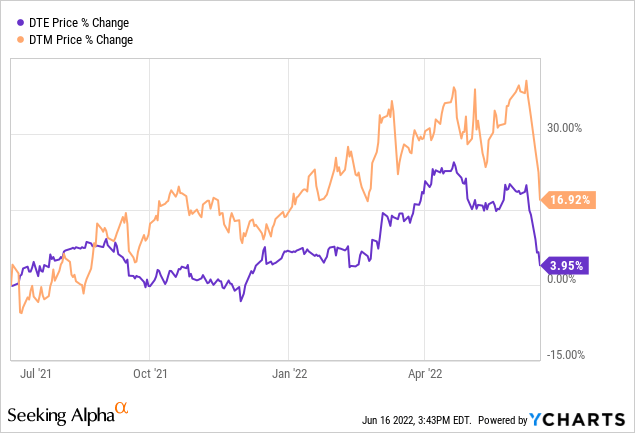 Steady Earnings Growth Expected
In their latest presentation, they are expecting around 7% EPS growth as we enter into 2022. This was an increase from their previous guidance. $5.90 being the midpoint as they anticipate EPS coming in at $5.80 to $6.00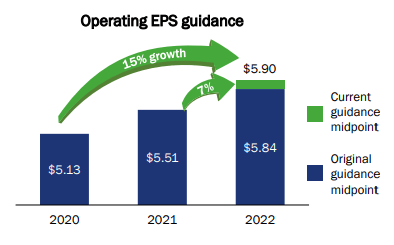 They continue to remain confident in their guidance, and as they note in their latest quarterly conference call, they have a history of achieving the high end of their growth targets. This is exactly what we want to see from companies, under-promise and over-deliver.
We feel great about our strong start to the year and we're confident in achieving our 2022 operating EPS guidance. Our robust utility capital investment plan of $18 billion over the next 5 years and $40 billion over the next 10 years supports our future growth. We have a history of achieving the high end of our operating EPS growth target, and as I've said, we continue to evaluate our long-term growth target and expect to provide an update on this later in the year as we update our 5-year plan. We are also targeting dividend growth in line with our operating EPS growth.
On top of this, they also tend to beat EPS estimates from analysts as well. This is noteworthy because the analysts are expecting $5.97 in EPS for fiscal 2022. That's on the higher side of their own guidance. Given the history of regularly topping this, too, we could easily be seeing over $6 in EPS for the year.
Over the next several years, analysts are expecting the EPS to grow anywhere from around 5 to 7% growth. That's exactly where DTE sees its growth through 2026 as well.
One of the areas that they've been investing in is providing more of their power through renewables. I'd say they are taking a steady approach to these projects and aren't getting too carried away. They've already eliminated a significant amount of their power generation from coal, including more natural gas and renewables in their generation mix.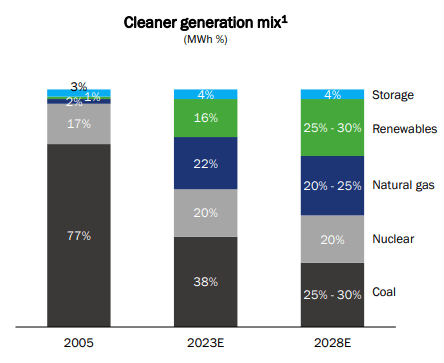 One of the areas they invest in renewables is through their DTE Vantage segment. These projects are expected to continue to generate higher operating earnings for the company.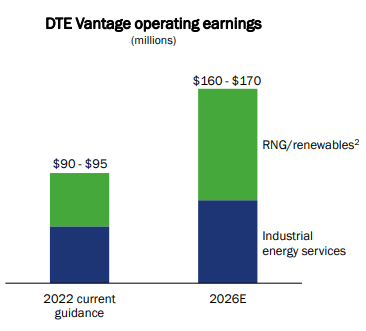 As the saying goes, you have to spend money to make money, and that has been working out for DTE. The debt to equity ratio for DTE is elevated, but with the spin-off, they had taken the opportunity to pay down some of this debt. Utilities are also no strangers to utilizing debt as infrastructure costs are high and their earnings are generally steady. They had total long-term debt of $15.629 billion at the end of March 31st, 2022.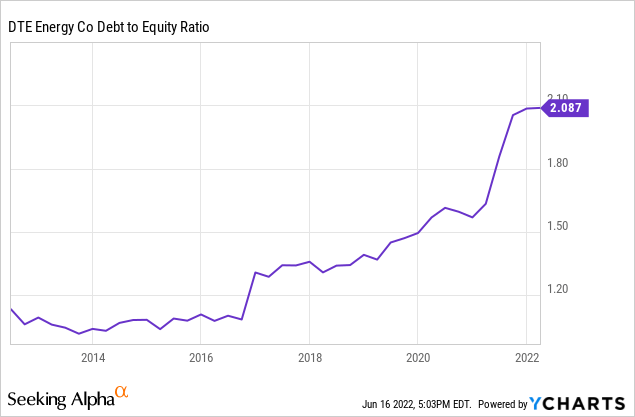 Slow And Steady Dividend Growth
The company has been growing its dividend annually since 2010. Previously, the stock had paid a regular quarterly dividend of $0.515 for years.
After the spin-off of DTM, they adjusted the dividend to reflect this reduction in earnings. However, since then, they had already bumped up the dividend. They would be expected to increase their dividend again starting in the fourth quarter of 2022.
Overall, the dividend here could be considered quite safe. Management is expecting their dividend growth to be in-line with their EPS growth going forward. That means their forward payout ratio of around 59% shouldn't move too much. This is a sustainable dividend payout ratio for a utility stock. This level puts it right around the average in the utility space.
The last increase was a 7.3% increase. With earnings anticipated to grow around 5 to 7% - but likely higher - it seems realistic to expect about 7% growth going forward.
Risks To Consider
Even utility companies have risks that we need to consider. In a high inflationary environment, input costs can pressure their growth. Costs for producing energy and costs for building out the infrastructure. This can be especially true for a regulated utility name. So far, they haven't had to deal with any headaches in that department, unlike an Arizona peer, Pinnacle West (PNW).
The costs of their borrowings will also be impacted as interest rates head higher, making them more interest-rate sensitive investments. This can also put pressure on utility stocks, an area where they employ higher amounts of leverage, as we explored above. We hadn't really been seeing that play out this year. The rush to defensive names seemed to have outweighed those risks instead.
DTE's current debt isn't overly subject to higher rates. However, new debt from now on will be more expensive.
DTE Energy is subject to interest rate risk in connection with the issuance of debt. In order to manage interest costs, DTE Energy may use treasury locks and interest rate swap agreements. DTE Energy's exposure to interest rate risk arises primarily from changes in U.S. Treasury rates, commercial paper rates, and other applicable short-term reference rates. As of March 31, 2022, DTE Energy had floating rate debt of $244 million and a floating rate debt-to-total debt ratio of 1.33%.
Conclusion
DTE has come down in price quite significantly. Being a utility name, it was holding up rather well until the latest market declines. This could present an opportunity for investors to add to their position. Utilities are a bit pricey still, but given the defensive nature could be better positioned as we continue through this uncertain economic period.