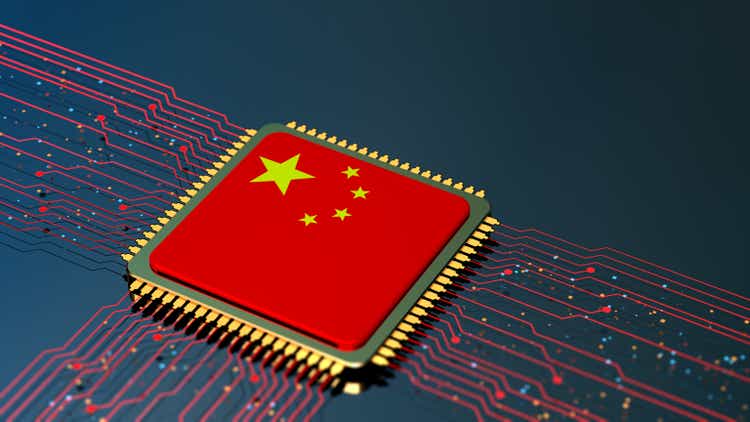 Niu Technologies (NASDAQ:NIU) is expected to deliver a new scooter called GOVA, and most investment analysts expect free cash flow generation. I ran several discounted cash flow models with conservative assumptions, which resulted in significant upside potential in NIU's valuation. With that being said, there are significant risks that could ruin an investment in NIU. The fact that the company was incorporated in the Cayman Islands and most assets are located in China will most likely not help convince investors. I am not a buyer.
NIU: Use Of Big Data And New Models Could Enhance Sales Growth
NIU's mission is to redefine urban mobility through smart electric two-wheeled vehicles, its app, and the use of big data. The company presented its technology with the following photos in a recent presentation.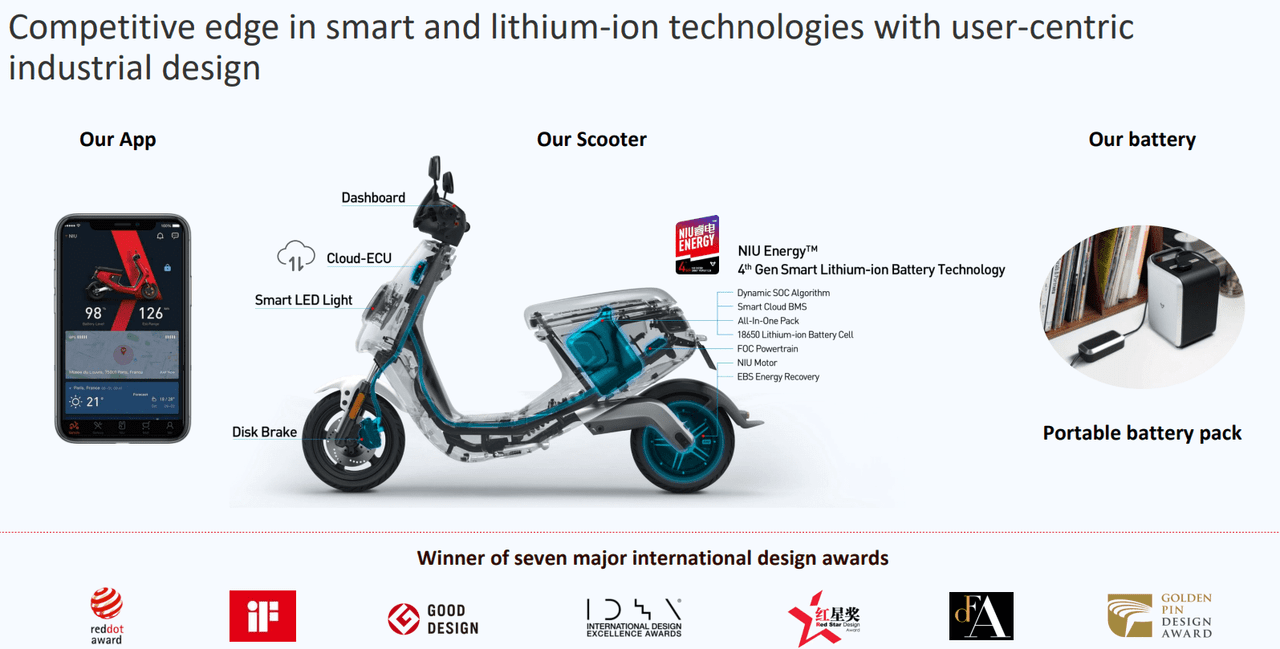 In my view, what makes NIU different from other peers is its cloud systems. Performance data and behavioral data are constantly assessed to offer maintenance solutions and insights to strengthen brand loyalty.
We use the data collected to provide smart maintenance and services, and guide the users on when and how to properly maintain our products to extend their service life and achieve better performance. We also analyze this data to help us improve our products and create new services. In addition, we collect and analyze user behavioral data from our NIU app and our website, from which we derive insights to further engage our customers and strengthen brand loyalty. Source: 20-F
The second revenue catalyst will likely be the incoming increase in the product portfolio. In the last quarterly report, NIU reported a new version of NIU's vehicle GOVA. If clients like NIU's new features offered, revenue growth could trend north.

Balance Sheet: Customers Finance NIU's Operations
As of March 31, 2022, NIU reported $17 million in cash, $27 million in term deposits, and restricted cash worth $35 million. The balance sheet looks stable with an asset/liability ratio larger than 2x. In my view, the company has sufficient liquidity to pay for more marketing campaigns. If NIU wants to accelerate the capital expenditures, I believe that bankers will likely offer more debt financing.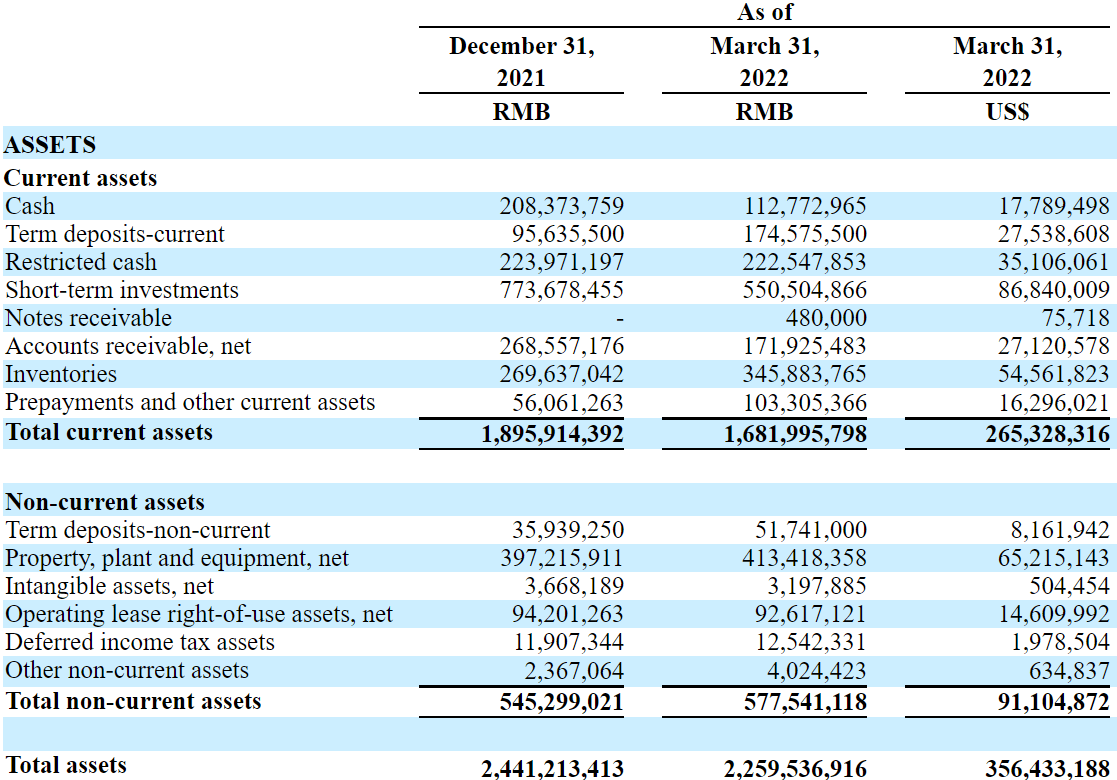 I appreciate quite a bit that NIU does not report a lot of debt, and customers help finance the company's operations. Keep in mind that advances from customers stand at $12 million.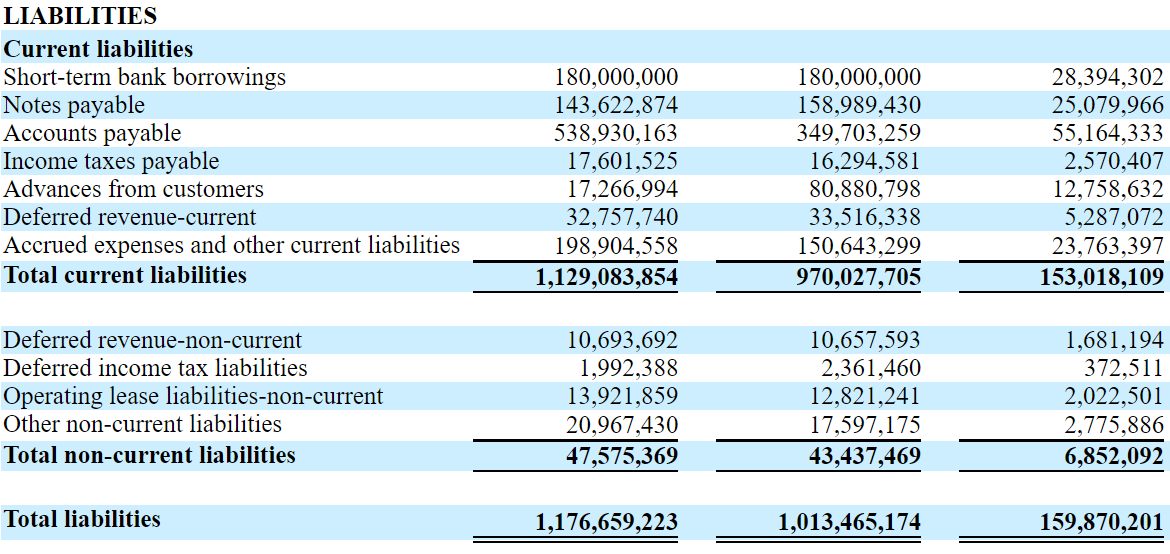 Analysts Expect Constant EBITDA Margin Around 8%-9% And Growing Net Income - My Assumptions Are Close To These Figures
Before mentioning my own figures, I took a look at the numbers delivered by other investment analysts. Estimates include approximately constant EBITDA margin of 8%-9% and operating margin around 4%-7%. It is also beneficial that analysts expect that NIU will report positive and growing net income. By 2024, analysts believe that net income could stay close to CNY558 million.

Considering the previous estimates and the recent supply chain shortage reported by NIU, I ran a conservative case scenario with reasonable sales growth. I assumed that NIU could offer new products in the micro-mobility segment, and perhaps undertake an international expansion. Some of these assumptions were taken from the intentions of management:
Despite experiencing a challenging quarter with the supply chain shortage, logistic disruption, and volatile retail environment caused by the recent COVID outbreaks, we managed to achieve moderate growths of sales volume and revenues compared to the same period last year.

We are confident that our growth strategy to develop diversified product portfolio, including our new product offerings in micro-mobility segment, and our global market expansion plan, will help us weather through the temporary China market shortfalls, and well position the company to capture the post-pandemic rebounds in electric two-wheeler demand. Source 10-Q
My assumptions for the next four years include double digit sales growth, a conservative EBITDA margin of 10%, and an operating margin around 7%-8%. With capital expenditures around $187-$267 million and working capital/sales of 1%, the ratio of free cash flow sales stands at 4%-7%. I believe that my numbers are conservative.

If we also include a discount of 6.8% and an ultraconservative exit multiple of 7x EBITDA, total equity would stand at $1.4 billion. The fair price would be equal to around $19 per share, and the internal rate of return could reach 30%.

Several Risks Could Result In A Valuation Of $3.5 Per Share
NIU reported an increase in the prices of raw materials in the last quarterly report. Management believes that future gross margin figures could be affected. With this in mind, I decided to run another DCF model with bearish assumptions.
The ongoing increase in raw materials prices, especially lithium-ion battery prices in Q1, has created extra pressure on our gross margin. Source: 10-Q
In this scenario, NIU would not be able to successfully introduce NIU's vehicle GOVA. For some reason, clients don't appreciate the new features, and revenue growth would decline. This would be quite detrimental for the free cash flow. Keep in mind that NIU would invest in capital expenditures, which would significantly lower the FCF.
The success of our operations depends on our ability to introduce new or enhanced smart e-scooters, and other new products. Consumer preferences differ across and within each of the regions in which we operate or plan to operate and may shift over time in response to changes in demographic and social trends, economic circumstances and the marketing efforts of our competitors. There can be no assurance that our existing products will continue to be favored by consumers or that we will be able to anticipate or respond to changes in consumer preferences in a timely manner. Source: 20-F
Besides, considering NIU's access to certain necessary components, in my view, the company could suffer significant supply chain issues. Let's also note that significant increases in the prices of components could have a material effect on NIU's financial results. If the free cash flow declines, and EBITDA does not reach the expectations of the market, the stock price could fall:
To date, we have not found qualified and cost-efficient alternative sources for most of the single sourced components used in our products and we generally do not maintain long-term agreements with our single source suppliers. We have integrated the suppliers' technologies within our products such that having to change to an alternative supplier may cause significant disruption to our operations. In the event that the supply of key components is interrupted for whatever reason or there are significant increases in the prices of these key components, our business, financial condition, results of operations and prospects may be materially and adversely affected. Source: 20-F
Under this case scenario, I used sales growth close to -50% in 2023 and 10%-5% from 2024 to 2026. I also increased the total amount of capital expenditures to around CNY300 million per year. As a result, the free cash flow would be negative from 2023 to 2026.

Now, with an exit multiple around 5x and a discount close to 6%, the implied price would be $3.5 per share. Let's note that these numbers are, in my view, the worst that could happen to NIU.

Risks From NIU's Operations In China
Among the risks that investors should take into account is the risk from regulatory burdens in China. If the government decides to limit the amount of data that companies can collect, or they require users' consent, revenue could decline. NIU explained some of these risks in its annual report.
Possession and use of users' personal information in conducting our business may subject us to regulatory burdens in China and other jurisdictions, such as the European Union, which would require us to obtain users' consent, restrict our use of such personal information and hinder our ability to expand our user base. In the event of a data breach or other unauthorized access to our user data, we may have obligations to notify users about the incident and we may need to provide some form of remedy for the individuals affected by the incident. Source: 20-F
Owners of ADSs are not buying equity interest in NIU in China, but equity interests in Cayman. The operating assets are also in China. It means that judges in the United States will most likely not be able to enforce actions against the company or the Board Of Directors:
Investors in our ADSs are not purchasing equity interest in the variable interest entity in China but instead are purchasing equity interest in a Cayman Islands holding company. Our holding company in the Cayman Islands, the variable interest entity, and investors of our company face uncertainty about potential future actions by the PRC government that could affect the enforceability of the contractual arrangements with the variable interest entity and, consequently, significantly affect the financial performance of the variable interest entity and our company as a group. Source: 20-F
Conclusion
Considering NIU's free cash flow, the new version vehicle GOVA , and big data capabilities, my DCF model implied a valuation close to $19 per share. Hence, in my view, the financial figures indicate that NIU is undervalued.
With that being said, I believe that many investors will pass on this company because of its substantial risks. Operations are run in China, so judges in the United States may not be able to enforce legal actions. Besides, the fact that the equity interests sold are from entities in the Cayman Islands is not ideal. Personally, I am not a buyer of ADSs.