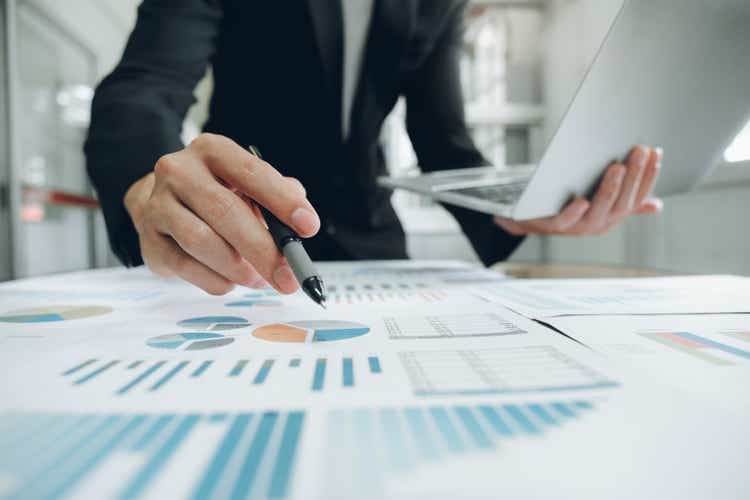 Introduction
As a dividend growth investor, I am always looking for new opportunities to increase my dividend income. Sometimes I add to existing positions in my dividend growth portfolio, while other times, I am starting new positions in my portfolio. The current volatility in the market, and the S&P 500 hovering around the bear market territory, leave room for some more opportunities.
In my dividend growth portfolio, I lack exposure to stocks in the financial sector. I have exposure to asset managers as well as insurers and banks. In this article, I will look into another asset manager, after I analyzed T. Rowe (TROW) lately. This article will look into a larger peer in the segment, BlackRock (NYSE:BLK), from a dividend growth perspective.
I will analyze the company using my methodology for analyzing dividend growth stocks. I am using the same method to make it easier for me to compare analyzed stocks. I will look into the company's fundamentals, valuation, growth opportunities, and risks. I will then try to determine if it's a good investment.
According to Seeking Alpha's company overview, BlackRock is a publicly owned investment manager. The firm primarily provides its services to institutional, intermediary, and individual investors. It also provides global risk management and advisory services. The firm manages separate client-focused equity, fixed income, and balanced portfolios. It also launches and manages open-end and closed-end mutual funds, offshore funds, unit trusts, and alternative investment vehicles including structured funds.

Fundamentals
BlackRock has enjoyed increasing revenues over the last decade. In the past 10 years, revenues have more than doubled. Sales growth is based on increased AUM (assets under management), which reached more than $10 trillion. During market declines, AUM drops as well as the value of the assets decline, impacting the company's sales in the short term. Going forward, the consensus of analysts, as seen on Seeking Alpha, expects BlackRock to keep growing sales at an annual rate of ~4% in the medium term.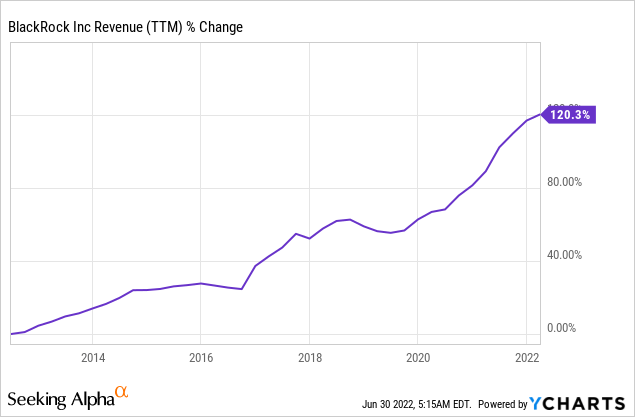 The EPS (earnings per share) has grown at a much faster pace. The reason for that is that in addition to sales growth, the company also bought back shares, and increased its profitability. Asset managers can leverage scale as managing more capital doesn't require more resources linearly. Therefore, as the company's AUM grew, its profitability improved. Going forward, the consensus of analysts, as seen on Seeking Alpha, expects BlackRock to keep growing EPS at an annual rate of ~7% in the medium term.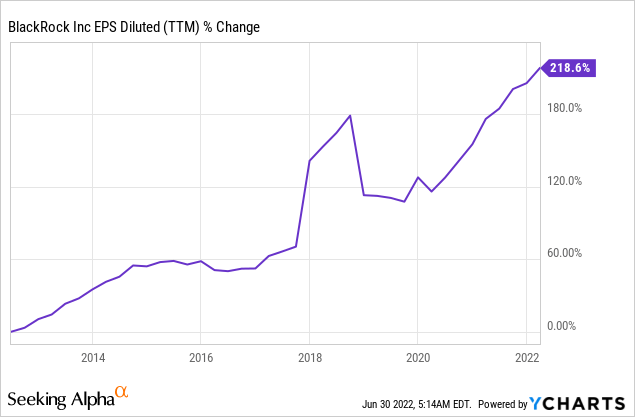 The company has been paying a progressive dividend for more than a decade. The company froze the dividend during the financial crisis in 2008-09, but since then has increased it. Before 2009 the company also used to grow its dividend, and it was never reduced. Therefore, investors enjoy a growing trajectory for almost twenty years. The dividend yield is attractive close to 3%, and the payment is extremely safe as the company pays less than 45% of its earnings in dividends.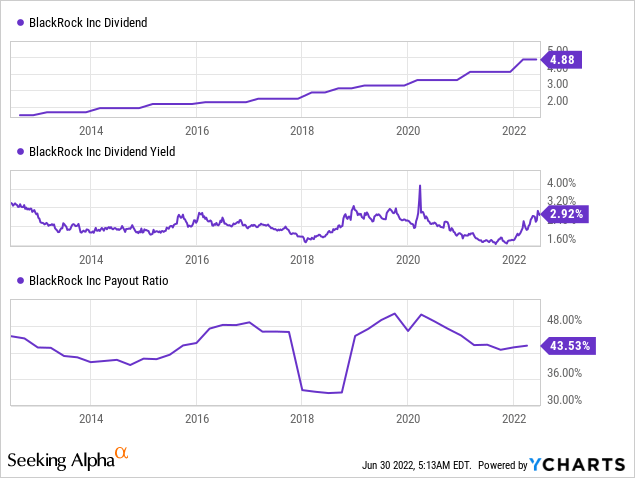 The number of shares outstanding has also decreased over the last decade. Buybacks are another form for companies to return capital to shareholders. When a profitable growing company is executing a buyback plan, it supports the EPS growth and enhances returns. BlackRock has acquired more than 12% of its shares over the last ten years, improving its total returns.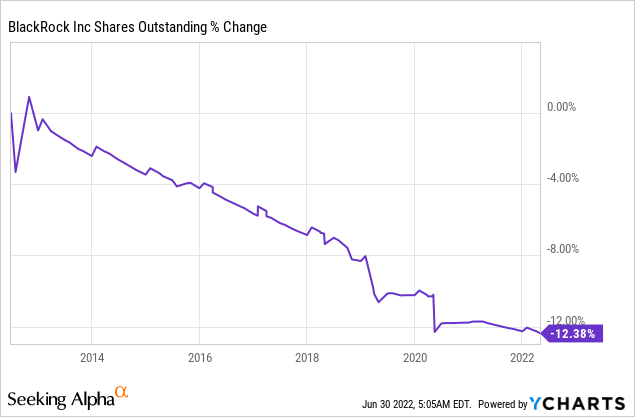 Valuation
BlackRock is trading for a P/E (price to earnings) ratio of 16 when taking to account the forecasted EPS for 2022. The company has seen its valuation declining significantly over the last twelve months. The current valuation is almost the lowest seen in the last year. Paying 16 times earnings for a growing company with an attractive dividend seems fair.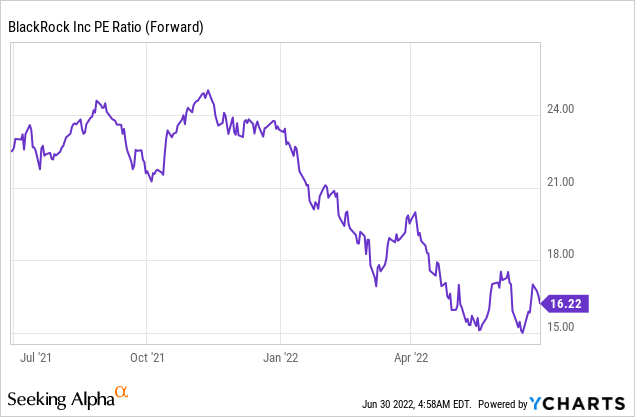 The graph below from Fastgraphs emphasizes how BlackRock's stock price decline in 2022 has made it not only fairly valued but attractively valued. The company has traded historically for more than 21 times earnings. The earnings growth rate historically was higher at 15% compared to the forecast of 7% in the medium term, but it still doesn't justify in my opinion such a discount compared to the historical valuation as this is a result of a weaker stock market.
To conclude, BlackRock offers investors some great fundamentals. It has had substantial revenue and EPS growth over the last decade, which fueled dividends and buybacks for shareholders. This great package comes at a valuation lower than the average valuation over the previous twenty years, despite a positive growth trajectory.
Opportunities
When it comes to AUM, BlackRock is the king. It reached an AUM of $10T at the beginning of the year. Despite a decline to $9.6T after Q1, the company is still leading. High AUM gives the company a massive scale that can be used for future acquisitions and investments in new products. It also implies a wide reach that will allow it to swiftly deploy new products and easily access new clients.
Another opportunity for BlackRock is the fact that 74% of its AUM are cash, ETFs, and index funds. These are low-fee products that fit the current preference of many investors. We see investors seeking investments in index funds and ETFs that are low-cost. This is contrary to the actively managed funds that constantly have to outperform to justify their existence. BlackRock's focus on index funds and ETFs lowers management expenses and makes it hard for peers to compete with them.
Another growth opportunity for BlackRock is worldwide expansion. As of the end of Q1, 67% of its AUM came from the Americas, with 26% coming from EMEA (Europe, the Middle East, and Africa). Less than 10% comes from Asia, which is growing fast and the access of middle-class people to financial products is increasing. Therefore, this is a potential growth catalyst for BlackRock
Risks
The competition is a prominent risk for BlackRock. The company faces harsh competition in its ETFs and index funds from other leading asset managers such as Vanguard. It also faces competition in its actively managed assets from companies like T. Rowe and J.P. Morgan (JPM). The competition limits its ability to raise fees, and in the actively managed arena, it forces it to constantly outperform to justify the fees compared to peers.
While most of the company's AUM is passive funds and ETFs, 26% are active funds. It means that more than $2.5T is actively managed by BlackRock. While only 26%, in total assets it is more than some of the leading asset managers such as T. Rowe. This is a risk for BlackRock as the trend for low-cost index funds is ongoing. If these clients shift to BlackRock's index fund, we will see cannibalism within the company, and if they shift to competitors, BlackRock will struggle to keep them due to the high fees. This is a strategic long-term challenge that requires constant excelling.
The weakness in the stock market is also a risk, mainly in the short and medium term. The declining prices of stocks and bonds due to the fear of recession and inflation, and the increased interest rates, are affecting the company's AUM. The AUM declines despite inflows into the company's funds, and it happens due to the decreased value of assets. This is harming the company's fees and revenues.
Conclusions
BlackRock is not just a great asset manager, but it's also a great investment. The company has extremely solid fundamentals with a highly resilient business model. Growing AUM leads to growing sales that lead to growing EPS. EPS fuels both dividends and buybacks, and the management is focused on returning capital to shareholders.
The company trades for what I believe to be an attractive valuation, significantly lower than the average long-term valuation. BlackRock has several prominent growth opportunities, and its risks are not specific to the company, and the company has dealt with them in the past. Therefore, I believe that BlackRock is a BUY for dividend growth investors.