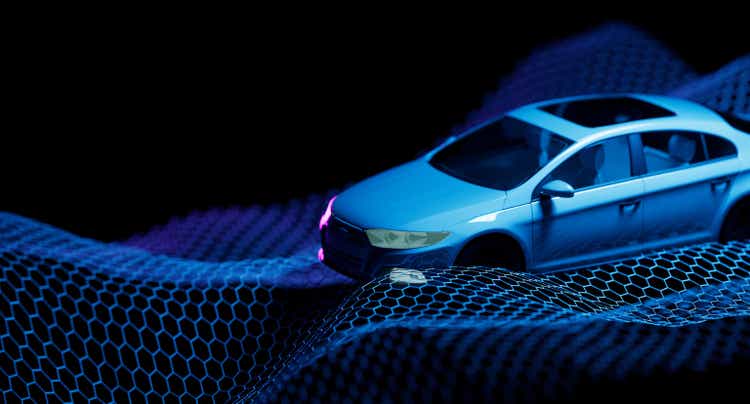 Small Cap Volatility Opens Up Unique Trade Opportunities
A combination of high inflation, rising rates, and restructuring of the Russell 3000 has brought upon substantial volatility to small cap stocks in recent weeks, and is likely to continue for the foreseeable future. This can make it hard to predict whether the market will go on another bull run or if it will continue its bearish streak.
Despite this unpredictability there are still plenty of opportunities to profit by positioning oneself well no matter the market conditions using pair trade techniques. Pair trade techniques traditionally involve one long and one short position in two or more highly correlated stocks.
One of our favorite sectors set to outperform the market over the long-term is the LIDAR stocks. Names like Aeva Technologies, Inc. (AEVA), Velodyne Lidar, Inc. (VLDR), Ouster, Inc. (NYSE:OUST), and AudioEye, Inc. (NASDAQ:LIDR) have pulled back as much as 75-90% from their highs, opening up the potential for further significant upwards or downwards movement. Shorting the apparent overvalued names such as AEye and backing the undervalued names such as Ouster creates interesting investment strategies to build value while hedging risk going forward.
The Downside In AEye
LIDAR is a risky business at this stage for investors. Many stocks are valued at multiple times earnings and are not projected to begin to increase revenue at a good rate for a number of years still. The riskiest of the bunch in our opinion is AEye. The stock was undervalued in comparison to peers when we last looked at it in December, and that has been proven evident as it has held up much better than peers. It has been outperforming the sector since our last article down just 55%, while names like Ouster and Velodyne are down over 65-75%. This has now led to a premium valuation in comparison to peers, with analysts projecting price to share ratios triple that of Ouster (Figure 1).
Figure 1. AEye (above) has a projected 2024 price to share ratio of over 2.2x revenue while Ouster (below) is projected to have just a 0.75 price to share ratio by 2024
AEye has also gone about bringing their product to market differently from many other LIDAR names. They have focused on partnering with parts manufacturers such as Continental, as opposed to names like Aeva and Ouster who have gone after larger automotive deals. This strategy, although potentially more profitable, will likely be tougher to generate high growth in our opinion. Therefore, this combination of heightened valuation as well as differentiated go-to market strategy may make it tough for AEye to perform alongside the broader sector going forward in the short to mid term.
Valuation
Looking towards valuation AEye is actually very fairly valued in comparison to competitors when looking at forward price to earnings (Figure 2). According to analyst LIDR is expected to be profitable by 2025 and trading below a 2x P/E ratio by 2026. This is impressive, but often with young companies profitability is much harder to predict than pure sales. Through strategic agreements a good estimate of forward revenue can be made while profitability is dependent on many more unknowns such as inflation, margins, revenue, etc. Because of this, forward price to sales ratios are a much better judge of these young stocks valuations in our opinion.
Figure 2. AEye looks to have great future prospects ahead if they can deliver on analyst earnings expectations, but upside is still a while out in our view
Looking more towards those forward price to sales ratios (Figure 3) one can see that Ouster is the clear winner in valuation by end of 2023 estimates the stock is expected to be trading at just 1.5x forward revenues while names like Aeva and AEye lag behind in double digit ratios. AEye is expected to accelerate sales by late 2025 but is clearly trading at a premium until they can lock in more expected sales going forward.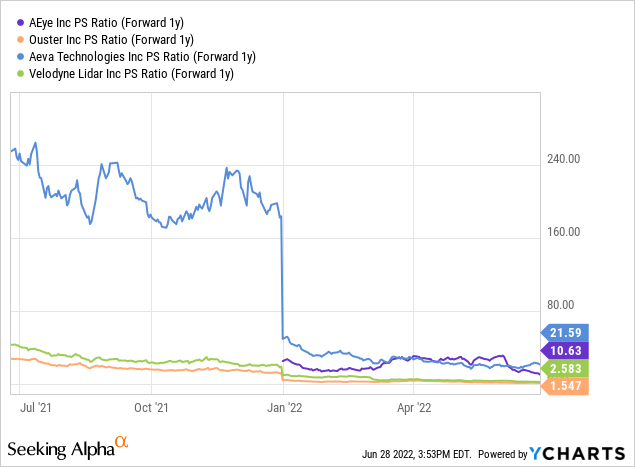 Figure 3. Forward price to sales ratios put Ouster and Velodyne Lidar at the front of the pack as early winners with AEye & Aeva playing catch up
This trend towards securing strategic purchase contract agreements for early revenue companies make competition fierce, but allows investors to pick stocks well before their earnings take off. Both names have huge potential following pullbacks, but Ouster is the current winner of the group with AEye near the bottom at least until more upside catalysts are announced.
Risks
Obviously shorting any stock is highly risky. AEye is down considerably from highs and therefore we do not recommend a large short position. Instead it may be used to hedge an investment in other LIDAR names such as Ouster. Furthermore, LIDR is actually a strong buy according to Wall Street Analysts with an average price target nearly over 6x current prices (Figure 4). Therefore, stop loss limits should be utilized if shorting to prevent margin calls from building up over time.
Figure 4. AEye has three Wall Street Analysts covering their stock all of which are bullish, although price targets are fairly outdated and likely do not reflect upside from current prices
AEye should only be shorted under the thesis that LIDAR as a whole is currently overvalued and LIDR is one of the highest valued of the bunch. This investment should be evaluated often as AEye is a good company and with time will likely begin again to trend upward as a stock.
The Upside In Ouster
Moving to the bullish side of this trade, we have Ouster who has industry leading forward valuation estimates, a long-list of strategic agreements and partnerships, and plenty of further growth potential. Ouster has received plenty of strong buy ratings from both Wall Street and SA Authors for their efforts and has already begun to post decent sales numbers (Figure 5). Their customers include many high profile companies ranging from automotive, industrial, robotics, and even smart infrastructure applications.
Figure 5. Ouster offers scalable pricing, high-volume manufacturing, and a unique array of sensor options that will continue to appeal to customers
Names like Luminar (LAZR) and Innoviz (INVZ) can compete in sales forecasts and customer acquisition, but trade at a significant premium to Ouster. If you are to bet on LIDAR being a vital instrument of future tech, Ouster is the stock you want to invest in at a market cap below $300 million at current prices it is hard to pass up.
Valuation
Many of today's Lidar names went public through SPACs. Because of this very few have debt, but we can still look towards forward EV/Revenues for another snapshot of the groups' valuations (Figure 6). Looking at enterprise value over revenues ratios we see Ouster is again by far the most discounted name in the sector despite shipping over 1,500 units last quarter.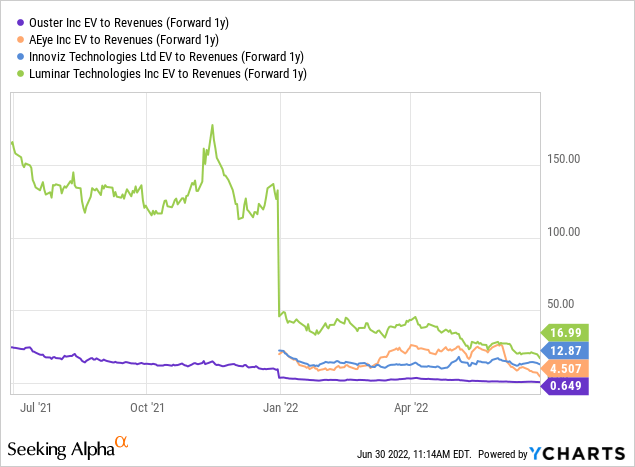 Figure 6. 2023 EV/Revenue estimates which account for cash and debt on hand show that Ouster is expected to trade at a fraction of the price of competitors
Wall street analysts have taken notice and have given Ouster an average price target of $10.33, over 6 times that of which it currently trades (Figure 7). Many of these are again a bit outdated following the stocks rapid decline along with other small cap tech names, but even if last years lows were reached the stock would more than triple in price. We believe the LIDAR sector presents substantial value at current levels.
Figure 7. Price targets for Ouster are as high as $16, but even the most conservative analysts see over 3x upside
Risks
LIDAR is still a developing technology. Therefore many of the aforementioned stocks are early on in revenue and product scaling. The greatest test for names such as Ouster and AEye will be how they deliver in increasing sales over the next 2-6 quarters. By then it will be much easier to tell which company's estimates were overly optimistic and which businesses are set to deliver.
Another note to consider is Seeking Alpha's quant grading system gives both AEye and Ouster warnings for being at risk at performing badly due mainly to profitability and momentum. As momentum in the sector can turn around and these companies eventually turn look for these quant metrics to turn around.
Another sector risk is the argument that radar will prevail in smart car technology over LIDAR. Elon Musk even was against LIDAR at one point, but Tesla is now reportedly looking into possibly using LIDAR technology in their vehicles. Only time will tell the power of LIDAR, but it currently looks to be the next trend for autonomous driving, drones, and countless other applications.
In Conclusion
The LIDAR sector as a whole is risky as it is still within its infancy. Current market conditions on a downturn allow you the unique opportunity to hedge your bet with a pair trade. Our favorite strategy would be to allocate a set amount for the investment and divide it up weighted heavier towards a long play in Ouster, say - 75% towards bullish buy in OUST & 25% towards short bearish sell in LIDR. This allows one to profit from short term downtrends in small caps, but then also avoid missing out on the huge upside potential in heavily discounted Ouster, Inc and LIDAR in general. LIDAR is likely the way of the future in regards to data information for robotics autonomy, and smart infrastructure, and it is only a matter of time before the market picks back up on the trends.