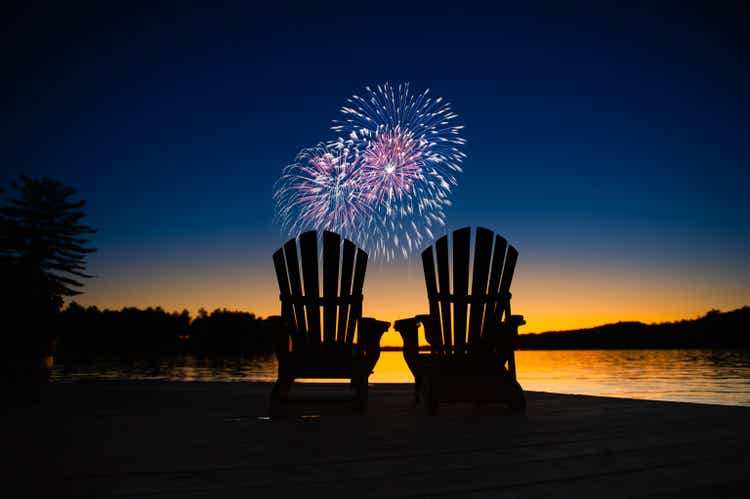 ~ By Tim Murphy, Marketplace Success Manager
First off - Happy Canada Day weekend to all my fellow Canucks and Happy 4th of July weekend to all American readers.
Thank you to all readers of the Mid Year Marketplace Roundtable Series. So far we've covered Macro, Value Stocks, Commodities, Growth/Tech/Crypto and Dividends, REITs And Income. Today is our last article with Biotech and Healthcare.
Once again, the questions we asked were:
1. What are your major takeaways of your area of coverage so far this year? What are you looking for and expecting for the rest of 2022?
2. What's one favorite idea for the rest of 2022, and what's the story?
Enjoy reading! We'd love to hear your thoughts and own ideas in the comment section below. Links to the author profile page and their Marketplace service are included. All services have either a two-week free trial or a limited one-month money-back guarantee on the annual subscription. *Note for non-Premium readers: Paywalled articles are marked with ($). Author blogs and articles from this account, SA Marketplace, are not paywalled.
Biologics of Compounding Healthcare: Overall, stocks have not performed well in 2022, but biotech tickers have certainly been some of the worst performers. Catalysts are not only a major event for that specific company, but for the industry as a whole. Unlike 2020, this year has lacked any big stories to generate some enthusiasm, so there's less appetite for taking risks in such a volatile sector. Luckily, the prolonged selloff has enticed some of the big healthcare names to start making deals to acquire some of these beaten tickers. This seems to have injected some bullish impetus into the sector, however, the big names are eventually going to run out of buyout candidates.
Therefore, we're going to need another source of positive news flow to stimulate investor sentiment and encourage them to take on some risk in biotech and other healthcare stocks. Until then, I'm on the lookout for companies that have numerous upcoming catalysts that could be the spark that starts the turnaround in the biotech and healthcare sector.
IDEA: My favorite idea for 2022 is ImmunityBio (IBRX), which is attempting to become one of the leading immunotherapy companies in the world. The company has six immune-enhancing platforms including DAMP Inducers, DNA Vaccines, RNA Vaccines, Recombinant and Cytokine, Toll Receptor Activators, and NK Cell Therapy.
The company has late-stage clinical trials in bladder cancer, pancreatic cancer, head and neck cancer, lung cancer, HIV, and COVID-19. The company also has several other programs including glioblastoma, HPV cancers, and solid tumors. Recently, ImmunityBio submitted a BLA for N-803+BCG for BCG unresponsive non-muscle invasive bladder cancer carcinoma in situ. If approved, N-803+BCG would change how we treat bladder cancer and would be a significant commercial opportunity for ImmunityBio in 2023. Moreover, an FDA approval would also validate N-803, which is a primary component in both oncology and infectious disease programs.
Disclosure: Long IBRX
Edmund Ingham of Haggerston BioHealth: It's no secret that the past six months have seen a devastating bear market engulf the biotech sector and company valuations have crashed, most notably early stage drug developers. The XBI ETF, a key measure of biotech strength, has fallen by 41% since January, while the S&P 500 is down 19%.
With that said, the IPO market has remained strong, with many new companies coming to market with hundreds of millions of dollars of funding, pioneering new approaches to drug development, and identifying new drug targets.
Eventually, I expect the tide to turn and for money to begin finding its way back into these stocks, particularly as drugs move through the clinical trial process and enter pivotal studies aimed at establishing a commercial use case. The market may have temporarily lost faith in the biotech sector, but it's a traditionally strong performer - the XBI doubled in value between mid-2017 and early 2021 - and I expect there to be signs of a strong recovery across the next six months.
IDEA: Many biotechs are pushing the boundaries of what's achievable in medicine but if I had to single out a company that looks capable of completing a remarkable turnaround in 2022 it would be Bluebird Therapeutics (BLUE).
The company is a gene therapy specialist that looked doomed 12 months ago as it struggled to sell its beta thalassemia therapy in Europe and costs spiraled out of control. Now the company looks as though it might win two approvals in 2022, for lead assets beti-cel and eli-cel, while a third approval for lovo-cel in Sickle Cell Disease would open up a multi-billion dollar market. Gene therapies offer permanent "one and done" cures for diseases, and the implications for this type of medicine are breathtaking. The recent validation of Bluebird's lentiviral approach by the FDA's Cellular, Tissue, and Gene Therapies Advisory Committee has been heartening to see. Funding concerns have weighed down the share price, creating an attractive, albeit risk on investment opportunity.
Disclosure: None
Jonathan Faison of ROTY Biotech Community: This was by far my worst year as a biotech investor, took some hard knocks but I'm thankful for the lessons learned.
One big lesson for me was I don't have to be a hero (aggressive with my purchases), instead waiting patiently in cash for the best opportunities. Similarly, my biggest losses came from situations where I anticipated too much (instead of waiting for more evidence that the thesis was in fact strengthening, that the story was getting better). I'm also learning to reduce my churn, allowing myself just four trading days per month (forces me to think through decisions more carefully).
For the rest of 2022, I've increasingly positioned our portfolios in higher quality names that I call "the survivors," with cash runway to 2024 and beyond, multiple promising irons in the fire, management teams that continue to execute in good times and bad.
IDEA: Merus (MRUS) is a great example of a clinical stage biotech company continuing to keep their eye on the ball and advancing the pipeline. Zeno data at ASCO in NRG1+ tumors held up quite nicely and they should be able to pursue a tumor-agnostic approval label.
I also like that management is open to partnering with big pharma for commercialization, as opposed to taking that risk on by themselves in the current environment. They have two key readouts later this year (perhaps at triple meeting in October) for Peto (EGFR LGR5) and MCLA-129 (EGFR x c-MET). Early data for Peto showed three clinical responses out of seven evaluable HNSCC patients in early data, with all seven showing signs of tumor shrinkage. Cash position is $430M versus estimated annual burn of $120M.
Disclosure: Long MRUS
Bhavneesh Sharma of Vasuda Healthcare Analytics: The biotechnology sector is at one of the most oversold readings in its history. Big pharma is finding the valuations attractive as shown by recent acquisitions like Sierra Oncology, F-Star Therapeutics, and Antares Pharma. Companies like Seattle Genetics and Mereo BioPharma have received offers and may get acquired. I see an attractive reward/risk for 2-5 years time frame in the sector at this depressed valuation levels.
IDEA: An attractive idea in the biotech/pharma sector is Amylyx (AMLX). The company is developing AMX0035, an oral therapy to treat amyotrophic lateral sclerosis, ALS, a debilitating neurological disease. Earlier this year, an Advisory Committee panel voted against the drug's approval in treating ALS, despite its data showing an improvement in survival by median 10.5 months and an improvement in functional status.
The stock has been rallying this month after Health Canada approved the drug in ALS, which has increased the probability of the drug receiving U.S. FDA approval (PDUFA on Sept. 29). I'm optimistic that the FDA will approve the drug and estimate a 40-50% gain into the PDUFA.
Disclosure: Long AMLX.
The Fortune Teller of Wheel of Fortune: Healthcare is 1-of-5 sectors (others are Others: Communications, Materials, Financials, Energy) trading with a forward P/E that is lower than their 10-year averages. In spite of being down 8% YTD, Healthcare is fourth best performing sector in 2022. The main drag on the sector ($) is the Biotech industry with the leading ETF (XBI) losing nearly 2/3 of its value over a course of only 16 months.
A combination of high valuations, shift in monetary policy, tech/growth rout, unfavorable regulatory environment, and lack of M&A activity has proven lethal for biotech. Nonetheless, looking at the second half of 2022 (and far beyond that) it's safe to say that most, if not all of the issues, are either gone already or likely to be gone over the coming months, given:
Valuations are very cheap; a record number of biotech names trade below their cash levels.
Tightening cycle is already priced in.
Midterm elections are likely to end with a hung government.
M&A activity is picking up pace.
Major bounce for XBI over the last two weeks.
IDEA: If you believe in the recovery of biotech and if you recall that historically, every major biotech collapse has been followed by a far greater rise - you may wish to jump on this industry following the largest drawdown in at least 20 years. Technically speaking, XBI needs to move back >$80 in order for the long-term up-trending channel to be restored, however taking into consideration that we're already back in a bull market (>20% rise since lows) and that XBI is trading only ~4% sub-80, you may wish to jump on this train straight away.
And if you choose to do so, the express biotech train isn't XBI but its 3x-leveraged version LABU. For the sake of (but not only) this Roundtable, LABU is our favorite idea. Note that leveraged ETFs aren't only way more risky than their non-leveraged versions, but there are also various, unique considerations associated with such instruments. Therefore, you must ensure that you fully understand the pros and cons before taking any action!
Disclosure: Long LABU
BioSci Capital Partners of Integrated BioSci Investing: As you can see, the biotech sector has been hit the hardest over the previous 1.5 years. Given that the stock market follows cycles of boom and bust, I expect this niche to recover and thereby deliver outstanding returns for the rest of Fiscal 2022. Going forward, you can anticipate that high-quality growth biotech issues would far surpass the blue chip stocks. By executing a prudent investing approach, you can make tremendous profits for the second half of this year and beyond.
IDEA: Of all biotech stocks that I cover, CryoPort (CYRX) is my favorite idea for 2022. CryoPort is a logistic service provider for the cell/gene therapy (CGT) innovators. Specifically, the company is delivering the storage and transport services for CAR-T and other biological specimens. Leveraging the industry tailwinds of CGT, CryoPort is poised to amass increasing profits. Asides from growing organically, this firm also grows by leaps and bounds by executing a prudent merger/acquisition approach that has been adding tremendous top-line growth year after year.
Disclosure: None
Tarun Chandra of Prudent Healthcare: Recently, we wrote about What's Next For Healthcare ($). Healthcare does relatively better during a downturn. Biotechs reach a bottom quicker than most industry groups in a typical slowdown, as the Federal Reserve reduces interest rates as a remedy, making higher-risk groups more attractive. However, in this expected downturn, the Fed is tightening in the face of slowing growth. Biotechs cannot rely on the usual assistance from falling rates, thus taking longer to rebound.
The S&P Biotech Index (XBI) was down 65% at its worst point, limiting the downside even though recent lows can be retested or briefly breached. After a rough first half, it's time to slowly grow the biotech exposure, focusing on larger biotechs with revenue franchises and smaller ones with good recent data and pipeline progress. M&A activity should rise each quarter, providing a valuation floor. In healthcare, pharma and profitable companies with growing and steady revenue franchises are better positioned.
IDEA: While we recommend a portfolio approach and not a single idea, here we will consider Eli Lilly (LLY) as a leading idea.
An investment idea in this market must be balanced, offering both a defense against an unpredictable inflation situation and volatility, along with growth potential if inflation and the Fed policy deliver results soon enough. Eli Lilly is a stock that qualifies on that basis. It has durable revenues and taps into growth opportunities through new drug approvals and a broad pipeline that can withstand disappointments, including perhaps one from the Alzheimer's treatment Donanemab, which uses the beta-amyloid approach, like Biogen's (BNTX) Aduhelm, that has not achieved market traction.
Disclosure: None
Editor's Note: This article discusses one or more securities that do not trade on a major U.S. exchange. Please be aware of the risks associated with these stocks.