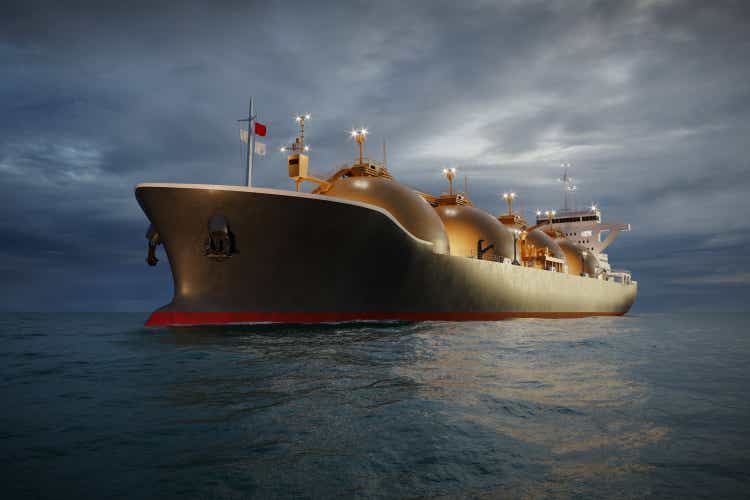 The Kayne Anderson Energy Infrastructure Fund, Inc. (NYSE:KYN), or the "Fund," is the largest U.S. closed-end fund ("CEF") focused on energy infrastructure investments, according to Jim Baker, President, CEO, and Chairman of KYN. As of May 31, 2022, the company's net assets were $1.5 billion, and its net asset value per share was $11.01.
On March 7, 2022, the Fund announced the completion of the merger with Fiduciary/Claymore Energy Infrastructure Fund (FMO) with and into KYN.
As, we believe KYN is a natural consolidator. Our investors should benefit from the potential cost savings that come with increased size and scale, enhanced trading liquidity, "best in class" access to the capital markets, and additional investment opportunities as we look to capitalize on the energy transition," continued Mr. Baker.
As of June 27, the 12-month total return to shareholders was 7.25%. That compares to a total return in SP500TR of -7.12%.

Since its inception in 2004, KYN has returned 66%, adjusting for dividends. Considering that the length was over 17 years, the rate of return is modest.
Typically, downside risk is measured as Peak-to-Valley ("P2V") and the maximum drawdown ("MD") over a period is the largest P2V experienced. For more about P2V calculations, read here. I take the opposite sign of the drawdown so that it is a positive number.
According to my calculations, KYN's MD was 85%. In other words, from the Fund's highest peak in September 2014, it lost 85 % of its investment value. The Fund is still down 50% from that peak at end-May 2022.
Such a massive loss would (or should) exceed the risk tolerance of any investor. And investors typically exit investments once losses exceed their risk tolerances, locking in the loss.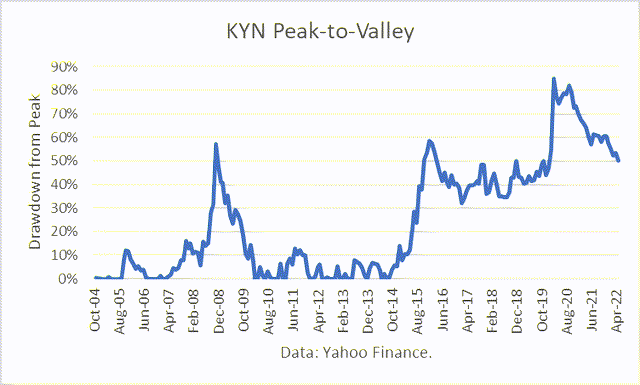 Investment Objectives and Holdings
The Fund describes its investment objectives and strategy in its Factsheet as presented below.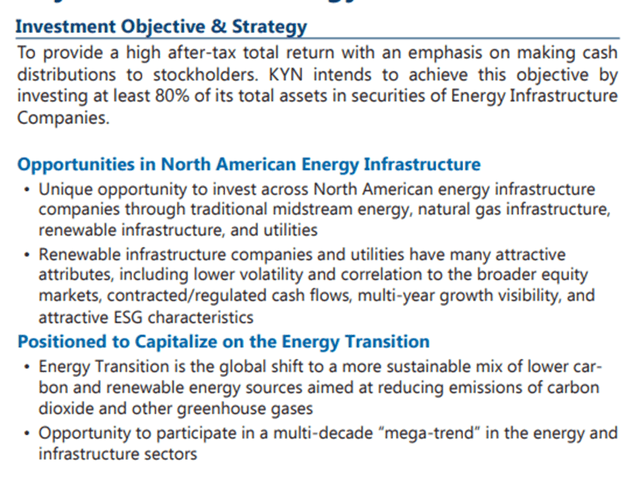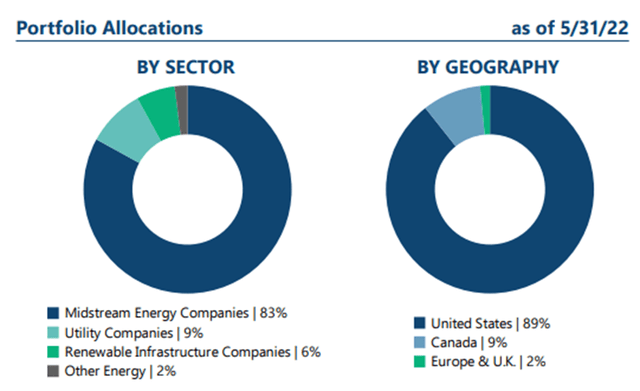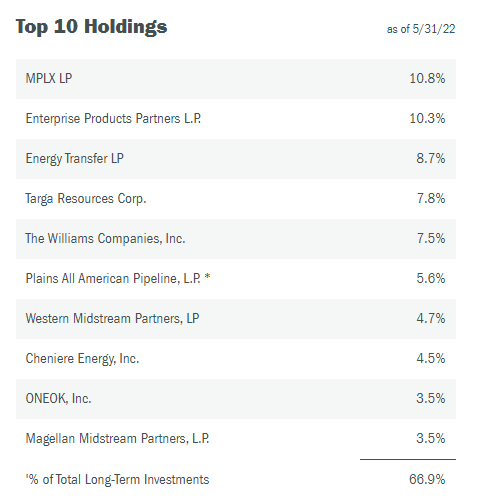 Parts 1 and 2
In this Part 1, I provide below a business summary of each of the above Top 10 Holdings directly from each of their own respective websites. I follow that by an analysis of 12-month performances and provide a sample reallocation, based on the product-centricity of the business, natural gas liquids v. petroleum.
In Part 2, I discuss the short- and longer-term market outlooks for natural gas liquids v, petroleum. I end with my conclusions.
MLPX (Weight = 10.8%)
MPLX (MPLX) is a diversified, growth-oriented master limited partnership formed in 2012 by Marathon Petroleum Corporation (MPC) to own, operate, develop and acquire midstream energy infrastructure assets. We are engaged in the gathering, processing and transportation of natural gas; the gathering, transportation, fractionation, storage and marketing of NGLs; the transportation, storage and distribution of crude oil and refined petroleum products; as well as refining logistics and fuels distribution services. MPLX provides services in the midstream sector across the hydrocarbon value chain through our Logistics and Storage and Gathering and Processing segments.
Enterprise Products Partners (Weight = 10.3%)
We are a publicly traded Delaware limited partnership, the common units of which are listed under the ticker symbol (EPD). Our preferred units are not publicly traded. We were formed in April 1998 to own and operate certain natural gas liquids ("NGLs") related businesses of EPCO and are a leading North American provider of midstream energy services to producers and consumers of natural gas, NGLs, crude oil, petrochemicals and refined products. We are owned by our limited partners (preferred and common unitholders) from an economic perspective. Enterprise GP, which owns a non-economic general partner interest in us, manages our Partnership. We conduct substantially all of our business operations through EPO and its consolidated subsidiaries.
Energy Transfer (Weight = 8.7%)
Energy Transfer LP (ET) owns and operates one of the largest and most diversified portfolios of energy assets in North America, with a strategic footprint in all of the major U.S. production basins. Energy Transfer is a publicly traded limited partnership with core operations that include complementary natural gas midstream, intrastate and interstate transportation and storage assets; crude oil, natural gas liquids ("NGL") and refined product transportation and terminalling assets; and NGL fractionation. Energy Transfer also owns Lake Charles LNG Company, as well as the general partner interests, the incentive distribution rights and 28.5 million common units of Sunoco LP (NYSE: SUN), and the general partner interests and 46.1 million common units of USA Compression Partners, LP (NYSE: USAC).
Targa Resources Corp. (Weight = 7.8%)
Targa Resources Corp. (TRGP) is a publicly traded Delaware corporation formed in October 2005. Targa is a leading provider of midstream services and is one of the largest independent midstream infrastructure companies in North America. We own, operate, acquire, and develop a diversified portfolio of complementary domestic midstream infrastructure assets.

We are engaged primarily in the business of: gathering, compressing, treating, processing, transporting and purchasing and selling natural gas; transporting, storing, fractionating, treating and purchasing and selling NGLs and NGL products, including services to LPG exporters; and gathering, storing, terminalling and purchasing and selling crude oil.
The Williams Companies, Inc. (Weight = 7.5%)
The Williams Companies (WMB) are an energy company committed to being the leader in providing infrastructure that safely delivers natural gas products to reliably fuel the clean energy economy. We have operations in 14 supply areas that provide natural gas gathering, processing, and transmission services, NGLs fractionation, transportation, and storage services, and marketing services to more than 600 customers. We own an interest in and operate over 30,000 miles of pipelines, 29 processing facilities, 7fractionation facilities, and approximately 23 million barrels of NGL storage capacity, and deliver natural gas that is used every day for clean-power generation, heating, and industrial use.
Plains All-American Pipeline LP (Weight = 5.6%)
Plains (PAA) is a publicly-traded master limited partnership that owns and operates midstream energy infrastructure and provides logistics services for crude oil, natural gas liquids and natural gas. We own an extensive network of pipeline transportation, terminalling, storage and gathering assets in key crude oil and NGL producing basins and transportation corridors and at major market hubs in the United States and Canada. On average, PAA handles more than 6 million barrels per day of crude oil and NGL in its Transportation segment. The company is headquartered in Houston, Texas, with its Canadian operations based out of Calgary, Alberta.
Western Midstream Partners LP (Weight = 4.7%)
Western Midstream Partners, LP (WES) is a Delaware master limited partnership formed to acquire, own, develop, and operate midstream assets. With midstream assets located in the Rocky Mountains, North-central Pennsylvania, Texas, and New Mexico, WES is engaged in the business of gathering, compressing, treating, processing, and transporting natural gas; gathering, stabilizing, and transporting condensate, NGLs, and crude oil; and gathering and disposing of produced water for its customers. In addition, in its capacity as a processor of natural gas, WES also buys and sells natural gas, NGLs, and condensate on behalf of itself and as an agent for its customers under certain of its contracts.
Cheniere Energy, Inc. (Weight = 4.5%)
Cheniere Energy, Inc. (LNG), a Delaware corporation, is a Houston-based energy infrastructure company primarily engaged in LNG-related businesses. We provide clean, secure and affordable LNG to integrated energy companies, utilities and energy trading companies around the world.

We are the largest producer of LNG in the United States and the second largest LNG producer globally, based on the total production capacity of our asset platforms of approximately 40 mtpa as of December 31, 2021, which increased to approximately 45 mtpa upon our ninth Train which achieved substantial completion on February 4, 2022. We are also the largest consumer of natural gas in the United States on a daily basis, at full utilization of the Trains in operation.
Since inception, LNG has soared by over 26,000 %.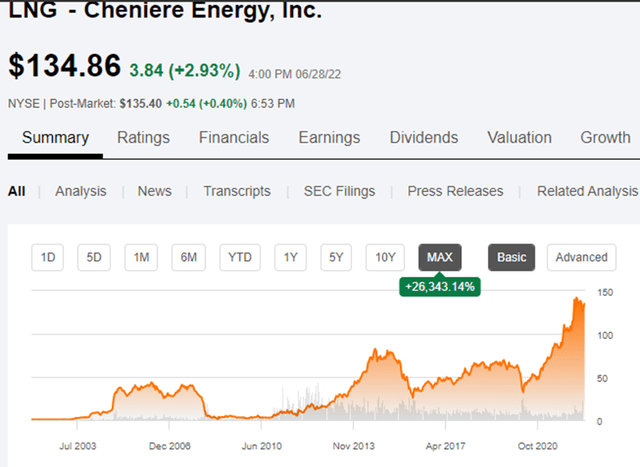 ONEOK, Inc. (Weight = 3.5%)
ONEOK, Inc. (OKE) is a leading midstream service provider and owner of one of the nation's premier natural gas liquids ("NGL") systems, connecting NGL supply in the Rocky Mountain, Mid-Continent and Permian regions with key market centers and an extensive network of natural gas gathering, processing, storage and transportation assets. ONEOK is a FORTUNE 500 company and is included in the S&P 500.
Magellan Midstream Partners, L.P (Weight = 3.5%)
Magellan Midstream Partners, L.P. (MMP) is a publicly traded partnership that primarily transports, stores and distributes petroleum products. We own the longest refined petroleum products pipeline system in the country, with access to nearly 50% of the nation's refining capacity and can store more than 100 million barrels of petroleum products such as gasoline, diesel fuel and crude oil.
ESG Investors
Against the need for the energy transition, Environmental, Social, and Governance ("ESG") concerns are guiding investment selection for a growing group of investors, and the oil industry has been targeted for divestment. For example, in 2019, the Nordic Government Pension Fund Global, one of the world's largest funds, was given the go ahead to divest in fossil fuels.
It is estimated that $40.43 trillion has been targeted for divestment across 1,508 institutions. Energy investments, such as KYN, involving fossil fuels will face headwinds.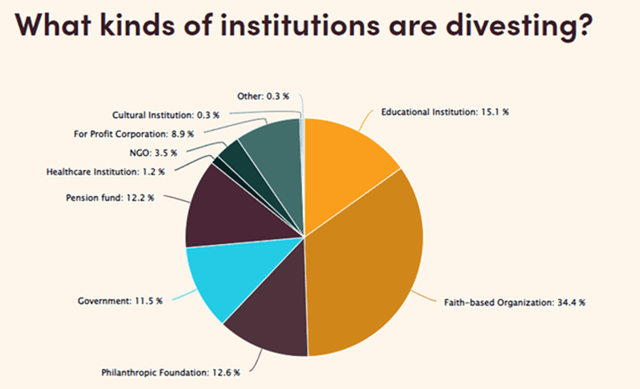 In addition to the Norwegian Sovereign Wealth Fund, a host of notable institutions have joined the divestiture movement, as shown below.

In light of investor sentiment and preferences, I think that allocating energy infrastructure investment tilted toward natural gas liquids and away from petroleum would produce the best returns.
As an example, I retrieved the 12-month returns for KYN and the Top 10 Holdings and list them below. Their weights totaled 66.9%, so I then proportioned them to total 100%, then calculated their weighted average returns. KYN's was -1.27% and the weighted returns of the Top 10 was 11.62%.
Conclusions
I ranked the 12-month returns as a test to determine whether my hypothesis that the best 5 performers 20% each and found that the averaged weighted return was 26.69%, far greater than KYN's return or the weighted return of the Top 10 Holdings.
| | | | | | | | | |
| --- | --- | --- | --- | --- | --- | --- | --- | --- |
| | | | | 12-Month | | | | |
| | KYN | Weight | Proportion | -1.27% | Wt Avg | Rank | New | Wt Avg |
| | | | | | | | | |
| 1 | MPLX | 10.80% | 16.14% | 2.22% | 0.36% | 6 | | |
| 2 | EPD | 10.30% | 15.40% | 4.28% | 0.66% | 5 | 20% | 0.86% |
| 3 | ET | 8.70% | 13.00% | -2.03% | -0.26% | 9 | | |
| 4 | TRGP | 7.80% | 11.66% | 38.86% | 4.53% | 2 | 20% | 7.77% |
| 5 | WMB | 7.50% | 11.21% | 20.12% | 2.26% | 3 | 20% | 4.02% |
| 6 | PAA | 5.60% | 8.37% | -9.35% | -0.78% | 10 | | |
| 7 | WES | 4.70% | 7.03% | 13.94% | 0.98% | 4 | 20% | 2.79% |
| 8 | LNG | 4.50% | 6.73% | 56.23% | 3.78% | 1 | 20% | 11.25% |
| 9 | OKE | 3.50% | 5.23% | 1.64% | 0.09% | 7 | | |
| 10 | MMP | 3.50% | 5.23% | 0.35% | 0.02% | 8 | | |
| | | 66.90% | 100.00% | | 11.62% | | | 26.69% |
In Part 2, I discuss the short- and longer-term market outlooks for natural gas liquids v, petroleum. I end with my conclusions, which support positioning in natural gas liquids infrastructure, as opposed to petroleum infrastructure.