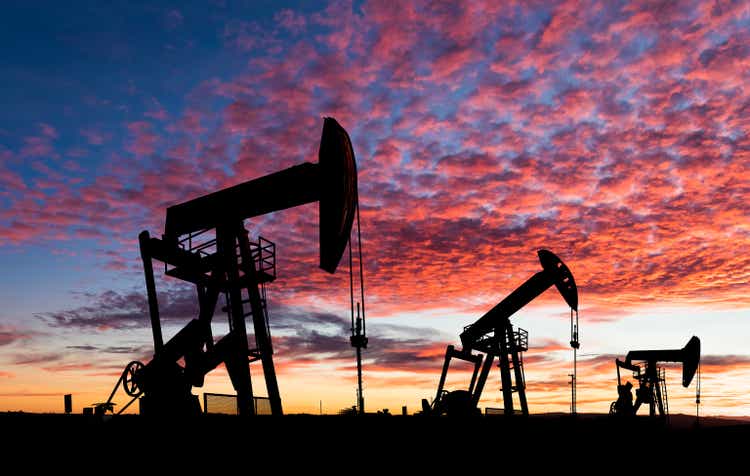 Sometimes you can be 100% correct on a hot take and analysis regarding recent news on a particular stock but wrong on the short-term price action at the same time. This appears to be the case with Devon Energy Corporation (NYSE:DVN), which we recently wrote favorably about and specifically highlighted their acquisition of RimRock's Williston Basin assets.
The acquisition was quite favorable for the company, and the numbers look even better because of Devon's decision to use cash to pay for the deal; because rates are so low on cash and cash equivalent holdings, almost anything with a decent return is accretive for companies these days. RBC weighed in on the acquisition earlier this week, highlighting many of the points we made, while updating investors on its rating and price targets. While RBC really likes the acquisition, their updated rating on Devon's stock is to a "Sector Perform" with a price target of $70/share.
So Are We Worried About This Pullback?
Simply put, no. We will admit our timing on entry was not ideal, and returns look horrible compared to the S&P 500, but the company is positioned as a solid long-term play and should benefit from the work management has been doing going back to 2019. And to be clear, we do view this as one position that could be held for some time.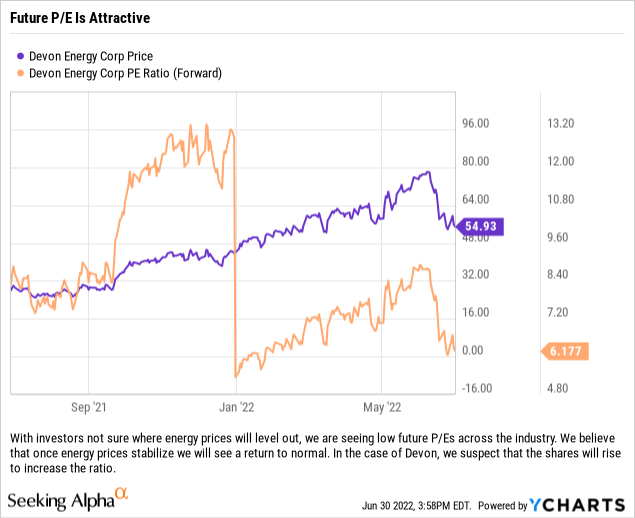 While a lot of the recent gains have been due to rising energy prices and Devon's dividend structure, which rewards investors in times such as these with the variable portion of the dividend policy, we think that the debt reduction and cost cuts implemented over the last few years have created a compelling argument that management has raised the floor for the next time that energy prices retreat.
The Dividend Policy Looks Sound
A lot of investors focus on the dividend policy of Devon Energy, and rightfully so. At the current dividend rate and at the stock's current price, Devon yields 9.07%. Having traded fixed income securities, we are not in the business of chasing yield but will gladly accept handsome yields when it makes sense and Devon's history of dividends and record of increasing dividends justifies this 9%+ yielding stock.
While the dividend policy is extremely leveraged to energy prices, and we are willing to accept the volatility associated with those moves, we think it is telling that the company's business was strong enough (and hedged correctly) to allow management to continue to raise the dividend during the pandemic. After the company had to do a reset lower in 2016 we have seen management steadily raise the dividend since 2018 even as energy prices briefly went negative in 2020. Below is the dividend history from Seeking Alpha:
Retiring Debt Is A Good Policy
Devon has just under $6.6 billion in debt outstanding, with a weighted average fixed coupon of 5.81% and weighted average years of 11.87 on those instruments. While this is pretty solid, undoubtedly due to Devon's solid balance sheet, we like management's focus on debt and believe that the company could, and most likely will, continue to free up cash from debt retirement. The DVN 8.25 08/01/2023 issuance would free up nearly $18.5 million annually if the company retired that debt, and retiring each of the issuances in 2024 and 2025 would free up just under $50 million total in interest expense.
Depending on how aggressive the company wanted to get in restructuring their maturity schedule, we do see a pathway to easily cutting $100 million+ from interest expense while cleaning up the balance sheet. Based on the company's Q1 2022 Earnings Presentation from May 2, 2022 it appears that the company may not be focused on being as aggressive as we are discussing, but they do mention the opportunity to retire $1 billion in debt by focusing on their lower coupon issuances.
The fact that the company can do all of this right now with their current FCF is what has us excited about the stock. The management team has the right idea, and they are making very prudent moves for investors right now. Are we at a top for the energy sector? Who knows, but it certainly does not feel that way because we are not seeing "stupid" M&A and many companies are keeping a very level-headed approach to managing their businesses, even with energy prices and earnings skyrocketing.
Outlook
Yes, the stock is down pretty sharply in a short amount of time but we think this might very well be a case of not worrying about where we currently are, but where we are going. With the company now generating significant free cash flow from operations, they can focus on overhauling the balance sheet and returning cash to shareholders - with the added bonus of both events (assuming the company continues with share buybacks) helping to lower cash outflows and freeing that cash up to increase the dividend, buy back more shares or retire more debt. Devon has a lot of levers that it can pull right now and we think that this pullback is a buying opportunity.
While we utilize our own spreadsheets and research, we were surprised to see Seeking Alpha's Quant Ratings and Factor Grades also indicating a bullish story:

Tomorrow's Trade Today
With the current pullback, and a bunch of dividends having hit our account recently, we are looking to deploy some capital but we want to do it in a prudent way. Buying stocks outright in a bear market does not get us really excited, but we do want to add exposure to the energy sector as we believe earnings should remain strong so long as the U.S. and EU continue to shun Russian oil, and look for ways to cut back on Russian natural gas.
Since Devon already went ex-dividend on 6/10 and paid it today, we want to utilize puts to add exposure, especially with shares trading so close to the $55/share level. That is a really nice strike level, as $5 and $10 increments on the option chains usually attract the most interest, and we also like the entry point here. So tomorrow we want to sell puts at the $55/share strike price utilizing the Devon Energy July 8, 2022 Put Contracts. Assuming the stock opens flat tomorrow or close to its closing price of $55.11/share, we will look to pocket around $1.90/share, or $190 per contract, in options premiums.
For the week, that will generate an option premium yielding 3.45% and should we have the shares put to us, we would turn around and begin selling OTM, or out-of-the-money, calls to generate additional yield; pausing only around ex-dividend dates so as not to have our shares called away.