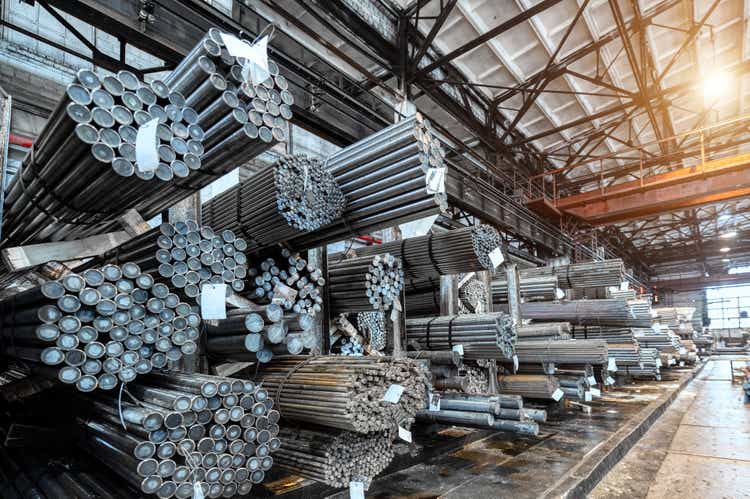 A Cyclical Scrap Recycler
Schnitzer Steel Industries (NASDAQ:SCHN) is a cyclical, but diversified and well positioned, take on metals recycling. The company has a range of recycling facilities across the US and exports the feedstock of various metals around the world. Recycling metals is a great way to reduce mining demand and create a circular economy, not to mention reducing emissions at the same time. In fact, electric arc furnaces (EAFs) are used by SCHN as a way to drive 100% renewable operations and are a good case study for the entire industry.
As the world moves production and purchasing away from legacy furnaces to EAF, Schnitzer should be able to capitalize through production investments and organic growth. The current balance sheet is healthy enough to support the company through tough comparables over the coming down cycle. However, watch for the share price to remain volatile as sentiment follows the waves. While not the best investment for passive investors, those who want to support the recycling tech can look forward to the positive industry outlook. Recycling Today puts it like this:
Looking forward over the next decade, EAF steelmaking production will be a big winner in the race to produce "green," "carbon neutral" steel. European steel producers have worked diligently over the past two decades to reduce the carbon footprint of the steel produced through traditional integrated steelmaking, having accomplished the lowest levels possible from a scientific perspective. The only path available to them to further reduce their carbon emissions is to shift to EAF production using alternative metallics, diverting large capital investments that would have been used to sustain their blast furnace/basic oxygen furnace (BF/BOF) production with EAFs.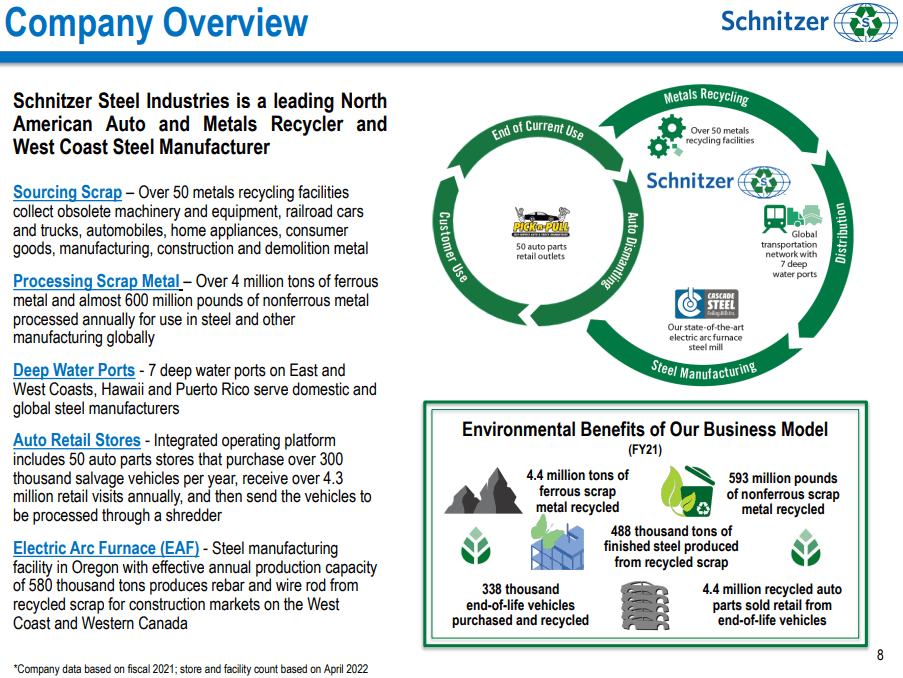 Prices
The major issue at the moment is the downward potential of metal feedstock prices. While a peak was reached for most metals in the first half of 2022, signs of weakness are emerging. Thankfully, Schnitzer was able to capitalize on demand the last quarter and reported an incredible $1.0 billion in revenues for the quarter. This is a beat by over $100 million over expectations, and favorable profit margins also brought in record income. When looking at the charts below, from April, it may seem like prices are on a linear upward trend, but the short horizon only includes from after the pandemic began.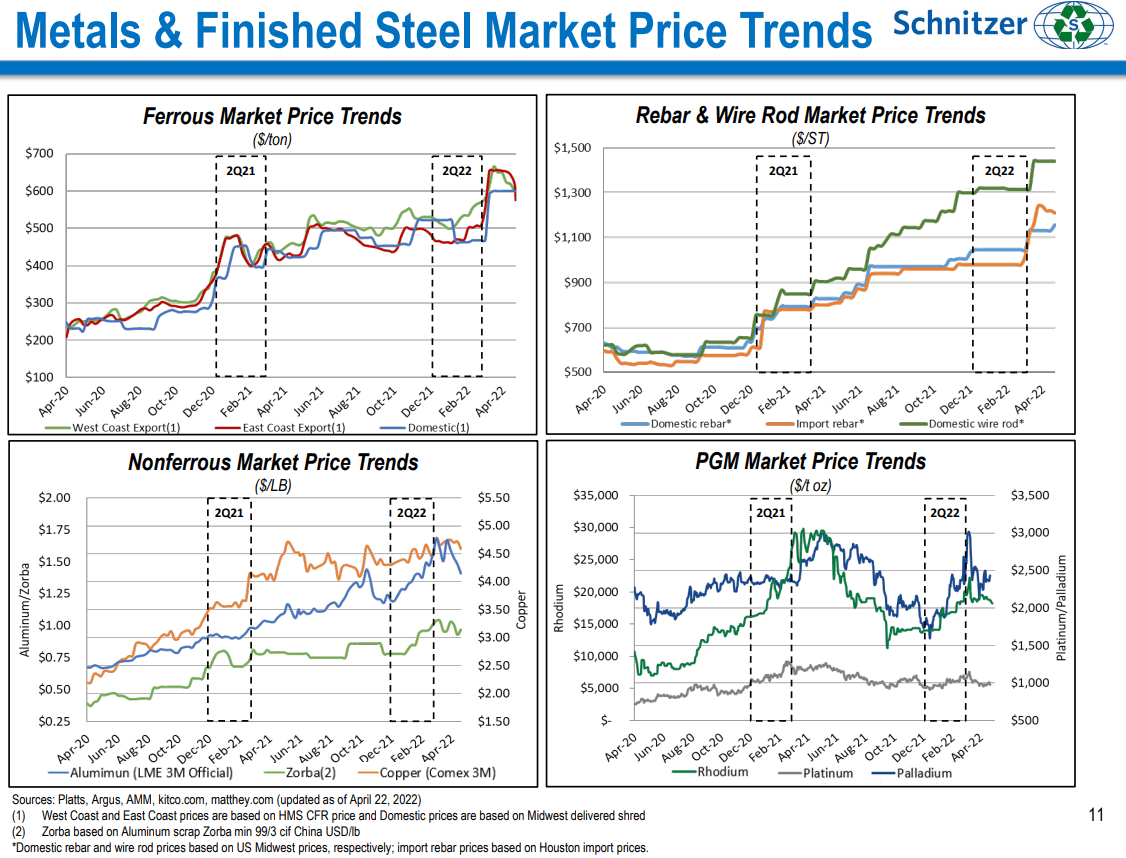 The following chart, from the June earnings report, shows a swift decline in prices over the past few weeks. This is one reason for the downward share price, as investors feel the cycle is over. Further, the longer price view allows us to see the bull market in fact began during the pandemic and may signal the downtrend may last a few years. This is the problem with cyclicals, such as Schnitzer, who have to contend with macroeconomic factors, rather than their own successes. I believe investors should remain wary of the potential for an extended price downturn that will cause revenues to fall again. Thankfully, there are secular benefits underneath that signal the potential for a renewed bull market in time.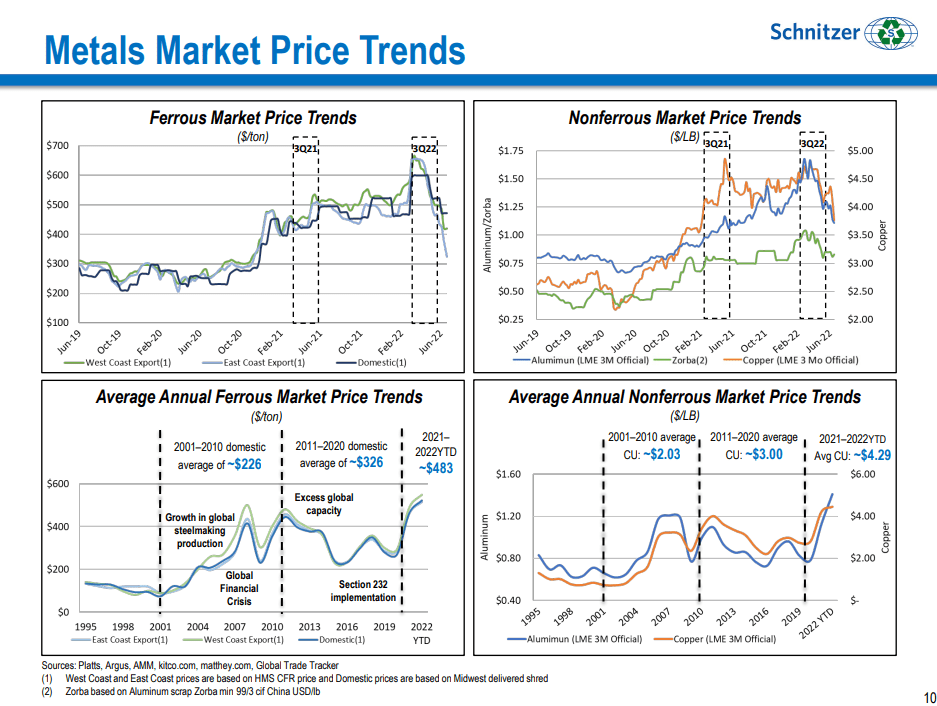 Demand
The first major catalyst is the rise in demand for EAF recycled steel. While no data directly assumes increased demand for Schnitzer products in particular, rising EAF production as a proportion of total industry share is a favorable sign. This is because EAF can utilize scrap metals, SCHN's main products. Also, when considering that global steel production and use is rising yearly with economic growth, there is a lasting market opportunity to take advantage of. With China and the EU investing heavily in EAF to increase their production levels, SCHN may be a recipient of investment over the coming years. Although, this also may signal a rise in competition and profitability may become an issue in time. However, demand seems to be outpacing competitive risks.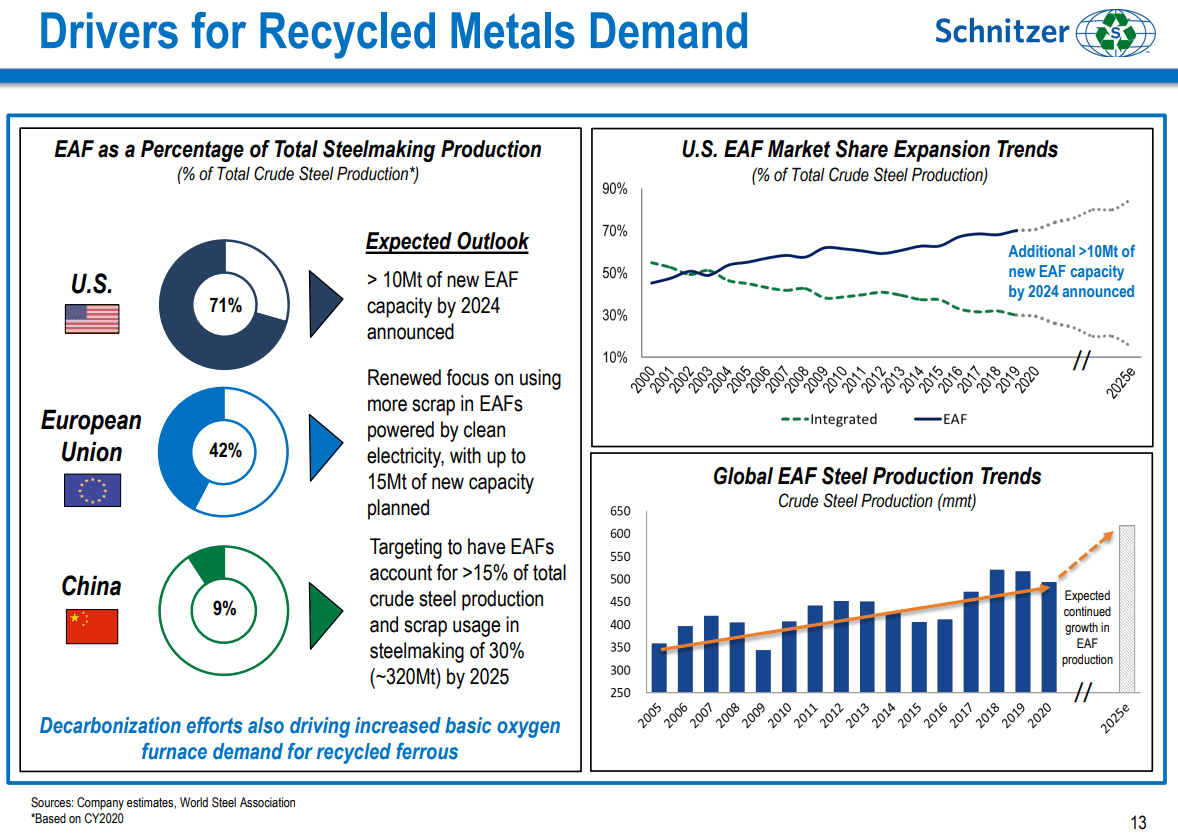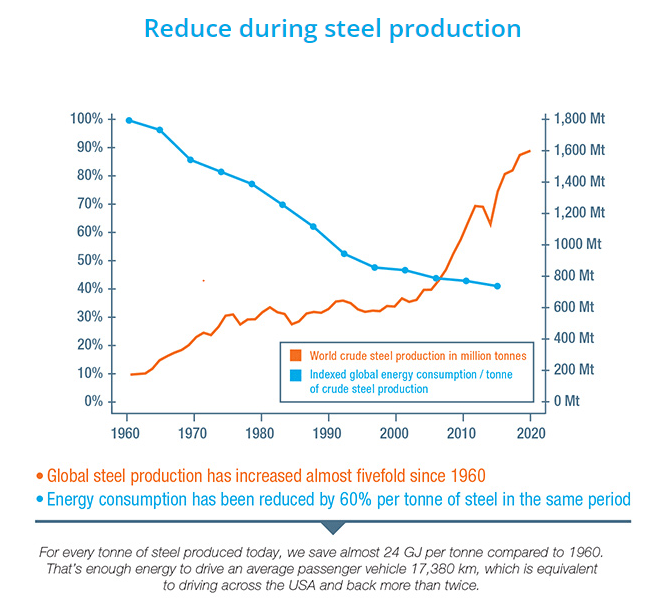 Also, the rise of circular commodity markets, and preference by market participants, is another driver of SCHN's products and services. While this goes hand in hand with generalized demand, growth through increasingly complex and metal intensive products may drive production growth higher than anticipated. Regulations and hot-topic ESG metrics are driving customers towards low-carbon operations, and purchasing recycled materials rather than raw materials is one way to do so. As Schnitzer has significant logistics and export capabilities, the company will be a likely beneficiary of foreign nations' increasingly low-carbon operations in the future. It will, however, cause some reliance on public support for low-carbon initiatives, and that ideology is under fire at the moment as energy prices increase.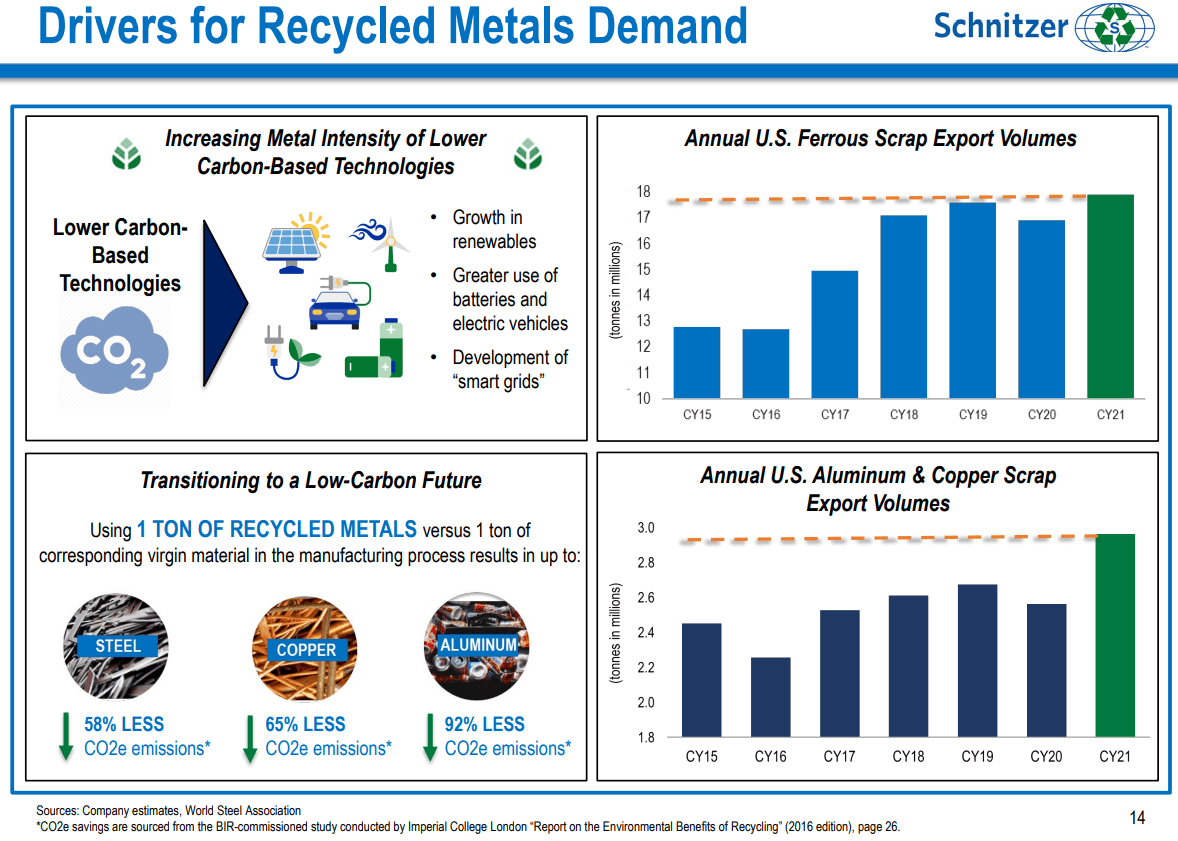 Cyclical Revenue Pattern
As you can see in the chart below, revenues have been extremely cyclical since the 2000s. While periods of production growth have the opportunity to allow revenues to break out from tracking commodity prices, there is some time for this to apply again for SCHN. Although, four operational facilities are set to be constructed or see increases in production, and this helps offset the coming declines in pricing. Recent acquisitions may also provide hidden synergies that go unaccounted for. I may sound repetitive and contradictory, but many of these factors are unknown, in terms of performance effects, and it is important to remain on your toes.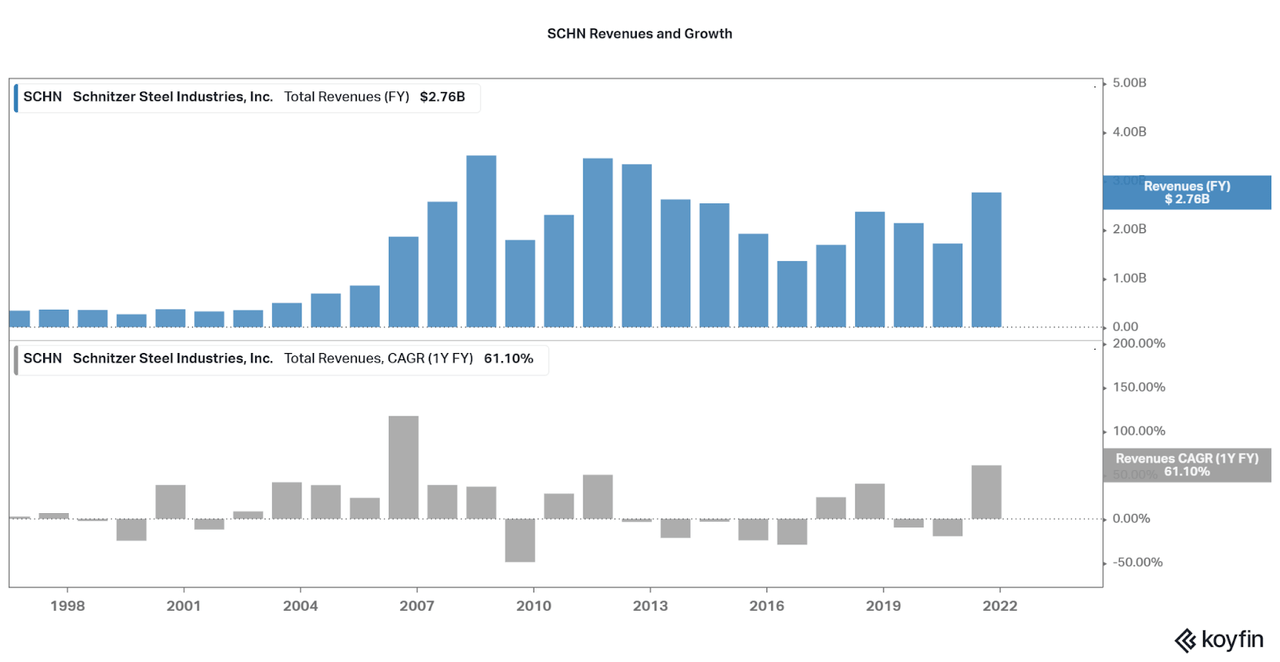 Sufficient Balance Sheet
Regardless of outcome, investors can look to the healthy balance sheet for support. Leverage is present, but is constantly left in a manageable position. Currently, debt is at a low level compared to the past few years. Minor amounts of dilution can be attributed to share-based compensation, but dilution is not at an impactful level. With a pattern of positive free cash flow, Schnitzer is managed in a conservative way and this reduces risk for shareholders through market volatility. However, as I show with the valuation and share price data next, volatility is the name of the game. I believe momentum trading would serve investors better than other non-volatile names who offer more safety.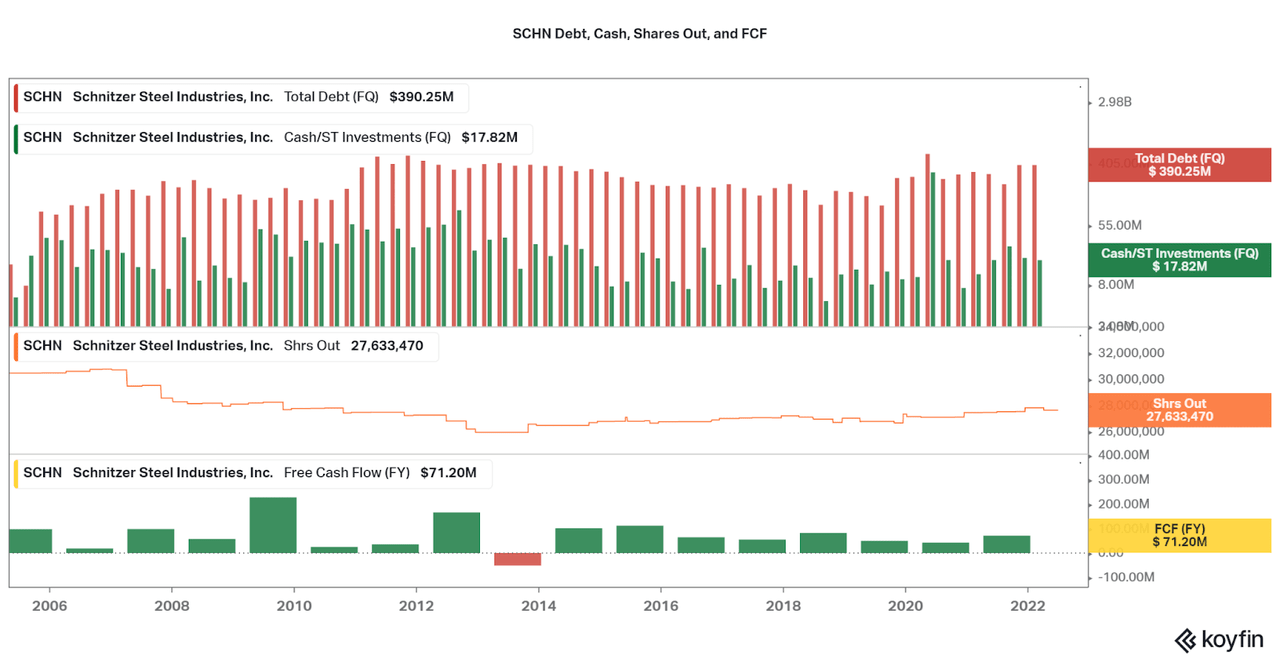 Volatile Share Price
As a result of cyclicality, returns over time are incredibly varied. From 2005 to 2008 the share price rose almost 400%, but then fell by 75% in just a few months. Even the last five years have seen the price fall between 30 and 70% from highs on two occasions, including the current downward trend. Interestingly, the P/S is a fairly accurate indicator of a bottom, but long periods of underperformance make the case weak. As shown in the price chart below, the best buying opportunities are when the P/S is below 0.3x. However, remember that the P/S ratio is revenue dependent and as revenues fall, the P/S is pushed upward while the share price falls. This is why it is important to wait to add until the P/S is in an uptrend, rather than during a downtrend. Look at the period between 2012 and 2016 as an example. This means I would recommend waiting a few quarters before considering adding shares, even as the P/S lowers.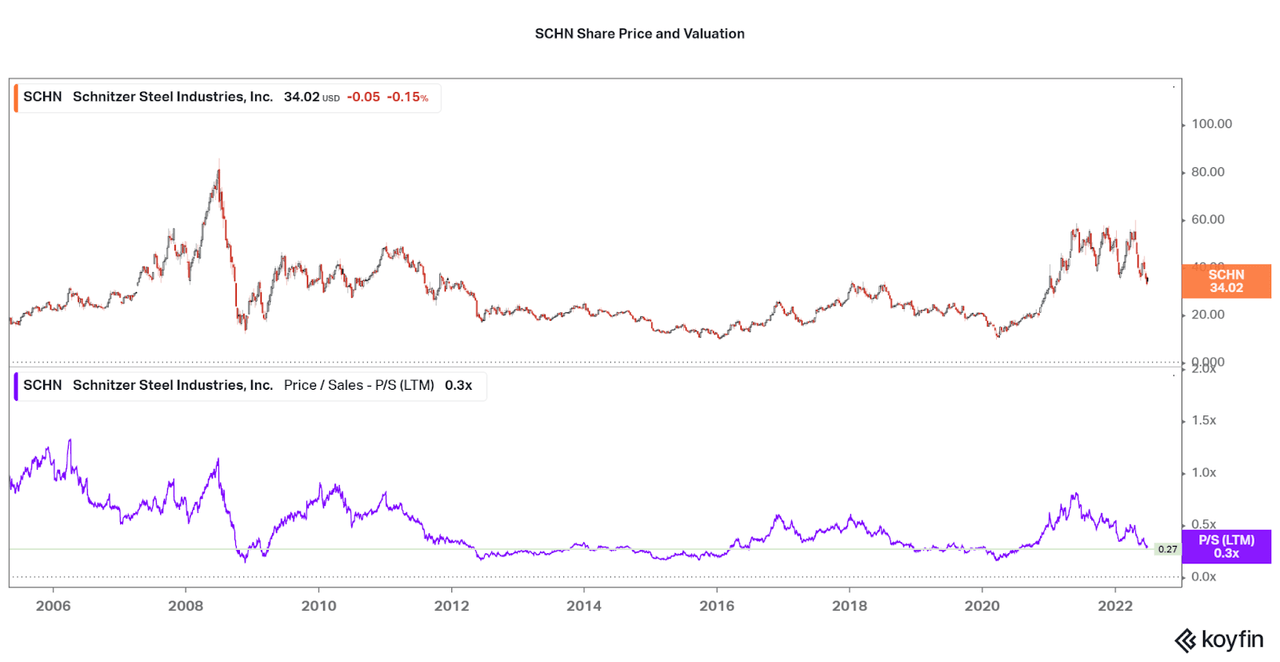 Conclusion
Schnitzer Steel certainly plays an important role in a sustainable future, but currently offers a poor investment thesis as the cycle ends. However, I remain positive on the future of the company and recommend following as the narrative plays out. Perhaps I have piqued your interest in trying to invest in the next bull cycle. While I believe there is still a chance of downside for current investors, SCHN is not inherently a sell if you plan on accumulating during the era of low prices. I will be neutral for the moment and will provide an update as the need arises.
Thanks for reading. Feel free to comment below.