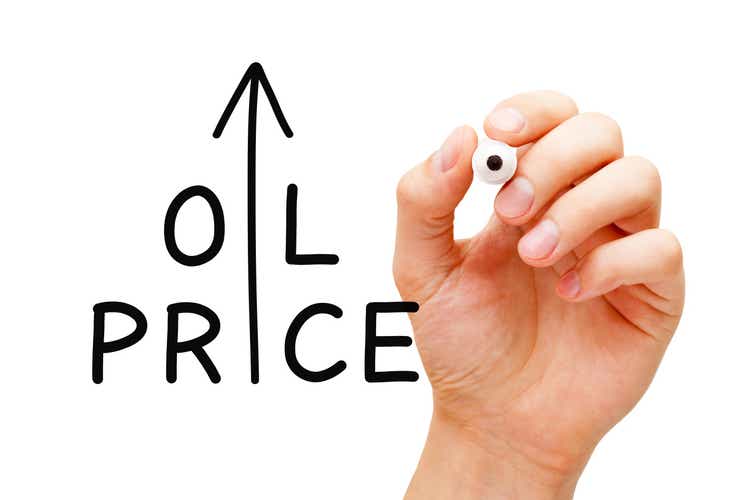 Matador Resources Company (NYSE:MTDR) announced a significant improvement in the expected free cash flow for 2022. The recent increase in the oil price and an eventual increase in the production in the Delaware basin are the main drivers of the beneficial performance. I also found out that economies of scale and further capital efficiency could play a major role in enhancing MTDR's free cash flow. There are also risks from regulation affecting horizontal wells and delays in the development of reserves. However, the stock valuation appears cheap.
Matador Resources
Matador Resources engages in the exploration, development, and production of oil and gas resources in the United States. Among different assets in Southeast New Mexico, West Texas, and Louisiana, the most remarkable are the reserves in the Delaware Basin.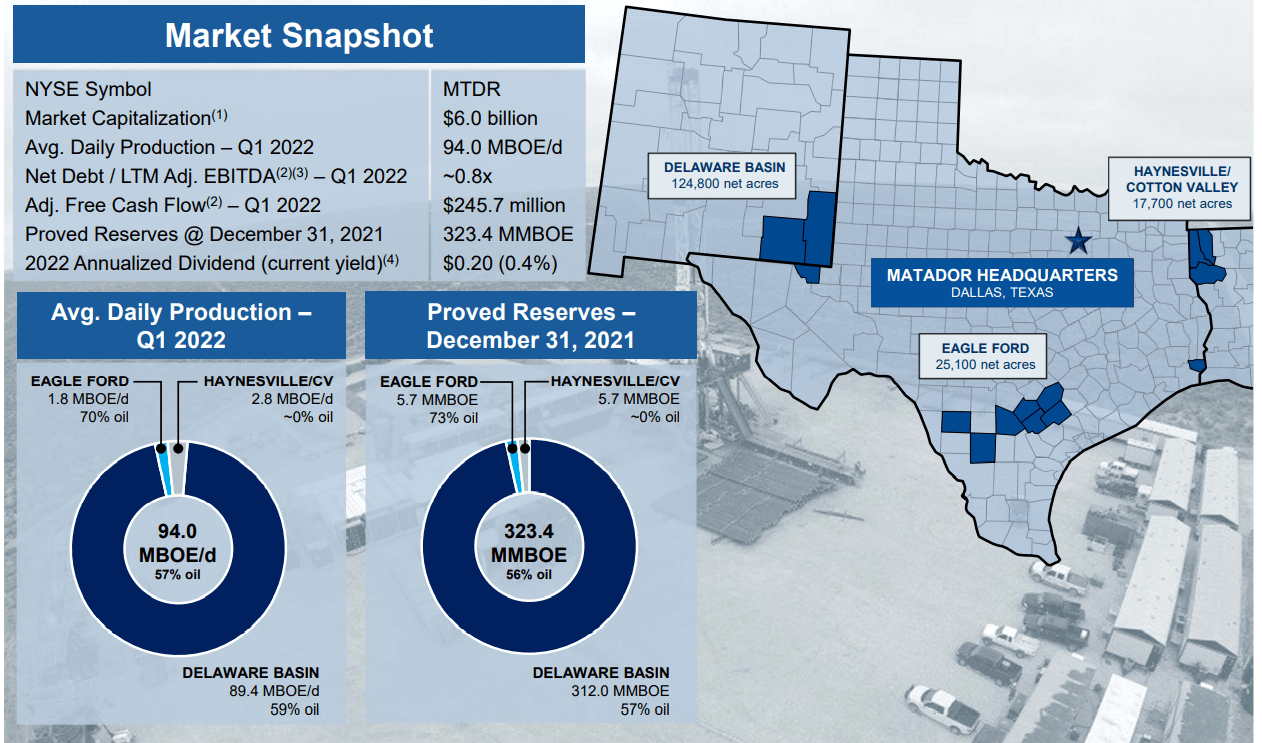 I believe that Matador is about to become quite a valuable stock play because management announced a 21% increase in oil production in 2022. Considering the most recent increase in the oil price, Matador will likely deliver significant revenue growth in 2022, which may lead to significant stock appreciation.

With regard to Matador's profitability, in my view, future free cash flow could exceed the expectations of management. The company announced a guidance of $1 billion free cash flow. However, considering the recent increase in the oil price, 2022 guidance could be even larger than $1 billion. Analysts out there believe that FCF could stay at around $1.3 billion.

Matador Resources Is Reducing Its Leverage Significantly
As of March 31, 2022, Matador Resources reported $63 million in cash and an asset/liability ratio of more than 2x. In my view, we could expect significant future oil production because Matador reports close to $4 billion in oil and gas evaluated, unproved, and midstream properties.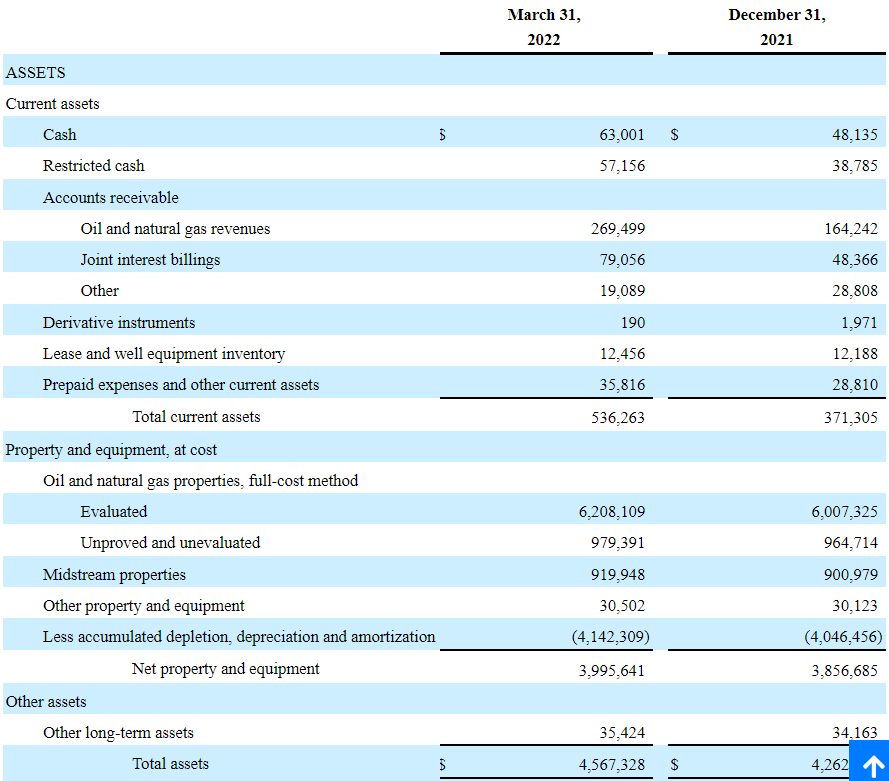 Matador Resources reports senior unsecured notes payable worth $1 billion and long-term borrowings worth $455 million.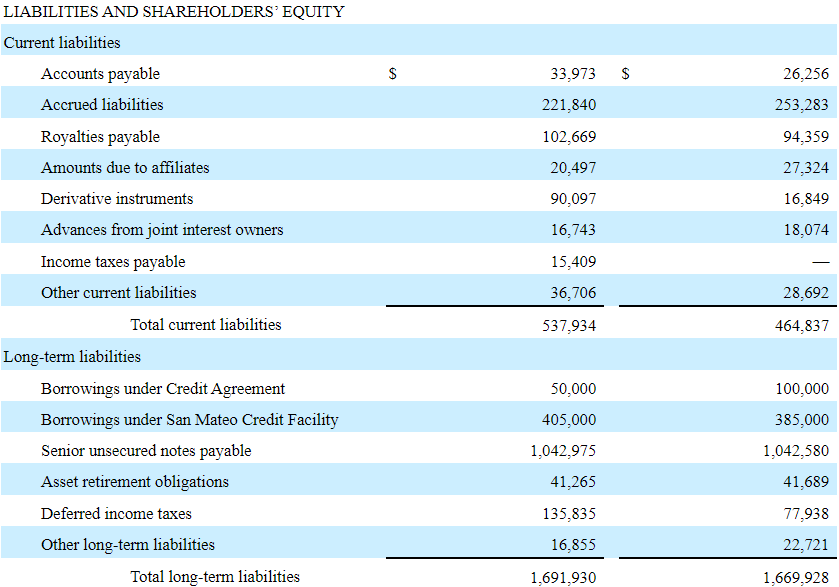 In my opinion, the amount of debt outstanding is not small. However, it is quite beneficial that management is reducing its debts. Since Q3 2020, the leverage ratio declined from 2.8x to around 0.8x. The company recently noted that its free cash flow could exceed $1 billion in 2022. It means that in less than two years, Matador could pay all its debts.
With Further Improvement In Capital Efficiency And Economies Of Scale Generated In The Delaware Basin, The Stock Price Could Be Worth $92
In my view, Matador Resources may benefit from further economies of scale if management further concentrates on the development of Delaware Basin wells. Besides, further investment in technology in that specific area will likely enhance future production and free cash flow generation. Matador referred to these strategies in the most recent annual report.
We concentrate on our core areas, which allows us to achieve economies of scale and reduce operating costs. Largely as a result of these factors, we believe that we have increased our technical knowledge of drilling, completing and producing Delaware Basin wells. We expect the Delaware Basin will continue to be our primary area of focus in 2022. Source: 10-K
In my view, recent key operational milestones will likely accelerate production in the Delaware area. Let's note that the company is now drilling longer laterals, and further improvement in capital efficiency will most likely enhance the free cash flow margin:
Transition to drilling longer laterals, whereby 98% of the operated horizontal wells turned to sales in 2021 had lateral lengths of two miles or greater, as compared to 74% in 2020.
The continuing improvement in capital efficiency as demonstrated by our average drilling and completion costs for all operated horizontal wells turned to sales of approximately $670 per lateral foot in 2021, a decrease of 21% as compared to $850 per lateral foot in 2020. Source: 10-K
The Business Research Company noted in a recent report that the global oil and gas market is expected to grow at a compound annual growth rate of 11.8%. In my view, under normal circumstances, Matador's revenue growth will likely be close to the growth of the market:
The global oil and gas market is expected to grow from $6,098.98 billion in 2021 to $6,819.04 billion in 2022 at a compound annual growth rate of 11.8%. The market is expected to reach $10,376.28 billion in 2026 at a CAGR of 11.1%. Source: Worldwide Oil and Gas Industry to 2031
Considering the guidance given by other analysts, I included sales of $2.89 billion in 2022, $2.7 billion in 2023, and $4 billion in 2027. Most analysts also believe that the EBITDA margin will exceed 70% from 2022, however I tried to be a bit more conservative. I used an EBITDA margin of 68% from 2024 to 2027. The results include 2027 NOPAT of $1.7 billion, capital expenditures around $930 million, and 2027 free cash flow of $1.2 billion.

Like other investment analysts, I felt comfortable with a discount of 7%, and included a conservative exit multiple of 4x EBITDA.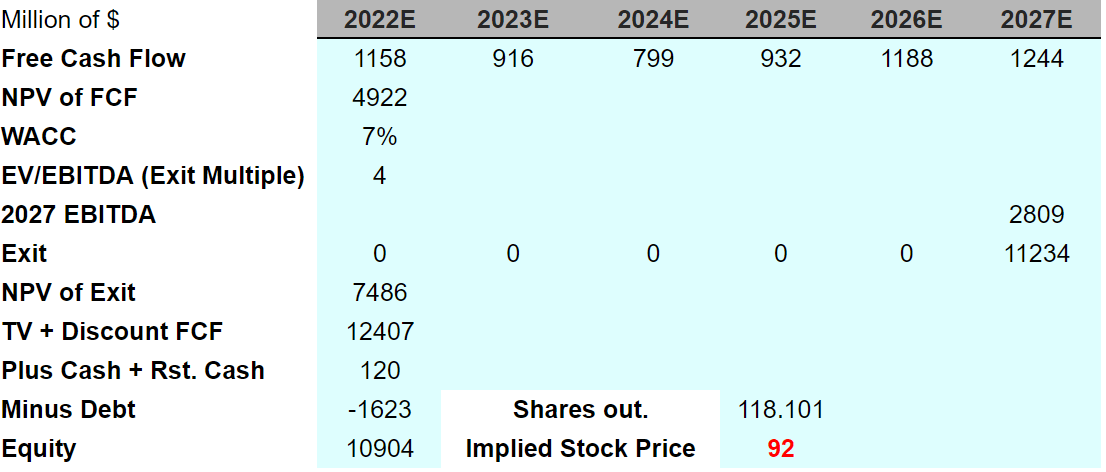 Development Delays, Lack Of Financing, And Regulation Are The Largest Risks
Matador Resources requires a significant amount of cash to finance its activities. The San Mateo Credit Facility and other borrowings signed by management may not be sufficient to finance future capital expenditures. Besides, production engineers may underestimate the amount of money necessary for development and production of reserves. If Matador increases its capital expenditures, or pays too much to lenders, the free cash flow will likely decline. As a result, I expect a decline in Matador's stock valuation.
Our exploration, development, exploitation and midstream activities are capital intensive. Our cash, operating cash flows, contributions from our joint venture partners and potential future borrowings, under our Credit Agreement, the San Mateo Credit Facility or otherwise, may not be sufficient to fund all of our future acquisitions or future capital expenditures. The rate of our future growth is dependent, at least in part, on our ability to access capital at rates and on terms we determine to be acceptable. Source: 10-K
Matador Resources reports that 40% of its proved reserves are undeveloped. According to the SEC, proved undeveloped reserves are only included in the accounting if they can be drilled within five years after the date of booking. If Matador suffers production delays, the net present value of future production would decline substantially. If equity researchers do notice, I believe that the decline in the stock valuation could be substantial:
At December 31, 2021, approximately 40% of our total proved reserves were undeveloped and approximately 4% of our total proved reserves were developed non-producing. Our undeveloped and/or developed non-producing reserves may never be developed or produced, or such reserves may not be developed or produced within the time periods we have projected or at the costs we have estimated. SEC rules require that, subject to limited exceptions, proved undeveloped reserves may only be booked if they are related to wells scheduled to be drilled within five years after the date of booking. Delays in the development of our reserves or increases in costs to drill and develop such reserves would reduce the present value of our estimated proved undeveloped reserves and future net revenues estimated for such reserves, resulting in some projects becoming uneconomical and reducing our total proved reserves. Source: 10-K
State agencies could deny certain projects, in which long horizontal lateral wells are necessary. As a result, Matador Resources could suffer significant damage in its financial figures. Delays due to regulatory processes may also impact future production, and diminish revenue growth.
We are active in drilling and producing both allocation wells in Texas and pooled spacing unit wells in New Mexico. If there are regulatory changes with regard to such wells, the applicable state agency denies or significantly delays the permitting of such wells, legislation is enacted that negatively impacts the current process under which such wells are permitted or litigation challenges the regulatory schemes pursuant to which such wells are permitted, it could have an adverse impact on our ability to drill long horizontal lateral wells on some of our leases, which in turn could have a material adverse impact on our anticipated future production. Source: 10-K
In this case scenario, I assumed significant sales growth in 2022, but also a decline in revenue around 2024. My EBITDA margin estimates are also significantly lower than that in the previous case scenario. The operating margin would stay close to 20%-35%.

My results include a significant decline in free cash flow, from $1.1 billion in 2022 to $611 million in 2027. Together with a discount of 10% and an EV/EBITDA of 3.95x, I obtained an implied equity close to $4.5 billion. The fair price would be close to $40.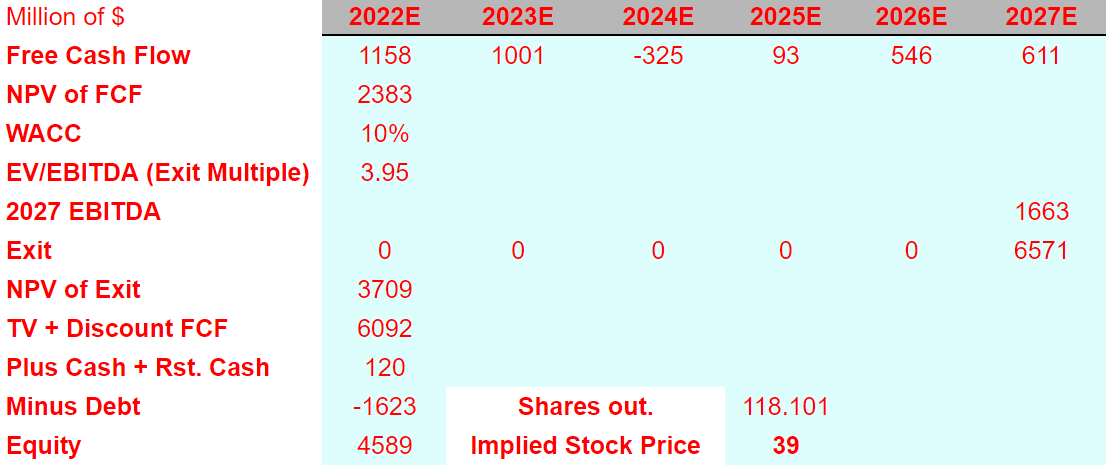 My Takeaway
Considering the increase in guidance for the year 2022 and the increase in the oil price, Matador Resources' stock price will most likely trend higher. Besides, in my view, further increase in capital efficiency and economies of scale generated in the Delaware basin could bring the free cash flow further up. Even considering further regulation affecting horizontal wells and certain delays in the development of reserves, I believe that the stock is undervalued.