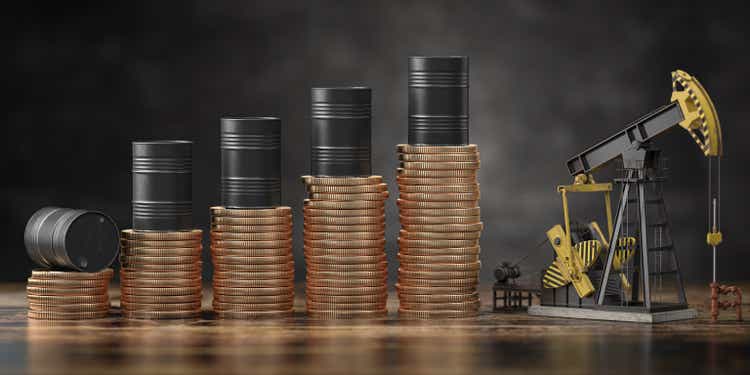 Introduction
Oil and gas research has become the cornerstone of my daily job as I'm on top of the energy crisis in Europe and directly involved via my own investments in the industry. Fossil fuels have become more than just one of many macro themes worth keeping an eye on to the single biggest risk to global wealth since the oil crisis in the 1970s. It's both a geopolitical weapon used by the Russians to pressure Europe and a project based on the vision of liberal politicians pushing for renewables. In this article, I will explain why this title isn't political clickbait and why I have added to Marathon Oil (NYSE:MRO), one of my all-time favorite dividend stocks. It has everything to do with the long-term supply-driven oil bull case and Marathon's ability to boost shareholder returns.
So, bear with me!
The New Liberal Order & The Price Of Oil
If there's one thing I believe is extremely important, it's keeping (biased) politics out of research and my articles. After all, I'm not here to sell you anything.
However, it's impossible to keep doing this. After all, oil has become a geopolitical issue instead of just one of many macro forces as I briefly mentioned in the introduction above.
For what it's worth, I'm politically independent. Both sides of the aisle (to use the American political term) annoy me.
With that said, the other day, I was hit by the following headline:
The New York Post - among many others - reported that National Economic Council director Brian Deese (Biden's personal advisor) had a somewhat unexpected answer to the following question asked by CNN:
"What do you say to those families who say, 'Listen, we can't afford to pay $4.85 a gallon for months, if not years. This is just not sustainable'?"
He answered:
"What you heard from the president today was a clear articulation of the stakes," Deese answered. "This is about the future of the liberal world order and we have to stand firm."
This is not only interesting because it's stuff you usually read on conspiracy theory websites, but it perfectly confirms what we're currently dealing with on a global basis: the refusal to boost fossil fuel production for the sake of the environment.
Don't get me wrong, I'm all for renewables. What bothers me is that governments are pushing too hard. The transition has become a total and utter mess causing energy shortages when it matters most.
Bear in mind that fossil fuels still account for 79% of total energy consumption in the US. It's even higher in emerging markets. Inflation in fossil fuels works its way through the "system", as we all experience right now.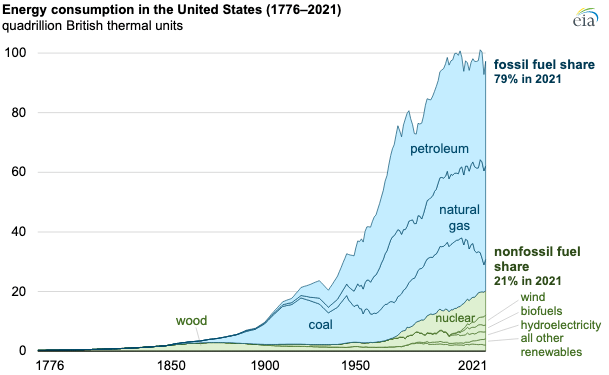 I could give you many examples. One is Biden's efforts to block new drilling permits as reported by the Wall Street Journal.
According to the paper:
Under even the quickest scenarios, that might not lead to new oil-and-gas leasing until 2024 or 2025 and new development potentially years after that. That delay frustrates some in the industry while environmentalists say it also undermines arguments from Mr. Manchin and other industry advocates that the plan is helpful to address rising prices.
In my recent article covering Exxon Mobil (XOM), I also worked on these issues. I used the following graph to visualize the problem:
Global oil capital spending is well below where it needs to be to service expected demand in 2030. The last time capital was at sufficient levels was in 2015, a year before the price of oil bottomed.
The unwillingness to boost production is caused by risk management and the inability to hike output because of laws and regulations (not just in the US). Oil companies know that oil can fall again in the future. It fell hard in 2015 and 2020 because supply had increased so much. If oil falls again, a lot of companies are unsure if they will be able to get access to capital. After all, when oil prices are low, people think we can live without oil. When oil is high, oil companies are blamed for being greedy.
Both large and small players (with exceptions) prefer to focus on free cash flow instead of production growth. It helps to reduce debt, distribute cash to shareholders, and build a financial wall against future problems.
It's an incredibly tricky situation that is currently causing energy problems. High energy supply growth in the US has completely faded.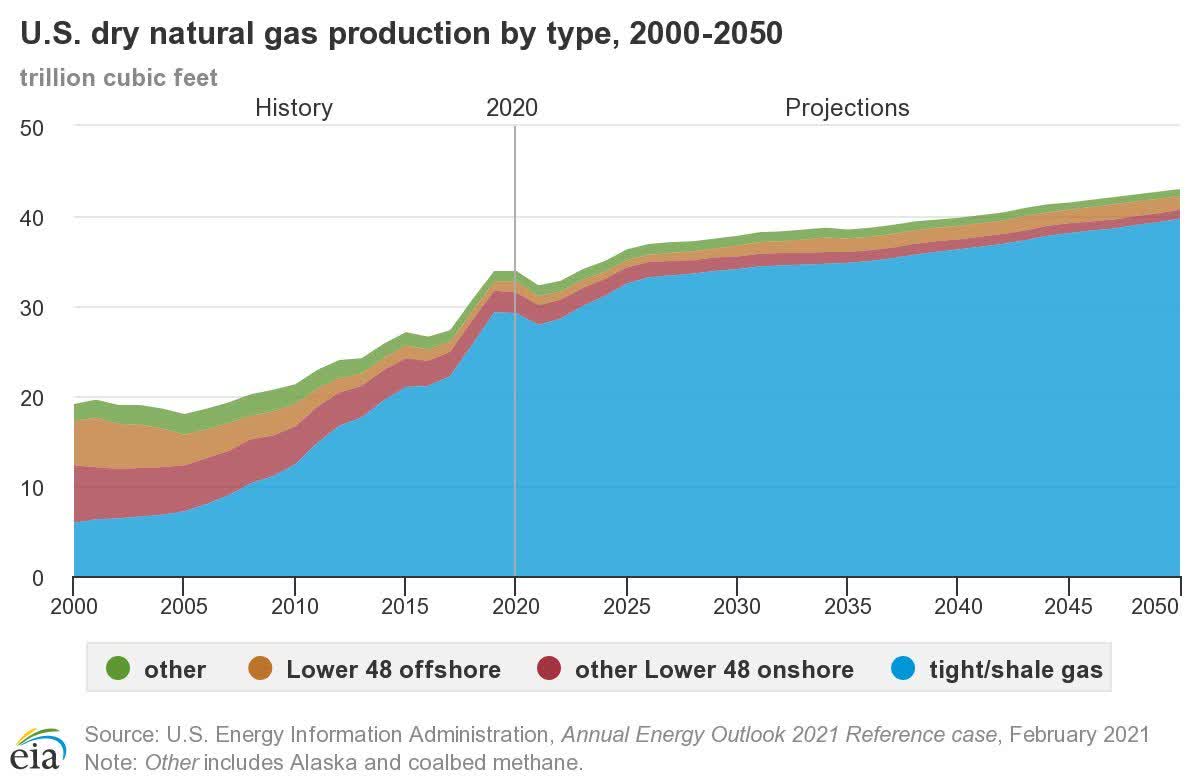 As far as I'm concerned, there are two ways to get us out of this mess.
Governments need to drop strict environmental regulations and related measures to support the oil and gas industry.
Inflation, rising rates, ongoing supply chain issues, and related problems cause a recession that crushes demand, lowering oil prices.
Option 1 isn't very likely for the one big reason I mentioned at the start of this article. The leaders in charge aren't willing to change anything as it's not part of their worldview (what they call the new liberal world order). Option 2 is the biggest risk.
Hence, I like to focus on oil companies that come with a healthy balance sheet, high free cash flow, and a willingness to return cash to shareholders.
That's where Marathon Oil comes in.
Why I Like Marathon Oil
The last time I covered Marathon Oil was on October 3, 2021. Since then, a lot has happened. The company is now trading above $22 per share, giving the company a $16.0 billion market cap.
The company produces in Permian, Eagle Ford, SCOOP/STACK, and Bakken Basins, as well as in Equatorial Guinea. In 2022, the company aims to produce 340 to 350 thousand barrels of oil equivalent per day. Oil production is expected to be between 168 and 176 thousand barrels per day.
This year, the company has hedged 90 thousand barrels of oil per day. So far, no exposure beyond 2022 has been hedged, which is a big benefit if oil prices remain high. And even if oil drops, the company has a low breakeven price as I'm discussing in this article.
With oil trading above $100 - both WTI and Brent - we are now far above the threshold where Marathon Oil starts to return money to investors more aggressively. According to the company, $60 per barrel WTI is a point where it wants to return at least 40% of cash from operations annually.
Moreover, Marathon Oil is free cash flow breakeven (meaning production costs are covered) at $35 WTI, that's truly impressive as it tells us two things:
Investors are protected against declining oil prices. I don't expect oil to fall below $40 unless something truly terrible happens. The shift in supply has limited the downside (somewhat).
High oil prices result in a flood of cash.
A company that is breakeven at $35 WTI makes a ton of money when oil is above $100.
Current analyst estimates see free cash flow reaching $4.3 billion this year. That's 27% of the market cap. It's one of the highest implied free cash flow yields I've seen this year. It means there is plenty of cash to return to shareholders on top of lowering debt.
Between 1Q21 and 3Q21, the company reduced gross debt by $1.4 billion. Net debt is set to fall to roughly 0.3x EBITDA this year. It's likely that even oil at $50 could end up pushing the net leverage ratio down to 0.5x EBITDA.
Between 3Q21 and the end of 1Q22, the company bought back more than 11% of its own shares. It also helps that the company has no material debt maturities in 2022, which means more money for shareholders.
In 2022, the company aims to return between 40% and 70% of cash from operations using $100 WTI and $6/MMBtu for natural gas as the foundation for its expected income.
If $100 oil and $6 natural gas are sustainable, the company can achieve more than $4.5 billion in free cash flow. This implies a 28% free cash flow yield.
$120 oil and $8 gas imply a 33% free cash flow yield, allowing the company to return almost $6.0 billion in cash.
With that said, the company's dividend is dwarfed by buybacks. While the dividend has been hiked by 167% since early 2021, the dividend is still relatively low. As of April 28, the company is paying a $0.08 quarterly dividend per share. That's $0.32 per year, and 1.4% of the stock price.
MRO Stock Valuation
Marathon Oil - like almost all quality peers - is trading at subdued prices versus the S&P 500. The ratio between MRO shares and the S&P 500 (excluding dividends) is at prior-peak levels but nowhere where it was before the commodity peak of 2011. I believe that outperformance will continue on a longer-term basis as the oil bull case seems to last (because of the supply issue we didn't have in prior cycles).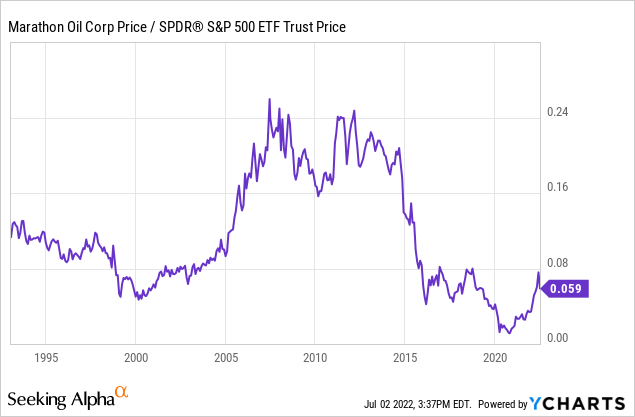 With regard to the valuation, we're dealing with a "cheap" company. Even after the outperformance so far this year.
The company is trading at 3.2x expected 2023 EBITDA ($5.2 billion) using the $16.0 billion market cap, $630 million in expected net debt, and $130 million in current pension-related liabilities.
Using the company's EV/EBITDA history (next twelve months EBITDA) and the oil industry in general, I would make the case that anything below 4.0x is "really cheap".
In other words and conservatively speaking, I think that MRO has at least 25% upside on a 1-6 months basis.
Beyond that, and on a long-term basis, I'm close to saying "the sky is the limit".
Takeaway
The oil and gas bull case is roaring. Supply has become a major issue as liberal politicians are eagerly pushing for renewables, neglecting much-needed investments and support for the single biggest source of energy on the planet: fossil fuels.
We're at a point where politicians and advisors in top positions are saying that it's part of the plan.
I decide to believe them and added to my energy positions.
Marathon Oil is a fantastic energy company for a number of reasons. The company operates in low-cost Basins, its hedges are limited, breakeven prices are low, and free cash flow expectations are almost off the charts.
Marathon is not only likely to outperform thanks to the general bull case in energy, but also because its free cash flow is going towards buybacks (and dividends). Buyback volumes are high as the implied free cash flow yield is approaching 30% if oil crosses $110 again.
Moreover, the company is trading at a very attractive valuation, which helps the risk/reward.
However, despite everything that has been said so far, please be aware that energy companies are volatile. Keep this in mind before buying any company in the industry.
(Dis)agree? Let me know in the comments!