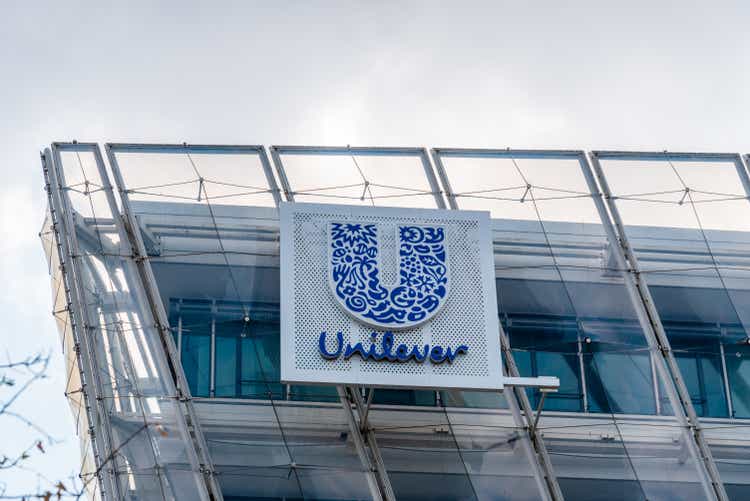 Company Description
Unilever (NYSE:UL)(OTCPK:UNLYF)(OTCPK:UNLVF) is one of the largest consumer goods companies in the world. They own around 400 brands, selling in 190 countries. Products include tea, cereal, vitamins, and cleaning agents. Unilever is a British business, with its primary listing on the LSE.
Unilever operates across 3 core segments, beauty and personal care; foods and refreshment; and home care. Revenue from these sectors breaks down as follows.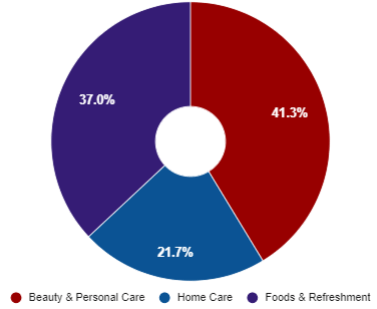 Unilever's stock price has stagnated in recent years.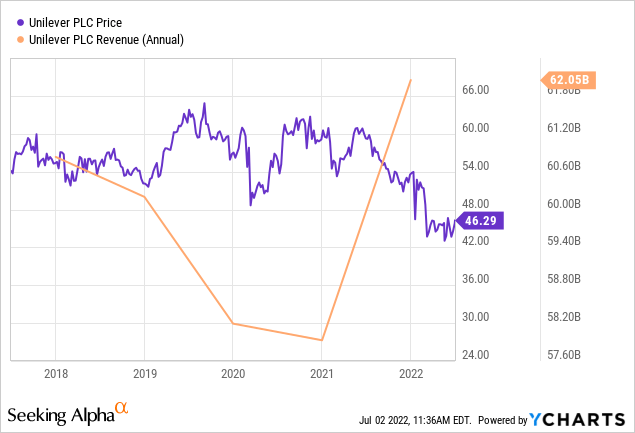 The reason for this is a slowdown in the business. Revenue has grown a measly -0.3% p.a. since 2015 (Source: Tikr Terminal), with several failed attempts to turn the business around.
We will look to assess the state of the current business and evaluate whether investors should consider adding Unilever to their portfolio.
Recent Updates
In January 2022, Unilever attempted to purchase GSK's consumer health business for a staggering $68BN (61% and 66% of their current market cap, respectively). Most Investors revolted and plans were quickly dropped. This was the epic culmination of Unilever's torrid few years. Many have suggested management do not understand how to take the business forward any longer, seeking a big market deal to compensate. We cannot help but agree with this, as we cannot rationalize the potential synergies that management has promoted. Alan Jope, CEO, ruled out any large deal in the foreseeable future only weeks after attempting this deal.
Since then, many notable investors have called for change at Unilever, including Terry Smith. A recent investor, Nelson Peltz, has yet to make his thoughts known. Through his fund Trian, he has acquired a 1.5% stake in Unilever and has muscled his way onto the board.
Many may not know Nelson Peltz, but he is our investment thesis long term, as we believe he will return growth and prosperity to Unilever. Why? Because he has quite the track record with consumer goods companies.
Peltz worked with P&G's (PG) CEO incessantly to turn the business around when he took an ownership stake in 2018. From then until Jan-22, the share price almost doubled. Trian has also been involved in deals with the former Cadbury Schweppes, PepsiCo (PEP) and Kraft Heinz (KHC).
Unilever's position is not dissimilar to that of P&G in 2018. Revenue was shrinking at 5% p.a. before his investment, and the brands within the portfolio were aging and out of fashion. An advisor close to Trian stated that the fund had an incredible ability to understand the key drivers of a brand and how to trigger favorable outcomes. We believe this strategy involves a blend between an e-commerce push and a focus on improving popularity of its key brands with a younger demographic, as we noted Pampers and Olay performed surprisingly well during Peltz's tenure.
Recent times have been incredibly eventful for Unilever, but leaves the business in a net positive position. It is the first weeks of Nelson Peltz's ownership of Unilever, and so we have no information on strategy, vision etc. Therefore, we will consider the wider business in isolation of this fact in order to decide if the company is investable today.
Macro Conditions
We are currently experiencing a period of economic uncertainty, with negative growth creeping in and inflation not falling in line. Unilever is a rare type of business, as it should be able to navigate a downturn without a significant negative impact. The reason for this is that Unilever has its hand in so many baskets, many of which are necessities. People will not stop bathing (Dove) and they will not stop cleaning (Persil). More generally, people cut back on large/discretionary expenses rather than eliminating the smaller, regular spends. When we look back at the last economic slowdown, Unilever grew revenue 0.8% in 2008, -1.7% in 2009 and 11.1% in 2020 (Source: Tikr Terminal). During a slightly extended period (2007 to 2011), Unilever outperformed the S&P 500 noticeably.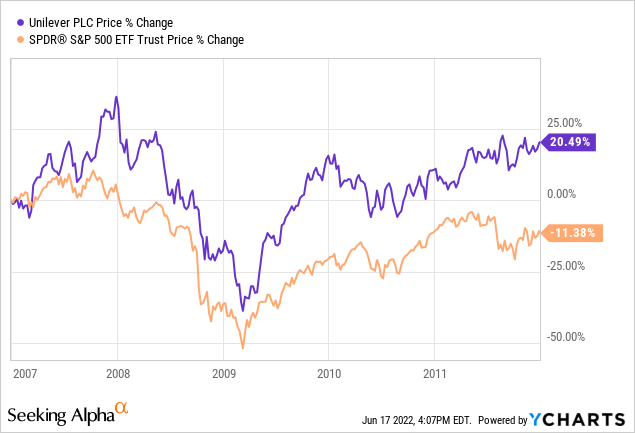 Although the drop was just as severe, the underlying quality of Unilever's business meant that once market sentiment improved, those businesses producing genuine investor value outperformed.
Our belief is that something similar will occur again, Unilever's financial performance has been strong in the first quarter of the year, achieving 7.3% growth. This was on the back of strong pricing power, with price growth at 8.3% since FY20.
The difference this time is inflation. Although Unilever has benefited from increasing prices, the ceiling for this is likely approaching. Commodity prices on the other hand continue upwards.
As the above shows, Unilever's exposure is almost 20BN. This represents over 50% of CoGS and so margin deterioration is expected.
With hedging factored in, Unilever is expecting this inflation to really hit in 2022, and subside after that.
Based on our modeling, we expect the net impact of growth in revenue and CoGS to be negative 4-6% net income. This is not a terrible performance, as it is materially driven by inflation, which everyone is suffering. On a relative basis, this is satisfactory performance. Therefore, we believe Unilever is a fantastic investment during an economic downturn, in spite of the added complexity of inflation.
Peer Comparison
When compared to a host of comparable businesses, Unilever fails to stand out. Margins are partially worse, but are not offset in other areas. We note that the business is trading at a discount to the average, but when we compare directly, such as to Reckitt Benckiser (OTCPK:RBGPF), the discount looks warranted.
Overall, there is little to differentiate the businesses and the key will be the portfolio most likely to generate out sized growth. Our view is clear, with Peltz influencing decisions, Unilever's brands could see a resurgence. Analysts are guiding this in also, as column 3 shows.
Scope For Growth
Unilever's future growth will likely come from China, India, and the US.
Unilever's neglect of the US market is one of the many errors of management, which we will not focus on now. The growth in India and China is the real news here. Between the two of them, they have almost 3BN people and decades of high single digit growth remaining. Many of those people are being lifted out of poverty daily and will find themselves able to afford Unilever's products. A diversified consumer goods business should be able to grow at the rate of GDP overtime. These regions have a real chance to drive growth in the business over the coming decades. Unilever Hindustan especially has some really valuable household brands within India, such as Lifebuoy and Closeup. As revenue becomes a more material portion of total revenue, this will have a greater impact on total growth. We are very strong in our belief that the growth rate will not abate, as long as government policy remains favorable to Unilever and economic growth.
Valuation
Given the lack of visibility on the future strategy, valuing Unilever today is difficult. Therefore, we have attempted to value the business assuming things remain as they are.
Our key assumptions are continued steady FCF growth below the historic average, no major additions or disposals and an exit multiple of 12.5x, which is Unilever's historic average. If Peltz cannot turn the business around, we see this as the most likely outcome.
This represents an upside of 18% and an IRR of 9%. This is far from exciting, but in the context of being a low beta, "safe" component of a portfolio, this is a fairly attractive return.
When considered alongside a c.4% dividend yield, the returns certainly hold up. With investors looking for oversold businesses across beaten sectors such as tech, Unilever acts as a staple member of a diversified portfolio, generating consistent returns with an acceptable upside.
Final Thoughts
Everyone wants to create a portfolio that can "beat" a recession, the reality is that if you want to enjoy the good times, you need to suffer the bad times. What can soften the bad is a business whose offering cannot be replaced easily. Unilever has shown good growth so far in response to economic conditions, which we think can continue into Q2 2022 at least, before the inevitable slow down kicks in.
Looking longer term, we are very bullish on Nelson Peltz coming in. We may have come across harsh in some of the points made, but Unilever is not a bad business. Unilever is average compared to its peers, but that is after 5 years of stagnation. With the US, India and China operations performing well, the foundations are in place for a renaissance.
We therefore rate Unilever a Buy.