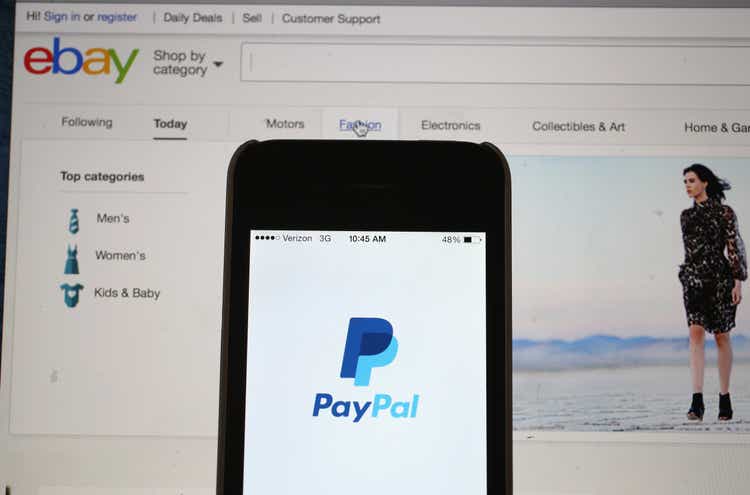 PayPal Holdings (NASDAQ:PYPL) is having a rough year. The stock has given up all gains from 2020 and then some. Over the past year, PYPL has declined by nearly 75%, going from a little over $300 to $71 as of this writing. PayPal has far underperformed the S&P500 over the past 12 months.

About a year ago, Mr. Market was highly optimistic and valued PYPL at more than $300. But now Mr. Market is not happy, and he's quoting a much lower price for PYPL. Does this mean PYPL is a good stock to buy at these prices? Our analysis suggests it is.
The stock is trading near its 52-week low price and has practically gone nowhere since October 2018, despite its wild ride. PYPL has run up due to strong growth in revenues and active users, coupled with the COVID-19 pandemic that caused its services to be in higher demand. But the business has suffered some challenges and setbacks recently, causing the stock to give up all its gains.
Our analysis suggests that low $70s is a good entry point for a small position in PYPL. The selloff appears to be exaggerated and these price point provides an opportunity for investors with a long-term focus. PayPal is a good business with strong track record of growth and is in good financial position to keep growing.
However, caution is warranted. PayPal may not be done falling as there are plenty of risks and uncertainties. Betting big on PayPal at these prices still looks too risky, hence only a small position appears justified. If PayPal goes to the low $40s or mid $30s without a meaningful change in the business fundamentals, then a bigger bet looks more compelling.
This article analyzes the prospects of investing in PayPal. It provides an overview of the business, how much it has grown, and the setbacks it encountered. Additionally, it discusses the risks of investing in PayPal, and our main reasons for liking the stock at these prices. Let's jump in.
Key drivers of revenue growth are healthy and should benefit from inflation
PayPal operates a two-sided network that offers payment solutions to consumers and merchants, which basically means they offer payment methods for people and/or businesses. PayPal's major competitive advantage is its global scale and far reach, with 429 million active accounts.
The key point is that PayPal has been growing active accounts consistently for more than 10 years (since the Q1 2010), as shown in the chart below. This is a strong track record of growth that cannot be ignored.
It is notable that the year-over-year growth rate of active accounts has strongly accelerated in Q1-2020, and then kept accelerating into the end of 2020. The acceleration was caused by the COVID-19 pandemic, as it forced many people to stay at home and shop online. That in turn forced merchants to find payment services to operate online. The chart below illustrates this point.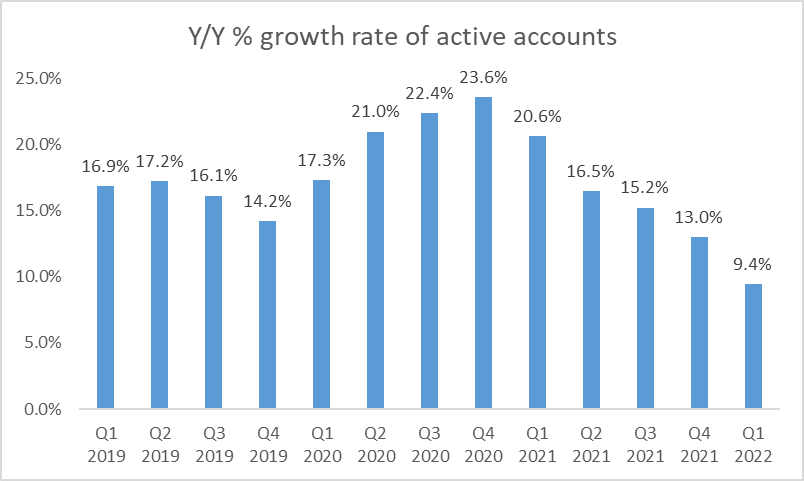 It is this acceleration that caused the stock to strongly rise in 2020 because it ultimately led to very strong revenue and earnings growth. The chart below shows PYPL performance during 2020. Notice the strong outperformance relative to the S&P500. PayPal stock more than doubled in 2020.

PayPal generates revenues from transaction fees charged to customers (merchants and consumers) on a per-transaction basis. Transaction fees represent the vast majority of revenue generation, accounting for 92% of total revenue. Last year, transaction fees generated $23.4 billion in net revenue. Transaction fees are driven by growth in active users, and more importantly growth in TPV (total payment volume).
We just discussed that PayPal is doing well and growing total number of active users, so now let's see how TPV is trending.
Long-story short, annual TPV is moving in the right direction with strong growth in 2021. PayPal generated the strongest TPV in 2021, surpassing the $1 trillion mark for the first time ever. To be precise, PayPal processed approximately $1.25 trillion in payments in 2021. The chart below illustrates the long-term trend of TPV.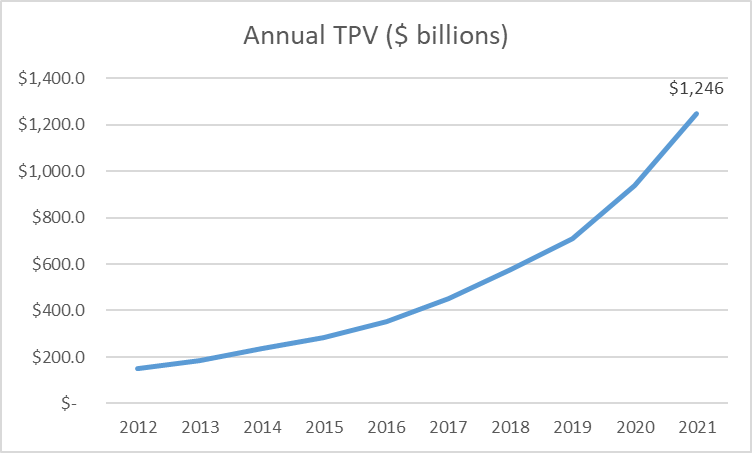 Growth in active users and TPV leads to revenue growth. However, transaction fees percentages have been declining, which is one of the setbacks suffered by the business. For that reason, revenue growth has been slower than TPV and active users growth. In the most recent earnings report, PayPal reported 7% revenue growth on the back of 13% TPV growth.
Part of the reason for slower revenue growth is because of phase-out of eBay (EBAY), which has been happening since 2018 when eBay announced it will no longer use PayPal exclusively. eBay generates higher transaction fees percentages for PayPal, but it is slowly transitioning away from PayPal.
The remaining 8% of revenues comes OVAS (Other Value Add Services), which provides a smaller opportunity for growth. These are basically other services provided to customers and includes other opportunities to generate revenues from partnerships and subscriptions.
Recognizing that the major opportunity for PayPal is to grow active users and TPV, the track record of consistent growth shows that the business has been performing well, which is a key reason to like PYPL as an investment. Despite slower take rates due to eBay, revenues are still growing, more consumers and merchants are still signing up to the PayPal platform.
Venmo is one of PayPal's offering that still has upside potential, as it remains a relatively small contributor to revenue growth. Venmo's TPV growth was very strong in 2021 and is still growing in 2022 at healthy rates (12% in Q1-2022), which we believe should be a contributing factor to more growth ahead.
Furthermore, PayPal is entering a favorable macro environment. PayPal should benefit from high inflation because it charges a percentage of the total transaction amount. With inflation at the highest rate since 1981, TPV appears poised to grow and perhaps accelerate, which is should be good because it will provide a tailwind to PayPal's revenue growth. Because TPV is one of the key revenue drivers, PayPal appears to offer a good inflation hedge as TPV should move higher alongside inflation.
PayPal profits are stable despite soft margin performance
One of the most important reasons we like PYPL is the cash flow profile of the business, as it has consistently generated free cash flow, which means the business is highly profitable. Many businesses with the growth profile of PayPal tend to generate losses, which makes investing in the stock very risky. That's not the case for PayPal.
PayPal generated $5.4 billion in free cash flow in 2021 and has already produced approximately $1.1 billion of free cash flow in Q1 2022. The outlook for the future looks strong as the executive team guided for free cash flow of more than $5 billion for the year 2022.
The chart below shows PayPal's free cash flow in recent quarters.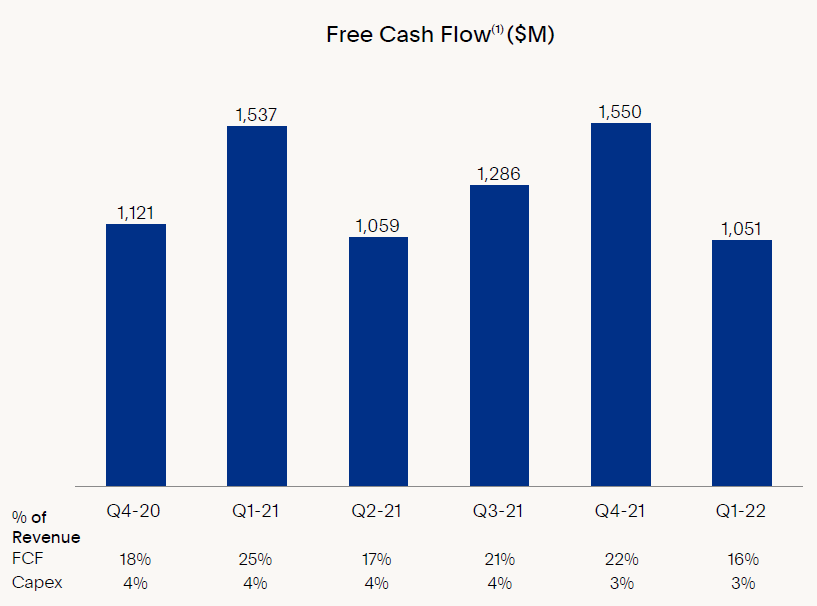 Attentive readers would notice that free cash flow declined by approximately 32% year-over-year in the most recent quarter. That is probably one of the major setbacks that PayPal has suffered this year, and one of the major reasons for being cautious on a big bet on PayPal.
Lower free cash flow has been driven by lower profit margins. Expenses are rising faster than revenue growth, which is eating up on PayPal's profit margins. Total expenses rose by nearly 18% in the most recent quarter, eating up on profit margins. Declining profit margins have been a trend for several quarters, which a huge setback for the business and a major force that has been pushing the stock lower in the past 12 months.
Notice that margins peaked in Q2-2020, have reaccelerated into 2021, and then continuously declined. Mr. Market usually likes to see rising profit margins, not declining.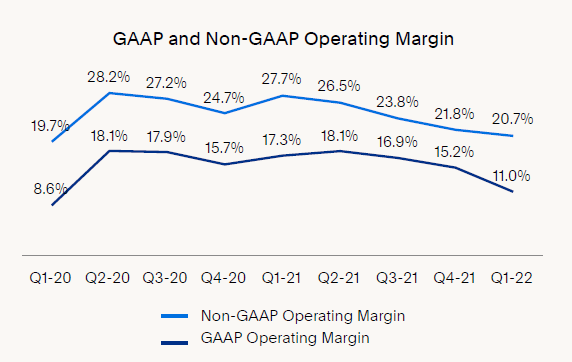 The declining profit margins needs to be reversed, or at least stabilize, for PYPL to find a bottom. Based on our analysis of the most recent earnings conference call, it does not appear that profit margins (aka operating margin) will make a quick turnaround this year. When the executive team was asked about profit margins, they were careful not to suggest a quick reversal of the recent trends. The executive team's comments point towards a margin stabilization at best.
We're not expecting a quick profit margin reversal, but we're not ruling it out either. We know the executive teams need to carefully craft their comments to manage analysts' expectations, and it is usually in their best interest to show results rather than promise them. Over promising and under delivering is a recipe for disaster when setting investors' expectations.
The soft margin performance does not appear too concerning, as profits are still flowing and getting reinvested in the business. It's probably not a permanent trend and will likely improve over time.
If profit margins do start growing again, that will be a huge positive for PYPL, as it will most likely cause the stock to rise. Despite declining profit margins, PayPal continues to show strong profits and strong cash flow generation. PayPal appears on track to generate more than $5 billion in free cash flow this year, even with the profit margin headwind.
Valuation
The executive team recognized the challenges that PayPal will face in the remaining of the year. During its first quarter update, they reduced earnings guidance to a range of $3.81 to $3.93 per share ($3.88 at the midpoint), which equates to a P/E multiple of 18.4x at the midpoint.
Such a P/E multiple isn't particularly cheap, as it implies an earnings yield of ~5.4%. There are much better options to invest with higher earnings yield. For reference, the S&P500 trades at an earnings yield of 6.3% (or 16x P/E) as of this writing. The lower yield compared to the S&P500 is another major reason to cautiously bet on PYPL.
However, it is the growth profile of PayPal that makes such a multiple more compelling. As discussed previously in this article, PayPal has a strong track record of growth. Revenue has grown consistently. If PayPal can recover some of its margin losses and reverse the recent decline, the 18.4x P/E multiple should prove to be good value. The stock should rise as a result.
Risks of investing in PYPL
We have discussed the risks of an investment in PayPal throughout the article, but it is important to review the key points of risk and what may cause this investment to potentially cause unsatisfactory returns.
One of the most important risks factors is the competition, which may continue to cause transaction fee compression. The major reason why eBay is transitioning away from PayPal is because they found a competitor with better prices. Additionally, competition from Block (SQ), Ayden, and other services will always be a risk factor. We're comfortable taking such risk because of PayPal's global reach and strong brand name.
In addition to competition, a continued deterioration in profit margins and earnings is a risk factor that cannot be ignored. It is not guaranteed that PayPal will reverse the margin contraction trend, and if not reversed, the stock is unlikely to start raising again. PayPal's profit margins will need to show stabilization for the stock to find a bottom, and it remains unclear whether profit margins will stabilize. Investing in PayPal at these prices implies a stabilization in margins, and if margins keep falling, the investment may not pay off as expected.
Investor conclusion
We're not calling the bottom for PayPal, as that is a nearly impossible task to achieve. But we believe that PayPal is closer to the bottom and there isn't that much room for the stock to keep falling.
Our article discussed that the two major drivers of growth (active users and TPV) are pointing in the right direction, and with the stock moving in the opposite direction, it provides an opportunity for long-term investors to be contrarian. Active users continue to grow at healthy pace, while TPV could be a beneficiary from a high inflation environment. Both are good for PayPal's revenue, which ultimately dictates the long-term trend of a stock.
Although PayPal does have some more challenges to overcome (stabilizing and growing profit margins as well as staying ahead of the competition), the stock is set up to strongly rise if these challenges are overcome. Buying PYPL now is a bet on the business reversing the trend of profit margin compression, as well as a continuation of growth in active users and TPV. Based on the long-term track record of the business, that bet looks compelling enough for a small position.