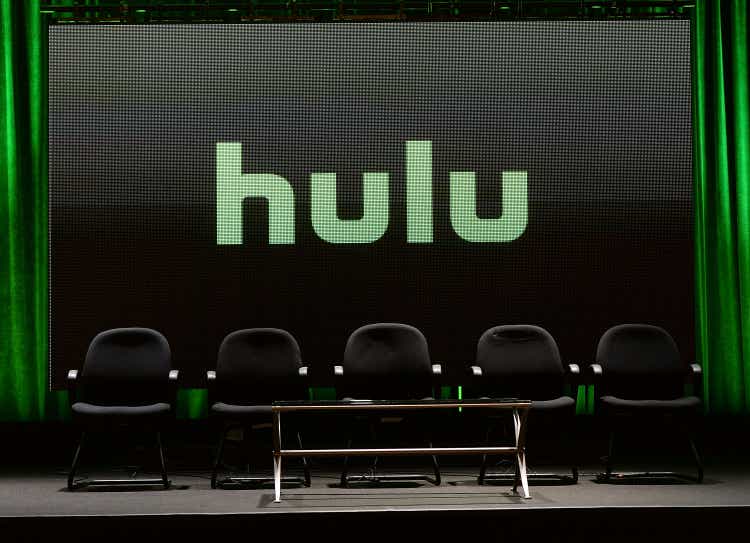 Disney (NYSE:DIS) is solidifying its place in the streaming industry through its large market share and top content. However, Hulu has been struggling to grow in the previous years and a likely reason is because of its adult-oriented content mismatching with Disney's strengths. Therefore, Disney should try to sell the service to another media company and then make a proposal to acquire Roblox (RBLX). This would allow the company to reach more of its target audience and also protect itself from a possible upcoming recession. Even if this swap never occurs, Disney is still likely in a strong position since the lagging effects of a recession are likely far away. Due to all of this, and the current share price Disney is trading at, the stock is becoming an attractive pick.
Disney's Future is Streaming, But Hulu Cannot Keep Up
The future of Disney is appearing to move towards streaming. In the company's second quarter report, it was reported that Disney+ reached over 137.7 million subscribers and is continuing its rapid growth. ESPN+ also reached new highs of 22.3 million subscribers and is continuing to grow steadily, although not at the same pace as Disney+. Hulu also gained more subscribers and reached 45.6 million subscribers, but the platform has been struggling to grow in previous years.
Since 2019, Hulu has grown its subscriber count by about 50%, while Disney+ has increased its total subscriber count by 5x and ESPN+ has grown by 3x. With Hulu far underperforming Disney's other streaming platforms, a change may need to be made.
Not only is Hulu underperforming Disney's other products, but it is also losing its share against other competitors. Disney currently holds about 25% of the market share through its three major streaming services. However, Hulu has been seeing a fall in market share for quite some time now. Currently, Hulu holds about 11% of the market share for the streaming industry and is on a downward trend. With smaller competitors like Apple TV+ (AAPL) and Paramount+ (PARA) starting to gain steam, Hulu may continue to lose its market share. In fact, Apple TV+ recently reached 5% of the market share and is rising rapidly. Paramount+ is growing slower but has still attained 4% of the market share. These could prove to be huge threats to Hulu in the upcoming periods.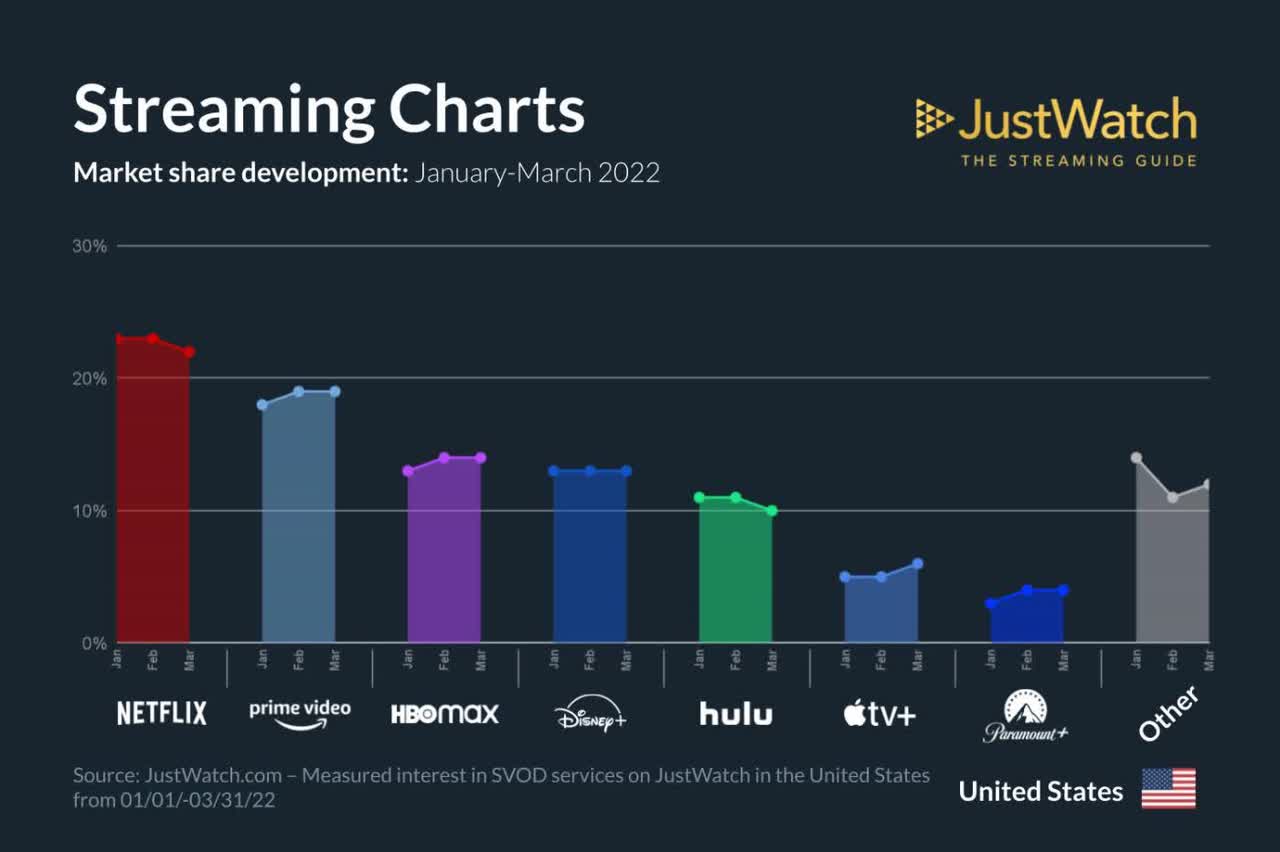 Disney Should Attempt to Sell Hulu and Buy Roblox
Other than the clearly lagging performance of Hulu, why else would Disney want to sell Hulu? The biggest reason is because of its mismatch with the company's other content. Unlike most of its content, Hulu streams programs that are adult-oriented and this is not Disney's strength. Disney has been the long-time undisputed leader in children's content and has been very profitable by focusing heavily on that demographic. However, its more mature platforms including Hulu have underperformed its other content consistently. Therefore, it may be best for the company to sell Hulu and return to its focus on children's content.
The next question following this conclusion is who should Disney sell Hulu to? The most likely candidate, in this case, would be Comcast (CMCSA). Comcast already owns one-third of Hulu and does not have the option to sell its stake until 2024. However, holding onto its stake and taking full ownership could be a smart decision to improve business. Peacock is Comcast's largest streaming service and is only available in the United States. This matches up with Hulu since it is largely only available in the United States, although it does have a smaller user base in Japan. With Comcast having a strong focus on the U.S. streaming market, Hulu could help further improve its presence and drive the company's fundamentals higher.
Even though Hulu would likely help improve Comcast's fundamentals, the company still may not acquire the streaming service. This could be signified by the company giving full operational control to Disney in 2019 and an option to sell its stake to Disney for a valuation of at least $27.5 billion. With this in mind, Comcast may end up not accepting an offer to buy Hulu in the future and this means another candidate may have to be found. Other possible candidates to buy the streaming service could be Netflix (NFLX), Warner Bros. Discovery (WBD), Paramount Global (PARA), or other media companies.
The final question with this sale is what should Disney do with the money? The answer would likely be to return back to its strength in children's content. This could be done through the acquisition of Roblox. Unlike Hulu, Roblox has grown its users massively since 2019. In the past 3 years, the company has grown its daily active users from 13.7 million to 54.1 million. This represents a quarterly growth rate of about 11%. Furthermore, the majority of these users are in Disney's core audience with 54% being under the age of 12 and 67% being under the age of 16. Disney would also likely get a great deal for this acquisition since Roblox stock has dropped by over 60% YTD and will likely continue to drop further with tech stocks continuing to be sold.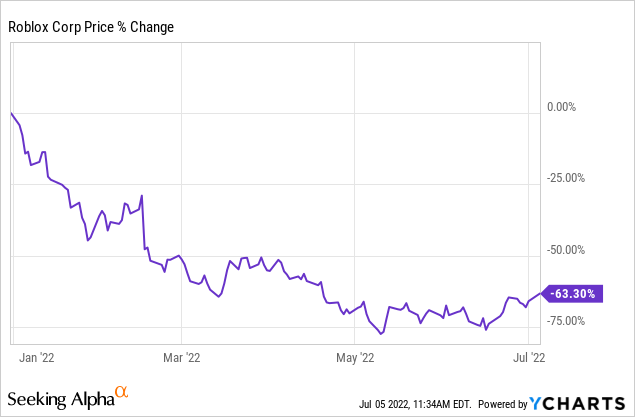 A big concern many investors are having with the possible acquisition of Roblox is Disney's previous failures with video games. This is referring to the failure and shutdown of Club Penguin after the company acquired the game for $700 million and led to many of Disney's other games shutting down so the company could focus more on its new acquisition. The main reason for Club Penguin failing was because of Disney's inability to adapt to mobile gaming and the declining interest in paying a monthly subscription for the game. On the bright side, Roblox has already handled both of these issues for Disney. Roblox is one of the most popular games on iOS and Android and reached nearly 400 million downloads in June 2020. Furthermore, Roblox is free to play and does not require a subscription. Instead, the game generates revenue mainly through the sale of its in-game currency, advertising, licensing, and more. This likely means Roblox will not be another gaming failure for Disney since the heavy lifting has already been done.
Disney's Parks are Recovering But Could Be Heading Towards a Rough Future
Now that the pandemic is going away, Disney's parks and experiences are coming back and are gaining lots of steam again. In the second quarter of 2022, Disney generated $6.65 billion through its parks and related products. This is a huge increase from last year's second quarter when the parks generated only $3.71 billion in revenue. It is important to note that the majority of this revenue was generated through the company's domestic parks since many international parks are still facing issues with the virus.
Although Disney's parks have been recovering after the pandemic, they could be heading into another tough future with a recession likely on its way. A recession usually causes discretionary spending to see sharp declines as consumers begin to cut out unnecessary expenses. This can already be seen with the consumer discretionary section of the S&P 500 being down 33% YTD. With Disney's parks likely to face this downturn in spending too, the company may struggle to push its top line higher.
To see how Disney's parks could perform during a recession, we can look back to the Great Recession. In the second quarter of 2009, the parks' operating income fell by 50% when compared to the year prior. Revenue also fell by 12% in the same time period. The weaker margins were caused by Disney's attempts to drive attendance higher. This included lowering hotel rates to allow more consumers to afford the stays. Although this was successful in driving up the hotel occupancy rate, the spending per room dropped by 17%. Media analyst Lauren Martin described:
It's a horrible decision. Either your hotels are empty but per-room spending isn't so bad, or fill 'em up with three days free, but spending gets decimated per room.
With the parks likely having a bleak future ahead, Disney should look to a different recession-resistant business to weather the storm. Just like its streaming segment, Roblox could be the answer. Video games tend to be recession-resistant due to consumers looking for alternative forms of entertainment besides going out. From 2007-2009, revenue of video game developers Activision Blizzard (ATVI) and Electronic Arts (EA) soared despite lower consumer spending. On the other hand, Six Flags (SIX) saw a decrease in revenue. In the case of another recession, Roblox would likely outperform Disney's parks, once again proving it would be a great acquisition for the company.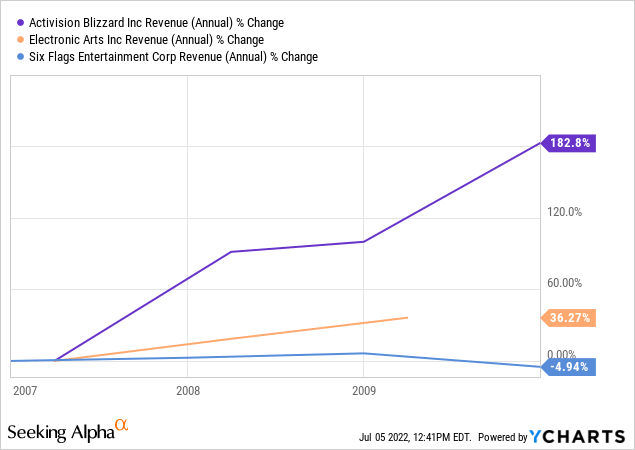 What if This Swap Doesn't Happen?
It is important to mention that this swap is not confirmed and may never actually occur. Even if this is the case, Disney is still becoming an attractive option. The stock is down nearly 40% YTD despite its other streaming platforms improving. Disney+ is becoming one of the most popular streaming services among consumers and will likely allow Disney to be a top contender in the industry even if the other services did not exist. Furthermore, Hulu still provides lots of value to Disney even if it is not growing as fast as other services. Even if Hulu may not be the best fit for Disney, investors can't deny its position in the streaming market.
The Disney parks are also set to thrive until a full-blown recession occurs. Although a technical recession is most likely already here, indicators such as unemployment have yet to see huge changes. This is what really hurts the economy during a recession as unemployed consumers cannot spend nearly as much as employed consumers. These lagging events are likely far away and may not harm Disney for quite some time. This was seen in 2008 when Disney continued to thrive during the early recession. In the first quarter of 2008, the parks generated revenue of $2.7 billion and operating margins rose by 33%. Therefore, Disney is likely still in a strong position for quite some time even if the company never swaps Hulu for Roblox.
Valuation of Disney Stock
For Disney's stock, I created a relative valuation to find a fair value. By multiplying consensus analyst estimates for FY22 by the average valuation multiples for EV/Revenue, P/S, and EV/EBITDA of Disney and its competitors, a price target of $129.52 can be calculated after adjusting for net debt. This implies an upside of about 36.37%. As for analysts, the consensus price target currently sits at $148.99. This equates to an upside of 56.86%.
What Does This Mean for Investors?
The future of Disney is becoming more closely tied to the streaming industry. The company is one of the leaders in the market by holding a combined 25% market share through Disney+, ESPN+, and Hulu. The first two streaming services are growing quickly and are proving to be valuable assets for the company. However, Hulu has been struggling to grow as quickly as the others and this is likely due to its content not lining up with Disney's strengths. Therefore, the company should consider selling Hulu to another media company, most likely Comcast, and making an attempt to acquire Roblox. Roblox would allow Disney to enhance its reach to its target audience and provide a recession-resistant business for upcoming developments of its parks. Even if this swap never occurs, Disney is still likely in a strong position since many of the effects that would cause a downturn are likely far into the future. With all of this in mind, and the price the stock is trading at, I believe applying a Buy rating is appropriate at this time.