A rising tide lifts all boats. Even the creaky, leaky ones. That is why it is difficult to go negative on a stock when the sector enjoys bullish tailwinds. Our philosophy follows that. Hence, if we are bearish on a stock but bullish on its sector, we tend to rate stocks as a "hold", rather than an outright "sell". CorEnergy Infrastructure Trust, Inc. (NYSE:CORR) was a prime example of such a rationale. Coming into 2021, we were very bullish on energy, and midstream plays, but we could not remotely grasp the appeal in CORR after the Crimson deal. That got us to a "stay out" rating. With perfect hindsight, of course, we were too generous.
We examine the thesis today as the stock struggles to find footing.
Q1-2022
CORR reported consolidated revenue of $32.9 million for Q1-2022, alongside adjusted EBITDA of $12.0 million. We don't have a good comparative for Q1-2022, as Q1-2021 quarter only had Crimson assets included from February 1 onwards.
The $12 million of adjusted EBITDA led to a cash available for distribution or CAD of $2.2 million.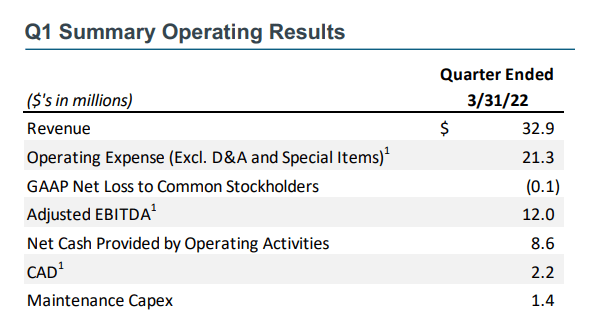 If these amounts sound really small, well it is because CORR is really tiny in terms of equity capitalization. The $2.2 million did cover the common distributions comfortably as that only worked out to about $0.8 million for the quarter. But there is more to this story.
Extremely Leveraged Structure
When we refer to the common distributions being covered for the common shares, we are referring to the $37.6 million highlighted below.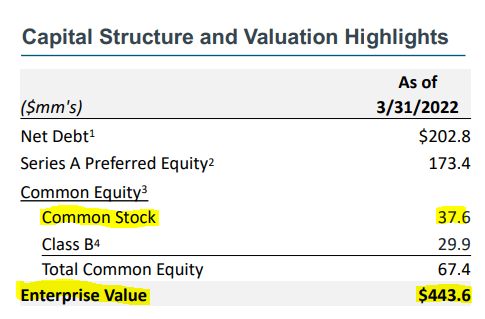 We will start by noting here that the Class B shares also should be eligible for dividends at some point (assuming things go better than what we expect) and that will reduce the coverage we see.
The Company's Board declared dividends on all preferred obligations during the first quarter and a $0.05 per share dividend on our common stock. No dividend was declared on Class B common stock. We will only begin paying a Class B dividend once we are confident the Class B dividend can be maintained in the foreseeable future at the minimum 1.25 required coverage ratio for all common and Class B.
Source: CORR Press Release
The fact that CORR has not started declaring dividends there (Class B), shows how tight things have been for the company.
More Problems Ahead
The biggest risk here is that the company is debt loaded in relation to its equity. The preferred shares (NYSE:CORR.PA) are of course equity, but they create additional risk for the common shares. If one takes the fixed payout ratio coverage, that is the sum of interest and preferred share dividends to free cash flow, we are barely over 1.2X.
CORR guided for $42-$44 million in EBITDA for 2022. At the midpoint, we can see that the total enterprise value is over 10X this adjusted EBITDA. That is quite a shocking number when large firms like Energy Transfer (ET) and Plains All American Pipeline, L.P. (PAA) are trading at less than 10. That number of $43 million for 2022, is still below ($50-$52 million) what was guided for in the very first quarter after the Crimson acquisition in 2021.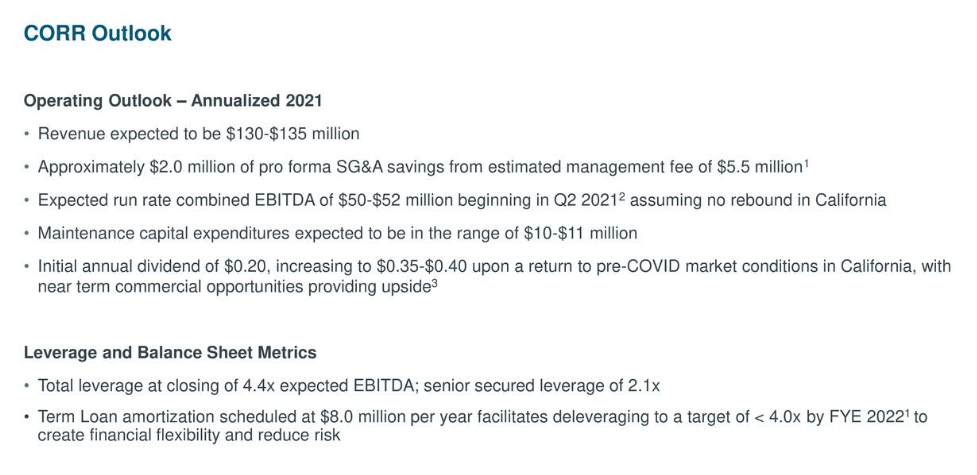 So six quarters in, we are still struggling to get this growth story going. The key reason is this picture below.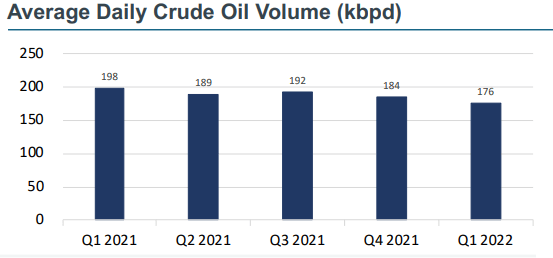 Crude oil volumes have taken just a one-way road to downtown. CORR addressed this in their conference call.
Looking at the results, first quarter revenue was $32.9 million with steady performance from MoGas and Omega and lower overall volumes in California, reflecting the continued temporary closure of the offshore amplified pipeline and the continued delay of new drilling permits that would bolster production volumes potentially shift on our line.

We do see near-term opportunities ahead in transportation volumes at these two situations of remedy. We anticipate the return this fall of the Amplify offshore production volumes that feed into our system. As a reminder, these barrels were lost late last year, due to an underwater pipeline break in the third-party system not owned by the company, prior to the break the pipeline accounted for 1.2 million barrels of annual volume and a sizable boost to our cash flow of approximate $1 million.
Source: CORR Q1-2022 Transcript
While the delays look temporary, we think the pressures are more defined by geology. We expect volumes to be weak and this should keep pressure on the company's financial metrics. One other area that shows just how stressed investors perceive this company is via the traded senior notes.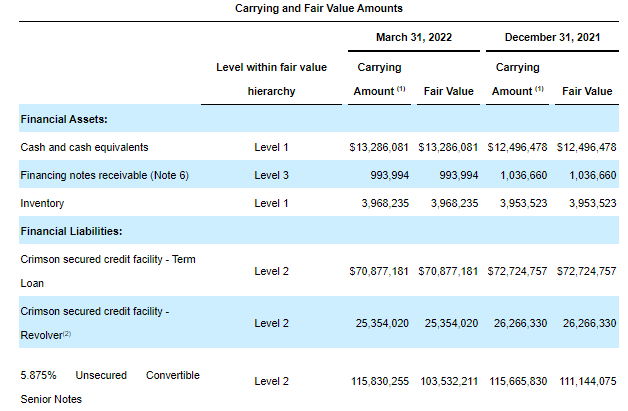 CORR has $115.8 million outstanding, and they currently are yielding 16.7% to maturity.
When the senior debt yields way more than the preferred shares (10% today), you know something is broken.
Verdict
The current EBITDA allows for very little deleveraging, and any unexpected expenses could set the company back. Interest rates are due to rise on the company as the past rate hikes flow through via the credit facility. CORR has hedged further interest rate increases till November, so that helps a little. But overall, the numbers paint a difficult picture for the firm.
We think the preferred and common share distributions are not safe and both could hit the chopping block in the months ahead. The convertible notes offering over 16.7% would be the best way to play this if investors are actually interested in chasing a yield play. Anyone thinking that the preferred dividends are safe because this company has regulated assets, needs to show us a utility where three-year bonds yield over 15%. For midstream companies offering quality preferred yields, we would examine ET's trio, which currently yield in excess of 8%.
Please note that this is not financial advice. It may seem like it, sound like it, but surprisingly, it is not. Investors are expected to do their own due diligence and consult with a professional who knows their objectives and constraints.