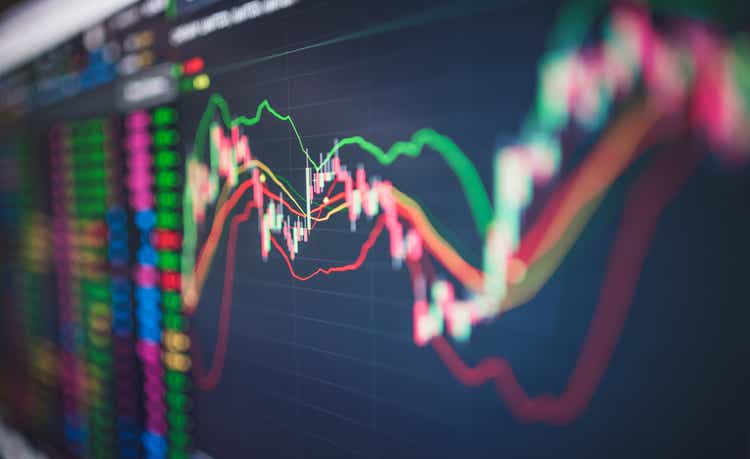 By Joe Duarte
Bond traders have talked themselves into believing the Fed will kill the economy just as stock traders are starting to think that a fading economy could be a good thing since it would cause the Fed to ease rates.
But be that as it may, stocks are stuck in the mud—so oversold that it's hard for short sellers to pound them down further while at the same time there aren't enough buyers to move prices decidedly higher.
Certainly, the current scenario could change, especially if more buyers emerge. Yet, as earnings season develops, the odds of earnings misses and early announcements of upcoming earnings could easily derail any rally.
Of course, the problem is that at this point no one knows how much of a bad earnings season is already baked into stock prices; which is why staying cautious is the most reasonable course of action.
What are Oil Prices and Transportation Stocks Telling Us?
Oil and gasoline prices usually trade in different directions from transportation stocks. But what does it mean when they both move in tandem?
We are in an interesting junction in the MELA system (M- markets, E- economy L- life and financial decisions, and A- algos) as the interplay between the fall in the stock market and the economy may be reaching a make or break point.
Of course, that's because, the main financial engine of the economy, the stock market, is getting crushed.
In this section, I will be looking at the relationship between fuel prices and the state of the trucking industry.
Recent economic data suggests that consumers are pulling back on their expenses significantly. Consider the following:
Consumer confidence is near record lows.
The Atlanta Fed's GDP model is forecasting (-2.1) growth in Q2. If true this would mean we are in a recession since Q1 GDP growth was (-)1.6%.
Other regional Federal Reserve banks, in their periodic surveys, are also registering rapid economic growth. In the case of the Dallas Fed, the comments from businesses surveyed were fairly dramatic.
Meta (META) CEO has reportedly told his employees to tighten their belts and that layoffs are coming.
ISM and PMI data as well as moderately rising jobless claims are also showing a slowing in the economy.
The US Ten-Year Note Yield (TNX) has crashed below 3% again, suggesting that there is a growing number of investors that are betting that the Atlanta Fed and the rising amount of data predicting a slowing economy are correct.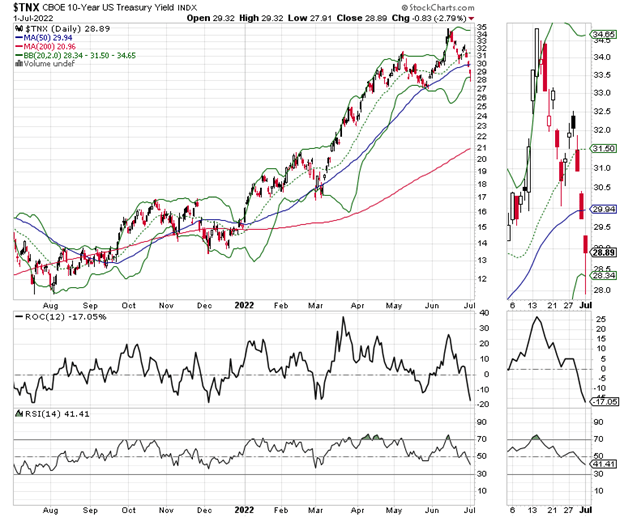 And although inflation is a monetary phenomenon—too much money chasing too few goods—it's hard to argue with the tangible effect of high gasoline prices on individual pocketbooks.
This is why the recent decline in the price of oil and gasoline is worth looking at as the summer driving season develops.
Recently, we've seen a break in West Texas Intermediate (WTIC) below $110 per barrel from its highs near $130 earlier in the year.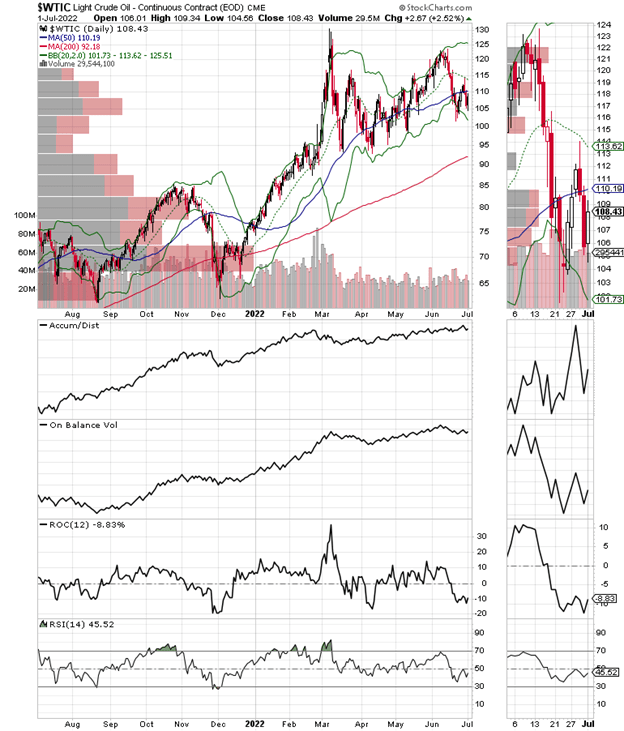 For its part, gasoline at the wholesale spot level has dropped to the $3.50 per gallon range.
Roughly speaking, that type of drop should lead to retail prices falling below $5 per gallon, give or take some.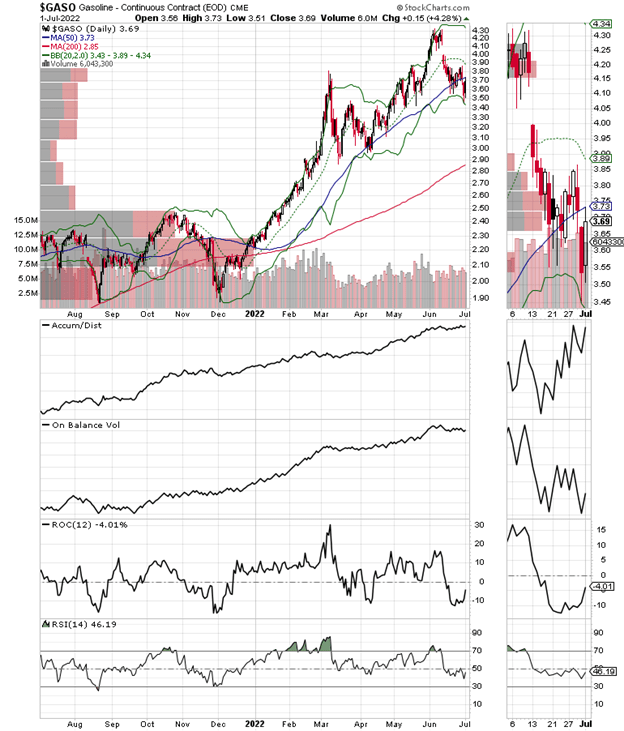 In my area, I'm seeing regular gasoline selling at around $4.55-$4.85 per gallon, but prices have begun to creep up. Premium and diesel have not backed off much at all.
All of which brings me to the trucking sector where the headlines are grim but stock prices are not falling much further. Case in point, shares of Old Dominion Freight Line (ODFL), a nationwide freight and logistics firm seem to be attracting a bit of money these days.
In fact, the activity in non-West Coast ports is rising rapidly, which may account for the slight improvement in trucking company share prices as investors price in an increase in demand for their services.
Indeed, the data suggests that there is no real slowing in port activity. And that means that somebody is buying products from abroad.
So, the question is why?
Either this is the last gasp of the COVID-19 inventory buildup, or some businesses are expecting an economic resurgence at some point in the future. Perhaps a third and more ominous possibility is that some are fearing a further worsening of the international order and are stocking up on goods just in case.
On the other hand, it's always darkest before dawn. Either way, we may be pleasantly surprised—or unpleasantly fooled. No matter what, it seems that we're about to find out fairly quickly as events in MELA unfold at the speed of light.
Final thought: What happens if oil and gasoline prices rebound as investors start to price in a Federal Reserve easing cycle?
NYAD Perks Up as VIX Rolls Over
The NYAD Advance-Decline line (NYAD) recently made a new low and remains in a downtrend, but it is trying to move off of its recent bottom. So, if NYAD can climb back above its 20 and 50-day moving averages, we could have a more convincing rally.
Meanwhile, the CBOE Volatility Index (VIX) has rolled over, while NYAD is rising. This is a more normal relationship and is mildly bullish at this time. A rise in VIX means rising put option volume, a bearish development for stocks.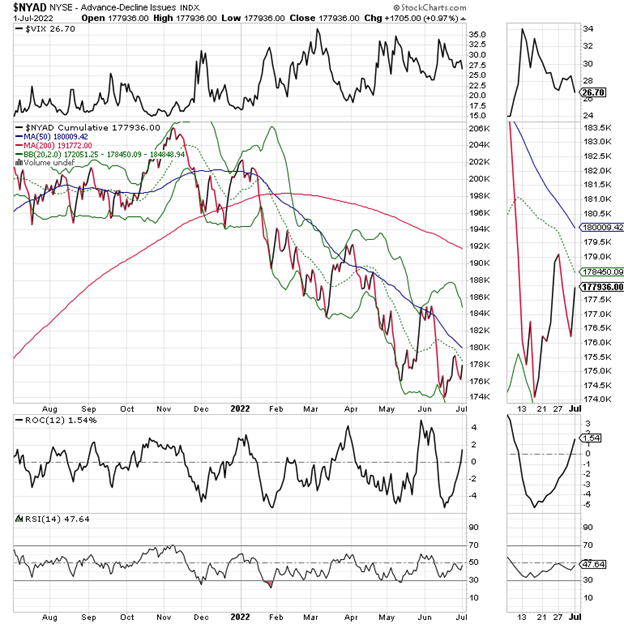 The S&P 500 (SPX) may be in the early stages of a bottoming process. But we still need to see an SPX close above 3900-4000 as that would bring in more money from the sidelines. Very stiff resistance awaits at 4100 and above.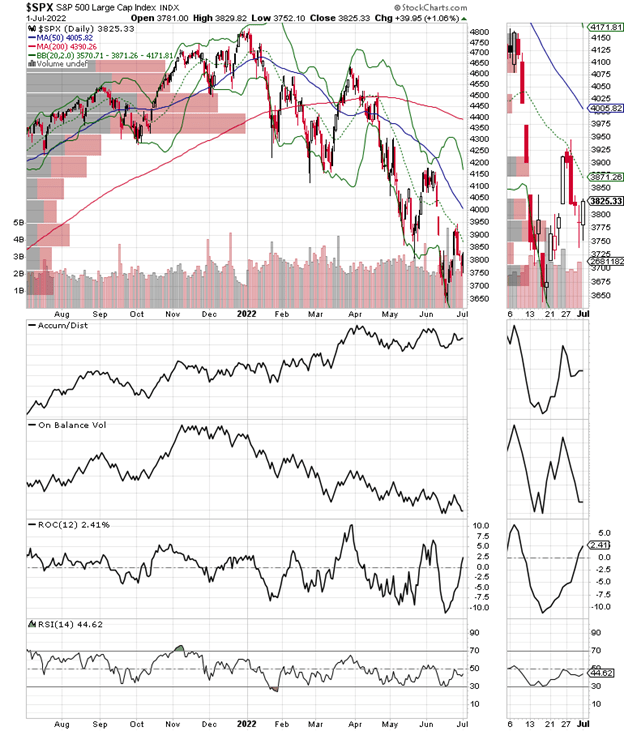 The Nasdaq 100 Index (NDX) remains fairly weak, failing to hold above its 20-day moving average with more overhead resistance at the 50-day and the 12,500 area. On the bright side, Accumulation Distribution (ADI) is trying to perk up. This means that short sellers are paring their positions. Unfortunately, On Balance Volume (OBV), which was improving, rolled over again.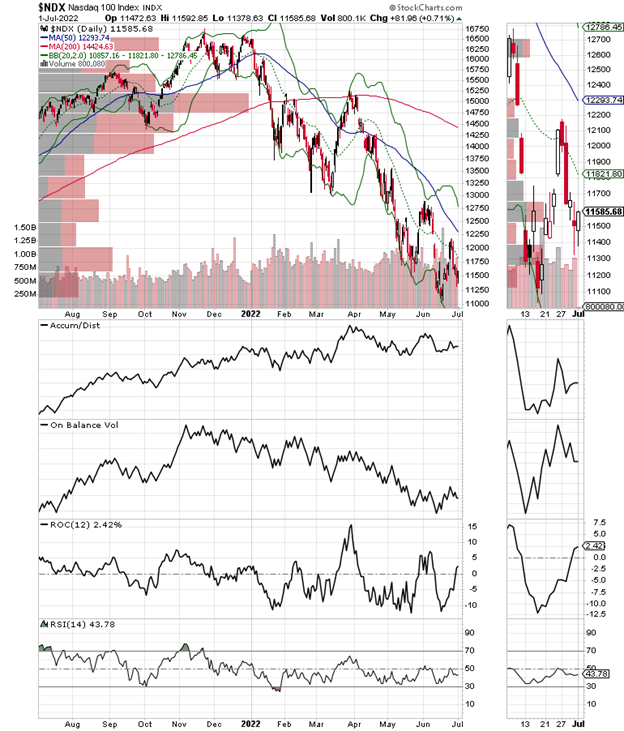 12,000 remains tough resistance for NDX.
Originally published on MoneyShow.com
Editor's Note: The summary bullets for this article were chosen by Seeking Alpha editors.