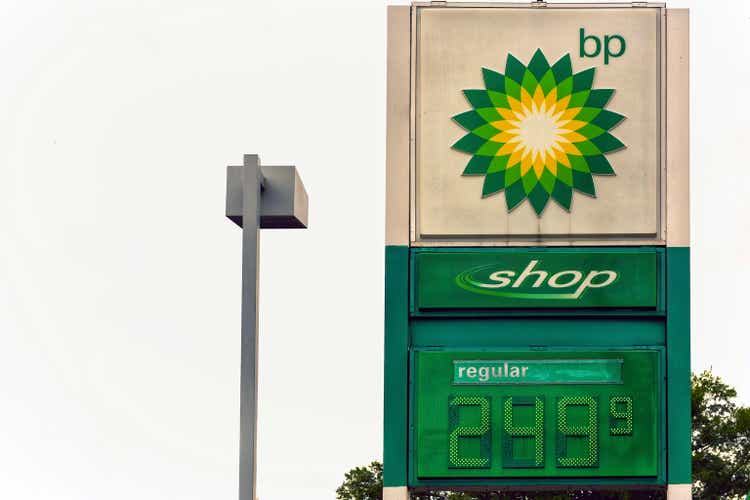 Investment Thesis
BP p.l.c. (NYSE:BP) stock has been somewhat of a laggard against its leading peers as it delivered a YTD return of 1.95%, as of July 5. Notwithstanding, it has performed admirably as a hedge against the market's tumble in 2022, as energy stocks generally outperformed significantly.
Notably, BP stock regained its bullish bias after its double bottom bear trap (significant rejection of selling momentum) in the March 2020 COVID debacle. However, a noteworthy bull trap (significant rejection of buying momentum) formed in early June 2022 as the market battered energy stocks. As a result, we believe it could struggle to maintain its bullish bias moving forward.
Our valuation analysis indicates that the market could be pricing in the risk of market underperformance, even as its profitability is still expected to remain robust.
Therefore, we rate BP as a Hold for now. Despite its bull trap, its technicals look oversold and could be poised for a short-term rebound. Accordingly, investors considering cutting exposure could consider layering out at its next potential bull trap.
BP's Growth Is Expected To Moderate Markedly
The market's attention has shifted from the political confrontation with Russia amid the Russia-Ukraine conflict to a potential recessionary scenario. Recently, analysts and strategists have highlighted their concerns about possible demand destruction amid heightened macro headwinds and assessed their impact on oil demand.
Citi (C) even suggested that oil could hit "$45 a barrel by the end of 2023 if oil-exporting countries don't intervene to reduce supply." Notwithstanding, Goldman Sachs (GS) remains confident that the sell-off is transitory and expects "prices will march higher once we get past this current bout of risk-off."
However, we believe the market has already priced in such headwinds since April, as we discussed in our recent Occidental (OXY) and Exxon (XOM) articles in June (See here and here).
Given the conflicting signals from the Street's analysts, we believe it's helpful to glean insights from the Street's consensus (generally bullish). Notably, the consensus estimates suggest that BP's revenue growth is projected to moderate sharply in FY23, falling to -2.9%, from FY22's peak growth of 22.4%.
Therefore, we believe the revised estimates have factored in the current macro headwinds, which could impact oil demand. Notwithstanding, BP's adjusted EBIT margins are expected to remain robust, given much higher oil prices and continued tight capacity.
However, they are also projected to decline markedly through FY24, which could have modeled for a decline in oil prices from their 2022 peak. It's also consistent with the market's view of WTI futures pricing ($74 at writing) for July 2024.
Still, BP's free cash flow (FCF) profitability is also estimated to remain resilient, as seen above. The consensus estimates indicate that BP could deliver an FCF margin of 6.8% in FY24, down from FY22's 11.6%, but still much higher than its pre-COVID days. Consequently, we believe a reasonable amount of optimism has already been baked into its stock.
BP - June's Bull Trap Could End The Party
We believe it's critical for investors to consider the long-term trend for BP, as seen above. Notably, BP remains in a long-term downtrend since 2008 and has not recovered its long-term bullish bias. Moreover, it's currently testing its critical 50-month moving average, showing signs of buying momentum failure.
Therefore, it could represent a bear market rally within its long-term trend framework.
Poring into its medium-term weekly chart, we believe the bull trap in June 2022 could have decisively resolved the potent double bottom bear trap from March 2020.
Notably, the rejection of buying momentum could send BP into a potential bearish flow (not validated yet) since its COVID bottom, which also aligns with its long-term trend resistance. Therefore, the medium-term and long-term signals don't augur well.
However, BP's near-term technicals look oversold; therefore, we believe it could be at a near-term bottom. As a result, a short-term rally could follow. However, our assessment of its price action signals is not constructive. Accordingly, we don't encourage investors to buy the dips at the current levels.
We will also be watching closely for another possible bull trap that could allow investors to capitalize on a short-term rally to cut exposure further.
BP Could Underperform The Market
| | |
| --- | --- |
| Stock | BP |
| Current market cap | $69.98B |
| Hurdle rate (CAGR) | 5% |
| Projection through | CQ4'26 |
| Required FCF yield in CQ4'26 | 15% |
| Assumed TTM FCF margin in CQ4'26 | 6% |
| Implied TTM revenue by CQ4'26 | $217.8B |
BP reverse cash flow valuation model. Data source: S&P Cap IQ, author
The market rejected further buying momentum of BP at its bull trap, even though it traded at an FCF yield of 18.5%. It also rejected it at a similar price level in early February at yields of 13.5%.
Therefore, we derived a blended FCF yield requirement of about 15% to model the market's current valuation dynamics of BP stock.
Applying a market-underperform hurdle rate of 5%, we require BP to post a TTM revenue of $217.8B by CQ4'26, which is unlikely according to the revised consensus estimates.
Therefore, we believe the market has been asking for higher yields to compensate for further underperformance moving ahead.
Is BP Stock A Buy, Sell, Or Hold?
We rate BP as a Hold for now.
We urge investors not to cut exposure hastily as its technicals are well-oversold. Therefore, the market could use its current consolidation to distribute BP further before setting another possible bull trap following a short-term rally. Hence, we urge investors to continue paying attention to its price action signals.
Our valuation analysis suggests that BP could significantly underperform the market moving ahead.
.