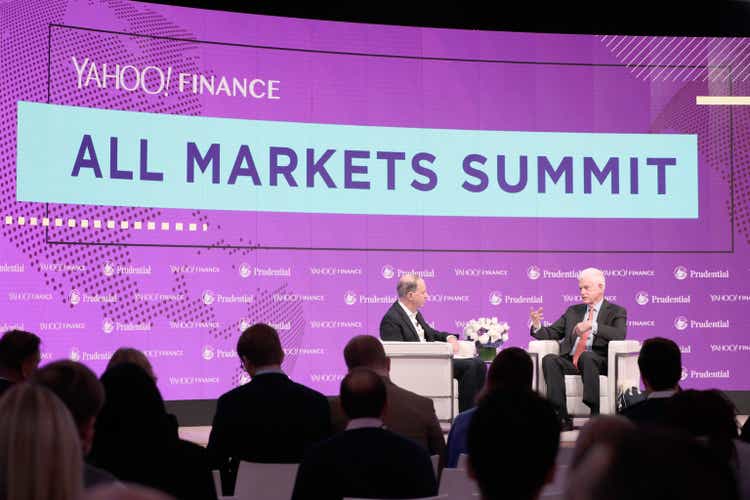 Investment Thesis
Associated Capital Group (NYSE:AC) is an opportunity to invest alongside Mario Gabelli, who owns ~85% of the company, at 92 cents on the dollar. The current price gives no value to the growing merger arbitrage hedge fund inside AC, the company's own investments that should compound over time, or the free optionality on all of AC's future ventures and products. The company understands that there is a gap between price and value and has been slowly buying back stock.
Background
Associated Capital Group is an asset manager with $1.8B in assets under management (or AUM) and is primarily involved in merger arbitrage (~$1.6B of AUM). Based on the recent 10-K, the goal of the merger arbitrage fund is to "earn absolute positive returns" and has "compounded net annual returns of 7.4% with 35 of 37 positive years". The breakdown of AUM (as of March 31, 2022) was:
Merger Arbitrage: $1.6B

Event-Driven Value (excluding merger arbitrage): $191M

Other (includes investment vehicles focused on private equity, merchant banking, non-investment-grade credit and capital structure arbitrage): $42M
Associated Capital was originally spun off from GAMCO Investors (GBL). As John Huber wrote in his article on AC back in 2016:
Why does AC Exist?

Well-known investment manager Mario Gabelli of GAMCO Investors (GBL) decided that the market wasn't giving his company credit for the value of the sizable excess cash and investments that GBL held on its balance sheet. So he decided to create a new company, stuff it with the excess cash and investments among a few other assets (as well as an operating business), and spin it off from GAMCO. The result is an under-followed, thinly traded company called Associated Capital. Gabelli, who owns a majority stake in GAMCO, has kept his pro rata share of AC and he owns roughly 74% of the outstanding shares (18.9 million shares of the 25.4 million total shares outstanding).
AC had an institutional research business (Morgan Group Holding Co.), but it was spun off in August 2020.
Valuation
With ~3M Class A and ~19M Class B shares outstanding, the total share count is 22M shares (Class B entitled to 10 votes per share, whereas Class A is only entitled to 1 vote per share). At a current price of $36.69, the market cap is ~$809M.
Assets (as of March 31, 2022):
Cash: $348M

Investments in Securities and Partnerships: $500M

Investment in GAMCO Stock (~2.4M shares of GBL @ $21.32 / share): ~$51M

Investments in Marketable Securities Held in Trust: $175M

Receivable From Brokers: $177M

Total Assets: $1.25B
Liabilities
Total Liabilities: $161M

Redeemable Noncontrolling Interests: $205M
Adjusted Book Value: $1.25B - $161M - $205M = $884M
P/BV = $809M / $884M = 0.92x
Not included in the calculation was the management fees that AC earns from managing the $1.8B pool of capital. They earn an asset-based advisory fee of 1-1.5% per year, which is based on AUM. They also earn a performance-based advisory fee, which is 20% of the investment performance. They earned $20.5M in investment advisory and incentive fees in 2021 (and $18.3M in 2020). The fees earned aren't enough to cover expenses (~$30-40M), but over time as AUM grows larger, I could see the fee-related earnings (or FRE) stream become more significant.
Insider Ownership + Buying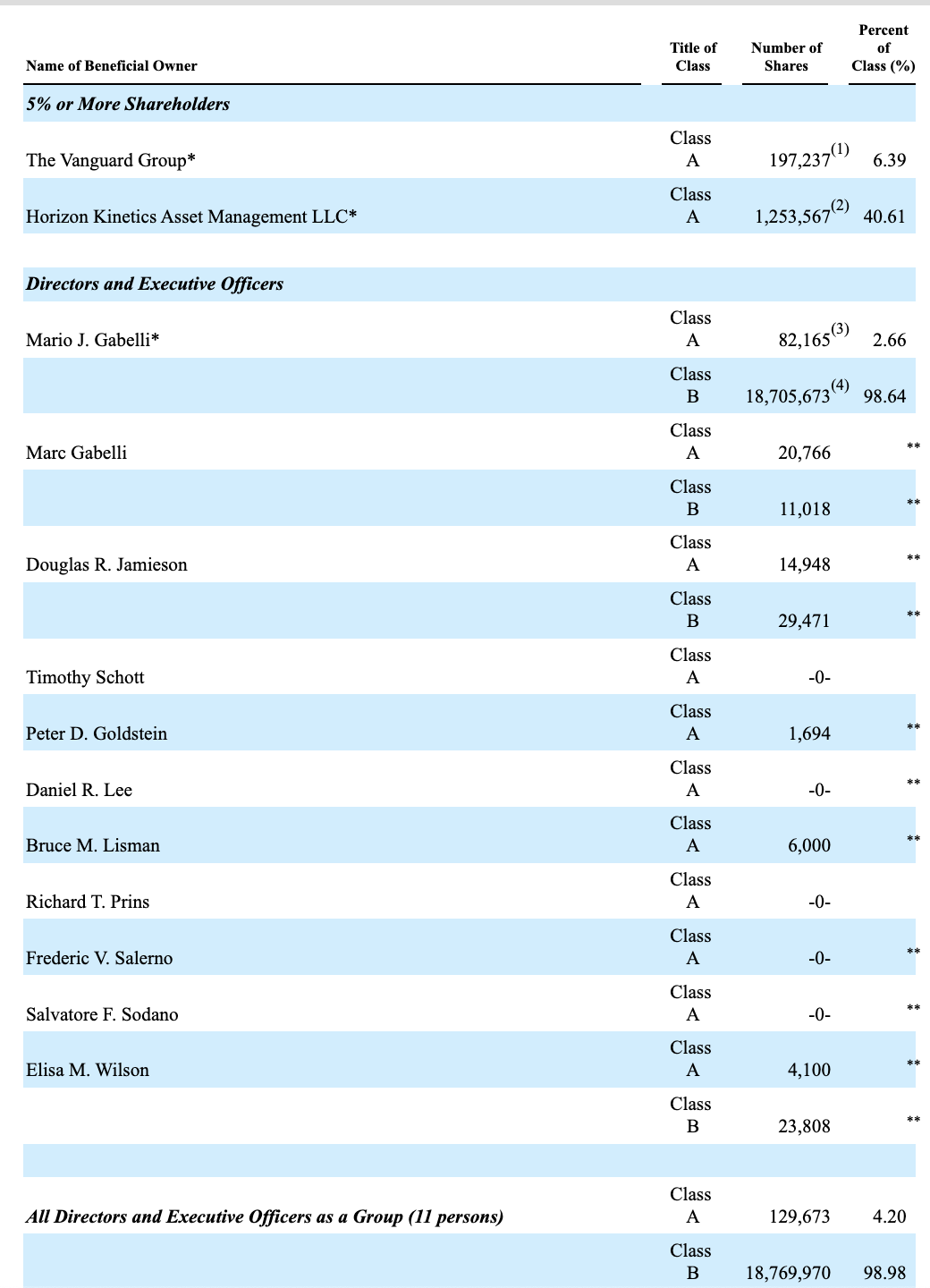 Well-known investor Mario Gabelli owns ~18.8M shares, which comes out to around ~85% ($686M). In addition, Horizon Kinetics Asset Management, another well-known value firm (and personal favorite of mine), owns ~1.2M shares or ~5.5%. As for insider buying, there haven't been any insider transactions in the last 2 years, but Gabelli was buying a decent amount between December 2018 and April of 2020 in the range of $26-$36.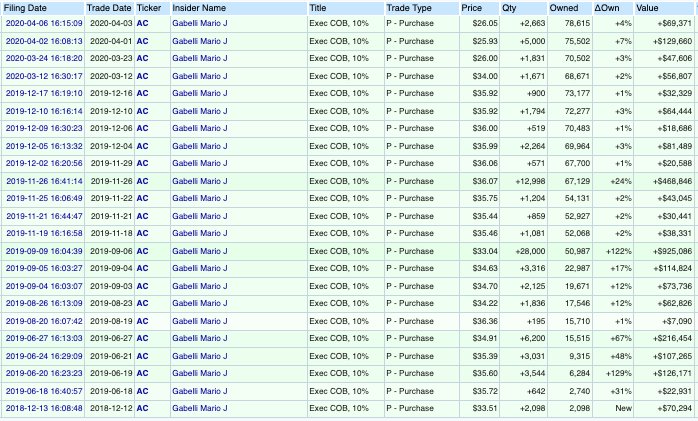 Catalysts
AUM Growth: if AC is able to increase its AUM, its FRE will be able to scale. Asset management is one of those rare businesses where the revenue can grow faster than its expenses; it's just a matter of hitting that point where it can scale.

Compounding of Proprietary Capital: AC should be able to compound its book of direct investments over time and use the cash / investments to fund new products

Seeding of New Products / Optionality: AC is slowly branching out into new ventures; for example, AC launched the PMV Consumer Acquisition (OTCPK:PMVC) SPAC in September 2020; another way to think about it- at current prices, investors are getting a free option on all future ventures and products that AC/Gabelli will launch or participate in (such optionality is hard to value, but investors aren't paying for it)

Share Buybacks: Gabelli understands capital allocation and how to properly use share buybacks to increase intrinsic value; AC has decreased its share count from 25.4M to 22M over the past 7 years and continues to buy back stock; in Q1 2022, AC repurchased 7,536 Class A shares at an average price of $38.84
Risks
Capital Misallocation / Controlling Shareholder: since AC is primarily controlled by Gabelli, there is always a risk of capital misallocation; however, given his track record of being a prudent and smart investor, this risk is mitigated.
Takeaway
AC represents an interesting opportunity to invest alongside Mario Gabelli, who owns ~85% of the company and is a savvy investor who understands capital allocation, at 90 cents on the dollar. Although not a downright bargain, the current valuation does not consider the embedded options AC offers; optionality on the AUM growth of its merger arbitrage funds, the compounding of AC's book value over time and the future ventures AC will launch or participate in. In addition, the company has been buying back stock over time, which should help close the gap between price and value.
Based on the analysis above, I recommend a long position in AC for the conservative investor with a holding period of a few years.